As far as entertaining goes, Ina Garten may as well be the godmother of the early 2000s generation. These Ina Garten party appetizers will no doubt impress your guests because we know Ina knows how to throw a party. They are also accessible for the home cook because of the simplicity and seasonality of Ina's recipes.
With summer right around the corner, outdoor parties, garden parties, and entertaining are inevitable.12 ideas of the easy, and best Ina Garten summer appetizers are going to make for a perfect party.
Her recipes are timeless, so you know they will always please an array of guests. They also use seasonal ingredients, so you'll always find the ingredients for the time of year you're entertaining!
Best ina garten appetizers
Ina Garten thanksgiving appetizers are perfect for the holiday because they focus on ingredients common during that season. Ina started out with her specialty store Barefoot Contessa.
That store brought a series of cookbooks that these recipes are pulled from, and to be sure Barefoot Contessa appetizers are just as classy as the store was while it was running.
For years, Ina Garten inspired home cooks across the world with her show, The Barefoot Contessa. These Ina Garten appetizers are the best of those shows, make them and impress your friends with the best appetizers.
When the holidays are approaching and you're stressed about feeding a crowd, Ina has the best appetizer recipes to pull from.
When tomatoes are in season this is the most refreshing and tasty appetizer you can make for a late summer party. Ina Garten appetizers in the summer are the best way to utilize the fresh produce from your local farmers' market.
Feta gets whipped with olive oil and lemon juice to make a fluffy, tangy spread. Finely chopped shallot and garlic are bathed in red wine vinegar and then poured over bright, beautiful cherry tomatoes to marinate.
Spread the fluffy whipped feta over a crostini and top with marinated tomatoes and freshly chopped basil. This appetizer is quick to put together and an absolute crowd-pleaser
The secret to a great party? Make the appetizers ahead of time! Then, all you have to do is pop them in the oven before your guests arrive and you have tasty bites to snack on without a rush or any stress.
These salami and cheese stuffed pastries look fancy, but they are actually really easy to make. The best Ina Garten thanksgiving appetizer you could bring to the party.
Store-bought puff pastry is rolled out and cut into any shape you like, but squares are the easiest. Layered with dijon mustard, herbs, cheese, and thinly sliced salami these are little pockets of goodness.
If you're a fan of goat cheese, you will be a fan of this appetizer idea. It's easy, simple, and can be made for any holiday, season, or occasion.
Goat cheese is just asking to be breaded and fried because it slices into pieces so nicely when it's cold and can be simply dipped in egg whites and bread crumbs and pan-fried to perfection.
This barefoot contessa appetizer goes perfectly with crackers and tart jam like raspberry or cranberry, or even just simply put on top of a salad and served as a first course.
Hummus is one of those dishes that we all buy in the grocery store so often, but it's really easy to make yourself and usually is better than the store-bought.
You can soak chickpeas for the smoothest hummus, or just simply use canned chickpeas. Purees with tahini, lemon juice, olive oil, and warm spices this hummus is so delicious with fresh vegetables, bread, and crackers.
It's a healthy Ina Garten appetizer recipe for a garden party, or really any occasion. You can make it just as a snack for yourself to keep in your fridge.
Tomatoes mean summertime. The best tomatoes are at the peak of summer when you're hosting outdoor barbeques or picnics in the park. Ina Garten appetizers are perfect for using peak produce and these tarts will make your tomatoes sing.
The goat cheese pairs nicely with the sweet tomatoes to give it a little tang and creamy finish, and using store-bought puff pastry makes these easy and quick to put together.
Shrimp cocktails are already a delicious appetizer for a party. But naturally, the Barefoot Contessa doesn't just do plain old shrimp cocktails.
These shrimp get dressed in seasoning and roasted in the oven to really get a nice caramelization to make your cocktail a bit different. Ina also makes a bit more of a kicked-up cocktail sauce with horseradish, chili sauce, and lots of lemons.
The caramelized shrimp go perfectly with this zingy and satisfying sauce. Serve this Ina Garten party appetizer with champagne or punch any time of year.
Cheese fondue, move over for this decadent and delicious baked fontina appetizer. Cheesy, ooey, gooey, goodness with herbs and garlic make an absolutely irresistible pan of savory cheese to dip bread into.
Ina Garten creates recipes that are simple and satisfying, and this baked cheese is both those things and more.
You can put together the cheese ahead of time, then simply pop in the oven to melt and have it ready to go in minutes.
What makes these deviled eggs different from just your average party tray appetizer?
Briney and fresh smoked salmon is mixed into the filling. The topping that really makes these pop is the bright orange salty pop of salmon eggs on top of the egg.
Deviled eggs can be a lot of extra work for your party, but not without great reward.
The trick is, make your eggs a day ahead and hollow out the yolks and mix your fillings, prepare everything ahead of time then fill your eggs right before the party.
These stuffed mushrooms make for a particularly elegant Ina Garten appetizer recipe.
The sausage filling is satisfyingly savory and pairs perfectly with the mushrooms.
This Barefoot Contessa appetizer looks so complicated but is really very simple. You can clean and stuff your mushrooms up to a day ahead of time and then bake them when your party gets started. Perfect for the holidays or a busy time.
There are certain things in this world that just sing together. Like peanut butter and jelly, or wine and cheese.
This barefoot contessa recipe is just that, a match made in heaven. Figs and prosciutto come together to make the perfect sweet and savory bite.
When figs are roasted they take on the most wonderful honeyed sweet flavor. Look for mission figs for this recipe but any figs will do.
This is a late summer appetizer for your outdoor parties. Figs have a short season so get them while you can!
Cheese and salami is another match made in heaven, and camembert with prosciutto is the perfect combination.
Call your appetizers a tartine to impress your guests, but really it just means toast with things on top in french.
Camembert may seem daunting but it's a wonderful brie-style cheese that delivers a little bit of sharpness with a creamy interior. Paired with prosciutto it's the perfect bits, and such a delicious Ina Garten party appetizer recipe to go to.
Bruscetta basically just means toasted bread, typically sliced from a baguette and brushed with olive oil or butter and toasted in the oven.
Many of Ina Garten's appetizers would not be the same without bruschetta to hold all the delicious toppings.
Possibilities are endless, you can top these with sweet or savory things, make them ahead and serve them with dips or make an assortment of toppings to give people options.
The toasted bread is the perfect vessel for saucy things like the marinated tomatoes in Ina's whipped feta and tomato toasts.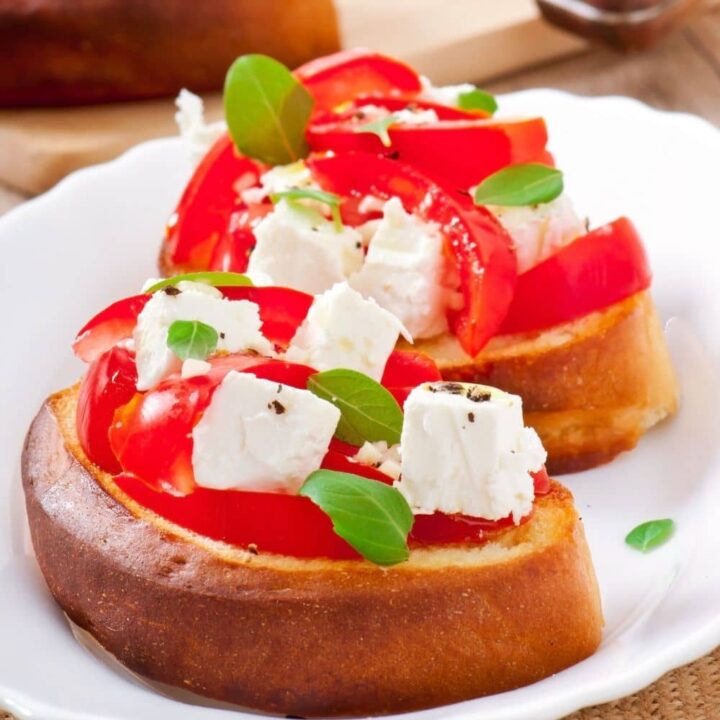 12 Best Ina Garten Appetizers Recipes
Ingredients
6 oz good feta, crumbled
Kosher salt and freshly ground black pepper
2 oz cream cheese, at room temperature
2/3 c good olive oil, divided
2 tbsps freshly squeezed lemon juice
2 tbsps minced shallots (2 shallots)
Kosher salt and freshly ground black pepper
2 tbsps good red wine vinegar
2 lb ripe heirloom or cherry tomatoes, 1/2-inch-diced
3 tbsp julienned fresh basil leaves, plus extra for serving
2 tsp minced garlic (2 cloves)
20 to 25 (1/2-inch-thick) diagonal baguette slices, toasted
2 tbsp toasted pine nuts
Instructions
Start by combining the feta and room-temperature cream cheese in a food processor. Pulse till they are combined. Then add in the olive oil, lemon juice, salt, and pepper. Blend until smooth and whipped
Make the crostini by slicing a baguette at an angle and arranging it on a sheet tray. Brush with olive oil and bake for 10 minutes in a 425F oven.
In a bowl, combine the chopped shallots, chopped garlic, and red wine vinegar, stir, and let sit for a minute or two while you slice your tomatoes.
Pour the vinegar mixture all over the tomatoes and toss to coat. Let sit for 5 minutes or so to marinate and then stir in fresh-cut basil.
Top a crostini with a spread of the whipped feta, then spoon over some marinated tomatoes and top with a little more fresh basil.
Enjoy!