Looking for a quick and easy dessert that's versatile to bake? Then these puff pastries are for you! Puff pastry dessert recipes are made of light and fluffy dough that can be used to create infinite desserts!
These tantalizing pastries can be made to suit both sweet and savory palettes and can be baked for any occasion. If you want to know some unique recipes using puff pastry, then read more to find out.
We'll be revealing the best recipes using puff pastries that will make a lasting impression on everyone you bake for!
Puff Pastry Sweet Recipes:
Are you in need of some inspiration and would like to know what to make with puff pastry? We will explore some incredible recipes to reveal what you can do with puff pastry and enliven any dessert!.
What scrumptious desserts can you make with puff pastry? We promise to inspire you with these versatile recipes and get you in the kitchen baking in no time!
Take a look at these easy and quick puff pastry recipes below:
You can never get enough of too much chocolate! Making chocolate puff pastries are simple.
Nutella is the best ingredient to enhance the sweetest of flavors, but using any chocolate spread is just as good.
Want to know the secret ingredient? Then use nuts such as cashews or hazelnuts for a crunchy and tasty touch.
Generously spread the chocolate on the thawed puff pastry and then roll the dough into a log shape and cut the length of the dough, and twist as desired.
Chocolate puff pastry twists make delightfully large and braided dessert pastry recipes!
If you're a fan of apples then you can get stuck into preparing this pastry! Don't be shy and use a generous amount of chopped apples and fill them inside the pastry.
You can sweeten the apples with brown sugar or use caramel to drizzle on top.
Want to know more about the secret ingredient for this dessert? Simply add some cinnamon or nutmeg which will deeply enhance the flavors.
For an extra sweet finish, you can also use marzipan which is a perfect puff pastry filling idea for this dessert.
In the mood for more chocolate? We are too- and these puff pastries are too tempting to ignore. Small but scrumptious, but enough to go round. These bite-sized chocolate rolls are a delightful treat.
To enhance the flavor of these chocolate desserts why not add a handful of hazelnuts?
You can use also use salted butter or lightly glaze with egg and sanding sugar for a crunchy finish too. Don't have chocolate spread to hand? No problem!
You can choose to use some chocolate chips which will be a simple alternative to use as a dessert filling!
These delicious pastries are quick and easy to make and use raisins for a fruity taste. If you don't know what to do with puff pastry, then these easy sticky buns do the trick. So, what's the best way to enhance the deep and rich flavor of these buns?
Use cinnamon, brown sugar, and grated orange peel for a zesty and sweet finish.
These sticky buns pair beautifully with pecan or hazelnuts too. You can also glaze with some honey or caramel to top off the indulgent flavor of these buns.
That's what gives these puff pastry desserts extra sticky and worth devouring!
In the mood for more apples and cinnamon? This yummy puff pastry dessert is for you. The 'slab' and long shape of these puff pies make them incredibly unique and delightful to bite into.
They're easy to cut into slices and share around too. These puff pastry desserts can be beautifully sprinkled with sanding sugar for a luxurious finish.
To prepare the apples for this recipe, simply caramelize them using some cinnamon, butter, and sugar.
You can also add raisins or even nuts if you want a unique way to enliven this dessert.
Using raspberry jam is the secret ingredient to any baker's heart. Fruity jam is a luxurious ingredient that promises to create a sweet and lively taste for any pastry.
The decadent sweetness of raspberries promises to tickle your taste buds and have you craving more!
But what really makes this dessert special is its perfectly hand-crafted heart-shaped pastry that will win any pastry lover over.
To finish, simply powder this raspberry dessert with some icing sugar or glaze with an egg wash for the best finish.
One of a kind and unforgettable, these puff pastry danishes are versatile and can be filled with any ingredient you wish!
Danishes are particularly quick and easy to make, and you can utilize frozen pastry if you're in a hurry.
Usually, danishes are filled with fruity jam and chocolate, but using cream cheese is even better.
To enhance the original taste of this pastry, you can use a small drop of vanilla extract to give this danish a deeper and luxurious flavor that smells so delectable and tastes even better!
These unforgettable strawberry puffs are an unforgettable delight. The luxury of strawberries is so enticing and makes a perfect touch to any dessert.
Decide to use jam, frozen, or fresh strawberries- whichever you decide to use, top off with some whipped cream!
This delicately crafted dessert looks and tastes the part.
Add some vanilla extract to uplift this dessert and enliven your senses with every bite.
We truly can't get enough strawberries, it's the perfect touch for any dessert. The pizza style of this pastry dessert is named after its shape and appearance.
The secret ingredient for this delicious dessert? Add a small amount of milk and cream cheese, and top off using icing sugar!
That's what gives this rich and creamy taste to the soft and sweet outer layer of the golden brown pastry.
You really can't go wrong with these fruity pizza puffs. Who wouldn't be curious to try this yummy dessert recipe out?
What makes this dessert stand out from the rest? The use of luxurious and tender almonds creates an original flavor. Choose to top this puff pastry with almonds and icing sugar and indulge in the soft pastry of these croissants.
Serve these almond croissants for breakfast or dessert, and decorate these with a generous amount of jam or whipped cream!
The choices are endless with these delicious croissants, that are simply special for any occasion and not too sweet!
Cream cheese is simply a classic ingredient, which is a combination of milk and cheese. Use this ingredient to give a fresh flavor to any puff pastry dessert.
You can use jam, fruits like strawberries, blackberries, or apples as well as fill these danishes with nuts or cream.
Simply alter the flavors that your taste buds prefer using these creamy and tender puff pastry danishes with any sweet ingredients that can be found in any kitchen.
Cream cheese lovers are yet again in for a delightful surprise with these desserts.
This dessert is a special choice and goes with everything!
You can also devour these fluffy and fruitful desserts using vibrant fruits such as strawberries, peaches, and blackberries to give these pastries a delicious twist.
Couple with some icing sugar, or whipped cream, you won't be able to resist these tangy, sweet, and creamy pastries!
These mini fruit and cream cheese pastry pies are slightly different from the pastry puffs because they are lusciously bite-sized.
These puffs are slightly thicker but the peaches give a juicy and sweet taste and are filled with another secret ingredient that works perfectly- honey.
Have you thought about caramelizing the peaches, or drizzling a generous amount of honey onto these pastries? Then you're surely in for a sweet treat!
This pastry recipe is simply the cherry on the cake! The luxury of cherries will fruitfully enhance any dessert like this one. If you're looking for a quick and easy option to boost the flavor of these pastries, try using a small amount of lemon and vanilla extract.
Cherries can create a really deep flavor that is tangy and rich for any dessert. This pleasant cherry summer treat compliments any breakfast with a tea- or for a scrumptious dessert, just add some vanilla ice cream or whipped cream.
The secret ingredient to uplifting blueberry puff pastries? Honey and lemon cream!
These ingredients create the perfect combination, and you can choose to lightly toast some almonds to give it a luxurious and crunchy twist too.
Whipping cream can be generously drizzled on these light and fluffy tarts, and coupled with the tangy lemon cream- this dessert is truly mouth-watering! Try adding a bit of sugar, salt, and honey to balance out the tanginess of the lemon.
These pastries are quick and easy to make because they just involve three simple ingredients. No need to spend too much time tweaking the recipe in this one-the flavors speaks for themselves.
Bana and chocolate are the perfect combinations that are delicious. What's the magic touch?
Add a touch of cinnamon or nutmeg to enhance the flavors and give this sweet dessert an extra kick. Dollop some vanilla ice cream or whipped cream for a tasty finish and you'll be satisfied!
Calling all lovers of cinnamon! This rolled-up and thick pastry dessert is an all-time favorite for all dessert lovers.
Add a generous amount of cinnamon, and then add icing sugar on top to make a sweet and yummy finish!
Are you wondering how to boost this dessert's unique taste? Then fill these pastries with raisins or pecan nuts for a decadent and luxurious roll. Nothing can compare!
The bite-sized version of the cinnamon puff pastries is a delightful treat. They are quick and simple to impress any cinnamon lover.
Have you thought about using coconut shavings to top off these mini puff pastries?
The hint of coconut can dynamically bring out a different flavor to the rest and balance out the sweet flavors. To finish, glaze this dessert with butter, or drizzle it with some honey for the perfect treat.
This creamy and zesty galette pastry leaves all dessert lovers feeling lovestruck! This blueberry dessert not only looks decadent, but the sweet blueberries coupled with lemon zest and cream infuse this galette with an appetizing taste.
Baked until golden brown and traditionally used with pie crust, using puff pastry creates a unique twist.
Baking a galette using puff pastry means you'll have a buttery and flakey pastry that's mouth-watering and delicious!
In the mood for more blueberries? This simple and delicious blueberry tart can be enhanced using vanilla extract.
The texture and appearance of these tarts are slightly different from galettes, but the blueberries are still the staple fruit that enlivens this fruity recipe like no other.
Try using some lemon zest to create a fruity and tangy finish, that can be complemented with some fresh cream or a sprinkling of icing sugar.
These light and fluffy croissants are an essential dessert for any baker's kitchen. Filled with rich chocolate- you can choose to use chocolate spread, sprinkles, or chip chunks.
Any chocolatey ingredient does the trick. Team with some nuts to luxuriously compliment this pastry filling to create a mouth-watering croissant dessert.
Enjoy chocolate croissants as a treat, or even as part of your breakfast! They are versatile and a top favorite puff pastry dessert admired by all bakers.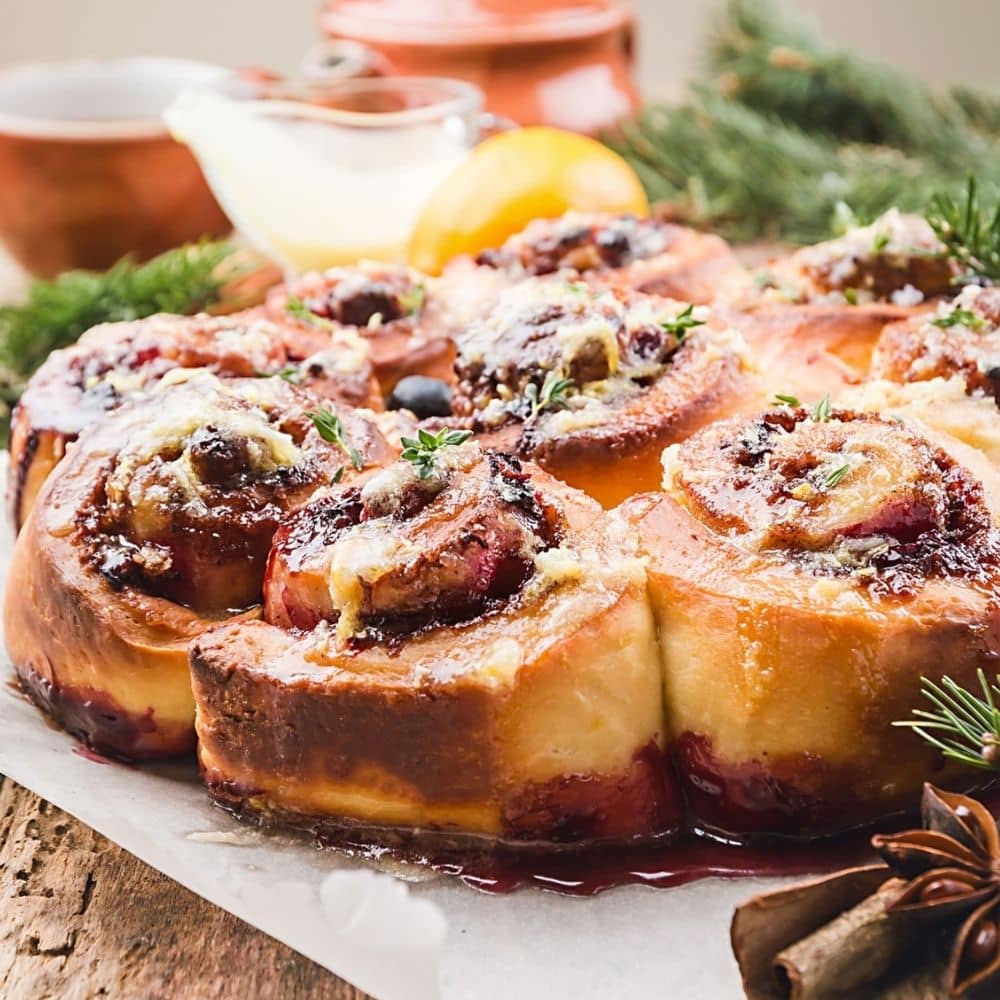 21 Best Puff Pastry Desserts
Additional Time:
5 minutes
Ingredients
1 (17.5 ounce) package frozen puff pastry, thawed
1 c dulce de leche
2 tbsps confectioners' sugar
Instructions
Once you've prepared the ingredients, you can start by preheating the oven to 400 degrees (F) or 200 degrees (C). Line the baking trays with some parchment paper to avoid the desserts from sticking, you can spread butter or oil on the paper too.
Next, prepare or buy the pastry (unless you're an expert)- it's better to buy shop-bought pastry for these desserts because it's easier and quicker to use. Roll the pastry onto a floured table and cut the pieces into equal portions around 1.5-inch squares. Place the pastry onto the baking sheets.
Then, bake the dough in the oven for 15-20 minutes until the color is golden and crispy.
Place the baked dough somewhere to cool (preferably on a metal wire rack) for 5-10 minutes. Slice the dough into halves.
Finally, spread caramelized milk or jam (also known as dulce de leche) onto half of the pastry squares and place the squares on top.