What's the best party dish that can never lead you astray? We like to think it's sliders! They're always tasty, plus they're easy to eat and so cute!
We've compiled tasty slider recipes that you and your loved ones will enjoy. These slider recipe ideas range from BBQ to breakfast-inspired for a delicious main or side dish.
You can even make a few different recipes for the same party if you're feeling inspired!
Whether you prefer a sweeter flavor, spicier taste, or a more comforting dish, this list has you covered.
Let's get into these mouthwatering recipes so you can start cooking (and eating!).
We're starting the recipe list with a tasty and straightforward option – cheeseburger sliders.
You can never go wrong with cheeseburgers; everyone loves them! If you want to get extra creative, bring along an array of different toppings like sliced onions, sauteed mushrooms, etc.
While making cheeseburger sliders, you'll need dinner rolls to put them on. You can switch it up by using Hawaiian rolls instead for a slightly sweeter flavor. This fun take on cheeseburger sliders will have the guests going back for seconds.
Running out of time and need a quick, satisfying recipe that isn't complex or super hands-on?
Look no further than this chicken parmesan slider recipe. You'll use simple ingredients like chicken tenders and marinara to make a super yummy dish.
For an even more flavorful slider, opt for Italian chicken tenders. If you can find them at your store, they should have delicious Italian seasoning, which helps boost the flavor.
Or, try using grilled chicken tenders for a healthier option.
While these breakfast sliders are great for a morning meeting, you can make them for any meal! Who says you can't have breakfast all day long?!
They're filled with eggs, cheese, ham, and breakfast goodness.
One ingredient that makes these sliders even better is the cooked bacon that is included in each sandwich. You can use breakfast sausage patties instead to create an equally delicious slider.
Adjust the ingredients based on your needs and taste preferences.
Tip: Don't forget to brush the buns with butter; this will help create a beautiful golden-brown color in the oven.
We love serving these chicken sliders at BBQ get-togethers! They make for a tasty appetizer, and they're super tasty. Each bun is filled with BBQ sauce-covered chicken, fresh red onions, and slightly spicy slices of pepper jack cheese.
You'll need cooked chicken for this dish. Don't have time to make chicken breasts ahead of time?
Try using rotisserie chicken and shredding it using a few forks.
This way, you'll have shredded chicken in no time! Make sure to remove the skin before shredding the chicken breast.
These meatball sliders are a great way to enjoy the best comfort food less messily. They're gooey, saucy, and oh-so-flavorful! These meatball sliders make for the best family dinner.
The recipe calls for shredded mozzarella to add gooeyness to these sandwiches.
If you want a slightly more flavorful cheese, try using provolone. Slices of shreds will work when swapping to provolone.
While these make for an excellent dinner option, you can make them for any occasion.
Loved the cheeseburger sliders, yet don't know where to go from there? Try these delicious bacon cheeseburger sliders! As far as slider ideas, you can't go wrong by adding bacon to an already super tasty dish.
The not-so-secret ingredient is the ground beef that you'll use to make the patties for each sandwich. Make these sandwiches healthier by using ground turkey or ground chicken instead.
You won't need to alter the seasoning, so it'll be an easy swap.
You can also use turkey bacon for an even lighter dish!
Something about the combination of hot sauce and ranch is so incredibly delicious! It seems to go with everything from dips to wraps and more.
Enjoy this delicious combo on a sandwich with shredded chicken and gooey cheese.
If you're not a fan of ranch, blue cheese dressing will also work on these sandwiches. Both dressings help cool the fiery heat of the buffalo sauce.
Of course, you can leave the dressing off completely for an even spicier sandwich.
Tip: Make sure to use cheese as the bottom layer to prevent a soggy, hard-to-eat slider.
Ham and cheese is a classic combo that you can never go wrong with! These sandwiches are seasoned as well, so they're very flavorful. Next time you're unsure of what to meal prep for the week, try making a tray of these sliders!
Not everyone is a fan of Swiss cheese, as it has a fairly strong flavor.
Any type of sliced cheese should work well in these sandwiches. Try Havarti or muenster for an equally delicious (and more subtle) flavor.
Sometimes all you need is a delicious roast beef sandwich! These sandwiches are simple, have the perfect seasoning, and will hit the spot every time.
Adding a seasoned butter mixture to the sliders helps prevent the roast beef from drying out in the oven.
You'll use whole grain mustard as part of the seasoned butter mixture. If you have a different type of mustard on hand or prefer different mustard, you can use that instead.
Some excellent replacement options include Dijon mustard and honey mustard.
Have picky eaters you're trying to accommodate? Have no fear – these beef sliders will keep anyone satisfied! These are great for family dinners, get-togethers, or even kid's birthday parties.
Like regular-sized cheeseburgers, you'll be adding lettuce to each slider.
If you want a boost of iron and nutrients, swap the lettuce out for spinach. You may even be able to get away with this swap for kids!
Tip: Assembly is easier if you make the toppings the same size as the sliders.
As soon as we saw that these sliders had a generous topping of caramelized onions, we knew we had to include it on the list!
This slider is everything you would want in a sandwich. It has a lovely sweetness from the onions, a gooey cheese topping, and a roast beef filling.
Want to save a few minutes mincing the garlic for this recipe?
Purchase a jar of pre-minced garlic from the grocery store. We love using this hack – especially because you won't need to clean the garlic press afterward!
Who doesn't love chicken parmesan? If you're a chicken parm enthusiast, you'll want to try this recipe and the slider bake above. The combination of marinara, gooey cheese, and chicken in every bite will have you wanting to make this recipe every week.
These sliders have two hidden ingredients – fresh parsley and fresh basil. They help perk up the sliders and add a pop of flavor.
Don't have any on hand? Use an Italian seasoning instead. It's easy to find at grocery stores. Though, you likely already have this spice mix at home.
These are the best sliders, hands down! They're filled with not one but two types of cheese, bacon, and scrambled eggs. These sliders are even served on super cute mini bagels.
Your store may have other flavors of mini bagels – like everything bagels. If you can find them, grab a bag!
They'll make the sandwiches even tastier!
You can also purchase a few varieties of mini bagels if you're planning to make a large batch of sliders.
Those enjoying a sandwich can choose which type of bagel they want to eat.
Skip serving the same few dishes at every game day party and add these sliders to your repertoire! You'll get raving reviews every time and won't have to eat the same thing at each get-together. Plus, the sliders are ready in less than an hour.
Each bite has pieces of delicious green peppers.
You can mix it up and add a slight sweetness by using red, orange, or yellow bell peppers. It also makes the sandwiches more festive!
Tip: These are best served warm, so the cheese is gooey.
Who doesn't love white castle sliders?! While tasty, we don't love waiting in line for the delicious sliders.
Now, you can make White Castle sliders at home and skip the trip to the nearest drive-thru.
The secret ingredient that makes this slider dupe taste like the real White Castle sliders is the tablespoon of peanut butter that you'll be mixing with the beef.
If anyone in the group has a nut allergy, you can swap it with sun butter. Keep in mind that the flavor will be slightly different.
We love easy recipes that pack a punch of flavor!
The Havarti and the seasoned butter sauce help create a unique and unforgettable taste. Once they're finished cooking, you'll have yummy pull-apart sliders.
When putting together the sandwiches, you'll be adding deli turkey slices to each roll.
You can also create these after Thanksgiving using leftover turkey chunks/slices. It's a great way to use up some leftovers and make a tasty meal.
Tip: Make sure they pull apart easily by avoiding turkey meat overlap.
Love chili cheese dogs, but don't love how messy they are? Give this recipe a shot! You get that super delicious cheesy hot dog flavor, but in easy-to-eat mini sandwiches.
Like classic chili dogs, each slider is topped with shredded cheddar cheese. Add your take on these sliders by using your favorite cheese blend. For a pop of flavor, try shredded taco blend cheese.
Don't skip the step of slicing the hot dogs lengthwise and into chunks.
Leaving the hot dogs round will make it messier when you bite into the sliders.
Sure, you could eat beef or chicken sliders. Or, you can create sliders with delicious lamb patties for an unexpected flavor! For an unbelievably good sandwich, the lamb is perfectly seasoned with garlic, cumin, salt, and pepper.
On top of the patties, you'll be adding ketchup to boost the flavor more.
You can treat these sliders like burgers and use your favorite condiments instead. Brown mustard, mayo, and relish are all great options on these sliders.
Don't be afraid to experiment with sauces and condiments on these lamb sandwiches!
We love trying new game-day recipes. These game day sandwiches are also under the easy slider recipes category, so it's a double win! These yummy turkey sliders are covered in cheese and can be ready for your game day celebrations in no time.
The hidden ingredient in these sliders is brown sugar.
You'll be creating a homemade sauce that's tangy and sweet to boost the flavor of the turkey sandwiches. Honey or maple syrup will also work as replacements for brown sugar.
Tip: Make sure to cover the sandwiches with foil for the first 14 minutes. Otherwise, the tops will get too dark or burn.
Gochujang is similar to a spicy Korean BBQ sauce. It's a super flavorful condiment that is used in quite a few Asian recipes.
Adding it to these Asian sliders helps create a distinct Asian/Korean flavor in each sandwich.
You'll be using reduced-sodium soy sauce to flavor the beef patties. Use coconut aminos for a slightly sweeter flavor.
Regular soy sauce will also work as a substitute, though make sure to leave out the kosher salt if you're using this option.
Take a trip to New Orleans without leaving your kitchen every time you take a bite of these po'boy sliders! The shrimps are perfectly crispy and covered in a cornmeal batter for extra flavor. These sliders are spicy, tangy, and utterly tasty.
You'll be using cornmeal to help create a coating for the shrimp. If you can't find cornmeal at the store and don't have any at home, you can use breadcrumbs.
The texture will be slightly different, though you'll still have a plate full of tasty sandwiches.
You don't have to only eat corned beef and cabbage for St. Patrick's Day. These sliders give you an excuse to enjoy this tasty combo as often as you like. You can't go wrong with an easy dish that only requires six ingredients!
Making these sliders is a snap when using ciabatta rolls.
You can also use potato rolls, dinner rolls, or whichever rolls your heart desires.
Tip: You can also make these sliders to use up leftovers. Otherwise, you can purchase pre-cooked corned beef.
Each bun is topped with sauteed bell peppers and an Italian sausage patty. It may seem like an easy combo, but that doesn't make it any less delicious!
If you're looking for a yummy BBQ slider option that's unexpected, try making these sausage and pepper sliders.
You'll be using shallots to help add more flavor to the sliders. Yellow, red, or white onions are great replacements for shallots.
Choose the type of onion based on your flavor preference.
Yellow and white onions will be slightly sweet, while red onions offer a slightly spicy flavor.
Super tender beef that's falling apart by itself covered in a homemade BBQ sauce? Sign us up! Don't let the long list of seasoning intimidate you; this recipe is easier than it seems, and the finished dish is unbelievably good.
The base of the BBQ sauce is made using chicken stock.
Add a beefier flavor by using beef stock or beef broth instead. Stock is preferable as it's richer and helps create a thicker sauce.
However, you can use either option for this recipe.
Can't seem to find the perfect fried chicken dish? Well, you haven't tried these fried chicken sliders yet! This is one of the most addictive recipes for sliders.
One bite of the extra crispy chicken, and you won't be able to get enough!
Using corn flakes to help make a crust provides the extra crispiness that you're looking for. However, you can use any crunched-up chips for that desired texture.
Doritos are a personal favorite, as they add a cheesiness.
Omelets are usually frustrating to make as it seems challenging to get them to cook all the way through without overcooking the outside. Here's a way that you can make the perfect omelet every time!
You'll be adding the eggs right into the baking dish with the sliders, so you'll have a fully cooked omelet ready in a few minutes.
The hidden ingredient in these sliders is zucchini slices. Not everyone is a fan of the flavor of zucchini. You can use a more popular veggie like mushrooms for picky eaters.
Chicken cordon bleu typically includes a breadcrumb-coated chicken breast wrapped around melty cheese. You can recreate this mouthwatering dish as a plate full of sliders using this recipe.
Swiss cheese and provolone add gooeyness and a delightful flavor to the cordon bleu sandwiches.
Using rotisserie chicken saves you time when making this recipe.
Though, you can use any grilled or pre-made chicken as a swap. Try chicken tenders to get a similar coating as the original dish.
Tip: Be generous with the butter topping – it helps add even more flavor.
Can't get enough buttery, flakey biscuits? Here's a recipe that allows you to enjoy more biscuits! These simple, tasty sliders make a great on-the-go breakfast.
The not-so-secret ingredient is the bacon that's included on each slider.
We know it's challenging to say no to bacon, though you can swap this with turkey bacon instead. You'll still get a similar flavor with fewer calories.
This recipe calls for buttermilk biscuits. However, you can swap in any type of biscuits.
If you prefer dinner rolls, those will also work well.
These BBQ chicken sliders are packed with shredded chicken, your favorite BBQ sauce, and fresh red onions for a pop of flavor. These are great for using up leftover chicken in a flavorful sandwich.
They're easy to throw together and pack for you and your kid's lunches in the upcoming week.
Yes, BBQ chicken is delicious. You can also use this recipe to make epic pulled pork sandwiches.
Simply swap out the shredded chicken for shredded pork, and you're ready to rock and roll.
How can you make any get-together even better? By bringing these super yummy cheesy bacon turkey sliders. These gooey sandwiches are perfect for any occasion.
They're so good that you may want to plan get-togethers more often so you can whip up this recipe!
Using poppy seeds makes these sandwiches look like they've been created in a restaurant. You can also use sesame seeds if you prefer the flavor.
Either option will provide an attractive sandwich.
Tip: Make sure to precut the buns, so they pull apart more easily.
Creating these slider sandwiches allows you to enjoy your favorite holiday dishes throughout the year. Now you don't have to wait until Thanksgiving to taste the turkey cranberry combo.
These festive holiday sliders are seriously drool-worthy.
Are you more of a ham and cranberry sauce person? The flavors of these sandwiches work equally well with chunks of ham.
If you can't get ahold of turkey or ham chunks, slices of deli meat will also do.
As a note, you can also create these sliders as a way to help use leftovers. Freeze any extras you have.
Want a sandwich that you can eat hot or cold? Try these Cuban sliders. They're easy and quick to make, plus you only need a handful of ingredients.
Typical Cuban sandwiches use roasted pork or pork tenderloin pieces.
This recipe calls for ham. If you want to make a slider closer to the traditional recipe – swap it for pork pieces.
Tip: Make sure to cool the sandwiches completely before putting them in the fridge. Otherwise, the leftover sandwiches may not be safe to eat later.
Honey and buffalo are two flavors that may not seem like they pair well together. We're here to tell you to give this yummy sauce a chance – it's more than worth it!
The sweet honey and spicy, tangy buffalo sauce mingle together perfectly.
Using blue cheese crumbles creates a unique and flavorful meatball slider. Goat cheese is a great alternative to this recipe.
You can also use feta cheese as a flavor-boosting ingredient.
This recipe may not be for everyone, but it's great for those who like new flavor combinations.
Are you not a fan of typical dinner buns or Hawaiian rolls? If you aren't, you'll love this recipe for ramen sliders!
Instead of the usual bun cover, you'll use crispy ramen noodles. Inside each bite, you'll find spicy, sweet sriracha sauce. You can also use your favorite hot sauce as a swap.
This way, you can enjoy a sandwich that's sweeter, spicier, or whatever flavor makes your taste buds dance.
This fun recipe is great for kids' birthday parties and get-togethers.
While the other burger and cheeseburger slider recipes are fantastic, they can be time-consuming. You'll need to flip the burgers separately, which may not always be a good option for your busy schedule.
By sauteing ground beef crumbles, you'll save lots of time! After assembling the sliders, you'll be topping each sandwich with a sprinkle of garlic powder.
Onion powder works perfectly fine if you can't find this spice in your cabinet. It offers a similar flavor to the sliders.
Here's one of our favorite slider recipes for a crowd. It's a really decadent and comforting food that makes everyone feel warm and cozy while they're eating it.
Chicken and waffle sliders are a great dish regardless of the time of year or time of day.
You can't have chicken and waffles without a healthy dose of maple syrup. The sugar-free syrup is a great replacement if you're watching your sugar intake.
You and your crowd won't be able to tell the difference.
Tip: Add a few drops of hot sauce for a fiery flavor.
Told you we couldn't get enough of the cranberry and turkey flavor combination! You can't go wrong with this recipe with a five-minute prep time.
We recommend adding a large scoop of stuffing to each sandwich for an even tastier option.
The tops of each sandwich are brushed with a butter mixture that includes Worcestershire sauce.
If you don't like the flavor or don't have any on hand, use soy sauce instead.
This swap is easy to find in grocery stores and a pantry staple for many, so it's easily accessible.
We love creating new slider recipes, don't you? These recipes are fun, easy, and quick. Best of all, you can take them to special occasions or gatherings.
Watch how quickly the sliders get grabbed up!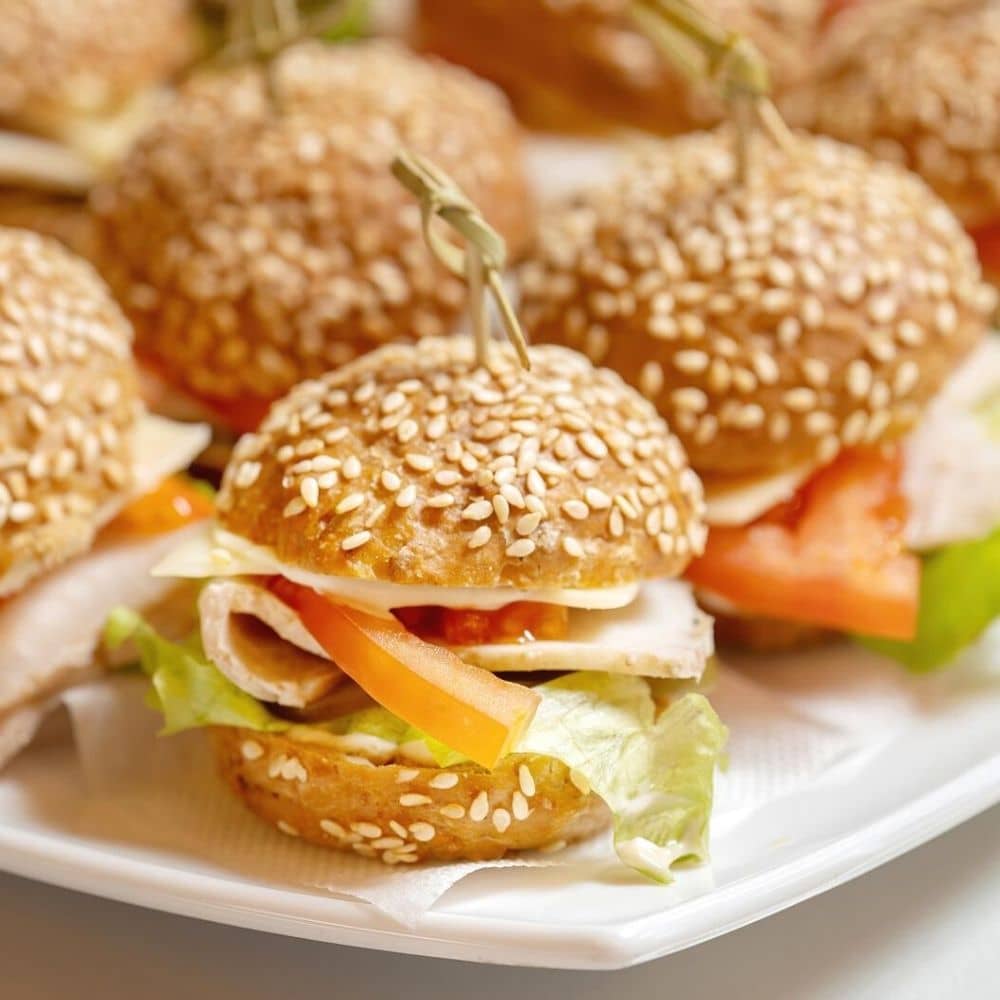 37 Best Slider Recipes
Ingredients
2 pounds ground beef(910 g)
1 tsp salt
2 tsps pepper
2 tsps garlic powder
½ white onion, diced
6 slices cheddar cheese
12 dinner rolls, or hawaiian sweet rolls
2 tbsps butter, melted
1 tbsp sesame seeds
Instructions
Start by heating your oven to 350F.
Mix the beef and seasoning, then add it to a glass baking pan. Press it flat so it
covers the bottom of the 9x13 pan evenly. After cooking for 20 minutes, drain the grease. Remove the beef from the pan.
Slice your rolls, so the top and bottom buns are separated into two layers. Add the bottom buns into the same baking pan. Then, top with beef, onions, cheese, and the tops of the buns.
Coat the buns with melted butter and a sprinkling of sesame seeds. Bake for another 20 minutes, slice and serve the delicious sliders.