Are you looking to plan a quick and light lunch? Why not consider having a variety of finger sandwiches? With these sandwiches being quick and easy to make, it certainly makes the preparation just as enjoyable as the eating part.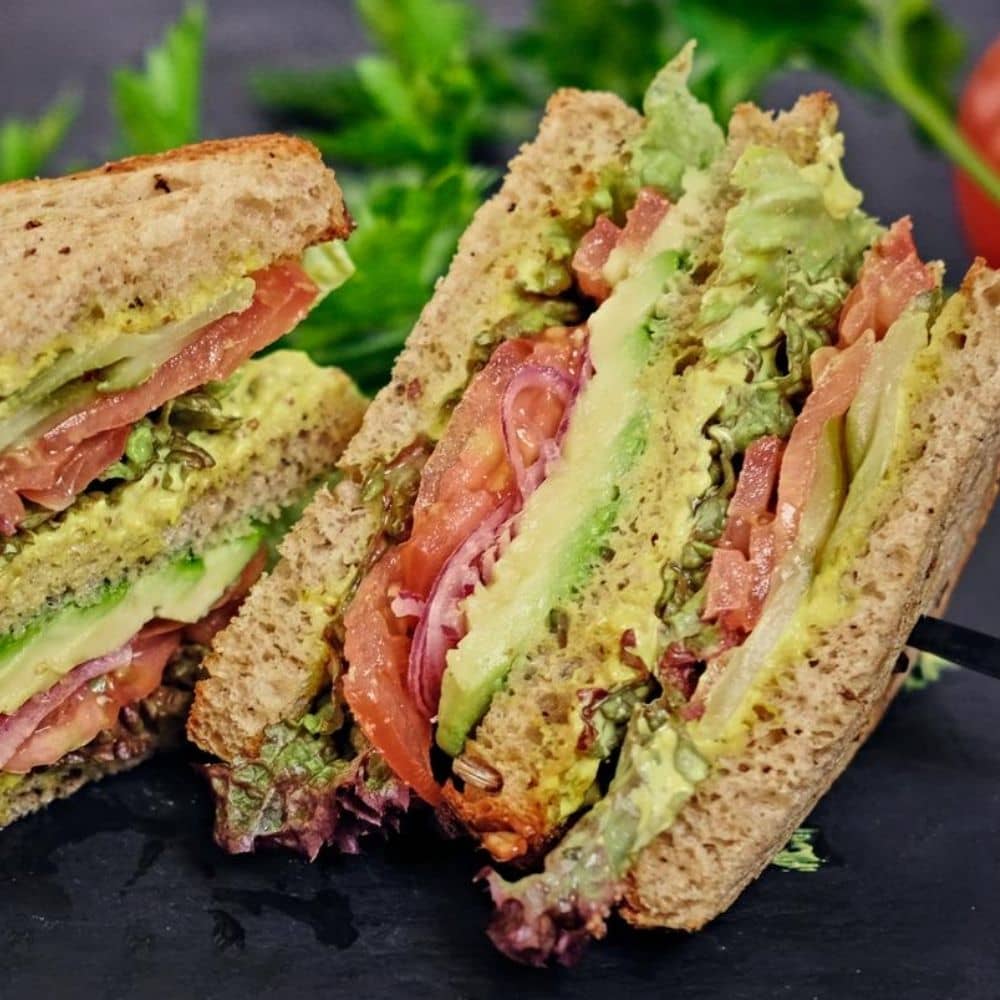 Having a selection of tea sandwiches is always better than only one type, but even if you do only decide to pick one, there are many recipes that offer an array of flavors, meaning you're in for a tasty treat.
As we head towards the summer months, there is nothing more pleasant on a hot summer's day than packing the car up and heading towards the beach with a picnic full of tea sandwiches.
So when you decide to plan a picnic or afternoon tea with friends or children, make sure to check out these tasty tea sandwich recipes.
The perfect afternoon tea isn't complete without an arrangement of sandwiches, with the traditional mixture of classic egg, smoked salmon, cucumber, and chicken with cranberry. Perfectly divine alongside a pot of English tea.
The secret of this recipe is to ensure that each half of the tea sandwich has a thin layer of butter on it, creating a protective layer, so the bread and mixture remain separate, making sure there are no soggy sandwiches, which of course, no one wants.
Have you tried any of these four sandwiches? Perhaps you should.
Fancy something light to eat? Try a cucumber sandwich, which almost fits perfectly with any other sandwich filling and are easy finger sandwiches to make, taking no time at all.
Not only is cucumber a faultless filling choice, but it is also 96% water, making it the highest water content food. With this in mind, it provides reassurance that your kiddies are hydrated even when they won't directly drink water.
This recipe is so easy to make with only cucumbers, cream cheese, mayonnaise, and the extra kick from the herbs and spices needed.
If you're in the mood for something a little more substantial, these chicken salad sandwiches are the ideal mix.
With chicken to provide the protein and the cucumber to fit in your five a day, what more could you want?
The key to making the flavors pop is the dill and cilantro. Without these herbs, it just isn't the same.
If you don't have any sour cream for the filling, yogurt works the same.
Salmon and cream cheese sounds like what you would choose to have in a bagel but have you ever considered trying it in a sandwich?
White bread is what we would recommend putting it on, but if this isn't an option or you're seeking something a little different, whole wheat works too.
If you've never tried a pimiento cream cheese tea party sandwich, you've been missing out your whole life.
Make sure the cheese is extra-old cheddar for that desired zing, but any cheese can work in this recipe as an alternative.
If you're in the mood for something a little sweeter and perfect for the summer weather, a strawberry-based finger sandwich is always the way forward.
The flavors really come together when you add in the cream cheese
If you want an alternative to using fresh strawberries, why not try it with strawberry jam? We're sure it'll be a hit with the kids.
Don't forget to cut them into cute little heart shapes. A truly picture-perfect sandwich.
Seafood isn't for everyone, but if you're a seafood lover, then you need to try a cheesy shrimp tea sandwich.
Shrimp combined with mayo, garlic, and Mexican blend shredded cheese, you can likely imagine how your mouth will be watering as you take the first bite. While the Mexican cheese is a considerable aspect of the recipe, any cheese can be used.
As with most sandwich recipes, there is always a secret ingredient or two that gives it that extra kick. With these afternoon tea sandwiches, it's important to not miss out on the parsley and dill herbs.
Nothing could be simpler than a ham and cheese, and an easy finger sandwich for the whole family.
Got fussy kids? No problem, whip up a quick ham and cheese sandwich, and it'll be a firm favorite.
If you haven't got ham available, try switching it up with some chicken, which is just as delicious as cheese.
It's easy to presume this sandwich only requires quite literally ham and cheese, but to give it that extra kick adds a small slither of mayo and mustard.
Tomato afternoon tea sandwiches couldn't be more simple, with only tomatoes and cucumbers needed as the main ingredients.
This is an ideal option for veggies and vegans. The cucumber can easily be swapped with ham or chicken for those who fancy a meat sandwich.
Cheese is often a hit with the whole family. Why not try these cheese savory finger sandwiches at your next family gathering.
Got a family member who's lactose intolerant? Swap the dairy cheese for a vegan alternative. But ensure you don't miss out on the paprika seasoning, this special ingredient is a key staple to making the sandwich so delicious.
We're not sure about you, but the idea of turkey, gouda, and apple in a sandwich makes us think of Christmas Day.
Grab yourself some Turkey from the deli, mix it together with apples, baby spinach, and gouda cheese, and you've certainly got a tasty snack. But, it's important not to forget the cranberry sauce.
As we said, it's literally Christmas in a sandwich.
Ah, yes, you're likely thinking this sounds like a weird afternoon tea sandwich, but we're here to prove you wrong.
There's nothing more pleasant than vegetables fresh from the ground, and you can rest assured that with these radish and herb tea sandwiches, you'll be getting in at least one of your five a day.
Had a roast the day before and have leftover roast beef? No point in wasting food. Use the leftovers to make a mouthwatering roast beef tea sandwich.
All you need is some roast beef, Greek olives, and a little bit of mustard and pepper for that hint of extra taste.
Egg salad is one of the easiest sandwich recipes that are out there but is up there as one of the tops.
This recipe is easy but does require a little more ingredients than some, including eggs, yogurt (you can use cream cheese as an alternative), Dijon mustard, mayonnaise, and simple seasonings.
Cut the crusts off, make them into little shapes and you are ready to go.
Another cucumber sandwich to add to the list, but can we complain when they're so light and fresh, especially with the added extra filling.
The recipe requires only butter, chives, cucumber, and a little bit of salt. The key to this recipe is removing the cucumber skin, or if you can get your hands on an English cucumber, use one of those instead.
If you can't get your hands on any chives but still want to make this tea sandwich, you can use scallions as a substitute.
Tuna is often a go-to easy-to-make seafood sandwich over other seafood.
So simple to make with tuna mixed with mayonnaise, crumbled goat cheese, basil leaves, and for that extra little something, a lemon-pepper seasoning because the seasoning is crucial in any recipe.
We think these look great with the crusts cut off and cut into little triangles. Pop them onto a pretty plate, and you've got yourself some fancy-looking tuna tea sandwiches.
When people think of a sandwich, we can guarantee 9 out of 10 times that BLT or bacon, lettuce, and tomato, if you aren't aware, is their first thought.
Being the best tea sandwiches on the market, we obviously had to include them. But what's special about these is the Japanese mayonnaise, creamier, smoother, and tangier.
What makes these even better than the standard BLT is their cuteness of them. You can cut them into little circles, and bingo, you've got a bite-size nibble.
If you have a sweet tooth, this afternoon tea sandwich is the one for you.
With only three key ingredients needed, this might be the simplest sandwich on our list.
The secret ingredient that brings the recipe together is the marshmallow fluff, and we all know that a little bit of sugary goodness never hurts.
You can cut them into shapes, making them the perfect tiny sandwiches, especially for kids.
We've mentioned cream cheese many times on this list but have you ever heard of a cream cheese and olive sandwich?
You don't even need to stick to one type of olive. Either green or black olives work perfectly.
There isn't really any complexity to this sandwich, with the filling quite literally only being made up of olive tapenade and cream cheese.
Ah, another strange one to add to this list but trying new foods has never caused any harm.
If your party consists of any vegetarians, you can be sure they'll enjoy a taste of these. Simply made with asparagus, mayonnaise, and some herbs and spices, your guests will be begging you for the recipe.
While mayonnaise really adds a delicious flavor, it can be substituted for salad dressing.
Looking for something light but with a slightly lemony flavor, then you're heading in the right direction.
This cucumber and lemony dill cream cheese tea sandwiches are quite simple, with only a few ingredients needed.
Like many of the other recipes, the secret ingredient to any recipe like this is the herbs and spices used.
While not as pretty as the cheesy shrimp tea sandwiches, you can be assured it's just as delicious, perhaps even tastier.
This recipe requires a little more prep time along with a longer ingredient list, but we promise it's worth the effort.
Make sure you don't forget to add the paprika for that little extra kick!
Enjoy a chicken curry and a sandwich? Why not try and combine the two and find yourself with a curried chicken tea sandwich.
The necessary ingredient for this sandwich is none other than the red apple and dried cranberries, giving it a tangy flavor throughout.
Almost like a BLT but without the lettuce. Bacon and cheddar is a classic filling and wasn't one we could miss off the list.
As you might have guessed, this receive isn't complicated, needing only a small number of items. While perhaps not appropriate for children, the one item you want to be sure to not avoid is the hot sauce.
Any type of butter filling is to die for, but these cucumber and lemon herb butter tea sandwiches will have you begging for more.
The key to the cucumber is not to cut it into slices but instead to peel them into ribbons. This recipe requires the bare minimum, only needing to combine the butter, lemon rind, dill, and chives together and spread onto each slice.
Not only are these deliciously tasty, but they too are so pretty when presented.
Turkey is often the forgotten meat except on Christmas Day, but this seven ingredient recipe will have you wanting turkey more often.
To prepare, you need turkey, basil leaves, cream cheese, scallions, and of course, the most important part, the seasoning. For meat often considered to be dry, the other ingredients are what is key to making this so tasty.
The word "summer" is in the name, and these certainly need to be in your summer picnic basket, being the perfect tea sandwich ideas.
Unlike many of the other recipes we've listed, this requires a few extra ingredients but is entirely worth it.
The seasoning is vital, with the tarragon perfectly complimenting the chicken.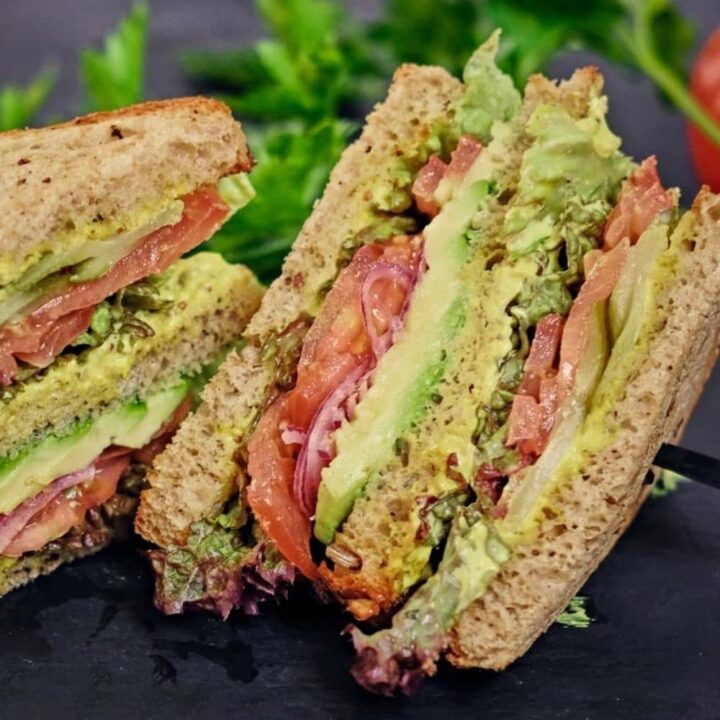 27 Easy Tea Sandwich Recipes
Ingredients
1 cucumber, peeled and thinly sliced
1 (8 oz) package cream cheese
¼ c mayonnaise
¼ tsp garlic powder
¼ tsp onion salt
1 dash Worcestershire sauce
1 (1 lb loaf sliced bread, crusts removed
1 pinch lemon pepper
Instructions
You need a cucumber cut into slices. Place these onto a paper towel for 10 minutes, and this will absorb the liquid.
In a bowl, combine the cream cheese, mayonnaise, garlic powder, onion salt, and Worcestershire sauce until smooth and creamy.
Take your bread slices and spread the mixture evenly on one side of each.
Place the cucumbers onto half of the bread slices, and on the cucumber slices, sprinkle lemon pepper.
Put the bread slices with the spread on top of the half with the cucumber slices.