There's something about the feel of summer that calls for new and exciting summer dinner recipes. Whether you're looking for a lazy summer dinner idea, easy summer meals for large groups, or a deliciously simple meal that is sure to perk up the whole family, there are loads of options.
This summer calls for a whole range of dishes, from sweet vegan stuffed peppers to BBQ chicken. It's a time to try dishes from many other wonderful cultures, such as Korean beef tacos, Thai chicken Buddha bowls, and Vietnamese summer rolls.
Frankly, this summer is going to be the best in the whole of 2022, and it needs to be started off right with a whole range of delicious, easy-to-follow summertime dishes.
Within this article, we will cover the following summer dinner ideas:
What should I cook for dinner in summer?
As you can see, the list is truly endless! There are many delicious options for dinner dishes in the summer, but some of the best are ones that can be made quickly, easily, and tastily. As such, you might want to consider salads, pasta, and potato dishes.
What's for dinner on a hot evening?
When the weather is hot, it's likely that you're going to want something cool. If you have a real craving for something like Greek salmon, then you might consider making extra portions and keeping them in the fridge, as they are also divine when served cold.
As it happens, this can be applied to every single wonderful dish mentioned in this article!
Can you give me some ideas for dinner?
Yes! My personal favorite recipes on this list are the garlic tomato basil chicken, Mediterranean zucchini boats, and lo mein.
You'll find that zucchini boats are popular all around the Mediterranean – and for good reason!
They're the perfect vessel to hold all kinds of fillings, from sausage to kalamata olives to sun-dried tomatoes – to all of them at once.
It's easy to make this recipe vegetarian, just by swapping out the meat for tofu or extra veg. Plus, if you want to make it vegan, then there are some great vegan cheese options out there!
Not only is this recipe super easy to follow, but it's also pretty quick to make! From gathering the ingredients to serving up the dish, it can take as little as 30 minutes.
Everyone loves a piccata, and everyone loves creamy chicken dishes, but the added lemon, capers, and parsley truly take it to the next level. To make it extra wonderful, consider adding four cloves of garlic.
Even faster than the previous recipe, these bad boys are ready in less than 15 minutes.
They have so much flavor and are a great addition to a date night or a packed lunch.
If you want to turn this vegetarian, then swapping out the steak for halloumi is a great call.
Frankly, what better combination is there than garlic, butter, olive oil, salt, pepper, red pepper flakes, and parsley?
If you're looking for a dish that transports you to the mystical islands of Greece, then this is the perfect recipe.
The Greek salmon is so succulent and Moorish, and the lemon and dill truly bring out the subtler flavors of the dish.
This is one of those dishes that actually turns out pretty well when served cold, so be sure to make extra and put it to the side for tomorrow's lunch.
Who knew that popping some shrimp into foil packets would result in them bursting with flavor? Somehow, bathing the shrimp in seasoning and letting it steep in those sweet, sweet juices really brings out the nuances of the dish.
Plus, it means that once it's in, you don't have to keep fiddling with it!
Not just that, but it's wrapped with potatoes, sausage, and corn, resulting in a whole meal just waiting to be devoured.
Imagine super juicy tomatoes, crisp cucumbers, feta cheese, and olives that are sure to make your cheeks tingle, and then you have this delicious dish.
Perfect for an easy summers' dinner, this meal isn't too heavy, ensuring that you can spend the rest of the evening walking by the ocean or reading a book on the balcony.
To really make it pop, why not consider adding some kind of protein like chicken or tofu?
This is another mouth-watering dish that is super quick and easy to whip up.
This makes it perfect for the summer when the heat hits and you don't feel like doing anything too strenuous.
This is one of those dishes that are often found, with some variation or other, in warm countries all around the world.
As such, it makes perfect sense that it would be perfect for summer! If you're looking for a solid summer meal idea, then this is a classic to fall back on.
Sure, there are plenty of modifications that you can make to non-vegan recipes to make them vegan, but isn't it better to start off with a recipe that is 100% perfect for vegans?
As such, these stuffed peppers are a great option to go for when looking for meat- and animal-produce-free foods.
These work either as a great side dish, or the perfect main dish of a meal. It's protein-rich, full of flavor, and a truly wonderful option.
I don't know about you, but it is my personal belief that hoisin sauce is the best invention in the world. Like, ever.
Hoisin-glazed salmon is absolutely delicious, with a perfect balance of sweetness and umami.
When I make anything that calls for a hoisin sauce, I tend to double or triple the sauce recipe so that I can use it later in. For example, you can use it for sushi, noodles, and even as a dipping sauce for fries!
Hawaiian poke bowls have recently really taken off, and now you'll struggle to find a health food store that doesn't have a load of these in the back.
But nothing beats a fresh poke bowl made with local ingredients – as such, this is a great recipe to experiment with and add your own personal touch to!
Top tip: to really make the poke bowl pop, consider adding in raisins for a hint of sweetness. I know it sounds crazy, but believe me, it works!
Chicken Shawarma is a staple in the Middle East, and you'll struggle to go anywhere around there and not wind up snacking on shawarma for dinner.
One of the best things about cooking chicken shawarma from scratch? The smell! When cooking, the air is penetrated with the most divine scents, and believe me, it quickly becomes addicting!
You know that you're going to eat well when you walk into the house and it smells like shawarma spices.
For all you gringos out there, 'queso chicken' translates to 'cheese chicken' – AKA one of the best combinations in the world.
Honestly, it's like chicken and cheese were brought into the universe to be destined to be together.
In this context, queso is the type of Mexican cheese used, which is pretty much just a delicious cheese mixed with spice.
One of the best things about this recipe is that if you have any leftover at the end of dinner, you can just pop the mix into some tacos and enjoy them for lunch the next day.
One of my personal favorite things about cooking in the summer is that I am able to find all of these wonderful recipes which take seemingly no time at all to make. Introducing… 20-minute steak fajitas!
This is a great summer dinner that the whole family can get involved in. It becomes super fun to throw in the veggies and steak and wrap them up, serving them nicely on the dish, and can be a great reason to get the kids together and learn more about their day.
I don't know about you, but I'd never heard of stuffing avocados with chicken before this. Neither had I considered popping in some Greek yogurt – but I guess you learn something new every day!
Creamy, flavorsome, and super easy and fast to make, this dish is sure to become a family favorite.
It's a fail-safe summer main dish recipe, and is something that you can fall back on time and time again without ever getting bored of its wonderful flavor.
A Buddha bowl is typically a vegetarian meal which is served in a single bowl, and consists of several small portions of food. Then, it is served cold. They usually have some kind of grain as the base, and almost always feature something green.
This Thai chicken Buddha bowl is absolutely divine – pin intended. Even if it shouldn't be called a Buddha bowl due to the nature of the chicken (a lot of Buddhists are vegetarian).
Still, making up a Buddha bowl is a great excuse to throw in all of your favorite veggies and whipping up a super easy and fast-to-make meal.
Oftentimes, it can take a fair amount of time to make falafel. Not only does it take a while to cook them off, but rolling them and ensuring that the ingredients stay firmly inside can sometimes be an issue. For me, at least.
Luckily, this super easy step-by-step falafel making guide is here to solve all of these problems! Not only is it a mega speedy recipe, but it's one that can fuel endless meals. For example, pop them inside some pita bread with hummus and you have a cracking lunch, or add it to a lazy Mediterranean salad.
If all else fails, falafels make a great addition to any mezzo spread.
These Mediterranean Turkey burgers are absolutely fantastic. They're so versatile, and are a perfect staple to begin the summer holidays.
Rather than cooking them in a skillet, you might want to consider taking the patties outside and grilling them on an outdoor grill or a barbecue. Nothing marks the beginning of summer more than a summer barbecue!
Once you've made the burgers, you can serve them alongside a whole host of summer foods. For example, sweet tomatoes and refreshing cucumbers.
This is another example of a meat-free dish which is absolutely delicious and super easy to make. Honestly, you can have the whole dish made and served within 20 minutes.
The pine nuts in this dish really make it pop, and the sweetness of the cherry tomatoes is sure to make your cheeks tingle.
Not just that, but this is another dish which is great when served cold, so pack up any leftovers and save them for lunch the next day.
Also known as Gỏi cuốn or "salad rolls", these Vietnamese summer rolls are based on the traditional recipe of pork, prawn, vegetables, bún, and other ingredients, which are then neatly wrapped together in Vietnamese bánhtráng.
Simply, you have fresh vegetables wrapped in rice paper – and believe me, they truly are moorish!
Great finger food, these rolls are perfect for summer parties and birthday celebrations held outside. Surround yourself with loads of little side dishes, and it's sure to become a real feast.
This baked Caprese dinner is a great option for mid-week summer cooking, and is a fab option when you're looking for a dish to bring the whole family together.
"Caprese" is a simple Italian salad, which usually just consists of fresh tomatoes, mozzarella, basil, and olive oil. In this recipe, it is turned into something even greater, with the addition of chicken, vinegar, and honey.
Top tip: to make this dish mimic the Italian version a little closer, triple the amount of garlic cloves. You'll thank me later.
Because nothing says summer quite like a delicious Spanish garlic shrimp dish!
Due to the Spanish nature of this meal, you can bet that it's perfect for those hot, arid summer days when all you want to do is relax with friends and family and eat a good, hearty dish.
To really make it pop, serve with some crusty bread, and two pots of oil and vinegar to dip the bread into. After all, the locals love it, which means it's got to be good!
Korean beef tacos, also known as Bulgogi (which translates to 'fire meat') is a wonderful dish consisting of thin beef slices which have usually been cooked atop a barbecue or stove-top griddle.
Then, it's stir-fried in a pan and either served by itself or added to vegetables or tacos. Or in this case, both!
Once you have made this dish, a little trick that I like to do is add on a sprinkle of sesame seeds. I know, I know, it sounds crazy… but it works!
This recipe claims that this is 'the best' barbecue chicken… and it's not wrong!
Moist, juicy, a little sweet, this BBQ chicken recipe is going to be one that is going to become your go-to. I mean, just look at the photographs – they truly are finger-licking good.
There is one key thing that you're going to need for these bad boys, apart from the ingredients. And that is a shed-load of napkins – believe me, the whole family is going to be filthy by the end of demolishing these.
This Asian noodle stir fry is incredibly flavorsome, which is something that many people struggle to do when cooking a meal in under 15 minutes. Luckily, you truly can't go wrong with this lo mein recipe, and can even mix it up by throwing in any other tasty veggies you may have hanging about.
If you want to introduce family cooking nights, then this is a great place to start. The recipe is so simple to follow, even youngsters can get involved.
Plus, there's nothing more rewarding than eating a delicious dish that you have dedicated time – albeit only 15 minutes – to.
My mouth is watering from just looking at these photographs. After all, what more could you want than killer creamy butter shrimp, served and styled in an effortlessly Tuscan manner?
Not only is this bad boy quick and easy to make, but it is also low-carb and keto-approved! It tastes like an indulgence but is actually pretty healthy – making it a dish that you're going to want to come back to week after week.
Like the BBQ chicken recipe, this one is called the "best ever" salmon patties. I hate to say it… but the title is right, once again!
Made from wild-caught canned salmon, this recipe is accessible and simple to follow.
Salmon patties go exceptionally well with pretty much anything, from Mediterranean veggies to heaps of mashed potato. It works either as the main dish for a summer meal or as a side plate amongst other Moorish options.
Plus, if you make way too many of these (I like to double the recipe and stare in amazement as I'm surrounded by tens of salmon patties), they're great to reheat and consume later on in the week.
Last but not least, we have a chimichurri chicken. For those who don't know, chimichurri is an Argentinian piquant sauce that is traditionally used on grilled meat. It consists of parsley, garlic, vinegar, olive oil, and chili flakes, and is left uncooked.
As such, it can be used for a whole range of things, from slathering over salmon to dotting your favorite salad – to really making a chicken dish pop!
The chicken really brings this to a whole new level, adding in protein and turning it into a healthy meal. Serve with bread or fries and you'll be set with the best summer meal to date.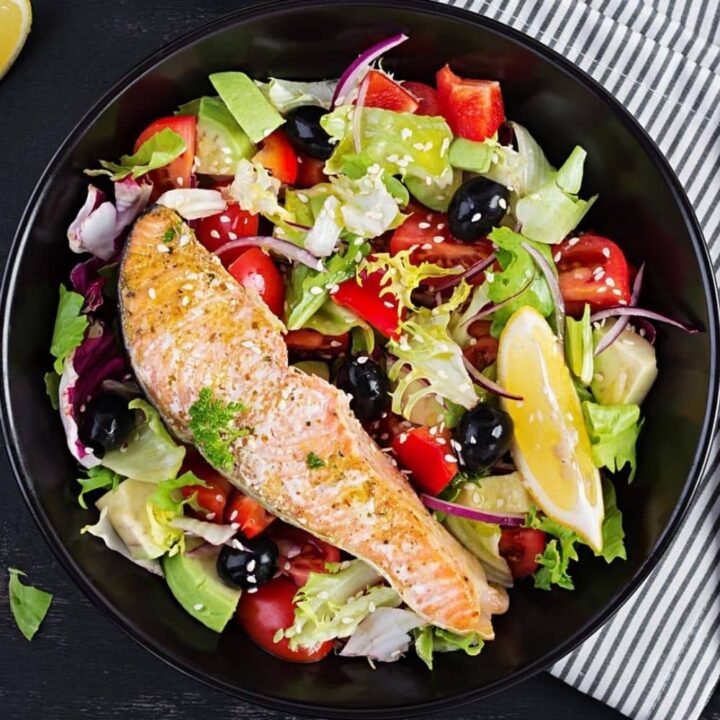 27 Easy Summer Dinner Ideas
Ingredients
6 medium sweet red peppers
1 medium onion
1-1/2 lb lean ground beef (90% lean)
1/2 c shredded zucchini
1/2 c finely chopped cabbage
1 medium carrot
1/2 garlic clove
1 can (28 oz) diced tomatoes
1/2 c uncooked long-grain rice
1 tbsps brown sugar
1/4 tsp dried basil
Pepper to taste
Instructions
To begin with, you're going to want to cut off the tops of the peppers and pop the rest of the pepper in a pan of boiling water. Leave them for around 2-3 minutes until they are crisp-tender. Drain the water from the pan, rinse the peppers with cold water, and leave them on the side.
Then, you're going to remove the stems from the top of the peppers and chop them down so that they measure around 1/3 cup.
Add a large skillet to medium heat and pour in the brown ground beef, onion, cabbage, carrot, zucchini, and the reserved chopped peppers.
Then, sauté them until everything is tender. Add garlic towards the end and cook it off for 1 minute. Then, add in the tomatoes, rice, brown sugar, basil, and pepper. Bring it all to a boil and then reduce the heat, allowing the mixture to simmer for around 20 minutes until the rice has cooked.
Then, stuff the mixture into the peppers and serve immediately.