Sure you know what to whip up for a steak dinner, but what about what to serve with seared tuna? The sides for tuna steak should be a little lighter and have a more delicate flavor than what you might choose for a meat-like steak or even chicken.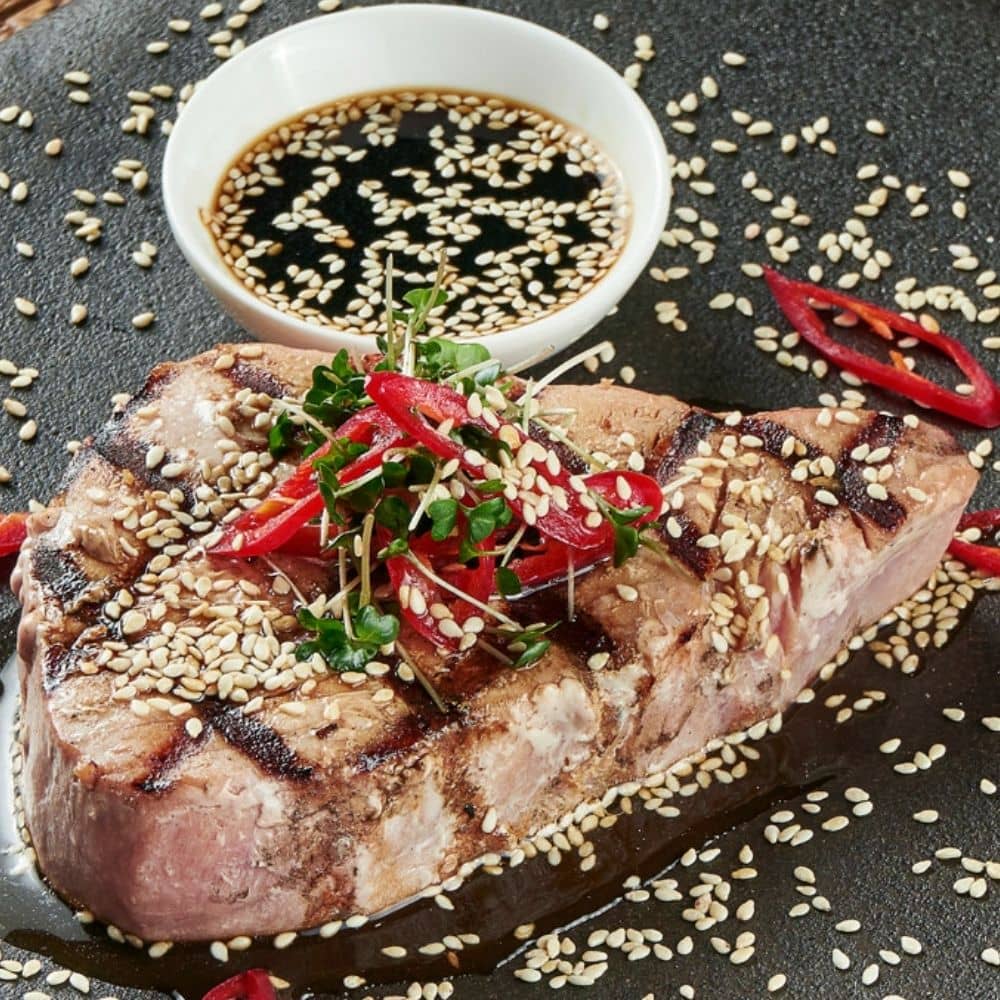 Maybe a light green salad or some flame-roasted veggie kebabs?
These 17 veggie-filled tuna steak sides will match up perfectly with your tuna steak, no matter how it's prepared.
Whatever marinade or seasoning you have, you will find something in this list that will be tuna steak's best companion for dinner tonight.
Hearty and healthy, these classic stuffed peppers will add plenty of substance to your plate with tuna steak.
These peppers can be prepped days in advance and then thrown in the oven whenever you're ready for them.
These work great if you go with a southwestern or Mexican flavor profile with your tuna steak. Add a dash of hot sauce to the mix to make them really pop with flavor.
If you are looking for an ingredients substitute to make this a Pescetarian-friendly meal, you can easily use a vegetarian beef substitute or increase the amount of rice in the stuffing.
Throwing a dinner and party and wondering what to serve with ahi tuna? These flakey and delicious garlic fries will be a hit for sure.
This recipe is so simple and will come together quickly as you focus on prepping the tuna steak.
The addition of parsley on top adds a nice aroma and makes these look extra presentable.
Rather than something dense and heavy like mashed potatoes, these garlic fries have a delicate texture to go along with the tuna.
Have a saucy tuna dish and want to perfect side dish to absorb the flavor? This garlic butter rice will do the trick.
You don't need to order sushi for this fish and rice combo!
This flexible dish comes together quickly with all your pantry staples.
Any rice will do as long as you adjust for cooking times and liquid based on the packaging recommendations.
While the butter adds a rich flavor, and ingredients substitute that works fine for this recipe is a hearty oil like olive or coconut oil.
If you are hoping to pair your tuna steak with starch but don't want to overwhelm the flavor, these lemon roasted potatoes are the side dish for you.
The gentle yet bright flavor of these potatoes pairs well with almost anything.
It will make your tuna steak shine and balance out the texture as well.
These roasted potatoes come out perfectly golden brown and, when topped with a green like parsley (or you can substitute for cilantro or basil depending on the flavors in your tuna) look splendid on the plate, as well.
Using an Asian-style marinade? Then what goes well with tuna steak, in that case, is this teriyaki vegetable stir fry.
This flavorful side dish tastes amazing with tuna cooked in any style but especially if your marinade uses ingredients like soy sauce or sesame oil.
The secret ingredient to this teriyaki vegetable stir fry is the addition of tempeh. Tempeh adds a nice savory element to the vegetables and makes this a protein-rich side dish.
Don't have tempeh? Fried tofu will do, or you can just swap in extra veggies.
While baked potatoes come to mind for a steak dinner, a baked sweet potato is the perfect side dish for a tuna steak dinner.
The sweetness of the baked sweet potato can be balanced with fixings like green onions or bacon bits.
The potato pairs nicely with the flavors of the tuna steak.
This side dish is also so easy to prepare, and the sweet potatoes are a forgiving veggie if you leave them in the oven a little extra long.
You've tried boiled, blanched, and baked green beans, but have you tried them fried?
Fried green beans are a special and surprising side dish but actually so easy to make.
The green beans come out crispy and golden, and you can season them with anything to go along with the flavor of your tuna steak.
The secret ingredient that makes these fried green beans really snap with flavor is beer! The beer battering process adds a nice depth to the taste.
Grilling your tuna steaks or hosting an outdoor barbecue? These vegetable kebabs are a fun side dish for your tuna entrée.
You can substitute almost any seasonal veggie for the juicy kebabs, and any variety of onions will taste great.
If you are doing a tropical-style tuna steak, you could even add some pineapple chunks to the mix.
A seasoning mix of dried oregano and basil, along with salt and pepper, gives these vegetable kebabs a lovely range of flavors.
This quick and easy pasta salad is the perfect dish that packs a ton of flavor for little effort.
You can mix and match with this dish and substitute any ingredients that would pair well with your tuna steak.
It calls for olives, but you could swap in capers instead.
Pasta salad is a great make-ahead dish, and the flavors will marry and strengthen as it sits overnight or even for a day or two!
Be sure to cool the pasta completely before mixing the ingredients, so you don't accidentally cook the veggies or melt the cheese.
Want a side dish that looks exquisite but is actually easy to make? Try out these cheese-stuffed mushrooms.
This side dish will look like a restaurant-quality meal next to your seared tuna steak. But the ingredients are cheap and easy to find at any grocery store.
Plus, you can prepare these ahead of time and then just pop them in the oven while you are preparing the tuna steaks. Both will be ready and look great at the same time.
The recipe calls for soft cheese like sharp cheddar, but you can substitute any comparable ingredient like Swiss, provolone, pepper jack, or even mozzarella.
On the search for veggies when looking for what goes with tuna steaks? This ratatouille is chock-full of vegetables.
This recipe is a beautiful bouquet of colors and flavors. Ratatouille will make your tuna steak dinner look like a 5-star meal.
The saucy goodness of this side dish will wow your dinner guests. Plate the tuna on top of the cooked ratatouille for an Instagram-worthy presentation.
This recipe is also super diet-friendly for those who are calorie or carb conscious.
Have a picky eater at dinner who is avoiding their vegetables? These cauliflower fritters will trick any veggie hater into eating a nutritious side dish.
This vegetarian-friendly recipe is great if you make dinner for pescetarians or people who only eat fish but no meat.
These fritters are crunchy and delicious, and deceptively healthy.
You can pair them with a dipping sauce, like garlic aioli, or just sprinkle with salt and serve.
The crispy texture of these golden brown fritters pairs perfectly with the delicate texture of the tuna steak to make an incredible meal.
Want a balance of green on the plate and wondering what to eat with tuna steak? Sautéed broccoli rabe is the delicious and easy answer to your questions.
Broccoli rabe looks elegant and sounds fancy, but it is actually so easy to find at most grocery stores and cooks quickly and easily.
This side dish recipe calls for a pinch of red pepper flake which adds a nice kick to the already robust flavor of the broccoli rabe.
Sprinkle with parmesan or fresh cracked pepper to finish this lovely side dish.
If you really want to impress your guests with an unexpected side dish, try out this roasted fennel recipe.
The elegant flavor of the fennel will pair nicely with a mildly-seasoned tuna steak. A touch of balsamic vinegar is the secret ingredient that makes this side dish rich with flavor.
The roasted fennel gets nice and crispy as it roasts in the oven but still offers a hearty bite in each forkful.
The peppery bite of the fennel combined with the delicate sweetness of the tuna, especially a raw or ahi tuna recipe, creates a rich sensation in the mouth.
A must-try!
When you already have the grilled fired up for making these tuna steaks, why not throw the corn on there, too?
This grilled corn on the cob recipe is so easy that you will wonder why you've spent so much time boiling.
The grilled corn on the cob creates a nice char on the outside of the cob and creates lovely color for your meal.
The smoky flavor and crunchy texture, and the sweetness of the corn make a phenomenal side dish for tuna steaks.
Tuna steak is a great entrée option for a summertime meal, and the perfect summertime side dish is this cucumber tomato salad.
Fresh and crunchy, this salad is one of the most refreshing side dishes for tuna steaks you can find.
A light dressing is all you need, as the flavor of the cucumber, tomato, and onion are what are really doing the work to make this salad shine.
Make this salad a day in advance and let the flavors of the vegetables marry while they rest in the fridge.
Why reinvent the wheel? Nothing beats the simple and fresh deliciousness of a green salad paired with any meal.
Your tuna steak will go great with this green salad recipe. You can even serve the cooled tuna on top of the salad.
This recipe is so flexible, and you can substitute ingredients as you see fit or based on what is available.
A seasonal green salad could feature all of the best veggies you found that day at the farmer's market. You just cannot go wrong with this simple and delicious side dish.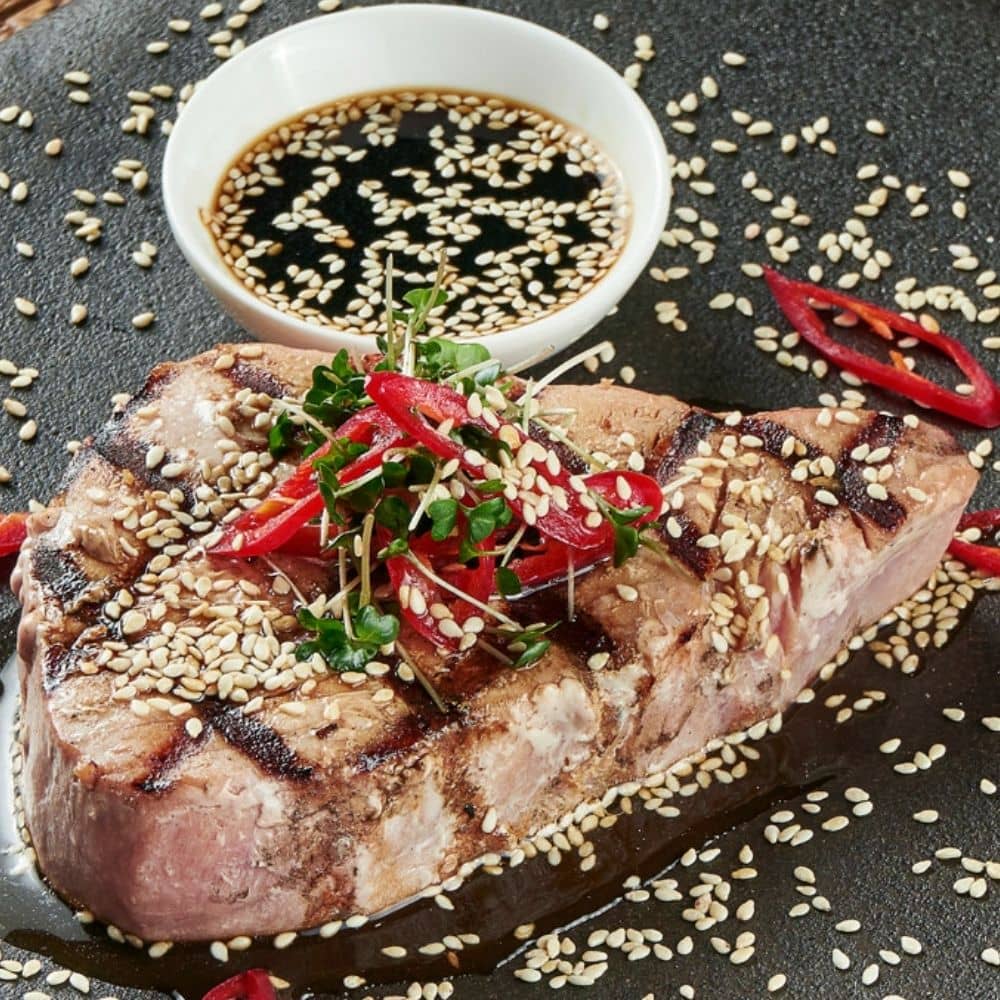 What to Serve with Tuna Steak (17 Best Sides)
Ingredients
2 big handfuls fresh cilantro leaves, finely chopped
1/2 jalapeno, sliced
1 teaspoon grated fresh ginger
1 garlic clove, grated
2 limes, juiced
2 tbsps soy sauce
Pinch sugar
Sea salt and freshly ground black pepper
1/4 c. extra-virgin olive oil
1 (6-oz) block sushi-quality tuna
1 ripe avocado, halved, peeled, pitted, and sliced
Instructions
In a small mixing bowl, combine the cilantro, jalapeno, ginger, garlic, lime juice, soy sauce, sugar, salt, pepper, and 2 tbsp of olive oil. Stir sauce until well combined. Set aside.
Pat the tuna dry on each side. Season with salt and pepper until the steak is totally covered.
Place a medium skillet over medium-high heat and coat with 2 tablespoons of olive oil.
Place the tuna in the hot oil and sear for 1 minute on each side to form a slight crust. Do not overcook. Tuna should still be mostly pink on the inside.
Pour about half of the cilantro sauce into the pan. Stir or swirl the pan to coat the fish.
Remove tuna from heat and serve on a plate alongside the sliced avocado. Use the remaining cilantro sauce to drizzle over the plate.