Have you ever seen black rice or forbidden rice at the store? Have you ever wondered what to make with it? Black rice can be used just like any other rice. These 18 black rice recipes come from around the world.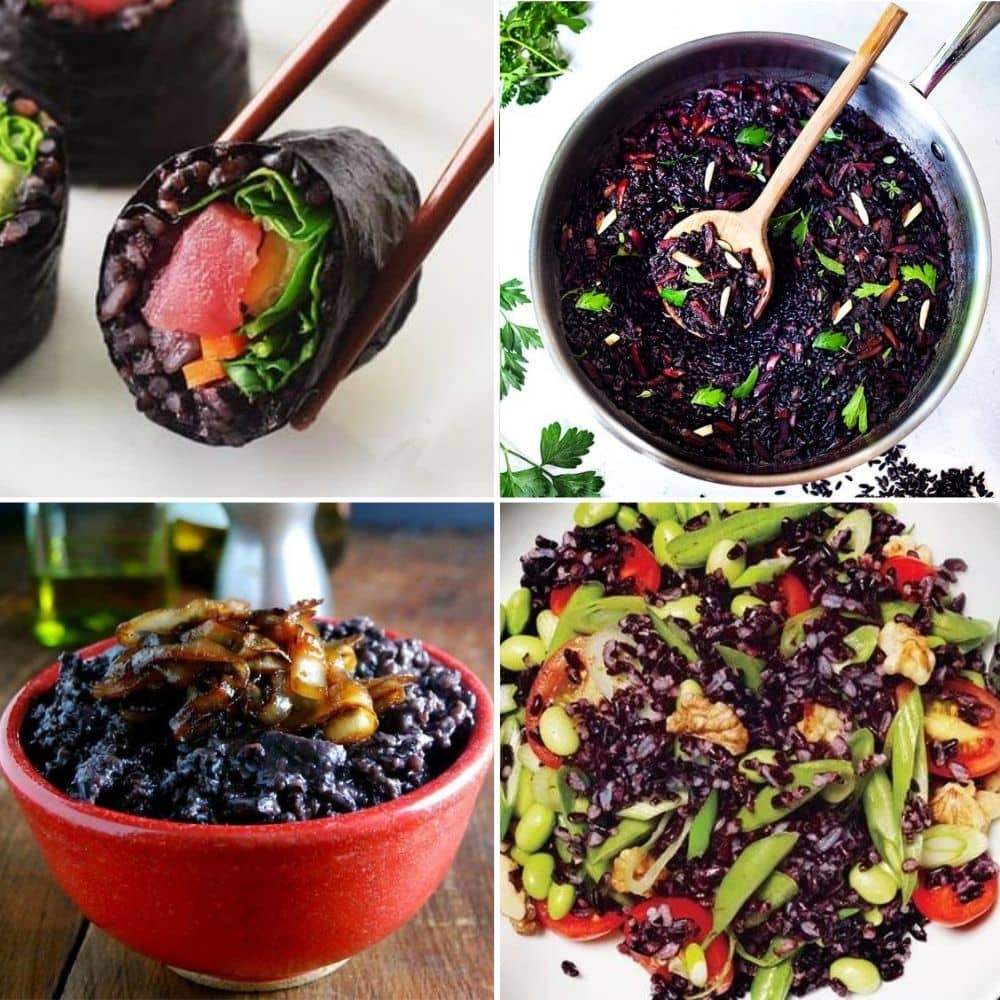 From black rice risotto to black rice sushi and from black rice and beans to black rice pudding, these recipes with black rice make weeknight dinners delicious and unique.
These 18 recipes are just the tip of the iceberg of what can be made from black rice. Enjoy exploring these quick and easy recipes.
Don't be afraid to customize them to fit your likes and dislikes.
Black rice is a great way to add superfoods to your diet. Black rice, like brown rice and wild rice, is closer to its natural state. This black rice recipe makes a great basic rice side dish.
You can serve this rice with any meat, protein, or vegetables.
You can customize this in many different ways. Swap out the chicken bouillon cube and water for chicken broth, chicken bone broth, beef broth, vegetable broth, or any other kind of broth.
This black rice recipe is colorful and healthy. You can use any of your favorite vegetables in place of the ones from the recipe.
You can also use more or less rice or vegetables until you find the mix you like best.
You can serve this with a protein, like chicken, on the side. You can also mix in chicken slices or bites. The recipe as written is naturally vegetarian and gluten-free.
If you are not vegetarian, consider using bone broth to make the rice.
This is one of the most popular black rice dishes. The black rice makes beautiful purple dessert rice when cooked and prepared in this way. Traditional black sticky rice pudding has only coconut cream on top.
However, you can add all sorts of toppings.
Some great toppings for this dish include toasted coconut shavings and fresh fruit. Popular fruit additions are mango, papaya, lychee, mangosteen, dragon fruit, pineapple, and stone fruits.
You can also use berries or other toasted nuts.
This black rice recipe is another basic recipe that is great for use with other recipes.
Pair your black rice with protein and some vegetables. Put it in a bowl with some miso broth. Mix it with vegetables and drizzle on your favorite salad dressing. You can even eat it plain with a dash of salt.
The color of this rice makes it pop on any plate and with any dish. You can serve it with curry, tom Kha, sweet and sour chicken, and so much more.
This fun recipe uses black rice instead of typical Italian rice. Black rice risotto will be a bit chewier than your typical risotto because there is more fiber in black rice. In addition, your rice dish will be black or dark purple.
This rice would be great for a squid ink risotto, just sub the broth for a mix of squid ink and seafood broth.
This recipe calls for white wine, however, given the nature of black rice, you can also get away with red wine.
The flavor will be a little different if you do use red wine.
What can be made with black rice? Just about anything you would make with rice!
These sushi rolls are quick, easy and fun. Grab some friends and host a sushi party. All you need is lots of rice, seaweed, and fillings.
You can fill your sushi with whatever you want. It is important not to overstuff your sushi. Start small and work up to putting more things in.
Start with just one or two ingredients and go from there. You can use seafood, cream cheese, avocado, sliced vegetables, and more. Serve with pickled cucumber, soy sauce, and wasabi.
One of the keys to this black rice recipe is starting with sauteing the vegetables.
This flavors the oil you use when you cook the rice. This recipe calls for vegetable broth, but you can use any broth that you like.
Black Rice and Beans can be a complete meal or a side dish for protein.
You can add toppings to this one-dish meal. Some great options are sliced avocado, salsa, grilled shrimp, cilantro, sour cream, cheese, and more.
Forbidden black rice bowls are some of the best recipes using black rice. This Rice bowl recipe has marinated tofu and a tahini curry sauce.
This recipe is easy to customize. You can swap out the tofu for chicken, pork, beef, or fish.
You can also customize the sauce.
You can buy a favorite sauce from the store or make one from another recipe.
The vegetables are also easy to customize and swap. If you can fit the vegetables into the bowl, then you do not have too many.
These Vegan Black Bean and Black Rice Burgers are the perfect options for a summer barbecue.
The key to these burger patties is the eggplant. It is also important to season them properly. It is important to blend the ingredients well but not until they are a paste.
Since all ingredients are cooked before blending, make sure to check the seasoning before you cook them.
With chilli garlic sauce and tamari sauce, these burger patties taste best in Asian fusion burgers.
Black rice is perfect for this classic Italian rice recipe. The nuttiness of the black rice pairs well with the sweetness of the onions and the earthiness of the mushrooms.
The recipe calls for water or vegetable broth. However, you can use any broth you like.
If you want an Asian undertone, add ginger, white miso paste, and lemongrass.
The recipe calls for making your own cashew cheese. However, if you can purchase cashew cheese or if you are not vegan, you can purchase your favorite cheese.
One of the most popular recipes with black rice is black rice bowls. This recipe calls for tofu and vegetables.
You can swap tofu for edamame, chickpeas, peas, or a meat protein.
Roasted, grilled, stewed, and fresh vegetables go great with black rice bowls.
If you like crunchy things, you can add water chestnuts, nuts, crunchy chickpeas, or corn nuts.
Kimchi and other pickled vegetables are also a great addition. To balance out the umami of the flavor, add something sweet such as mandarin oranges, sweet vegetables, or dried fruit.
Black rice is known as forbidden rice because only a few hundred years ago it was a rare variety that only the emperor could afford. Today Black rice can be found in most stores.
With the growing availability of black rice, its popularity has also grown.
This recipe for black rice offers two ways to cook your rice. You can cook black rice like other rice.
The key is to keep an eye on it and add liquid if it looks like it will run out before it finishes cooking.
You can also cook it like pasta with extra water and then drain the water once it is cooked.
This black rice salad is a great side dish for any meal. You can use the vegetables recommended in this recipe or choose some of your favorites to mix in.
Some great options are butternut squash, red onion, carrots, and more.
You can adjust the amount of rice used and the number of vegetables used to meet your needs. Pair this dish with some roasted, grilled, or sauteed fish, chicken, or pork chop.
You can also stir in some chickpeas, peas, or tofu if you want to make it a vegan one-dish meal.
This recipe is another great rice bowl recipe. You can substitute the tamari for coconut aminos if you want to avoid soy. The recipe calls for chilli flakes, but you can also use chilli paste or sweet chilli sauce.
You can use any sauce you want on top, from peanut sauce to curry sauce. The recipe calls for a tahini sauce.
Swap out the vegetables for Bok choy, kale, chard, or any other vegetables you prefer. You can add extra veggies if you want. The only limit is the size of your bowl.
You can also make the chicken using a teriyaki sauce.
This Miso-glazed salmon and black rice salad are one of the best rice recipes on this list. The key to this recipe is the mirin, miso paste, and fresh ginger.
The thinly sliced radishes and spirals of cucumber add a nice lightness to this dish.
Some great things to consider adding are halved or quartered cherry tomatoes, chickpeas, peas, and more. You can also substitute shrimp or other seafood for the salmon.
You can even substitute tofu if you prefer.
This Black rice dish comes all the way from Brazil. It incorporates delicious seafood and nutty black rice for a wonderful one-bowl meal.
The key to this dish is the white wine and the tomato sauce. Fresh garlic and rosemary are also important.
The recipe calls for shrimp and squid. However, you can use any seafood you like.
For extra flavor, you can cook the rice in squid ink or seafood broth. It is important to make sure you buy black rice or forbidden rice and not black sticky rice.
Cumin-scented quinoa and black rice are other great black rice dishes with a bit of Latin flair.
You can use any type of rice or quinoa for this dish. A blend of colored quinoa will look great with a black and brown rice mix.
This rice makes a great base for a fajita or burrito bowl. You can also use it as a side on a plate with meat and veggies. Another great option is to pair this rice with a Mediterranean dish.
This delicious stir-fry is a great way to try black rice. In this black rice recipe, it is important to use small, baby vegetables. You want tender vegetables for your stir-fry.
Using fresh garlic and chilli is also important.
The Chinese cooking wine is also important but can be substituted with a dry sherry if necessary.
You can use tamari, gluten-free tamari, or coconut aminos. This recipe calls for prawns but you can use any meat or even tofu for the stir-fry.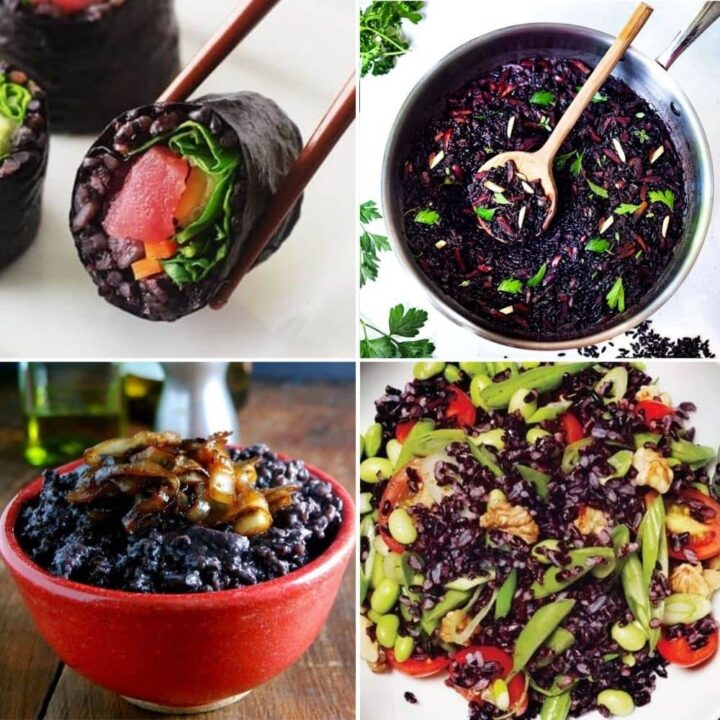 18 Best Black Rice Recipes
Ingredients
2 tbsps butter
1 c black rice
¼ c diced onion
¼ c slivered almonds
1 ¾ c water
1 cube chicken bouillon
Instructions
Measure out the rice and slivered almonds.
Chop the onion. Measure out ¼ cup.
Melt the butter in the pan over medium heat. You can also use Ghee.
Add the black rice, almonds, and onions to the pan.
Toast the rice, almond, and onions in the pan over medium heat for about 5 to 10 minutes. You want them to be lightly toasted, but not dark brown.
Add the water and the bouillon cube to the pan and bring the mix to a boil. Stir until the bouillon cube has dissolved.
Once the water reaches a boil, turn the heat down and simmer the rice.
Cover the pan and cook the rice for 25 to 30 minutes. Rice will be tender and the liquid will be fully absorbed when it is ready.
Fluff with a fork and serve.