Meyer lemons are one of the most popular citrus fruits in the baking world, and they grow in abundance on lemon trees. They have a tart taste, but the fruits also have a bit of sweetness that the traditional lemon variety doesn't have. It's almost like the Meyer lemon has a touch of orange hidden inside.
Wondering what to do with Meyer lemons? You can use Meyer lemon recipes to whip up some incredible dishes!
From Meyer lemon desserts to savory recipes using Meyer lemons, there are so many options for every craving. Here are nineteen of our favorites.
Lemon curd is a delicious pudding-like dessert that only requires a few ingredients – butter, sugar, egg yolks, and Meyer lemons. Curd works well with Meyer lemons because you don't need as much sugar to make it work.
Once you finish the curd, it's a versatile food! Mix it with cream on scones or add a plop on top of your morning oats.
Meyer lemon curd even works well as a sweet, tart jelly on top of toast.
If you want it sweeter, mix in more sugar to taste.
Lemon bars are a classic dessert, and they're the best when made with Meyer lemons!
This dessert is easily one of the best recipes with Meyer lemons. The shortbread crust pairs perfectly with the luxurious flavor the lemon provides.
Not only is Meyer lemon bars one of the most delicious recipes, but it's also one of the ideal quick and easy Meyer lemon recipes.
It takes less than an hour to whip up a dessert that looks and tastes like a professional made it.
Wondering what to make with Meyer lemons? Why not try a Meyer lemon olive oil cake?
The oil makes the cake moist, while the lemon adds a citrusy flavor that dissolves in your mouth. It's an elegant cake that packs a powerful flavor punch.
For the best flavor, you want to purchase high-quality olive oil.
Don't go cheap with this one! Good olive oil will make a decadent texture that pairs perfectly with the light lemon glaze.
Lemon isn't the first fruit many consider when thinking about a marmalade, but Meyer lemons change the game.
This topping is one of the easy Meyer lemon recipes because it only takes a few ingredients – lemons, sugar, and water.
You don't even need the traditional pectin for this marmalade!
If you want to add more flavor to the marmalade, add some spices of your choice. Cinnamon, vanilla, and rosemary pair well with the Meyer lemon.
Lemon pie is a simple recipe that comes together in a blender, and it's made better by the unique flavor of the Meyer lemon.
Out of all the Meyer lemon dessert recipes, this one is the biggest crowd-pleaser. It's a classic!
If you want to make something unique, divide the pie into twelve mini crusts instead of making one large pie.
It also pairs well with vanilla ice cream if you serve it in the hot summer months.
Are you wondering – what can I bake with Meyer lemons? You can't go wrong with the Meyer lemon tart.
This dessert is a lot like the lemon pie, but it takes advantage of a little more of the Meyer lemon's sour side in the best way.
The best part of the Meyer lemon tart is the elegance that comes with it. From the traditional appearance to the flaky crust, this is sure to be a favorite at any event.
It will work well at tea parties and other social gatherings.
Crinkle cookies are the best. They're little, sweet, and filled with the best ingredient – butter.
Adding Meyer lemon to this classic recipe adds a burst of flavor that balances the sugary taste on the surface.
Want to know the secret to perfection with these cookies? Roll the dough in granulated sugar and then powdered sugar.
This action ensures you get that sweet goodness everywhere before the cookies go into the oven.
In the summer, nothing tastes better than a sorbet. This cold treat is lighter than ice cream and feels like an absolute dream. Meyer lemon sorbet is like frozen lemonade, the ideal addition to your next pool party.
A little mint works best as a garnish on top to cut through some of that flavor.
Lemon sorbet is intense, so you only need a little at a time to satisfy your lemon craving.
Biscoff is an iconic cookie that tastes like a graham cracker infused with molasses. The deep, rich sweetness pairs well with the tartness of the Meyer lemon.
When rich cream cheese and eggs come into the picture, you get the most refreshing and wonderful cheesecake ever.
One part of this recipe is sour cream. You must use sour cream with some fat – it can be low-fat, but don't add sour cream without fat. The cheesecake needs to work.
Wondering if there are any savory Meyer lemon recipes? Here is one of our favorites! The chicken is crispy in the best ways, and the Meyer lemon is the crown jewel.
The garlic, olive oil, and Meyer lemons mix to create an explosion of flavor.
For the ultimate meal, try pairing the chicken with creamy mashed potatoes and Brussel sprouts.
It's a savory dish with a hint of sweetness that works unbelievably well.
Martinis are incredible – but sometimes, you need a little sweetness to balance things.
Meyer lemons work with vodka to make a refreshing drink that is a little sweeter than the average martini you'll find in a bar.
Try to stick with a high-quality martini. Invest in good vodka and a delicious orange liqueur.
It's tricky to go wrong with the sugary sweet deliciousness of this drink. It's sure to be a party hit!
You can even experiment with other flavors.
Lemons and blueberries are one of the best combinations in the world. And in a cupcake?
You'll find this dessert to be unstoppable. It's elegant and bursting with flavor, ideal for any occasion from birthday parties to weddings.
For the best results, don't fill the cupcake batter to the top. Pour until it's about two-thirds of the way up the liner.
This limit will allow the cake to rise before the cream cheese icing goes on top. It's perfect.
Here's another savory recipe! This time, we take salmon and mix it with Meyer lemon, olive, and oregano for a savory punch with a light sweetness from the Meyer lemon.
Olive oil makes the fish feel light and flaky on the tongue.
If you want, you can substitute olive with different vegetables and add more spices with the oregano.
Peppers, red pepper flakes, and even a sesame oil can work well with the salmon.
Pudding cake is incredible because it's not too filling, and it's not very sweet in the best ways.
The top is crisp, and the inside is almost like pudding. Meyer lemons are the best fruit for a pudding cake!
The cake is incredible if it's left alone, but you can add toppings if you want.
Whipped cream, blueberries, and even strawberries work well on the Meyer lemon pudding cake as toppings.
Lemon glaze can take any bakery item and heighten it to the next level.
The addition of pistachios is an excellent way to balance the tart sweetness of the Meyer lemon with a little nutty saltiness.
If you want to play around with flavors, there are a few things you can do.
Try adding some cardamom or ginger for an extra bit in your loaf. It's good for breakfast, lunch, or dinner.
Lemon? In spaghetti? This recipe makes it work! This Meyer lemon pasta is a lot lighter than most pasta options you might find, so it's an excellent way to enjoy pasta without being overwhelmed.
The best part about this pasta is the way the lemons mix with the butter. You can adjust lemon and butter levels until you hit a balance you love.
It's sure to be a crowd-pleaser at any meal!
A parfait is a delightful treat, and the Meyer lemon adds a pleasant tartness to the light dessert.
This recipe adds to another recipe above – you make the parfait from lemon curd.
Parfaits are stacks of flavor. You can add additional flavors and layers if you want – additional fruits and creams will work well in a parfait.
You can even substitute the curd for a lemon cheesecake or mousse if you prefer that texture.
Here's another delicious creamy lemon pasta! In this recipe, the Meyer lemon is an excellent tool to balance the cream added to the pasta.
There's a pleasant and powerful punch with every bite.
The secret? A bit of honey as you simmer the sauce. The sugary sweetness is what helps the Meyer lemon work its magic on the fettuccine pasta.
It's a fancy meal that pairs well with a nice white wine. Try it for your next date night!
Are you someone who can't eat dairy? We have the recipe for you! This dairy-free Meyer lemon pudding removes milk from pudding without sacrificing any of the flavors.
It tastes like sunshine in a cup.
You can make this pudding in one big bowl or divide it up into smaller ones to set.
Whatever you choose to do, this dairy-free Meyer lemon pudding will win at any gathering.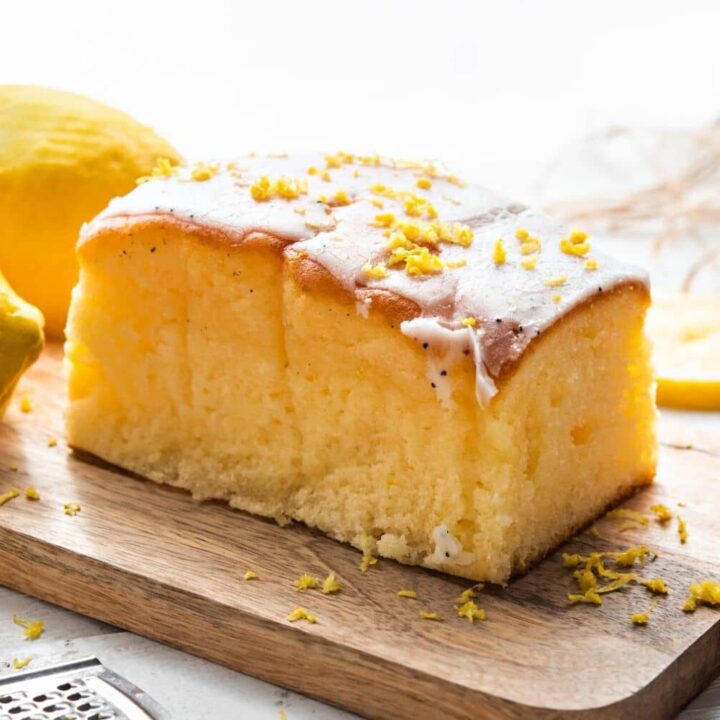 19 Best Meyer Lemon Recipes
Ingredients
2 c white sugar
¾ c butter, at room temperature
4 eggs
4 egg yolks
1 ⅓ c Meyer lemon juice
2 tsps grated Meyer lemon zest
Instructions
Beat the butter and sugar in a bow with a low-speed electric mixture. Continue for about 2-3 minutes until the mixture is creamy.
Mix in the yolks and eggs to the cream. Add lemon juice.
Pour this mixture into a saucepan.
Turn on low heat, then stir the components until they're smooth. Once smooth, turn the heat to medium. Simmer and stir until the curd is thick. It should mark 170 degrees on a candy thermometer.
Remove from heat.
Move the curd to a bowl and put plastic wrap over the top. Let it cool for ten minutes before moving it to the fridge to thicken.