It's a universally known fact that chicken is affordable, versatile, and easy to get your hands on.
We're making it even simpler and more convenient for you with these recipes using canned chicken for you to whip up when you're short on time and don't want to be spending all evening stood over the cooker.
Keep scrolling for 22 easy canned chicken recipes! You'll never look at a can of chicken in the same way again.
Is there anything more satisfying than being able to pull together a delicious meal using nothing more than a few essentials from the pantry? We don't think so either, which is why this easy and simple pantry chicken spaghetti has become a regular visitor at mealtimes when we're short on time the fridge isn't stocked. Best of all, you'll only need 6 ingredients and a couple of different seasonings to ramp up the flavor.
We're great believers that salads don't have to be flavorless and sad, which are two words you definitely wouldn't use to describe this quick and easy bacon ranch chicken salad.
It requires minimal effort but delivers maximum flavor and only takes around 10 minutes to put together.
This could easily be meal prepped and then used throughout the week to create different recipes such as in sandwiches, wraps, baked potatoes, or as part of a pasta salad. Whatever you choose to do with it, it's one of our favorite recipes for canned chicken.
If you're ever in need of a crowd-pleasing dish, this chicken tetrazzini is likely to fit the bill.
It's comforting, cheesy, filling, and…well, what more do any of us ever want from a dish? If that didn't whet your appetite enough, this is also a one-pot dish so is also a great midweek meal for when you want something delicious but need something easy and simple.
The secret ingredient in this one is a can of cream of chicken soup. It sounds strange but is essential for adding to that creamy, gooey consistency.
If you're serving a crowd, small group, or your family, we would suggest serving this with a 'tear & share' style garlic bread and a green salad with an Italian style dressing.
We CANnot (excuse the awful pun) think of any recipe simpler than this 7 can chicken taco soup. It's another one-pot wonder and a great one for meal prepping.
Simply dump 7 cans of chicken soup into a pot with chicken broth, canned chicken, canned beans, canned enchilada sauce, canned tomatoes (are you sensing a theme here?) canned corn, and taco seasoning before leaving to simmer for around 15 minutes.
This recipe is delicious topped with crushed tortilla chips and cheddar but if you're wanting to ramp up the flavor, even more, we'd suggest topping with a squeeze of fresh lime, chopped coriander, and some hot sauce.
If you ever find yourself battling a craving for fried chicken but can't get to a chicken shop, these crispy chicken fritters are likely to hit the spot.
They require just 5 ingredients and very little time or skill so are the perfect recipe for using up canned chicken.
This recipe suggests shallow frying these tasty little morsels but if you're trying to cut back on oil, we recommend cooking these in the air fryer at 400 degrees into crispy and golden. These can be eaten alone of course but a ranch-dressed salad or a sweet chili mayonnaise dip sounds great to us.
We're all on the hunt for one-pot dish ideas and this easy and simple enchilada chicken skillet dish is another great one to add to your ever-growing list.
Throw it all in a pan, return 20 minutes later and you have a cheesy, spicy, flavor-packed skillet. This is jalapeno heavy so if you have kids around the table, we'd recommend leaving them to the side for adults to pick and sprinkle on their portion!
Another way of enjoying this skillet recipe is to fill tortillas with the mixture and then roll up and place them side by side in the skillet, top with more cheese, and bake until golden.
This comforting, cheesy chicken pasta recipe using canned chicken is like a hug in a pasta bowl. Pasta is a hit no matter the occasion, but this is a quick and simple dish that is less labor-intensive than a ragu.
Even better, it uses ingredients you'll probably always have on hand. The secret ingredient with this is the ranch powder, which adds a tangy hit and adds to the gooey consistency. Have you ever used ranch powder or ranch dressing in a pasta sauce?
These honey lime chicken enchiladas are the most freezer-friendly recipe using canned chicken of them all.
The honey and lime give those sweet and sour hits that offer some relief from the richness of the Mexican blend shredded cheese. If you don't have any honey on hand, try sweet chili sauce instead for that sweet, fiery kick!
Canned chicken salad doesn't quite have the same ring to it as canned tuna salad, but this has just as much potential as becoming a lunchtime staple in your house!
It's great on salads, in sandwiches, or on crackers but if you want to amp up the nutrition, we recommend adding in finely chopped green onions, celery, and carrots.
Warning: this bacon cheddar chicken salad dip is not diet food. What it is, however, is a simple and moreish dip loaded with green onions, cheese, canned chicken, crumbled bacon, and cream cheese.
We admit, it isn't the healthiest but as a treat at the weekends, this dip is perfect for dipping crackers or crudites into. If you have any left-over (we doubt it), this also makes for a great sandwich filling.
If we told you that you can make a pizza crust from canned chicken, would you believe us? Click the link if you don't believe us!
If you're following a keto or paleo diet, this is a great recipe you'll find yourself keep coming back to. It's an easy and simple recipe for using canned chicken but best of all, you can top it with whatever you have to hand. We're partial to mozzarella, sliced tomatoes, and a pesto drizzle but what would you top it with?
You can never have too many simple dip ideas, so here's another one in the form of this buffalo chicken dip!
It's also healthier than the bacon cheddar chicken salad dip we mentioned earlier so if you're wanting a delicious dip that's lower on calories, try this!
For the creamy consistency, this canned chicken recipe uses light cream cheese and fat-free Greek yogurt. If you're a fan of blue cheese, we'd recommend swapping the mozzarella in this recipe for any blue cheese of your choice.
If you're not so bothered about how calorific your dips are, this full-fat flavor bomb of a buffalo dip is the perfect make-ahead appetizer.
It's not light on the calories with the additions of cream cheese, mozzarella, and ranch dressing, but it's heavy on flavor.
If you want to take the flavor up an extra few notches, we'd recommend adding some grated garlic and green onions.
If you're a fan of combining sweet with savory, you'll love this chicken salad with cranberries. The pecans give this a nice crunch.
This is quite a rich recipe and so if you'd like to cut through the richness with something sharp, we recommend dressing salad leaves in balsamic vinegar before topping with this delicious chicken salad. If you can't get your hands on cranberries, strawberries will also work well.
This is another recipe using canned chicken that uses CANtry staples (sorry). This chicken chili is a lighter, more convenient version of the beloved beef chili and so is great for reducing our red meat intake and opting for healthier options.
We would recommend topping this with homemade guacamole and some sour cream for some freshness. Are you hungry yet?
This is another one for fans of a sweet and savory combo. Apple, walnuts, eggs, celery, canned chicken, and green onions are parts of this salad that is perfect for enjoying in warmer weather.
Grapes also work well in this and if you want more of an onion-y kick, try adding in some chopped chives. Perfect for a lazy day in the sun or whipping up on a late morning before work!
Nothing says easy and simple quite like a crockpot recipe. Add in canned chicken and this makes for a ridiculously easy weeknight dinner.
It's a nacho chicken dip made by lining a crockpot with tortilla chips and filling it with a hearty combination of refried beans, canned chicken, jarred salsa, and Mexican-blend cheese. but could easily be made into dinner by serving alongside some Mexican-spiced rice and a green salad.
We've saved the easiest canned chicken recipe up until now because can you call a 3-ingredient recipe a recipe?
Regardless, this canned chicken, boiled egg and mayonnaise combo is a great thing to have in the fridge for sandwiches throughout the week.
If you wanted to bulk it out or have it as a side dish for a barbeque, we recommend adding in boiled potatoes!
We couldn't write a post on the easiest, simplest recipes using canned chicken without including a recipe for chicken noodle soup!
This takes the work that's usually involved out of making a fresh chicken noodle soup but doesn't compromise on the flavor.
Ready in 30 minutes, this is a delicious and easy soup recipe. You'll just need a few fresh vegetables on hand but aside from that, this is minimal on the ingredients front.
Cheese, chicken, and potatoes. Is there a more comforting-sounding trio? We don't think so! This is the perfect recipe to cozy up to on chilly days and is, you guessed it, really easy and quick to whip up.
We recommend serving this with crusty, warm bread and topped with fresh parsley and freshly ground black pepper. This almost leaves us wishing for chillier weather…almost.
This Southwest chicken dip is fool-proof, flavor-packed, quick and easy, and is sure to be a hit at your next gathering.
It's loaded with black beans and corn which help to bulk it out, making it an affordable crowd pleaser.
This is delicious as a dip but when thinned out with chicken or vegetable stock, it also doubles up as a deliciously creamy, filling, and flavorful soup. It's easily one of the most versatile recipes using canned chicken out there.
We couldn't end this post without including another canned chicken pizza crust recipe. This one is different though as it's a white pizza.
The base is made up of shredded canned chicken, parmesan cheese, garlic, minced garlic, and sea salt. Just as delicious but instead of using marinara sauce, alfredo sauce will act as your base.
Our top tip with this one is to freeze the base so that when the craving for pizza hits, you can cut your preparation time in half!
Serve with a crisp green salad and drizzle with balsamic vinegar.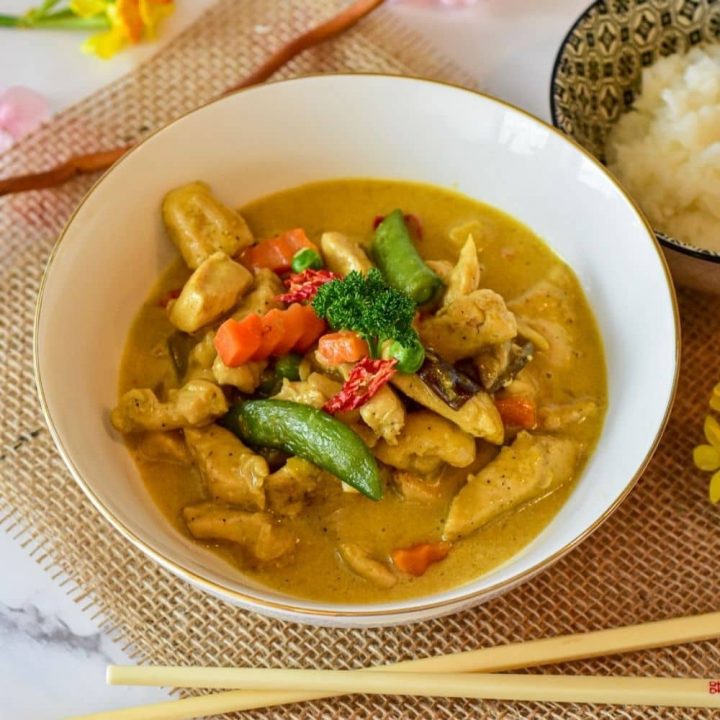 22 Easy Canned Chicken Recipes to Try
Instructions
Choose your favorite dish!
Prepare ingredients according to the recipe.
Be ready in 30 minutes or less!