Quite often, I find that the simplest cookies recipes are the best, and I get so happy when I don't need to bring out fancy ingredients or tools. These chewy coconut cookies are just that, easy to make and a big crowd-pleaser.
They are a cross between two of my favorite cookies, a sugar cookie, and a coconut macaroon. The texture is soft, chewy, buttery, and not too sweet, and they are full of coconut flavor.
One of the best parts is that this recipe makes a large batch so that you will have tons of leftovers! That is if you don't sneak too many of them before sharing.
Don't let the simplicity fool you. This is one of the best coconut cookies recipes out there.
Take a look at these other delicious cookie recipes:
Coconut Chewy Cookies Ingredients
1 cup shortening – shortening is a nice alternative to butter and helps provide structure to the cookies
1 cup granulated sugar – the combination of granulated and brown sugar creates a balanced sweetness in these cookies
1 cup packed brown sugar – I used light brown sugar, but dark brown sugar works as well
2 large eggs, room temperature – room temperature eggs mix easier into the dough than cold eggs do
1 tsp vanilla extract – vanilla is a necessity in almost every cookie, so feel free to add more if you like
2 cups all-purpose flour – try to use unbleached flour if possible
1 tsp baking powder – baking powder helps these cookies rise and hold their shape
1 tsp baking soda – baking soda also helps with leavening
¼ tsp salt – a touch of salt helps to balance out the sweetness in this recipe
1 cup oats – I like to use large, flaked oats, which add a lot of texture to these cookies
1 cup sweetened shredded coconut – if you want your cookies a little less sweet, you can use unsweetened coconut
Can I Freeze Coconut Cookies?
If you want to make the dough ahead of time and freeze it later, then you can place the wrapped logs in an airtight container and freeze them for up to one month. Simply allow the logs to sit on the counter for a few minutes, then unwrap and cut them into slices.
If you decide to bake the cookies, then freeze them, place the cooled cookies in an airtight container or freezer bag, and freeze them for up to one month.
Cooking Tips:
If you don't have a hand mixer, this dough can be made using a wooden spoon or a sturdy spatula.
Although this dough gets frozen prior to baking, it is still quite soft. After slicing, you might need to reshape the dough to make each cookie the same shape.
For some extra coconut flavor, try adding ½ tsp of coconut extract.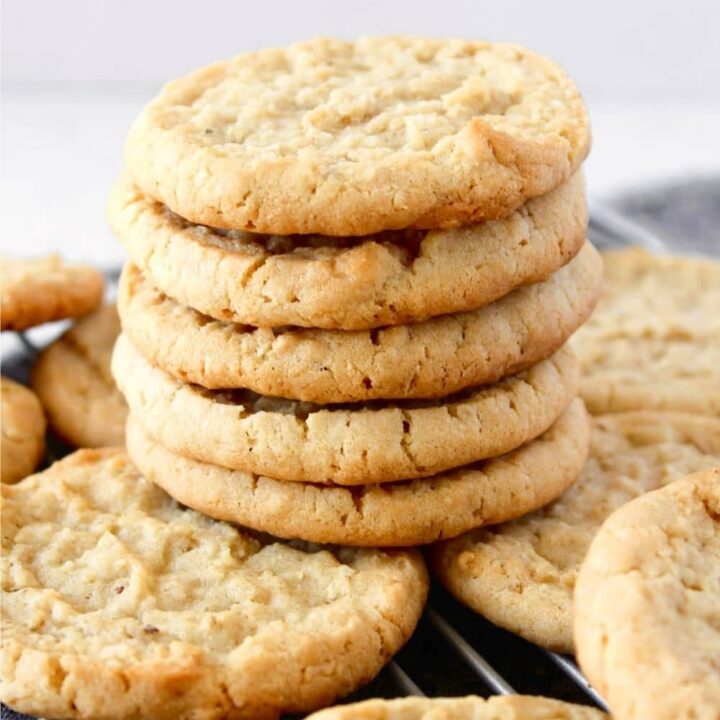 Grandma Krause's Coconut Cookies
Prep Time + Freezing:
40 minutes
Grandma Krause's coconut cookies are a cross between a sugar cookie and a macaroon
Ingredients
1 cup shortening
1 cup granulated sugar
1 cup packed brown sugar
2 large eggs, room temperature
1 tsp vanilla extract
2 cups all-purpose flour
1 tsp baking powder
1 tsp baking soda
¼ tsp salt
1 cup oats
1 cup sweetened shredded coconut
Instructions
In a large bowl using a hand mixer combine the shortening, granulated sugar, and brown sugar on medium speed until blended, about 2 minutes
Beat in the eggs and vanilla extract and mix for another 2-minutes
In a separate bowl, whisk together the flour, baking powder, baking soda, and salt until combined
Slowly combine the flour mixture into the shortening mixture until combined
Mix in the oats and coconut until combined
Turn the dough out onto a lightly floured surface and divide into 4 portions. Shape each portion into a 6-inch-long log and wrap in plastic wrap. Freeze for a minimum of 2-hours or until firm
Preheat oven to 350 degrees F
Unwrap the logs and cut dough into ½ inch slices. Place 2 inches apart on a parchment-lined baking sheet
Bake for 10-12 minutes until lightly golden brown. Let cool on pans for 5-minutes then transfer to a wire rack to cool completely
Nutrition Information:
Amount Per Serving:
Calories:

104
Total Fat:

4.8g
Carbohydrates:

14.3g
Protein:

1g