Pasta is a classic dish that goes back hundreds of years, and perhaps the best pasta throughout the years has been the extra creamy pasta.
It's smooth, yummy, and of course, creamy. But, there wouldn't be any creamy pasta without creamy pasta recipes.
Cream sauce for pasta is relatively easy to make and has a unique flavor that can't be found anywhere else.
Cooking cream for pasta may sound daunting, but with dishes such as garlic pasta, lemon pasta, and mushroom pasta, it's worth the effort.
So, let's dive right in and take a look at the 20 best creamy pasta recipes.
Creamy pasta sauce recipes are always made better with garlic, and this creamy garlic pasta is perfect for a filling dinner. And this recipe is easy to make.
It only takes two steps to make. Along with a few ingredients, and a bit of time, you'll have a yummy pasta dish in no time.
This dish is great all by itself, but if you're looking to add to it, we suggest prawns or scallops. This will turn the dish into a yummy seafood Alfredo.
Lemon pasta has a distinct taste that other pasta just doesn't give and the lemon in this creamy parmesan sauce not only adds color but is fairly healthy too.
This recipe doesn't call for a lot of ingredients and doesn't take that much time to make, only 25 minutes.
We don't recommend substituting anything in this recipe, particularly the heavy cream.
Anything with less fat content will curdle the sauce when mixed with the lemon.
This recipe only makes four servings. If you're looking for seconds or trying to feed a larger crowd, we recommend doubling or tripling the recipe.
Creamy pesto pasta is a family favorite, and this recipe is certainly our favorite. It cooks so fast and makes 6 servings. The total time for making this dish is 20 minutes, and it only has five ingredients.
It really is so easy.
If you're looking to add to your dish, cooking chicken, shrimp, or broccoli is simple to do. Cook them in the same pan that you're preparing for the pesto sauce.
Be sure to cook them with some olive oil before making the pesto sauce.
Tomato pasta is easy to make, but this recipe is made easier with the use of canned tomatoes. Not only does it provide more liquid, but it lasts longer so you can make this dish at any time. It's convenient for your schedule.
Of course, the brand of canned tomatoes does matter. The acidity of the canned tomatoes should be checked.
If it's too acidic, it can make the sauce bitter and tart. If you find this is the case, add a small bit of sugar to your sauce.
This mushroom pasta is coated in a parmesan sauce that pairs so well with the mushrooms. We recommend using a lot of mushrooms for this dish.
A lot of recipes skimp out on the mushrooms, but not this one.
The secret ingredient to this recipe is white wine. Don't worry. Your sauce won't taste too winey. It simply brings out the other flavors and mixes them together better.
Not only will this sauce work for pasta, but it also goes great with steak.
This creamy vegan pasta is healthy, dairy-free, and full of flavor. Instead of using dairy products, they've been substituted with white beans, yeast, and a handful of other ingredients. It will take some time to make, but it's a healthy and vegan alternative to other creamy pasta.
For this dish, we recommend using small shell pasta, but really any smaller pasta will do well.
This could be bow tie pasta, penne, or rigatoni.
If you'll looking for some crunch in your pasta, we recommend using pine nuts and adding not only the broccoli but broccoli stems as well.
This spinach pasta uses garlic and parmesan-based sauce that makes it cheesy and full of flavor, and unlike other creamy pasta, it uses spinach which makes it a healthier choice.
There are some tools we recommend having on hand for this recipe. A pasta strainer, a box cheese grater, and a garlic twister are sure to get the job done fast.
We recommend using all fresh ingredients, but if you need to, frozen spinach can be used. The same can be done with the garlic.
We recommend using fresh, but canned will do.
This is a one-pot creamy broccoli pasta recipe that your whole family is sure to love.
The garlic parmesan sauce mixes with the broccoli and brings out so many good and healthy flavors. Not only can this be a broccoli dish, but adding chicken can be good too.
When it comes to the cheese, we recommend using parmesan, but other good choices include asiago and Romano. The same can be said for the pasta.
We recommend using small shells, but bow ties or spirals are easy to work with too.
There are so many versions of macaroni and cheese, but this creamy baked macaroni and cheese are our favorite. It's full of cheese, with a cheese sauce and shredded cheese melted on top.
Speaking of cheese, we recommend using cheddar or gruyere, but there are so many cheeses to choose from.
If you can't pick your favorite, some others we recommend are mozzarella, gouda, Colby Jack, or Swiss.
Our best tip is to shred your cheese yourself.
Bagged shredded cheese has extra starch to stop clumping. It just won't melt as easily.
Running out of creamy pasta dinner ideas? We suggest trying this creamy carbonara. This dish is an old Italian dish which makes it more than a classic.
It's got all the classic ingredients, eggs, sharp cheese, cured pork, and pepper, but this dish is different because it adds a cream that just makes the dish so silky and filling.
We recommend using pancetta for the cured pork. Of course, this may be difficult to find. If you need to substitute this, we recommend using bacon.
For the eggs, it's important to use only the yolks.
The best creamy pasta recipes come with seafood. This shrimp pasta is a favorite at restaurants, but everything is better when homemade.
It can take a little under an hour to make. However, if you want to cut down on time, cook your shrimp and pasta at the same time in separate pots.
This recipe does call for wine, but if you'd rather use a substitute, adding lemon juice into the sauce after the cream works really well.
It's better to use fresh lemon juice rather than concentrate.
Creamy tuna pasta is a seafood comfort food that is perfect for a rainy day or a fun-filled evening.
Usually found in sandwiches, tuna isn't a very common seafood dish, but this creamy pasta dish is sure to change that.
Fresh tuna is what we recommend to use, but this can be difficult to get ahold of. Canned, smoked, or pre-cooked tuna will do just fine.
We also recommend using fresh-squeezed lemon and not bottled.
It's also best to serve right after being made. The pasta can absorb too much sauce when left alone.
Salmon in pasta is another odd pasta out, but we think this creamy salmon pasta is an absolute delight and should get a lot more attention.
It's easy to make and doesn't take a lot of time. It is worth doubling or tripling the recipe, though, as it only serves two.
The secret ingredient to this recipe is white wine. Like other seafood pasta dishes, if you need to replace the wine, use lemon juice.
Fresh lemon juice will be less acidic than bottled and won't be as bitter.
Not only is this chicken pesto pasta nutritious and delicious, but it's also a good time to use some leftovers.
If you've got leftover chicken or pasta this is a perfect opportunity to put them on the dinner table again.
This recipe contains a lot of allergens and is not vegetarian or vegan-friendly. This dish contains wheat, gluten, tree nuts, yeast, and milk.
The chicken can be substituted with broccoli, and the noodles can be substituted with gluten-free noodles, but overall, there aren't many substitutions.
Easy creamy pasta recipes aren't that hard to come by, and this creamy Italian sausage pasta is so easy that it only takes 20 minutes to make. With fresh ingredients and simple steps, this dish is easy and yummy.
The fresher the ingredients, the better the dish will taste. We especially recommend using fresh parmesan, ground sausage, and garlic.
The heavy cream should not be substituted with anything less because the pasta sauce will curdle and become bitter.
Creamy macaroni pasta salad can be just as good as any warm creamy pasta dish, if not better.
Pasta salad is a great lunch dish that can be served and saved easily. It can also be made a few days in advance.
Coldwater is your best friend when making this dish. Before tossing the cooked pasta with the dressing, you'll want to rinse it under cold water.
You'll want to do the same with the onion. This process is called "de-flaming" and it will lessen the flavor of the onion, so the salad doesn't become overwhelming.
Chicken alfredo is really good, but let's admit it, the creamy sauce is what brings it together. This dish is very simple and only takes 20 minutes to make. It's a classic, easy dish and tastes cheesy.
We recommend serving this dish directly after making it. If you wait, the pasta may absorb too much of the sauce.
If you are preparing this in advance, you'll want to keep the sauce and the pasta separate.
If you find your sauce is too thick, use leftover pasta water to thin it out a bit. This will retain the flavor more than water.
Homemade alfredo sauce goes with any pasta dish and is incredibly creamy. It takes less than 15 minutes to make the sauce, and your dinner can be ready in less than a half-hour, depending on your pasta.
A lot of healthy creamy pasta recipes use alfredo sauce. It's nutritious and delicious. We recommend using freshly grated parmesan cheese.
Pre-grated cheese is too thick and can clump too easily, making the sauce too thick. If your sauce is too thin, let it sit for a couple of minutes before plating.
It doesn't need to befall for you to enjoy this creamy pumpkin pasta. This dish will take longer to make than most pasta dishes, about 35 minutes. And it's so easy to make. It only has three steps. Most of the time is spent cooking.
It's no secret that the best ingredient in this creamy pasta dish is the pumpkin. You'll need a blender to make this dish.
It will make the cream smoother and a bit thicker than regular sauce. If you find your sauce is too thick, add some pasta water to the sauce to thin it out.
Creamy garlic pasta is already great by itself, but it can be made healthier and tastier with some added vegetables.
This dish will take a half-hour to make, but this process can be made quicker by using an Instant Pot.
The vegetables we recommend using are green peas, cherry tomatoes, asparagus, and a vegetable broth to mix in amongst it all. In truth, you can use whatever vegetables you'd like.
Play to your tastes when making this dish. Although we do recommend using fresh vegetables over frozen.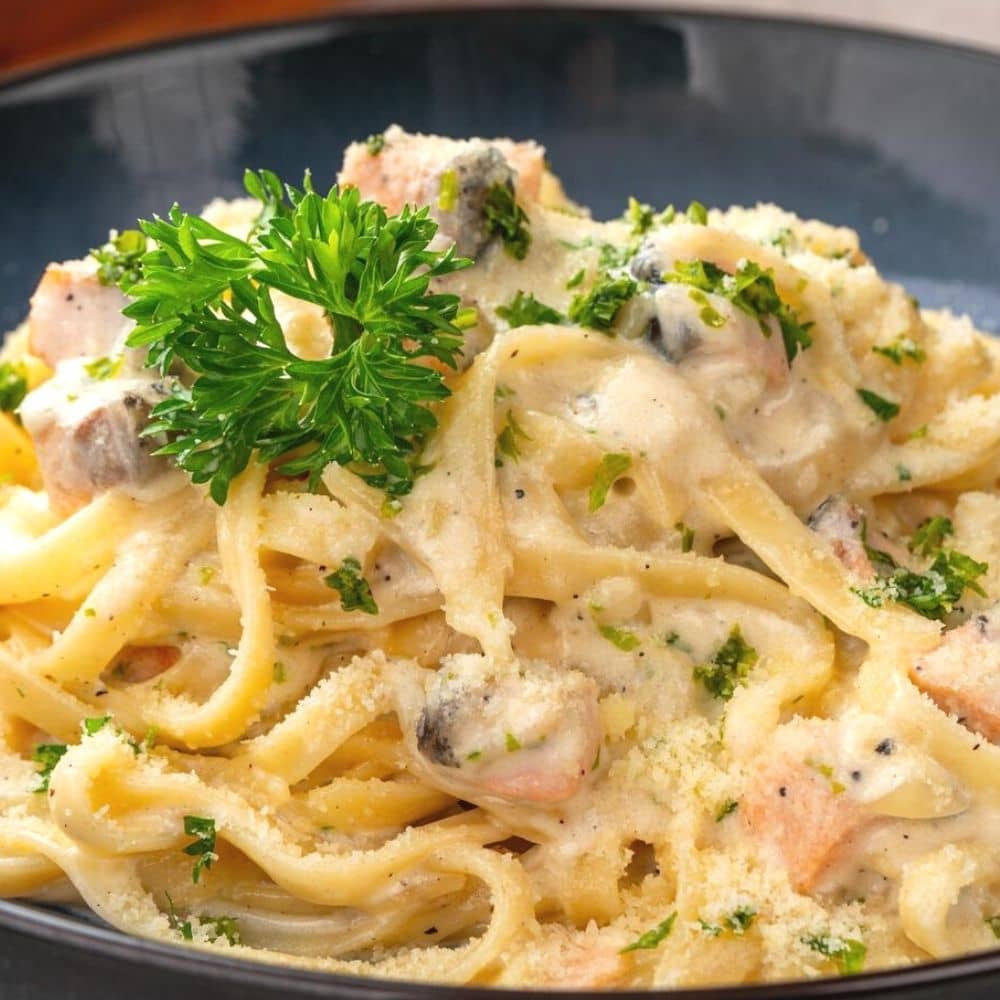 20 Best Creamy Pasta Recipes
Ingredients
2 tsps olive oil
4 garlic cloves, minced
2 tbsps butter
3 c chicken broth, or more as needed
½ tsp ground black pepper
¼ tsp salt
½ lb spaghetti
1 c grated Parmesan cheese
¾ c heavy cream
1 ½ tbsps dried parsley
Instructions
Pour the olive oil into a medium-sized pan and heat it over medium heat.
Add the garlic to the oil and stir the mix until it is fragrant. This may take 1-2 minutes.
Stir in your butter until it is completely melted.
Add your chicken broth, pepper, and salt.
Bring your mix to a boil and add the spaghetti to cook. Stir this mix occasionally for about 12 minutes. If your pasta is sticking to the pan, add in more chicken broth.
Add your parmesan, cream, and parsley and stir them in well.
Serve and enjoy!