Duck recipes have never been easier. In today's world, why leave duck for a fancy occasion? With these easy and simple recipes having duck for a casual dinner is a breeze. And if you happen to be having company, it's sure to impress.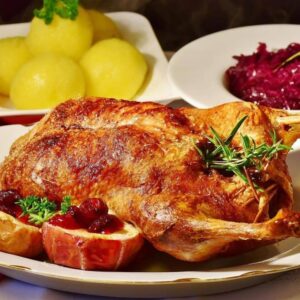 Of course, duck doesn't always have to be the main dish. We've got recipes here that make excellent sides. But, if we're being honest, it's difficult to beat duck when it comes to favorites.
In our opinion, duck dishes just taste better than the average beef, pork, or chicken.
In this feature, we'll be discussing roast duck, duck salad, duck fat fried potatoes, duck pancakes and so much more.
While these are simple recipes, they will most likely take some time to make, but let's get your ducks in a row and begin with our favorite easy recipes for duck.
Perhaps the most famous version of duck is roast duck. It's been a showstopper at many holiday meals, but have you ever considered having it for a basic dinner? It's more than possible if you have the time.
The prep work is the most difficult part, but it's mostly cutting the duck so that it cooks well.
There are two mixes that will add some flavor. The balsamic-lemon mix and the honey-balsamic mix make the duck more tender.
In total, this recipe should take a little over three hours and can be easily garnished with veggies.
Duck potatoes may not be something you've ever considered and not only is it easy, but it doesn't take that much time to make, only about an hour. There are a few more ingredients than a normal recipe, but it's well worth it.
This recipe will make two servings, so it's important to double or triple it for a larger crowd. Potatoes may be filling, but you'll need more if you're feeding a family.
These potatoes will have an added sauce of red wine, honey, rosemary, and chicken stock which makes them taste more than the average potato.
We've already talked about roast duck, but this is roasted braised duck that tastes a lot like Cantonese roast duck. Unlike the other recipes for duck which usually get put in the oven, this duck starts out on a wok.
This recipe will take about two hours. Some like to eat it as the duck alone, but others will take the leftover sauce from the duck and other ingredients and use it to add flavor to the dish.
The sauce itself can be used again with napa cabbage and cellophane noodles and pairs well with the duck.
Sometimes the best duck recipes are the healthiest ones. This duck salad has lots of greens and even the dressing is good for you. Not only is it healthier, but it takes only about 25 minutes to make.
This recipe makes four servings and is dressed in soy and honey. It really feels like a luxury dinner when in fact, it doesn't have that much prep or cooking time.
This recipe does call for almonds, garlic, and ginger which could be an allergy problem, but it also has wheat-free tamari sauce for those who are looking for fewer carbs.
Duck Fesenjan is just as exotic as it sounds. With pomegranate and walnut, this dish is easy to change to fit your tastes. This recipe is simple, but takes so much time to make, easily an entire afternoon.
Olive oil, chicken broth, and the sauce can all be measured to fit your tastes. It is also recommended to add salt to the finished product.
This recipe requires allergens such as almonds, walnuts, and nutmeg (which is not always a risk but should still be mentioned). These items can be taken out, but the dish will lose some of its flavors.
This is a spin on a Filipino traditional adobo dish. But don't worry, like the best duck recipes, we're only trying to amp up the flavor, not take it away.
Like any good dish, it's going to take some time. This duck recipe will take about two and a half hours, however, it does make six servings. This is perfect for a family or small party.
This recipe has no nuts, but plenty of greens and rice to keep you and your guests full.
There are so many soup ideas, but this is one of many duck breast recipes that doesn't come in a roast.
This recipe is split into three different parts. The stock, the marinade, and the soup, and together make one tasty dish. This soup has a bit of spice with Thai-style sweet chili sauce although many consider it to be a "sweet heat".
This is a recipe that will take more than a day to make. The making of the soup takes two days, one to refrigerate the marinade and duck overnight, and another to put it all together.
When thinking of duck, pancakes is probably not what comes to mind. I mean, duck dishes' names don't usually even come close to the word pancake, but it is one of the best recipes on here.
Like a lot of whole duck recipes, this one calls for Peking duck, along with eggs, flour, butter, and milk. There are several allergens in this recipe including sesame, wheat, milk, egg, and gluten.
There is a secret ingredient, though. This recipe has hoisin sauce which makes the flavors pop. But if that's not your style, try bean paste or garlic and prunes.
How to cook a duck? There are so many ways, but this French technique requires that the duck legs be cured overnight before any more work including cooking and submerging them in duck fat. This makes the duck silky and tender.
This dish lasts the longest. The confit can be refrigerated for at least one month and can be reused in salads or other dishes. It's also one of the fastest duck dishes, taking only 30 minutes to make!
If you don't care for onions, they can be substituted with shallots and the duck used in this recipe is Peking.
These slow-cooked duck legs are simple, easy, and cook really fast. This dish will take 60 minutes which is relatively quick compared to most duck recipes.
This recipe is broken up into two parts, the duck and the sauce which pair well with each other.
Of course, this dish is not gluten or dairy-free, however, there are gluten-free and dairy-free cheeses and pasta. You're likely to find it at your local grocer's.
Throughout the process, you should be checking to make sure the duck remains tender, not undercooked or overcooked. Just perfect.
This is one of many famous duck dishes around the world and is found in many countries. It requires a whole duck and anise which gives it a floral kind of sweetness. This recipe will take about two hours to make, both the duck and the rice.
There are several dishes that go well with this duck rice, including a tomato and mozzarella couscous salad, butter bean and tomato salad, and herb salad with pomegranate and pistachios.
It's also suggested to add this special ingredient, a topping of mint or coriander leaves.
Usually known as an old and outdated recipe, we like to think of it as a classic. Like other dishes, it will be made in two parts, the duck and the sauce. The sauce calls for fresh orange juice and suggests using two oranges.
You've also got choices in your duck stock, which can be replaced with chicken stock, or sodium-reduced chicken broth.
Please be careful while making the sauce. It has a tendency to bubble and steam harshly which can cause burns if not stirred with caution.
This duck breast recipe takes an hour to make; that includes prep time and cooking time. The duck takes about 10 minutes in the oven to cook and then it's on to the seasoning.
The best part of this meal may just be the sauce, which is made from honey and soy sauce cooled together. Added with some lime juice and sesame oil on top, it's sure to be good with the noodles. You can even add some spring onions and sesame seeds.
This is such a simple recipe. It takes only 40 minutes to make and requires very few ingredients, with the main ones being, you guessed it, duck, honey, soy, and ginger. However, other ingredients include cayenne pepper, rice wine, and chili powder.
Rice wine is very common in cooking in several countries and is described as having some spice, but also being caramel-like. Along with the chili powder and pepper, it is sure to have a kick.
But don't let that scare you off. There's still the honey and soy sauce to bring in a sweeter taste.
This is a Venetian pasta dish with a French twist and the best part, it takes only 25 minutes to make. And there aren't too many restrictions. You can choose which pasta you'd like to use, although tagliatelle is suggested as being the traditional selection.
The hardest part of this recipe is making sure that the garlic is not burned, but rather browned. It is important to watch it carefully and even smell it to see if the dish has become fragrant.
Rosemary is suggested but is not necessary. The same goes for a second helping of lemon juice.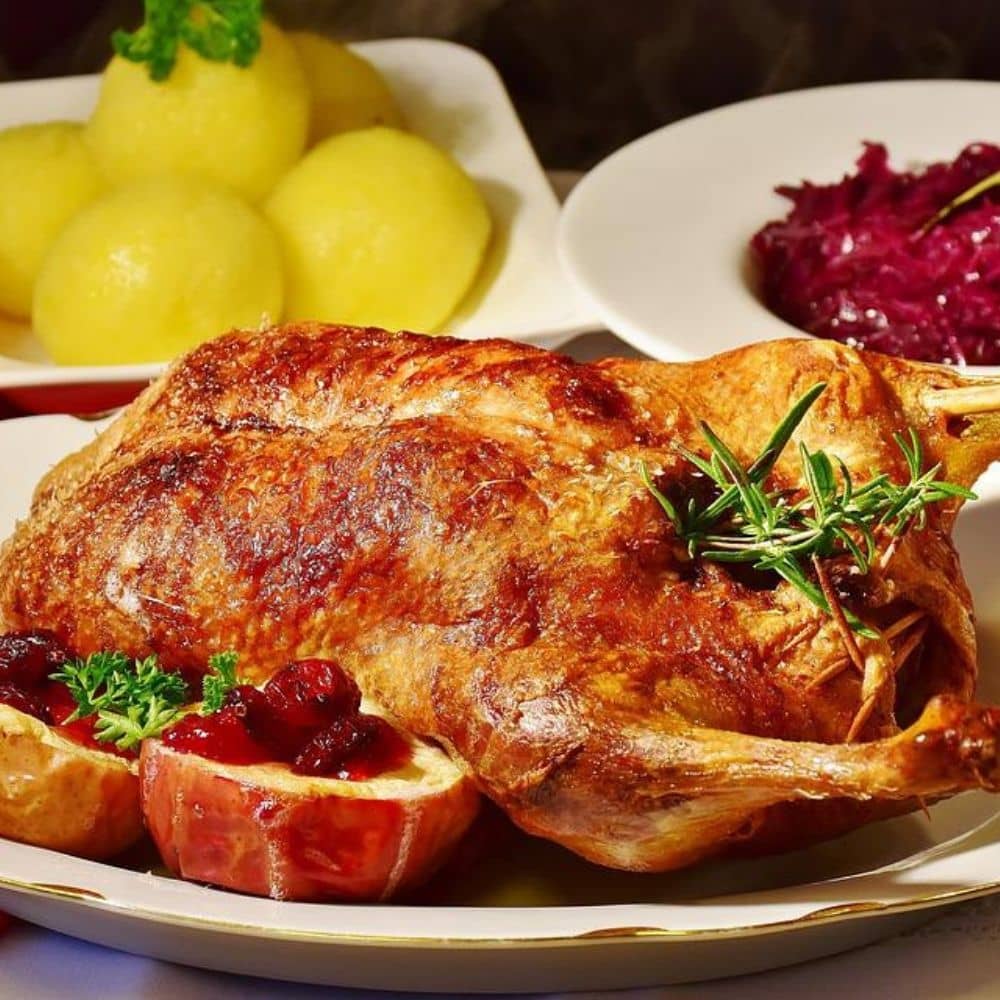 15 Easy Duck Recipes
Total Time:
2 hours
10 minutes
Ingredients
2 tsp paprika
1 tsp black pepper
1 (5 lb) whole duck
2 tsp salt
½ c melted butter
Instructions
You'll want to preheat the oven to 375 degrees F or 190 degrees C.
Next, take the salt, paprika, and pepper and rub them into the skin of the duck. Make sure to rub it evenly. Then you'll place the duck into a roasting pan.
You'll now roast the duck in the oven for 1 hour.
When that time is up, pour ¼ cup of melted butter over the duck and cook it for another 45 minutes.
After 45 minutes, pour another ¼ cup of melted butter over the duck and cook it for a final 15 minutes.
Enjoy!