Elbow macaroni is not just a children's medium for art – remember the macaroni plates you made in elementary school? It's a delicious type of pasta that can be cooked in a variety of ways. Of course, you can use it with a meat sauce.
However, that doesn't mean it can't be used for other dishes! Soup, potato salad, and macaroni and cheese are just a few of the meals you can make with this pantry staple.
Below you'll find 30 elbow macaroni recipes that will satisfy the whole family and make excellent leftovers for the rest of the week. If you've found a box (or ten) on clearance and have them kept in your kitchen cupboard – we've got you!
Now you won't have to deal with box upon box of elbow pasta hanging out in your kitchen. Grab your chef's hat, a notebook, and pen, and get ready for this list of tasty dishes to using up your noodles.
We'll start the list with a soup that will become your instant cold-weather favorite. Beef, macaroni pasta, and mixed veggies swirl around a tomato broth for a filling soup like no other.
With all of the added vegetables, this soup is lighter even though it will fill you up.
You'll be using Worcestershire, surprisingly, to flavor this dish. You can swap it out with a few dashes of soy sauce. Or, add some heat with a few splashes of your favorite hot sauce.
Velveeta seems to have divided people in the kitchen – some people swear by it, and some are not big fans.
However, once you try this cheesy, decadent mac and cheese – you'll be thinking up ways to use Velveeta every week! Did I mention it only requires four ingredients and can be whipped up in 25 minutes?
Even though you're using Velveeta, which is already creamy, you'll still be adding in a hidden ingredient – milk. For those who want to make an even more decadent version, use heavy cream instead.
Is potato salad only for the summertime or as a BBQ side dish? Not! This potato salad recipe is so yummy that you'll be craving (and making) it as often as possible – even in wintertime.
What's the surprise ingredient? That would be chopped dill pickles that add both crunch and tanginess to the dish. You can also substitute relish into the potato salad for a very similar taste.
Tip: Add a few chicken bullion cubes into the water with the boiling potatoes to add extra flavor.
What is goulash? It's a soup-like dish with meat, veggies, and seasoning. This goulash is one of the yummiest elbow macaroni ground beef recipes you need to try.
Here's where you may be surprised-cheddar cheese is included in this tasty dish.
It makes the broth super creamy, rich, and cheesy. You can also use other cheese on hand – try a more subtle cheese like mozzarella to let the seasoning shine through.
This dish takes about one hour to make and can easily be portioned out for the week's rest.
Cheeseburgers are always a yummy dinner dish! Here's a way to combine cheeseburgers with pasta-because who doesn't want that?! This recipe is cheesy, beefy, and uber delicious, making it a perfect dinner meal for any day of the week.
Sugar is used in this dish for a slight sweetness. Yes, really – sugar! Instead, you can swap in a sweeter vegetable like carrots.
Tip: If your kids do not like eating their veggies, you can toss some in, like broccoli. They'll be covered in a cheesy sauce, making them extra tasty.
How can you make a recipe that tastes like Hamburger Helper at home? This cheeseburger casserole is the answer. It's an easy dinner (you only need eight minutes to prep!) and cooks quickly.
The secret ingredient is the room temp sour cream that's included in this casserole.
It helps tie together the whole dish, adds a slight tang, and makes the sauce richer. Swap the sour cream out with cream cheese for an even creamier dish- you won't be sorry!
What's better than ooey-gooey mac and cheese baked to perfection in the oven? Honestly, not much.
This recipe gives you that favorite crunchy topping of cheese with melty cheese in the middle for the ultimate dinner.
How do you get such a thick, tasty sauce in this dish? The secret is in the flour that is used to make a roux. Instead of using flour, try cornstarch.
You'll need to make a slurry instead of a roux, but you'll still be able to get that coveted, thick gooey consistency.
What can I say? I'm a sucker for instant pot recipes – they're quick to throw together, and you save on dishes. It's genuinely a win-win with this macaroni dish.
You'll be whipping up this dish using the unexpected ingredient – chicken broth. Adding this broth aids in both flavorings the rest of the ingredients and keeping the dish from drying out or burning. Beef broth makes an excellent swap as it will give a tasty flavor.
Tip: Always season meat when browning. It can change the flavor of the dish from meh to yum!
Craving a piping hot Philly cheesesteak, but not near a restaurant that serves this yummy sandwich?
Check out this recipe as one of the best dinner ideas on the list. This is similar to the hamburger pasta. However, the seasoning leans towards Italian.
Beyond the Italian seasoning, you may be surprised to find that you'll be using garlic powder.
If you've run out, use fresh garlic instead of minced garlic from a jar. The flavor will be more intense, which is excellent for garlic lovers.
If you're looking to up your mac and cheese game – this is the recipe to try out! You still get the beloved gooey inside with a panko-covered, crispy topping. Can this dish be any more mouthwatering?
Panko crumbs make this dish unique and extra delicious. You can also use breadcrumbs instead for a similar flavor and texture. Don't forget to add the parmesan to the topping- yum!
Tip: It may not seem like a big deal, but the middle cheese layer is AMAZING. Don't skip this step.
Who remembers coming home from a full day of school to find a pot of chili sitting in the crockpot?
It was always made on the coldest days to warm up and fill your belly. Take the nostalgia of one-pot chili and combine it with mac and cheese for the ultimate dish.
Surprise, surprise-you'll be using ground beef for this yummy recipe. Swap out the beef for ground turkey as a way to create a healthier alternative.
Once the seasonings, cheese, beans, and pasta are added in – you won't be able to tell that turkey was used instead.
Imagine perfectly cooked chicken served with a buttery, rich, creamy sauce and pasta. That's precisely what you'll find in this dish. Oh, and did I mention there are three types of cheese in this dish?!
You may not expect there to be fresh parsley used in this dish. It adds a delightful peppery flavor to the dish before it's served. If there is no fresh parsley on hand, you can use the dried version.
Tip: Throw fresh parsley indirectly before serving to avoid it becoming too wilted.
How great do instant pot mac and cheese sound? You get the delicious cheesy and gooey mac and cheese you love without the wait.
This is one of the tastiest elbow macaroni recipes without meat – perfect for any vegetarians out there.
This instant pot surprisingly uses dried mustard to add a lot of its flavor and color.
A few different swaps can be made, such as turmeric or mustard from the jar. Both will provide an excellent taste to the dish as well as a similar yellow color.
This cheeseburger casserole recipe is even cheesier than the last one. It combines two different cheese types (mozzarella and cheddar) PLUS cream cheese for an incredibly rich and unique sauce.
Part of what makes this recipe so tasty is the diced tomatoes that are used.
These provide a nice tomato flavor and provide a sauce base. Instead, try using canned tomatoes that have been roasted for a unique flavor.
Tip: If you crave a crispy topping like what can be found on baked mac and cheese – add breadcrumbs to the top of the casserole when baking.
There's something so refreshing about pasta salad – it's easily a favorite dish for the summertime.
This version includes tuna to make it a complete meal. It's tasty and quick to make – you'll be able to have it prepared in less than ten minutes.
So, what happens if you don't like tuna? You can also use canned chicken as a substitute. The texture is similar, though the flavor will change.
If you're on the fence about which protein to use, make it twice and see which one you like best!
What happens when you have a craving for mac and cheese but want a healthier alternative?
You create this skinny macaroni and cheese soup. This delightful soup adds in the cheesy goodness you'd expect, along with a ton of veggies.
Part of the included veggies is broccoli making it reminiscent of broccoli cheddar soup.
Picky eaters might avoid the broccoli leaving a pile in the bottom of the bowl. Instead, you can use cauliflower or even their favorite vegetable like green beans.
A vegetable mix, ground beef, tomato sauce, and potatoes make up this incredible soup recipe.
While you might think this soup is heavy as it has hamburgers in the title, it's relatively light. It works well for any season and can be eaten throughout the week if you have any leftovers.
Did you think there would be sweet potato in this dish as well? It perfectly balances the Yukon potatoes while adding a slight sweetness to the soup. You can use carrots as a swap for a similar color and flavor profile.
What is it about Hamburger Helper that makes any dish feel cozy?
This instant pot hamburger helper is no different – you'll have a warm, filling, and tasty meal once you've tried it. It's genuinely the perfect cold-weather dish that can be made in no time.
Most people forget that you'll need oil to brown the meat before adding it with the other ingredients. Vegetable oil is used in this recipe. If you only have olive oil or a similar oil available, you can use that oil in a 1:1 ratio.
Here's another macaroni salad that will make your mouth water!
This Amish macaroni salad combines eggs, macaroni, fresh crisp veggies, and seasoning for a tasty dish. You'll find it to be refreshing, creamy, and flavorful.
The unexpected ingredient used in this yummy side is the miracle whip. It adds a nice tang and, of course, is the reason for the creamy texture. You can swap out miracle whip for mayo or even vegan mayo if you're looking for a nondairy alternative.
This recipe for macaroni corn casserole lands somewhere between mac and cheese and southern-style cornbread.
It's sweet, cheesy, and chock full of delicious corn bits. You're in for one of the yummiest elbow pasta recipes in the books.
Velveeta cheese is the star of the show making the recipe cheesy and creamy.
You can also make your cheese sauce using shredded cheddar, flour, milk, and salt/pepper. This is an excellent swap if you want to adjust the cheese flavor.
Tip: Make sure to cover the casserole for the first 30 minutes with foil to keep the top from burning.
Ranch and cheese lovers unite! If you've ever added ranch to pizza and enjoyed the combo-you'll love this chicken ranch macaroni and cheese.
Chicken covered in ranch seasoning is added on top of cheesy macaroni with bacon bits – yummy!
Bacon, of course, is the secret ingredient. I am a firm believer that there is not a single dish that you can't add bacon to for extra oomph.
You can also use bacon bits as a swap, though you'll want to adjust the salt in the dish so it's not too salty.
How much bacon is too much? The trick question as there's never enough.
With this recipe, you'll find a combination of a favorite appetizer (spinach dip) and a chicken bacon entrée.
Like many casseroles or bakes, there's cheese added to the top for that extra gooey deliciousness. In this case, mozzarella is layered on top as the unexpected food item. Feel free to switch it out with romano or asiago for an equally cheesy consistency and more robust cheese flavor.
Tip: Ensure the bacon is cooked before including it as it will not cook properly if added in raw.
Wondering why this recipe is named small macaroni salad? It's a sized-down version of a family favorite, making it an excellent choice for a couple to munch on over the weekend. Now, you don't have to worry about sneaking bites of leftover pasta salad later, as it's the perfect serving size.
What makes this pasta salad different is the green onion that's used in it. It adds the perfect onion flavor and slight spiciness to even out the creaminess found in the dressing. Sweet yellow onion works well. However, you can also use red onion for an extra hit of spiciness.
You can never go wrong with a recipe pulled from a mom.
Moms can do everything -including making the best goulash around. Besides being a delicious entrée, it's also one among a few easy macaroni recipes you'll find online.
How does this dish differ from any other goulash? It includes fresh green bell pepper slices to create a yummy pasta, veggie, and meat dish. Swap out the green bell pepper for red or orange bell pepper if you prefer recipes on the sweeter side.
Is it possible to make a meal or side dish in only 12 minutes? Especially if you're following along with this macaroni salad recipe. You'll find the macaroni salad to be sweet, creamy, and offer just a hint of spiciness.
Frozen peas are the hidden ingredient in this macaroni salad.
Besides providing a pop of green color, they also add sweetness to each bite.
You can easily use canned peas instead – you'll need to drain them first and ensure they don't have moisture on the outside.
Bolognese is such a simple dish, yet it always hits the spot. It's saucy, meaty, and the perfect dinner to eat with your family.
This casserole-style version adds a cheesy, gooey topping that takes it to the next level.
As with most pasta recipes, marinara sauce is included in this meal. You can also switch it up and use a mushroom marinara if you're a mushroom lover. Either way, you'll have a delicious meal that you'll be making all the time.
You've heard of overnight oats which require no cooking, but have you heard of overnight chicken tetrazzini?
Yes, the noodles soak up the liquid just like the oats making for a recipe that requires no boiling yet still leaves you with soft noodles.
You may be surprised to find out that chicken broth is what the noodles soak in overnight. It allows the noodles to soften as the liquid is absorbed. Swap it out with vegetable broth or stock for a more subtle flavor.
Tip: Ensure to refrigerate overnight as the pasta will need more than a few hours to soften.
Finding healthy alternatives for comfort foods can be a real struggle, especially with foods that include a good amount of cheese and milk.
Here's a way for you to enjoy the best of both worlds – a healthy meal that satisfies your comfort food craving.
Mustard is an ingredient found in mac and cheese more often than you would expect.
If you're craving that same slight spiciness, you can use a dab of horseradish instead. It won't add the same color. However, it will give the dish a nice kick.
If you've never tried sweet macaroni salad- you're missing out! It might sound like an odd combination of flavors – sweet and savory. However, this is one of the yummiest elbow noodle recipes you'll ever taste – give it a try!
Carrots help provide a pretty orange color that brightens up the dish. You can also use multi-colored bell peppers instead to add color and crunch.
Tip: This salad is best served cold. You'll want to refrigerate the macaroni salad for at least a few hours before serving.
The final recipe is an excellent macaroni salad that you can use as a staple side dish. It pairs perfectly with most meat dishes and offers a creamy, slightly sweet flavor.
Add this tangy recipe to your repertoire so you can use it as much as you want.
Apple cider vinegar adds a surprising amount of tang to this dish. If you want more sweetness, you can use sherry vinegar instead.
Tip: You can be creative with this recipe – add in small pieces of ham or bacon for some protein.
Now that you've read through all 30 recipes (and the bonus recipe!), you're prepared to use all of your leftover pasta boxes up.
These recipes are fun to make and incredibly tasty. If you have an aspiring chef-these are the perfect meals to practice cooking with them. Try each meal and keep your favorites on hand.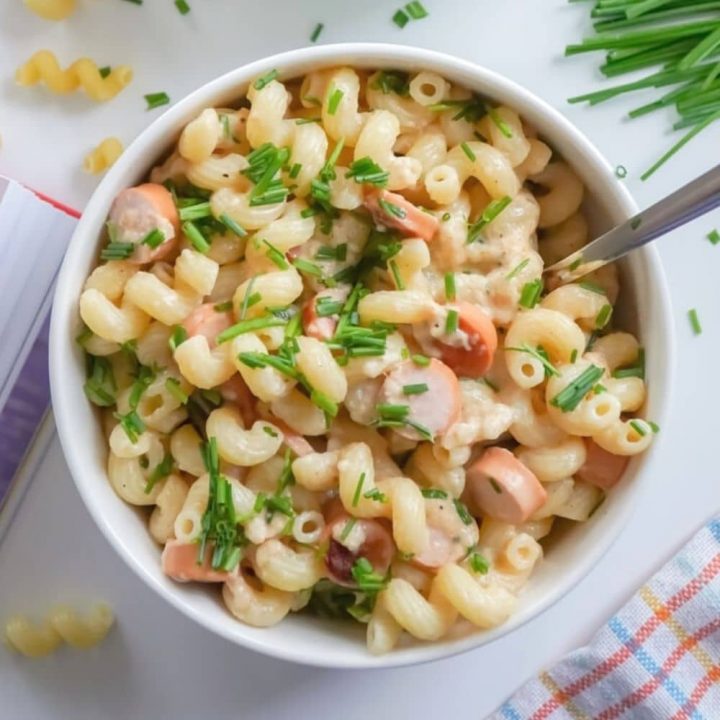 30 Best Elbow Macaroni Recipes
Elbow macaroni is not just a children's medium for art – remember the macaroni plates you made in elementary school? It's a delicious type of pasta that can be cooked in a variety of ways.
Ingredients
1 (8 oz) box elbow macaroni
¼ c butter
¼ c all-purpose flour
½ tsp salt
ground black pepper to taste
2 c milk
2 c shredded Cheddar cheese
Instructions
Boil the elbow macaroni noodles for eight minutes in salted water. Stir throughout so it does not stick to the bottom of the pan. Use a colander to drain the noodles.
You'll be making a roux with flour, salt, pepper, and butter. Heat the ingredients in the pan until the flour is "cooked." Add in your milk slowly while whisking until you get a smooth, thick consistency. Next, add your favorite cheese and stir until you have a melty, thick, cheesy sauce.
Add the pasta into the cheese sauce and mix until the noodles are covered.