Like many people across the world, the French love their desserts, and we can't help but praise them for it because what is better than going to France than having one of their delicious French desserts?
French desserts can consist of anything from custard tarts, croissants, éclairs, and much more.
But while going to France every so often for their delicious French desserts is great, what's even better is knowing an array of French dessert recipes, ready to make whenever you crave the French dessert sweetness from wherever you are in the world.
Keep reading to learn how to make some easy French desserts…
Whether you want to go by its fancy French name of Flan Pâtissier or better known as a French custard tart, we can promise that your mouth will be watering at this recipe.
French custard desserts are some of the best French desserts around, and this recipe is one you have to try!
The key to the perfect flan pâtissier is the custard, and to get it faultless, you need a perfectly combined egg yolk and white cornstarch mixture, what the French like to call crème pâtissière. If you haven't got any cornstarch, you can use cornflour as an alternative.
Looking for classic French desserts? You're certainly in the right place. If you've been to France and tried many of their scrumptious French sweets, found all across Parisian restaurants and throughout France, then you likely know about the French crème caramel.
We love this recipe as it's so simple to make. You need granulated sugar, water, whole milk, a vanilla pod (or vanilla extract as an alternative), eggs, and more sugar.
While this recipe doesn't speak of any toppings, we think to experience the flavor fully. You should consider serving it with fresh berries.
Who doesn't love a chocolate cake, but have you ever tried a French chocolate cake? We can't wait for you to be pleasantly surprised by this gorgeous five-ingredient recipe, which takes only an hour to whip up.
Chocolate cakes are the best French desserts, but you might be thinking, what makes them different from any chocolate cake? French chocolate cakes are best known as gâteau au chocolate moelleux and are super moist.
So all you need for this recipe is dark chocolate, sugar (either granulated white or caster sugar works), eggs, all-purpose flour, and butter. Quick, simple, and utterly delicious.
This easy French chocolate mousse recipe is just as it sounds, creamy, rich, and full of mouth-watering dark chocolate, and it's quite effortlessly one of the best French baking recipes out there.
If you're interested in giving this recipe a go, all you need is dark chocolate, eggs, sugar, vanilla extract, and a pinch of salt.
Understandably some people don't like dark chocolate, so if you want to shake the recipe up a little, you can change dark chocolate to white or milk chocolate, and as you can expect, it tastes just as good.
You can't think about France without thinking of French crepes, it's one of their classic French desserts, and the great thing about it is that you can put absolutely any toppings that you want, whether sweet or savory.
While there is no secret ingredient when it comes to crepes, as each component is essential for the recipe to work, we do think the key ingredient to having the most delicious French crepes is, of course, the toppings you choose to have.
For something sweet but simple, all you need is a sprinkle of sugar and lemon juice, a firm favorite for many. But if you prefer something a little more yum, why not add a fruit compote?
We love this recipe as it's fun to make, it's easy, and all you need is pâte sucrée (sweet tart dough), whole milk, sugar, cornstarch (or cornflour as an alternative), eggs, unsalted butter, vanilla extra, mixed berries, and apricot jam.
When you have a fruit tart as a recipe, as you can expect, the fruit is the secret but not so secret ingredient.
It's what brings all the flavors perfectly together for a sweet and summery taste, perfect for a family BBQ or picnic.
Not only does this recipe look beautiful once it's finished, but it, as expected, tastes glorious.
Do you enjoy having finger food for your dessert? Well, this recipe is the right one for you. These French financiers have been around in France for over 100 years and are certainly one we couldn't skip from the list.
All you need for this recipe is icing sugar, all-purpose flour, almond flour, hazelnut flour (almond flour can be used as an alternative), egg whites, and unsalted butter, a simple 6 ingredient recipe that results in a delicious snack for the whole family.
There are many different recipe variations when it comes to financiers. You can add chocolate or fruit, or leave it plain if you would prefer.
Who doesn't love an apple tart? It's one of the best desserts to exist and is obviously why we have added it to our list.
You might already think this, but we have to establish that the secret ingredient to any apple tart is cinnamon and sugar-coated apples.
For the crust, all you need is all-purpose flour, salt, granulated sugar, and unsalted butter, and for the best part.
For the filling, you need baking apples, sugar, vanilla extract, cinnamon, unsalted butter, and salt with all-purpose flour, egg, turbinado sugar, and apricot jelly (or jam) for the assembling and baking part.
Figs are often a forgotten fruit, especially when it comes to desserts but don't worry, the French never forget, and that's why they have French fig tarts, which are just divine to taste.
This recipe doesn't require too many ingredients. You need figs, apricot jelly (or jam), all-purpose flour, salt, sugar, water, and butter.
You can't just put any figs into this recipe. You need figs that are perfectly ripe, which give off the perfect level of sweetness.
Want something sweet but fruity? This chocolate bark is exactly what will tickle your fancy.
All this recipe requires is some cashews, chocolate – bittersweet and semisweet, crystallized ginger, cherries, apricots, and raisins.
The mixture of bittersweet and semisweet chocolate is the secret element of this recipe.
Having one or the either just doesn't justify it; it needs to be a combination of both.
If you're missing any of the fruit or nuts, you can swap them out for another type of fruit or nut.
Classic French crepes are the best ones to exist out of all the crepes in the world. They're larger, thinner, more delicate, and just absolutely beautiful to taste. You can have them either sweet or savory.
For this crepe recipe, you need milk, eggs, butter, salt, and all-purpose flour. If you choose a sweet crepe, add some sugar and lemon. For savory, you can have chicken and mushroom, ham and cheese, and so many other types of fillings.
If you're dairy-free for health reasons or because you're vegan, you can use another type of milk, such as almond milk, cashew milk, soy milk, or oat milk. Anything will work as an alternative.
Ever tried a golden, light & airy classic French madeleines? We expect you most likely have, especially if you've been to France, but it's time to learn to make your own to have them wherever you're located in the world.
These cookies are so easy to make and such a pretty sight. Traditional recipes to make madeleines sometimes leave them tasting dry and not worth the effort, but this recipe will have you craving more.
So what do you need? Butter, eggs, sugar, vanilla extract, salt, flour, and finally, the secret element, a lemon (or orange) zest for a citrus taste.
These are just as they sound, scrumptious! And what's better, they only require four components and take a total of 75 minutes before you can eat them.
The four ingredients are bittersweet chocolate, cocoa powder, vanilla extract, and heavy cream – easy peasy.
We recommend coating the truffles in cocoa powder, but if you don't have any or wish to try something else, why not cover them with crunchy almonds.
Either go perfectly, creating a beautiful oaky and nutty flavor.
Wish for a smooth dessert that melts in your mouth? That's precisely what a French lemon tart or, as the French like to say, tarte au citron does.
What we love about this recipe is that it's neither too sweet nor too sour. Instead, it's just right.
For this recipe, you need lemons, butter, eggs, and caster sugar (but ordinary white sugar works as an alternative).
A lemon tart never requires any toppings, but it doesn't hurt to add a little something. Perhaps try some lemon slices, raspberries, mint leaves, cream, or melted chocolate.
Or maybe you wish to serve with something else, such as crème Fraiche, whipped cream, or vanilla ice cream.
While these have the name breakfast puffs, they fit the muffin look, especially when you cook them in a muffin pan.
If you want to make these breakfast puffs, you'll need all-purpose flour, baking powder, salt, nutmeg, white sugar, shortening, egg, milk, ground cinnamon, and margarine.
These are a great recipe for when you want something simple to snack on, especially when there are only 231 calories in each breakfast puff.
We bet you were waiting for this one. You can't have a French recipe list without making sure French macarons are on it.
The main element in any French macaron recipe is the egg whites, but you also need cream of tartar and vanilla extract.
(you can use almond or coconut extract instead), superfine sugar, food coloring, almond flour, confectioners' sugar, and the macaron filling you desire.
Macarons aren't for everyone, especially with their crunchy texture and nougat-like taste, but they're a classic French sweet. Ideal for special occasions.
Profiteroles are crispy, chewy, light, warm, cold, and undeniably delightful. But you might be thinking, how can profiteroles be cold and warm? Well, the best way to serve them is having cold profiteroles and a warm chocolate sauce.
This recipe is simple and only needs a number of ingredients, water, unsalted butter, caster sugar, all-purpose flour, and eggs.
While we think the warm chocolate sauce is the perfect topping, it might not be right for you. So instead, you could try them with whipped cream, custard, vanilla pastry cream, or chocolate pastry cream.
If you don't think this sounds incredible, then you're missing out because this recipe is something special.
Although this is delicious and is fairly easy to make, it does require a number of ingredients to make it. But that shouldn't put you off.
You'll need eggs, Nestle carnation evaporated milk, unsalted butter, granulated sugar, cinnamon, vanilla extract, salt, French bread, cornstarch, cinnamon sticks, and fresh berries, and we can't forget the toppings.
You can have powdered sugar, vanilla ice cream, or fresh whipped cream.
We love the little finger food desserts, perfect for when you're in a snakish mood, and this can create between 20 to 30 servings, with only 98 calories in each one.
These are classic French recipe that is so easy to throw together. One to definitely try. You'll need vegetable oil, unsalted butter, water, salt, all-purpose flour, eggs, and confectioners' sugar.
In any French sweet recipe, sugar is the key ingredient for that pleasant sweet taste.
Like with the other truffle recipe we've spoken about, this is one you need to try.
If you're interested in this recipe, the components of it include white baking chocolate, heavy whipping cream, orange zest (the secret flavor for that zesty taste), orange extract, milk chocolate, and for the coating, you'll need semisweet chocolate, milk and white baking chocolate.
While these are certainly delicious, these little chocolate balls make great gifts to family and friends on special occasions
A fluffy meringue on top of a pool of custard? We wouldn't say this is the prettiest recipe on our list, but it cannot be considered the worst. It's something all the family will enjoy, especially any children.
This does take two hours to make and requires a lot of ingredients, 19 to be exact, but don't let that put you off.
For any recipe like this, the toppings are the best part and the secret to making it so tasty, so we recommend ensuring you have a caramel sauce and fresh berries.
Have an upcoming party? Why not try these French vanilla creme puffs. They're the tastiest little snack and are so simple to make with everyday ingredients you can find in your kitchen cupboards.
To make these little vanilla creme puffs, you will need water, butter, all-purpose flour, salt, eggs, cold milk, instant French vanilla pudding mix, whipped topping, chocolate chips, and confectioners' sugar.
These are one of the cutest finger foods you can make.
Strawberries are the fruit of summer, and what's better than having a French dessert full of them ready for a summer's day picnic or BBQ, especially when it's picture-perfect too.
This recipe might come across as complicated, but you'll be pleasantly surprised to learn that it's actually really simple, with only a few baking ingredients necessary.
For this recipe, you will need butter, whole milk (you can use 2% as a substitution), granulated sugar, eggs, salt, vanilla extract, all-purpose flour, ripe strawberries, and powdered sugar.
This looks very similar to chocolate mousse, but we think this French version is far prettier and tastier, plus, it's custard and has a fancy French name that rolls off the tongue.
You could easily whip this up within a matter of minutes, and it only requires a number of ingredients, dark chocolate, sugar, egg yolks, heavy cream, and milk. Vanilla extract is not a necessity for this recipe but is certainly something worth adding.
We know that you'll be addicted as soon as you take the first spoonful of this silky and delicious dessert.
We haven't added many cakes to our list other than the French chocolate cake, but this one is something a little different, especially as it contains coffee!
While this isn't as straightforward as many of the other recipes, it's so worth the effort, especially when you take that first bite, second and third, and so on.
Now, this ingredient list isn't short. You'll need eggs (lots of them), all-purpose flour, bittersweet chocolate, confectioners' sugar, granulated sugar, vanilla extract, almonds, espresso, butter, heavy cream, whole milk, and water.
Why not try it out? Especially if you're a lover of coffee, chocolate, and cake.
I'm not sure about you, but whenever I visited France or any other European country on holiday, I always had palmier cookies and was addicted to them.
This recipe brings up so much nostalgia, and there's nothing better than being able to recreate memories through cooking.
A bonus of this is the little ingredients needed. You quite literally need three things, puff pastry, butter, and cane sugar. Easy peasy, lemon squeezy.
What makes these even cuter is that they're always heart-shaped.
We couldn't resist adding a French butter cake to the list. While we've already spoken of two other glorious cakes, some people don't like coffee or chocolate, so we needed something more simple but just as delicious.
To make this glorious French butter cake, you will need eggs, all-purpose flour, almond extract, baking powder, granulated sugar, salt, and vanilla extract.
(the secret element to any recipe like this), neutral-flavored oil, butter, yogurt (you can use either Greek or plain), and water.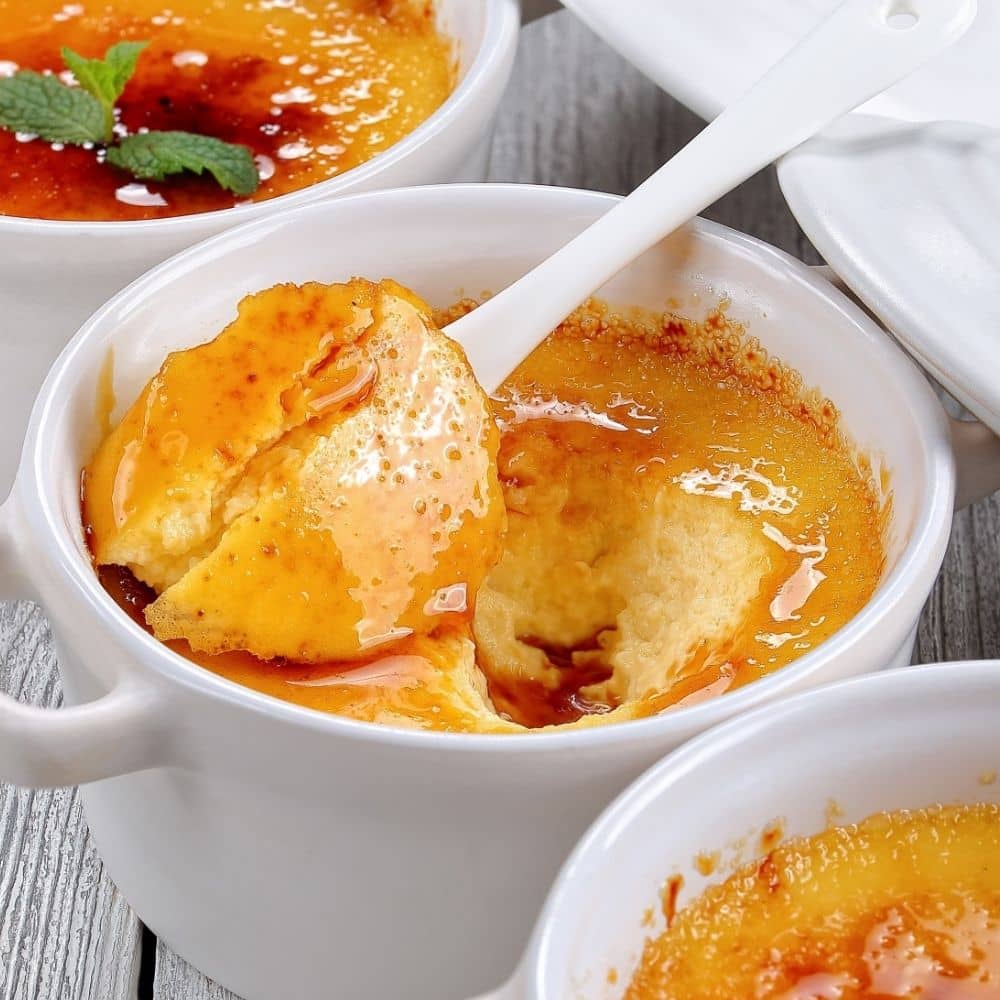 27 Easy French Desserts
Ingredients
2 tsps butter
16 ounces fresh or frozen unsweetened blueberries
3 large eggs, room temperature
3/4 c all-purpose flour
3/4 c whole milk
1/3 c sugar
1 tsp vanilla extract
1/2 tsp ground cinnamon
Instructions
Preheat your oven to 400 degrees.
.Place the butter in a skillet in the oven until entirely melted – this usually takes between 1 and 2 minutes. Tilt the skillet, so the butter covers the entirety of it.
Spread the blueberries into the bottom of the skillet
Combine the eggs, flour, milk, sugar, vanilla extract, and cinnamon in a bowl and pour the mixture over the blueberries. Bake until the edges turn brown and the center is puffed. This takes around 30 to 35 minutes.