There are so many different things to do with hot dogs, whether you're planning a party and want something simple that everyone loves or you're looking for cheap, easy, and yummy hot dog recipes to make for the family.
To find out what to do with leftover hot dogs or to get a quick and easy meal idea, keep reading for 24 delicious recipes for hot dogs.
Enjoy both chili and hot dogs? This recipe is certainly one of the best hot dog dinner ideas, and we guarantee you'll love it!
If you are yet to try chili with your standard hot dog recipe, you're certainly missing out as they go divine together.
The recipe asks for Worcestershire Sauce, but if you don't have any Worcestershire Sauce available, you could use any BBQ sauce as a substitution.
It will taste just as good – but please don't miss out on the Worcester Sauce or your alternative; it's the secret ingredient!
Want to know what to make with hot dogs without using a hot dog bun? Look no further. We're here to provide one of the best hot dog recipes.
More complex than our other recipes, this hot dog recipe requires a number of ingredients, including hot dogs, an egg, flour, baking powder, granulated sugar, white sugar, salt, oil, panko breadcrumbs, and fat-free milk.
While these ingredients make the dish, the most important part of any recipe is the condiments. We recommend using ketchup for that tangy taste!
Mexican food is just heavenly, and did you know that you can mix it with a hot dog to make a Mexican-style hot dog?
There's a lot to pack into this recipe, but we promise it's worth it at the end when you take that first bite!
Every recipe has a key ingredient, and without it, it's never quite the same, so make sure you always include the lime juice for that little extra zesty flavor!
Want an air fryer recipe that's more basic? We can provide that!
Simply all you need is some hot dog buns, hot dogs, and any air fryer you have lying around.
While this recipe doesn't provide any condiment ideas, and we recognize some little children can be picky, you might decide to add some for that extra flavor.
Our favorites are ketchup, mayonnaise, mustard, or all three if you're feeling slightly more adventurous!
Yes, you might be thinking, but these could almost be considered a blend of both hot dogs and grilled cheese sandwiches!
It might be obvious as it's in the name, but the key ingredient in this recipe is the beautifully melted cheese, the perfect addition to any hot dog recipe!
We understand dairy isn't for everyone, but there are many non-dairy alternatives that are out there that you can use instead.
We're sure that you'll certainly be thanking us for this delicious mixture.
We have to admit this isn't the simplest of hot dog recipe ideas on our list, particularly with the sheer quantity of ingredients needed and the length of time it takes to prep, but we can guarantee you'll be thankful for having a go at it.
Each part of the recipe is incredibly important.
Missing any means, the Coney Island sauce is not fully complete, and you won't get the full effect.
Are you looking for something slightly more healthy than the classic hot dog? Look no further. This roasted veggie and hash is a quick, easy and hearty dish ready for you to devour with your loved ones.
As with most dishes packed full of veggies, the seasoning is what truly makes the flavors come together.
All you need to make this gorgeous hot dog recipe is olive oil, potatoes, carrots, onions, smoked paprika, dried tarragon, salt, pepper, red pepper flakes, green bell pepper, red bell pepper, Hebrew National All-Beef Franks, and chives. Quite packed but worth it!
These recipes using hot dogs are mostly involved with the classic hot dog, but we wanted to show you what could be made with leftover hot dogs, so why not try a cheesy hot dog casserole if you have some hot dogs to lose and are lacking ideas.
While this might sound complex, it's really not.
You only need hot dogs, a can of pork and beans, onions, ketchup, brown sugar, cheddar cheese, and the best part, refrigerated Pillsbury™ Grands!™ Southern Homestyle Buttermilk Biscuits, yummy!
Comfort food is the best, and this might just be your next addition to add to the list.
Want something slightly more appealing to look at or present to a party than a standard hot dog? Well, these crescent hot dogs might be the ones for you, and it's almost as if you're eating pigs in blankets.
There are lots of ways to do crescent hot dogs, from the classic to the chili slaw crescent hot dog.
The recipe for a traditional crescent hot dog is fairly straightforward, with only three ingredients necessary, hot dogs, American cheese, and Pillsbury crescent rolls. If you can't get your hands on these, there will be plenty of other brands in your local grocery store.
You can also add a wooden stick to these to make eating them a little less messy.
Stuck on hot dog ideas for your dinner party? Why not try this yummy recipe? It's the perfect finger food that everyone will love, and each batch makes a total of 18 muffins.
To make this simple recipe, all you need is hot dogs, eggs, brown sugar, cornbread mix, cheddar cheese, and milk. Most of the things that you likely have in your cupboards.
If you don't have any hot dogs to spare, they can be substituted for cocktail wieners which work just the same.
Looking for something different that still involves hot dogs? Then this recipe is ideal.
It might require a little more extra prep, but it's certainly a game-changer. We won't list everything you need, but it's way better than its sounds, don't miss out on it.
You can choose any type of rice, the recipe lists white, but it also works great with brown rice. Perhaps try them all and find your favorite.
Oh yes, it's another casserole dish to add to the list because we can't resist how good they really taste!
It might not be much of a secret as it's in the name, but the tater tots are, of course, the key ingredient that you need! If you need a recipe for the veggies, baked cauli-tots are the ones to use!
If you aren't for trying the other hot dog casserole dish, you can't miss out on this one.
Three's the magic number, right? For our third hot dog casserole recipe, we have the beans, and hot dog casserole, which we guarantee will be a firm favorite with the kiddies.
If you're vegan, veggie, or can't eat dairy for any other reason, there are many alternatives to use instead of the American cheese. This recipe can use so many substitutes that the recipe explains a little further, so take a look and see what you think.
The recipe requires a few ingredients, and it takes a total of 25 minutes to bake in the oven, but we think it's one of our preferred recipes on the list.
Got an upcoming dinner party, game night, or another event that requires bringing homemade tasters? We've got you covered with these chili cheese dog biscuit cups you can easily make in a muffin pan.
With only five ingredients, this recipe truly is similar to do and serves a total of eight people, or four if you're feeling a little more greedy.
As you can expect, the chili with beans can is the main ingredient in this recipe, and without it, you're looking at an entirely different snack.
Recently been to Chicago and craving one of their windy city classics? You can recreate this easily at home.
You need beef hot dogs, poppyseed hot dog buns, onions, tomatoes, dill pickles, yellow mustard, pickle relish, celery salt and sport peppers. See? Really simple and delicious.
The vital ingredient in this recipe is the poppyseed hot dog buns. Anything else isn't the same, so don't miss this key element out!
While we spoke about condiments being a key aspect of post hot dog recipes, this one really doesn't require it, and you actually might spoil it entirely – stick to the mustard!
Here's another Mexican recipe to add to your list, and it's certainly delicious to have alongside being quick and entirely simple to make.
All you need is four ingredients, corn tortillas, cheese, hot dogs, and olive oil, but we recommend adding in some extras to make it even better! You can add sour cream, Greek yogurt, salsa, and/or guacamole.
If you're fortunate enough to be blessed with an air fryer, we recommend cooking it in there, but an oven works just as well.
We can confirm that this hot dog recipe is as tasty as it sounds and the perfect recipe when you don't know what to do with leftover hot dogs that need to be used.
Mac and cheese recipes have always been a comfort food for many, but we like to mix it up. This simple recipe only requires macaroni, flour, seasoning, heavy cream, cheddar cheese, hot dogs, and the best part, butter for creaminess and a rich flavor.
If you don't have any cheddar cheese, you could use something else, but cheddar is the best option if available
This might sound slightly strange, but it's a recipe my mom used to make me when I was little, and it's just divine, especially on a cold and rainy winter's day.
It's simple to assemble, and you can dish it up very quickly, so the kids won't be too starving when it reaches the table.
You need to whip this feast up ground beef, hot dogs, baked beans, ketchup, mustard, brown sugar, pie crust, American and processed cheese.
The prep time on this hot dog recipe requires 24 hours, but if you aren't fussed about waiting for it to chill, it only takes a simple 40 minutes to make.
The traditional route says to use white distilled vinegar, or you could go in another direction and use apple cider or white wine vinegar as a replacement.
The ingredient list is fairly long, including many standard household ingredients, including cucumbers, onions, red bell peppers, sugar, many spices, and much more.
If you want something that doesn't require any extra purchases, this is a solid hot dog recipe idea.
Having a BBQ with family and friends, these need to be on your food list as they're the perfect BBQ food!
You might have guessed it from the name, but this hot dog recipe originates from North Carolina and involves beef over pork!
The recipe recommends trying to reach the right level of sweetness, and this is done through a combination of mayonnaise and cider vinegar, so ensure you're following exactly.
This recipe is another classic and firm favorite for many, so we, of course, had to add it to the list for you to try. While it only serves four, you can increase the number of ingredients so you can serve more.
The key to this recipe is so damn good is the onions mixed with corn oil, hot sauce, yellow mustard, sugar, chili powder, salt, black pepper, and cayenne pepper.
Make sure to close your eye when taking the initial bite, and we bet you thought of your favorite hot dog stand!
Planning a big party is hard in all aspects, especially where you are serving food to a considerable amount of people, but finger food exists, thankfully.
This recipe is truly going to blow your mind with a total of 64 servings and only being made with two ingredients, hot dogs and crescent rolls. But of course, you can add whichever condiments your heart desires.
Want something really simple for dinner, a BBQ, or a party? Why not try slow-cooked hot dogs, which literally can be put straight into the slow cooker and cook off their moisture.
You can add so many different things, from ketchup, mustard, mayonnaise, sweet relish, and much more!
If you're a veggie or vegan, you can try to find a meat-free alternative at your local grocery store.
Planning a hot dog evening with the family and want to show off your cooking skills? Why not try homemade hot dog buns? You'll be having everyone begging for more.
While store-bought hot dog buns are much simpler, they aren't the best, and we believe with this recipe to support you, that you'll do a much better job.
All you need to try this recipe is flour, warm milk, warm water, active dry yeast, salt, sugar, eggs, butter, and oil.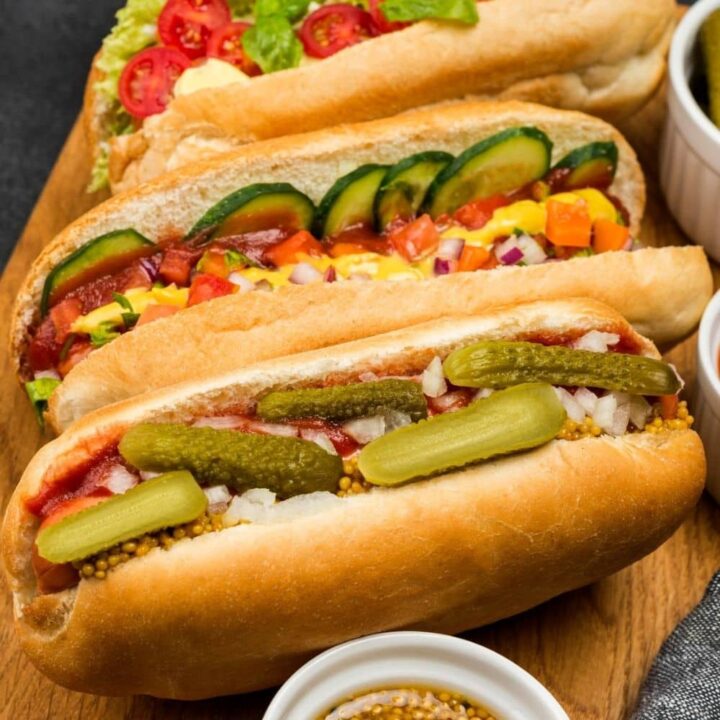 24 Best Hot Dog Recipes You Need to Try
Ingredients
1 lb ground beef
⅓ c water
½ (10 ounce) can tomato sauce
½ c ketchup
2 ½ tsps chili powder
½ tsp salt
½ tsp ground black pepper
½ tsp white sugar
½ tsp onion powder
1 dash Worcestershire sauce
Instructions
To make this recipe, you need to put the ground beef in a saucepan and water and mash the two ingredients together.
Add and mix in the tomato sauce, ketchup, chili powder, salt, black pepper, sugar, onion powder, and Worcestershire Sauce.
Bring the mixture to a boil and continue to cook over medium heat for 20 minutes. The chili should thicken, and the beef should be fully cooked, and ready to serve.