Everyone loves a good dessert, but sometimes you want a sweet treat without digging into a huge slice of cake or a big bowlful of trifle. So what's the answer? Mini dessert cups!
Serving up desserts in neat individually-sized portions with the help of some handy cups and mugs will satisfy your cravings perfectly.
Dessert cups are quick and easy to make, so they don't require you to spend the day prepping and baking in the kitchen. More time for eating then!
You can make batches of mini dessert cups to hand out at small gatherings or to keep around for when you need a personal dose of deliciousness.
So what kind of desserts can be made for a cup? Let's find out. This list of recipes will give you some ideas about the best mini treats out there. These dessert cups are cute, scrumptious, and simple to make. Mini marvels!
On the contrary, when you're having friends or family over, and you need something quick, easy, and special, these 35 Easy Fun Desserts to Impress Guests, are the answer.
,
When it comes to dessert cup recipes, you can't go wrong with cheesecake. Do you like the sound of a creamy cupful of cheesecake with a sweet berry topping? Who wouldn't!?
This easy recipe doesn't even need an oven. No baking, just mixing!
You'll need graham cracker crumbs and butter to make a crumbly base. As for the cake, a mix of cream cheese, heavy whipping cream, sugar, and vanilla extract will do the trick. Simple!
As for toppings, raspberries are suggested here, but strawberries, whipped cream, or cracker crumbs will do just as well.
Whatever your choice, you'll love this super-silky, melt-in-your-mouth mini.
With only a handful of ingredients and no need for baking, no-bake cheesecakes make ideal dessert cup ideas. They are versatile too and can incorporate different flavors and extras.
The star of this particular dessert cup is, unsurprisingly, Oreos.
They are used as the base, crushed and incorporated into the cream cheese and cool whip cake mix, and can even be added as a topping!
If you want to change up the tastes, experiment with different flavored Oreos or even add peppermint extract for a mint cookie version. Yum!
This is an ideal recipe to use if you want t include a sweet treat at a party. Or just eat them all yourself. No judgment here!
Cups are not the only way to present a mini dessert. Mugs can also be used to create a simple scrummy mini cake dessert. If you want to revel in the chocolate cake without the effort of baking one, this recipe is the one for you!
It's so easy; all you need to do is mix the ingredients in a mug and cook it in the microwave. That's it!
The ingredients themselves are an easily accessible mix of things like flour, cocoa powder, baking soda, and vanilla extract.
If you want to add a little extra to this mouthwatering mug cake, sprinkle in some chocolate chips too. Delicious! Do you have a big mug lying around waiting for a fudgy chocolate makeover?
Trifles are traditionally a big bowl of layered delights like a sponge, cream, and custard. As such, they make a perfect choice for dessert cup recipes since all you need to do is layer the ingredients in individual cups instead.
This strawberry shortcake trifle recipe features gorgeous layers of vanilla cake, strawberries, and whipped cream.
Asides from strawberries, you'll need ingredients like flour, butter, eggs, and vanilla extract for the cake layer and cream cheese and heavy cream for the cream layer. Nothing too hard to find.
It's best to use tall dessert cups or even glass jars for this dessert since you'll want to enjoy these terrific trifle layers in all their glory!
Whether you like a good parfait or are not entirely sure what one is, this recipe will satisfy you. Parfaits are traditionally frozen desserts made up of sugar syrup, egg, and cream.
All you need for this easy and enticing edition is Greek yogurt, heavy cream, vanilla extract, and sugar.
The ingredients are mixed, chilled, and then spooned into cups or little bowls with layers of fruit. Berries like strawberries or blueberries work well, but you can try any fruit you want.
This is a fantastic recipe if you want to whip up something quickly to soothe the cravings of a sweet tooth. It has a fruit layer, too so you can pretend it's healthy.
Are you a fan of a traditional tiramisu? If so, this trifle version featuring a smooth mascarpone filling along with espresso ladyfinger cookies and a Kahlua whipped cream topping will be a decadent delight.
There is no baking required to create the ladyfingers in this recipe, so it's just a case of mixing ingredients and creating luscious layers.
Espresso powder is the standout ingredient for the ladyfingers, mascarpone cheese for the cream filling, and Kahlua for the whipped topping.
If preferred, the shot of booze in this recipe can be added to the ladyfingers instead of the cream topping. Either way, if you serve this trifle at a party, people will soon get addicted. Better make sure you fill up plenty of cups!
This particular personalized mugful of cake is another straightforward microwaveable masterpiece. This time, vanilla is the standout flavor and just a few simple, additional ingredients.
Flour, butter, sugar, and baking soda will result in the desired spongy cake effect, with some added sprinkles for a sweet and colorful finish.
The sprinkles can be switched out for other add-ins, like coconut, nuts, or even a small scoop of peanut butter.
With mug cakes as easy to make as this one, the challenge is not to have one with every meal. Especially since there are so many variations to try out!
You've heard of cakes in a mug. Now you can even enjoy a mug brownie. This recipe gives you chocolatey indulgence in just 10 minutes. With no baking!
Butter, oil, cocoa powder, cinnamon, milk, and vanilla extract will be a beautiful brownie.
You can add coffee or chocolate chips to the batter mix or exchange flour for a gluten-free flour option if needed too.
Once out of the microwave, leave it to cool so the chocolate is a little less molten and then serve it up with a dollop of ice cream or whipped cream. It's simply the best!
As the name suggests, these parfaits feature less fruit and more pudding, cookies, and cream. The pudding layer can come in several flavors, too, if using the instant pudding mixes in this recipe.
Vanilla, dark chocolate, salted caramel, or chocolate truffle are some of the delicious options.
The biscuit layer just requires cookies to be crushed up, and whipped cream can be purchased prepared.
So easy! You can play with flavors by trying out different cookies or adding on your own choice of toppings.
These perfect pudding parfaits require minimal effort for maximum indulgence. That's a system everyone can support!
It's not hard to guess the star ingredient of this rich and creamy treat. Using mini cups for desserts has never been so simple. With Nutella, you get an instant, sweet chocolate base for a mousse.
In addition to Nutella, you'll need ingredients like heavy cream, cream cheese, and vanilla extract to create the mousse itself.
You just need to mix the ingredients and leave it to chill. Job done!
You can top this marvelous mousse with whipped cream, chocolate shavings, or even berries; the choice is yours. Imagine serving this up on a date night or Valentine's day.
It'll be love at first sight! For the dessert, at least.
As fancy mini desserts in cups go, this take on Eton mess's traditional English dessert feels fabulous. An oven is required for this recipe as the meringue is one of the key components and needs to be baked.
The ingredients and process are simple, though.
You just need 5 things. Egg whites, caster sugar, strawberries, double cream, and icing sugar. Egg whites and sugar are whisked, and the mixture is baked into meringues.
Then whisk the cream and mix it all up with strawberries and the crushed meringue.
The crunchy meringue, tang of the strawberries, and silky texture of the cream combine to make a magical mess in a glass! Eton would be proud.
If you're in the mood for some chocolate chip cookies but can't be bothered to bake any batter, this cookie in a mug is the way to go. It's a quick mix cooked up in a microwave. No oven in sight.
To get the gorgeously gooey result you want, you'll need butter, sugar, egg yolk, flour, baking soda, and those all-important chocolate chips.
You'll have a moreish mug full of cookie goodness in just a few minutes.
The idea is that you get a quick personal treat without many leftover cookies. This recipe is so irresistible, though You might end up whirring a few more mugfuls in the microwave anyway.
Have you heard about Cowboy Cookies? They are a Texas desserts version of chocolate chip cookies!
Want a no-bake dessert that combines the best of cheesecakes and parfaits? Look no further! These individual creamy, fruity wonders will be ideal for served at a dinner party or to enjoy solo on a summer's afternoon.
You'll need staples of both desserts like cream cheese, heavy cream, lemon juice, sugar, graham crackers, and fresh berries, to name a few. The assembly is simple enough, though, so don't worry.
It's just another case of mixing and layering!
Feel free to change the berries used to vary your fruity fix. Otherwise, just sit back and luxuriate in spoonfuls of lusciousness.
This recipe is as simple as you'd expect, although it's no less satisfying or delicious for that fact. This mousse is ideal as a dessert cup idea. You can spoon it into whatever receptacle you like.
Use good quality chocolate here as it is the only real focus of this dessert. Then prepare to get melting and mixing.
The mousse mix contains the chocolate and butter, eggs, sugar, cream, and vanilla extract. Pop it in your glasses, leave them to chill, and you're done!
Whether you leave it in its original state or add a hint of coffee or liquor, everyone will love this melt-in-your-mouth chocolate mousse.
Mug cakes can come in many flavors, but one of the best has to be peanut butter. This moist and nutty mini dessert will be your new favorite sweet treat. Get the microwave ready!
It'll be no shock that peanut butter is on the ingredient list. This is joined by oil, sugar, flour, egg, and milk. For an additional treat, you can also sprinkle in some chocolate chips.
Chocolate and peanut butter do make good friends. So much so that you can even add a few teaspoons of cocoa powder for a magical mug cake marriage.
Either way, this mug cake is a quick way to inject a sublime sweetness into your life. Enjoy!
If you like a bit of tartness in your sweet treats, this delectably light and creamy mousse will become a go-to dessert cup recipe for you. Spoiler. This recipe uses contains lemon flavors.
They come via the use of lemon juice and lemon curd and are combined with cream cheese, heavy cream, and gelatin.
This mix is spooned atop a graham cracker base and can be garnished however you like. Whipped cream? Fresh blueberries? They both pair beautifully with this mousse.
This dessert's refreshing taste and silky texture will have everyone desperate for another mouthful. It's that good.
Are you waiting for a mini cup dessert where strawberry takes center stage? Wait no longer! This recipe has the desired strawberry flavor in two different textures. Jell-o and mousse.
You'll use strawberry Jell-o mix in both the jelly and mousse layers.
The mousse layer also requires cream, cheese, cold sprite, and cool whip to get the required creamy taste. Delicious!
You can use whipped cream or strawberries to top this simple but sumptuous dessert cup or just enjoy it as your spoon cuts through the textured layers. Flavorful fun!
These mini trifles are a beautifully decadent cupful of tasty textures that look fantastic too. This recipe includes more traditional trifle layers of sponge, custard, alcohol, and jelly. Also the special ingredient of flummery.
What on earth is that? Don't worry, it's just a jelly, and cream mixture.
Along with jelly crystals and cream, custard, berries such as strawberries, sponge, and a dash of the port will be needed too. If you're not a fan of liquor in your desserts, you can substitute this for juice too.
Many of these ingredients can be store-bought which cuts down on the preparation time, so all you need to focus on is making the layers look as pretty as possible. Start mixing up that yummy flummery!
The mug cake movement gets creative with coconut in this quick and easy recipe. No oven, no muss, and no fuss as usual. Just a bit of mixing and microwaving.
The usual mug cakes staples of butter, flour, and milk are joined by coconut extract for the sweet and subtle required flavor.
Once cooked a topping of whipped cream and toasted coconut flakes add a fabulous finish.
This mug cake is a yummy, comforting mini dessert ideal for when you need a sweet treat without the rich flavors of chocolate. Just try it! You won't be disappointed.
We have already seen a mug brownie on this mini dessert cups list, and now you can enjoy the blondie version. Did you ever think mugs could bring you so much joy?
A simple mug cake mix of butter, flour, milk, and baking powder is needed for this recipe.
The real fun flavors, however, come with the addition of white chocolate chips and chopped caramel candies. Delightfully delicious!
While this blondie is yummy enough as it is, serving it with a scoop of ice cream and a drizzle of caramel sauce will just transport you into mug blondie heaven. A strange place, to be sure, but they have nice desserts!
The inclusion of the word dirt in the name of a dessert cup doesn't seem very encouraging but don't be alarmed! The dirt, in this case, is the crushed Oreos featured in the recipe.
This dessert cup is a simple mix of milk, instant chocolate pudding, and whipped topping covered with a crushed Oreo layer and maybe a gummy snake or two.
This is a fun dessert cup to make with kids as it is easy and allows them to get creative with how much 'dirt' and jelly insects they add to their cup. Although it is just as much fun for adults too, so go ahead and get dirty!
Mugs have featured cakes, brownies, and cookies so far on this list. The variety continues, however, with this mug version of a firm favorite treat. Blueberry muffins!
These mug muffins need no baking, just a mix of flour, sugar, butter, milk, and a pinch of cinnamon.
Oh! And don't forget the sprinkle of frozen blueberries. No self-respecting blueberry muffin can be without them!
This moreish mug muffin has a burst of fruity flavor and can be enjoyed as it is or even drizzled with some maple syrup. They're berry good!
These shooters are full of all the creamy, crunchy textures and rich chocolatey flavors you could ever want from a mini dessert cup. Bless, you Nutella! That's not the only fabulous ingredient, however.
Oreo cookies are crushed to use as a base with melted butter, stirred into the Nutella and cream cheese filling, and also sprinkled on the cool-whip topping. Well, bless you too Oreo cookies!
This little layered dessert is delightful, dreamily delicious, and just waiting to become one of your new mini dessert cup favorites.
Now you just need to decide on which flavor Oreos you want to try.
Do you love pumpkin but aren't sure if it would work in a mini dessert cup recipe? This easy pumpkin cheesecake cup recipe has you covered! Now, where did you put that can of pumpkin puree? You'll be needing it.
This recipe creates a cheesecake mousse and a pumpkin mousse which is layered into glasses and sprinkled with a pecan and graham cracker topping.
You'll need cream cheese, whole-milk yogurt, maple syrup, and vanilla extract for both mousses. Or honey will do as well too in place of syrup.
This dessert has wonderful fall flavors in a sweet and creamy mini cheesecake form. Give thanks for this yummy idea, it's truly pumpkin perfection!.
As glorious as some of the mug cake recipes on this list have been, they are not suitable if you're trying to follow a keto-type diet. There is no cause for despair, however, since this keto mug cake recipe comes in chocolate, vanilla, or peanut butter flavors. Thank the heavens!
There are necessary substitutions to make from a standard mug cake mix in this recipe. Coconut or almond flours are used, and granular sweetener in place of sugar.
If you are adding chocolate chips, they need to be sugar-free too as does the peanut butter used for the peanut butter version.
The process is still wonderfully simple. Mixing, microwaving, and no baking. These are delicious mug cakes that everyone can enjoy, no matter their dietary restrictions. Dig in!
A light, warm, lemon pudding with a fluffy cake topping? Yes, please! This is a simple individual dessert recipe with a surprisingly guilt-free ingredient list.
Yes, there is sugar involved, but no cream at all. You'll need eggs, milk, lemon juice, lemon zest, and some flour.
The cake batter is easy to mix but will require baking. The oven is back in business!
This is a beautiful sponge that is best served warm, as its name suggests. It is great served with a dusting of confectioners sugar or even some berries for a fruity finish. Scrumptious!
Lemon is again the star ingredient in these quick and easy lemon sponge cups. You only need a handful of ingredients to create this light and luscious sponge.
The batter is popped in the oven and results in a lemon custard layer topped with a browned sponge.
The ingredients you need are easily available ones you probably have in your kitchen already. Mix together some butter, sugar, flour, lemon juice, milk, and eggs and you're pretty much done!
Serve with some berries or a bit of whipped cream and watch as family and friends dig greedily into those individual sponge cups.
Make sure to keep one or two for yourself too!
Once again, we delve into the world of mug cakes. This time to find a pumpkin version of these fabulously simple dessert cup recipes. To get the flavor you'll need to make a spice mix or use a pumpkin pie spice blend.
The cake batter is made from the usual simple mix of flour, milk, sugar, and baking soda.
The flavor here comes from the addition of pumpkin puree and a mix of cinnamon, nutmeg, clove, and ginger spices. Yum!
Mix, microwave, and enjoy your mugful of fall flavors.
Whether topped with whipped cream or a sprinkle of cinnamon, this is a deliciously warm addition to your mug cake repertoire.
Panna cotta is a wonderfully creamy, Italian-inspired alternative to a parfait or mousse. This recipe includes a tastily tart berry sauce to complement the smooth, vanilla, cream filling.
For the pannacotta, milk, gelatin, cream, and vanilla extract are combined to create the filling, and berries and sugar are required for the sauce.
The berry sauce sits on top of the beautiful silky cream for a fabulous balance of flavors.
This sweet, tangy dessert cup recipe is satisfyingly simple and ideal for when you want a little hit of sweetness in your life.
Chocolate and caramel is a decadently delicious pairing that is crying out for the mini dessert cup treatment. Thankfully, this recipe features this exact coupling of rich flavors.
You have to bake the graham cracker crumb crust but the rest of the recipe just requires a bit of melting and mixing.
For the other layers, ingredients like semi-sweet chocolate, Kraft caramels, chocolate flavor instant pudding, and angel flake coconut pull focus.
The ingredients are mixed and layered into individual cups or ramekins for a gorgeous mix of tastes and textures.
This recipe is a real mini dessert cup winner. Everyone will love to indulge in their personal helping of awesome choco-caramel!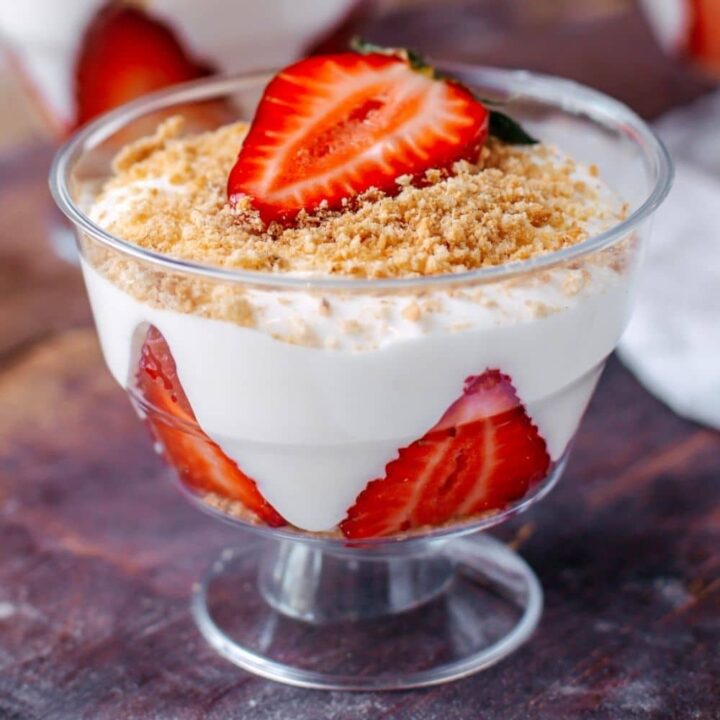 30 Mini Dessert Cups ideas
Ingredients
1 quart fresh strawberries
4 tabsps sugar, divided
1-1/2 c all-purpose flour
1 tbsp baking powder
1/2 tsp salt
1/4 c cold butter, cubed
1 large egg, room temperature
1/2 c whole milk
Whipped cream
Instructions
Take the quart of fresh strawberries, and either slices them into smaller pieces or mash them up. Place them in a large bowl with two tablespoons of sugar and set them aside to rest.
Mix the remaining sugar in another bowl with flour, salt, and baking powder. Cut the butter into this mixture until it becomes crumbly.
Beat together the egg and milk in a small bowl before stirring them into the flour mixture. Do this gradually until the flour mixture becomes moist.
Take 8 muffin cups and lightly grease them before filling them two-thirds full with the mixture. Bake the muffin cups in the oven at 425 degrees until the shortcakes become golden.
After baking for roughly 12 minutes, remove the pan and allow the muffin cups to cool on a wire tack. Just before you intend to serve them, split the shortcakes in half horizontally.
When serving, spoon the whipped cream and strawberries between the split pieces of shortcake and over the tops too.