Ireland may not be the first nation you think of when wanting to try culinary dishes from across the world. You may even be wondering, is there such a thing as traditional Irish food? There most certainly is! And it features more than the humble potato.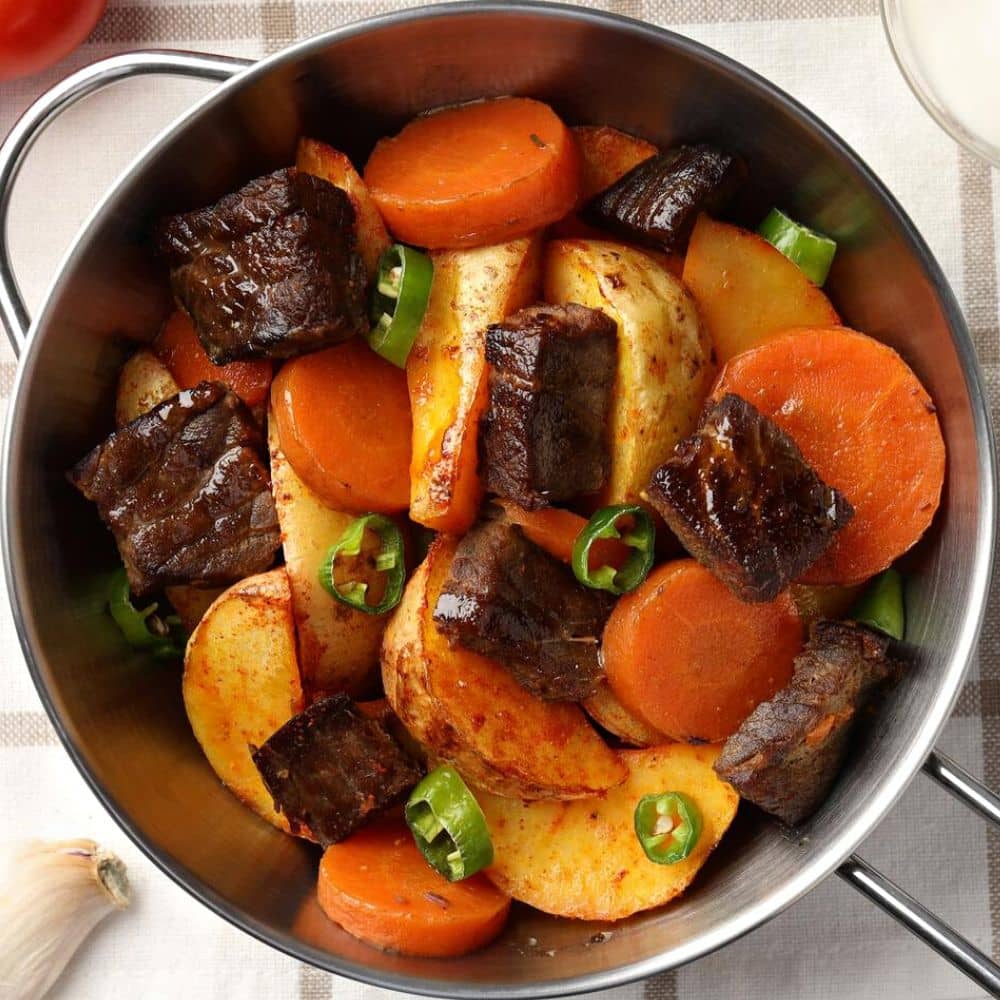 While the aforementioned vegetable does often make an appearance, there are a variety of other delicious ingredients that can be found in the pies, stews, puddings, and drinks of Irish meals.
So, if you're interested to find out what a traditional colcannon or coddle has to offer, or you want to add a little Irish food to your St, Patricks Day feast, these recipes are just what you need.
A hearty stew is a fantastic example of Irish comfort food. It is straightforward to make and uses simple ingredients.
Lamb is traditionally the meat of choice for an Irish stew, but here some well-marbled chuck beef is the star of the recipe.
The beef is joined in a beautiful broth by potatoes, onions, carrots, and parsnips.
The broth itself is flavored with seasonings such as garlic and thyme, then given the Irish treatment with the addition of Guinness, along with some red wine and Worcestershire sauce.
This stew is so filling and flavorful you won't be able to wait until St Patricks Day to give it a try.
Are you a fan of a traditional Irish colcannon? Or maybe just wondering what on earth it is? It is a creamy mash potato dish with some scrummy surprises.
This is a side dish popular in Irish dinners and will be just as welcome in yours too.
Potatoes are an absolute must for this recipe. They are boiled and combined with butter and heavy cream to create a gorgeously creamy consistency.
The scrummy surprises consist of fried onions, cabbage, and crispy bacon. This moreish mash is quick and easy to make, not to mention satisfying to eat.
You definitely won't regret adding this delectable dish to your meal.
What's the best way to improve a wholesome chicken stew? Add dumplings, of course! Who knew a combination of a little baking mix and milk could be so satisfying?
It's an easy dumpling dough to match a similarly simple stew recipe.
Some boneless chicken breast is cooked and shredded into a broth mixture of condensed cream of chicken soup and seasoning, then joined by sliced potatoes and carrots.
Once the dumpling dough is spooned onto the boiling stew, you are only minutes away from one of the best Irish food recipes to warm you up on a cold day.
This layered lamb dish is an easy-to-make Irish dinner choice that the whole family can enjoy.
It's tender meat in a seasoned sauce, topped with a layer of smooth and sumptuous mash.
You'll need ground lamb cooked and simmered in a flavorful mix of seasonings that is thickened into a juicy gravy. This is layered into a baking dish and then topped with a mash of potatoes, butter, cream cheese, and Irish cheese. Simple!
It's an entire meal in a spoonful. You can add peas to the dish or serve them up as a side. Either way this rich and flavorsome Irish meal will be a big hit!
If you're looking for Irish meal ideas you can serve up on St. Patrick's Day, this corned beef feast is ideal. Beautiful brisket and a beef broth? Yes, please!
Corned beef brisket is the star of this recipe but a beef broth combined with a bit of stout beer adds a yummy Irish flair to the flavors.
Carrots, potatoes, and cabbage are the vegetables cooked along with the brisket but you can substitute these for your preferred vegetable choice.
This is another of the substantial and scrumptious Irish dinner recipes that will fill the bellies and warm the hearts of every dinner guest.
Like other traditional Irish meals, coddle came about out of the desire to create a meal out of leftover ingredients from other dinners.
As such, there is technically no specific recipe so you can choose to substitute ingredients in this example with those you have at hand and want to use up.
The important thing is to keep the coddle flavorful by simmering it over a long period with seasonings and a choice of meat.
This particular recipe chooses bacon and Cumberland sausage, cooked with onions and potatoes, and flavored with parsley, pepper, and a drizzle of Irish stout.
Whatever your chosen combination, a coddle is certain to satisfy you with its filling flavors.
If you want to enjoy simple bread with a crusty exterior and dense but soft center, soda bread should definitely be added to your list of Irish foods to try out. This recipe doesn't even require yeast!
All you need to create the dough is buttermilk, egg, flour, baking soda, and cold butter. You can skip the egg if you want a lighter dough but try to keep the buttermilk for its flavor.
With just a little kneading and baking, you will be done!
This is a beautiful bread to serve alongside other Irish food recipes like stews and coddles. Thank you, Grandma!
Sometimes, a truly scrumptious meal takes a little extra time and effort. So it is for this Irish spiced beef recipe. We're talking days.
However, the process is very simple and well worth the wait.
The time is used to spice the beef. A mix of allspice, thyme, cloves, salt, pepper, and brown sugar is rubbed into a beef brisket and refrigerated repeatedly over a period of 4 days.
Once this is done it's just a case of roasting the beef in a pan with stout or beef broth and your choice of vegetables.
Some of the best things come to those who wait. If you have the patience you will be rewarded with a beef dish full of fabulous flavor.
Potato as candy? Really? It may sound a bit bizarre but, don't worry, it's totally delicious.
This particular recipe doesn't actually use potato as a binding ingredient but the candy itself looks like cute potatoes.
The ingredient list instead consists of butter, cream cheese, vanilla extract, sugar, and flaked coconut.
All you need to do is beat the ingredients together until smooth, form them into little potato shapes and then roll them in cinnamon. Job done!
This is a unique and tasty candy that is sure to delight anyone with a sweet tooth. An irresistible Irish treat!
What makes a chicken dish suitably Irish? Well, covering the chicken in a mushroom and Irish creme sauce certainly helps. This gorgeous Irish chicken recipe feels deliciously decadent but is simple to make.
To add rich flavors, chicken breasts are stuffed with bacon which is itself wrapped in cheese.
The sumptuous sauce is made by cooking mushrooms in butter and stirring in Irish cream and heavy whipping cream.
Finished with a side of cheesy potatoes and some bacon-wrapped green beans, this is Irish food at its most indulgent. Enjoy!
Are you in search of a quick and yummy dish to perk up your dinners? Look no further than this scrumptiously simple Irish recipe.
All you need is five ingredients and about 30 minutes.
Bacon is cooked in a pot before some onion is added and sauteed.
Then add chopped cabbage, chicken broth, and mustard seed, and simmer for 20 minutes. That's it!
While this dish can be served as a side, it has enough meat in it to act as a main meal. You can even serve it with its own sides of mustards and potatoes.
Whatever the choice, this Irish bacon and cabbage recipe is tantalizingly tasty.
Everyone love's a good soup. This thick and creamy Irish vegetable soup is both nutritious and delicious. An ideal pairing!
The vegetables you'll need include potatoes, carrots, leeks, onion, and celery. You can play with flavors too by adding or substituting other root vegetables like turnips or parsnips.
Just fry the veggies in butter, simmer them in vegetable stock, and then puree them in a blender. It's as easy as that.
This is a vegetable soup recipe that will soon become a firm favorite.
It's too enticingly easy and scrumptiously smooth not to be!
For another Irish bread with a simple recipe and a wholesome bake, try Irish brown bread.
Like soda bread, you won't need yeast, just a combination of whole wheat and white flour.
This recipe uses a prepared King Arthur Irish-Style flour for a more traditional dry-loaf result.
Mix the flour with sugar, baking powder, baking soda, and buttermilk, knead the mixture into a dough, and bake in the oven.
The subtle flavor of this bread can be jazzed up when served with butter and a preserve like jam or marmalade. Yummy!
If you like your Irish dishes to include seafood, this seafood chowder recipe is just what you need. Specifically inspired by chowders from the west coast of Ireland, this chowder is simple to make and uses easily accessible ingredients.
You can purchase a pre-prepared frozen seafood mix for convenience's sake although fresh fish is even better if you can get it.
Combinations of seafood such as haddock, pollack, salmon, smoked fish, and shrimp would be ideal.
Bacon and potatoes are also added to the chowder stock which is then seasoned and thickened by cream.
Serve this fresh and creamy chowder with a few slices of Irish soda bread and enjoy Irish food at its best.
Want another sumptuous seafood choice for an Irish meal? This roasted salmon recipe has got you covered. It's the marinade that adds a beautiful flavor to this dish and is super easy to make.
The only difficulty here is having the patience to wait for the salmon to marinate.
The marinade in question is a mix of honey, Irish whiskey, vinegar, thyme, lemon zest, oil, salt, and pepper.
After marination, all you need to do is roast the salmon fillets and serve them with a side of your choosing.
This is a simple recipe that is sure to impress any and all who taste it.
As an added bonus, you can celebrate your success with leftover whisky!
Champ is a simple side dish full of buttery flavors, scrummy scallions, or a dash of greens. An ideally colored mash potato to add to a St Patrick's Day spread.
Potatoes are simply boiled and then combined and mashed with your chosen additional ingredient which has been boiled in milk.
Scallions, peas, parsley, leeks, or even seaweed are just some of the champ variations you can make.
Finish it off with a blob of yellow butter melting in the centre and you have a side that will be welcome on any dinner table, Irish or otherwise.
The scrummy stars of this next recipe are aptly described in its name.
Homemade Irish sausage and a rich onion stout gravy. Isn't making sausages from scratch really difficult though? Not if you follow this delicious recipe.
To make the sausages, create a mixture of ground pork, panko breadcrumbs, egg, garlic, sage, and ground allspice. Then simply shape the meat mixture into sausage links and heat in a skillet.
As for the onion gravy, onions are sauteed and then combined with a stout beer and beef broth mix. Not too hard, right?
Cook the sausage with the gravy and you will soon have a rich and filling Irish meal bursting with flavor. Just try it!
This recipe is one of the quickest Irish sides you can throw together. It only takes 10 minutes!
This coleslaw combination is sure to add a bit of creamy goodness to any salad or main meat dish.
All you need to do is combine shredded carrot and cabbage with a mix of mayonnaise, mustard, sour cream, and guar gum. Greek yoghurt can also be used in place of sour cream.
Just chill the coleslaw for 30 minutes before serving and it's ready to serve
Recipes don't come much simpler than this. Get mixing and see for yourself!
Ever heard of an Irish coffee? Chances are you have. It's one of the more recognizable Irish beverages out there.
Now, with this recipe, you can enjoy a glass in the comfort of your own home.
You only need four ingredients. Pour brewed hot coffee into a glass, stir in a tablespoon of brown sugar, blend in a few ounces of whisky, and then top it with a collar of whipped heavy cream.
This fabulous combination of tastes and textures is a favorite for a reason.
It's addictively warm and delicious. Cheers!
This Irish cream liqueur is like a mixture between a drink and a dessert and all you need to do to enjoy it is blend some ingredients together and leave them to chill.
The ingredients include a fabulous flavor combination of Irish whisky, sweetened condensed milk, coffee granules, heavy cream, chocolate syrup, and some vanilla and almond extract.
Refrigerate your Irish cream and remember to shake it up before serving.
It might be worth making a few bottles. This drink is going to go down very well.
This particular Irish soda bread recipe maintains the simple and hassle-free style of this traditional loaf. So simple, in fact, it only requires 4 ingredients.
To make your dough, just combine flour, salt, baking soda, and buttermilk. Then knead the dough, form it into the loaf, and then bake in the oven.
Easy! You can mix in additions to this recipe to change up the flavors too.
Herbs, shredded cheese, caramelized onions, nuts, or raisins are just some of the things you could try. Have fun experimenting!
This Irish twist on a pudding classic is an ideal choice if you're looking for a warm and satisfying dessert to finish off your meal in style. It's a hassle-free option too.
A traditional bread and butter pudding recipe is simply given an Irish kick with the inclusion of Irish cream or Baileys to the milk and egg mixture that coats the buttered bread.
Just bake the bread in the oven until golden brown and you have an appetizingly addictive dessert.
With the addition of alcohol, just remember this dish is no longer child friendly. Ah, well. All the more for you!
Do you ever fancy a sweet little snack to go along with your tea or coffee? If so, this Irish tea cake recipe is the answer to your cravings.
Its delicious, buttery sponge is simple to make and delicious to snack on.
Just create a cake batter of butter, sugar, flour, egg, milk, baking soda, and vanilla extract. Once baked in the oven and left to cool, all this cake needs to finish it off is a dusting of confectioners sugar.
This is the perfect way to perk up a tea break. It will certainly make you more popular when family or friends come over for a coffee.
This fresh salad, as its name suggests, features the color of the Irish flag. So if you're feeling particularly patriotic about your Irish heritage, or simply want to brighten up a starter, this is the recipe for you.
The green of the flag comes from baby spinach and sliced pears, the orange comes from sectioned oranges and the white from crumbled feta cheese.
Drizzle on a sweet and zesty dressing made of honey, lemon juice, and orange juice, and your salad is complete!
This light and refreshing salad is an ideal starter or side for a meal. It adds a nice pop of color to the table too.
Oatmeal is a popular and satisfying dish that is an ideal way to start the day.
There are many variations of oatmeal available to try but this Irish-style recipe will give you a creamy, slightly sweet dish that is not too heavy or overly dry.
To achieve this balance you will need steel-cut oats, water, and milk. For serving, unsalted cream can be used along with a dusting of brown sugar.
You can prepare the oats using either a dry-toast or overnight method depending on your preference.
Whatever method you choose, this creamy Irish-style oatmeal will ensure you greet the day in a healthy and hearty way.
Do you love cheese? How about cheese with hints of beer flavor? This Irish pub cheese recipe will provide you with a perfect St. Patricks Day dip to snack on.
Irish cheddar is a key ingredient, along with a light Irish-style beer.
The cheddar is ground into small pieces in a food processor and then blended with beer, cream cheese, ground mustard, and paprika.
You don't even need to melt anything! You can serve this delicious dip with a variety of dippers. Crackers, tortilla chips, pretzels, or even vegetables.
They'll all disappear quickly once covered with this smooth and scrumptious Irish pub cheese.
Irish cottage pie is very similar to Irish shepherd's pie in that it is a layer of cooked meat topped with a layer of mashed potato. The main difference here is that lamb is switched out for beef.
So, you will need some ground beef to mix with a choice of cut vegetables. A gravy of beef broth and Guinness is added, although red wine can be used instead if stout beer is not to your taste.
This juicy meat layer is then topped with a potato mash made creamy with the help of cream cheese and milk.
This Irish comfort food makes a wonderfully filling meal of deep flavors and tasty textures. Just with beef, this time.
Do you like the sound of a sweet, moist cake with a vanilla custard sauce? Then you've found the ideal dessert. This recipe will give you a flavorful bake in just a few straightforward steps.
A batter of flour, baking powder, ginger, nutmeg, egg, milk, and vanilla is used to coat the essential ingredient of sliced apples.
This batter is then baked in the oven with a sprinkling of sugar and cinnamon.
As for the creamy custard sauce, all it takes is milk, egg yolks, sugar, and vanilla extract to be whisked together and heated.
This cake makes such a moreish mouthful you will want to keep it all to yourself.
You may be forgiven for not recognizing what blaas are. Any ideas? They are basically floury bread rolls.
Irish style. This recipe, unlike other Irish bread-based recipes, does include yeast and will require proofing. It's not a quick process, but it is a fairly simple one.
Simple water, yeast, sugar, and flour mix is combined and then kneaded into dough balls. These will need double proofing which should take around an hour and a half.
The simple bake the sough balls into rolls and dust them generously with flour to finish them.
These Irish rolls are soft, springy, and beautiful when enjoyed with butter, or even a few rashers of bacon. Perfect!
If you're wondering what is so lucky about these Irish cookies, it may be the combination of their fun flavors and pop of color. That color is, you guessed it! Green.
The cookies themselves are a scrummy batter made up of pistachio pudding mix, flour, butter, sugar, vanilla, and almond extract.
For added taste and texture, butterscotch chips and chopped walnuts can be added to the dough too.
Oh! And don't forget the green food coloring.
Ideal for a St. Patricks Day treat or for when you just want a sweet snack, these cookies are certain to bring a smile to your face.
Traditionally scones are best served with butter, jam, and clotted cream. These Irish scones are no different with their butter, crumbly texture, and scrummy taste.
To get the desired texture you will need a mix of butter, egg, milk, cream, and flour to make the dough.
You can add extras to the dough too at this point such as raisins, berries, or chocolate chips. Then just form the scone shapes and bake them in the oven. Easy enough, right?
Once you have mastered this Irish scone recipe, it's going to be hard to resist baking a batch.
They are just that good!
This next recipe is less a dish in itself and more a sweet and creamy addition that makes an existing dessert even better. This homemade custard will top any of the quick, instant, powdered varieties you can purchase.
The trick is in combining and heating the simple ingredients to the correct consistency.
Whipping cream, milk, egg yolks, and vanilla extract are mixed together, along with some corn starch to thicken the custard.
It will take a lot of whipping, but you will be rewarded with an egg custard perfect for pouring over an Irish butter pudding or apple cake!
Are you looking for an ideal Irish dish to make in a slow cooker? Then this easy pot roast recipe is the one for you.
It's full of wholesome flavors and simple ingredients you may have in your pantry already.
You just need to sear a chuck roast before popping it in a slow cooker with root vegetables and mushrooms.
A splash of Guinness beer will add an Irish kick to rich beef stock, tomato paste, and Worcestershire sauce gravy.
The beauty of this recipe is that once everything is in the slow cooker, you can leave it to cook and go about your business, certain in the knowledge you will be returning to a rich and delicious Irish meal.
This Irish beef dinner recipe is just the thing you need to satisfy a host of hungry dinner guests on St. Patrick's Day. Or on any other day, for that matter.
It's a little bit like a shepherd's pie, but features ground beef and is laid out in a more traditional dinner format.
To accompany the ground beef, onions, potato and parsnip mash, and a rich beef broth is also cooked up.
Other vegetables can be used to suit your preferences too, such as cabbage or corn.
Whatever your choice, this is a warm and wholesome plate of Irish food that will be certain to satisfy everyone.
If you've been cooking up an array of Irish neals, you may sometimes find yourself with some leftover roast beef.
Need a fun way to use it up? How about a pasty?
A flavor-filled pocket of flaky pastry is hard to resist.
To keep things simple, purchased pie crusts can be used for the recipe. All you need to do is create little pockets of pie crust, fill them with leftovers like meat and potatoes, and then seal them up.
Once baked, they can then be brushed with melted butter and served drizzled or dipped in beef gravy.
These moreish mouthfuls are ideal for lunch or even another dinner if you can make enough of them.
A perfect pastry treat!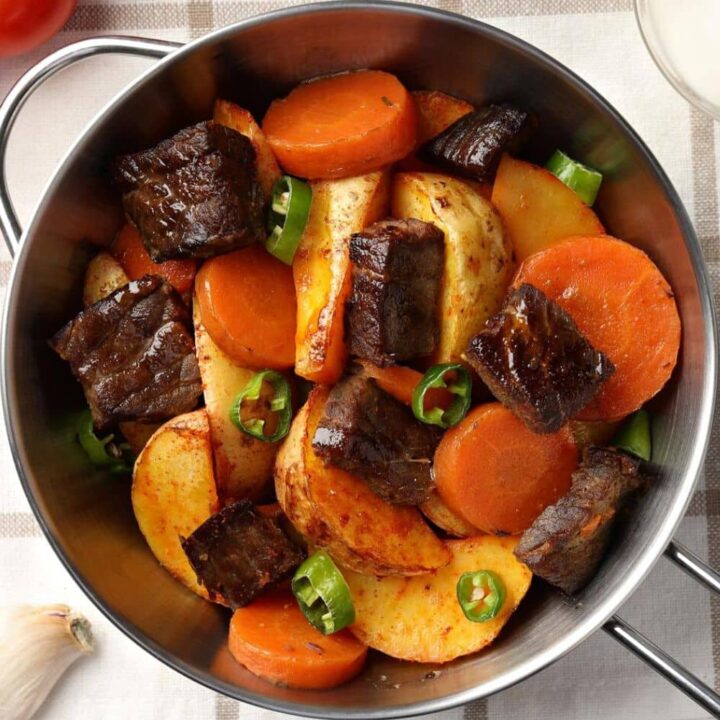 35 Traditional Irish Food Recipes
Total Time:
4 hours
20 minutes
Ingredients
1/3 c plus 1 tablespoon all-purpose flour
1-1/2 lbs lamb stew meat
3 tbsps olive oil
3 medium onions
3 garlic cloves, minced
4 c reduced-sodium beef broth
2 medium potatoes
1 c frozen peas
1 tsp salt
4 medium carrots
1 tsp dried thyme
1/2 tsp Worcestershire sauce
1/2 tsp pepper
2 tbsps water
Instructions
Take the cubed lamb and coat them in flour a few pieces at a time. Place the lamb in a resealable bag along with a third of a cup of flour and coat by shaking.
Place two tablespoons of oil in a pan with the lamb, cook in a dutch oven until browned, then set the lamb aside. Do this in two batches.
Add onions to the same pan and saute them in the remaining oil. Once they are tender, add garlic and cook for a further minute.
Add beef broth to the pan and stir the ingredients before returning the lamb. Bring the contents to a boil, then reduce the heat, cover the pan, and simmer for one hour.
When the meat is suitably tender, add the potatoes and carrots to the pan, then recover it and cook for 20 minutes. Do the same with the peas, cooking them for a further 10 minutes.
Once the vegetables are tender, add seasonings to the pan. These include salt, pepper, dried thyme, and Worcestershire sauce.
Take the remaining flour and add water, stirring them together until the mixture is smooth. Once properly combined, stir this mixture into the stew
Bring the stew to a boil and stir together further for at least two minutes until it is thickened.