Phyllo or filo dough recipes are easy to come by and even easier to make. Phyllo dough originally came from Turkey around the 11th century but has become a worldwide favorite over the years.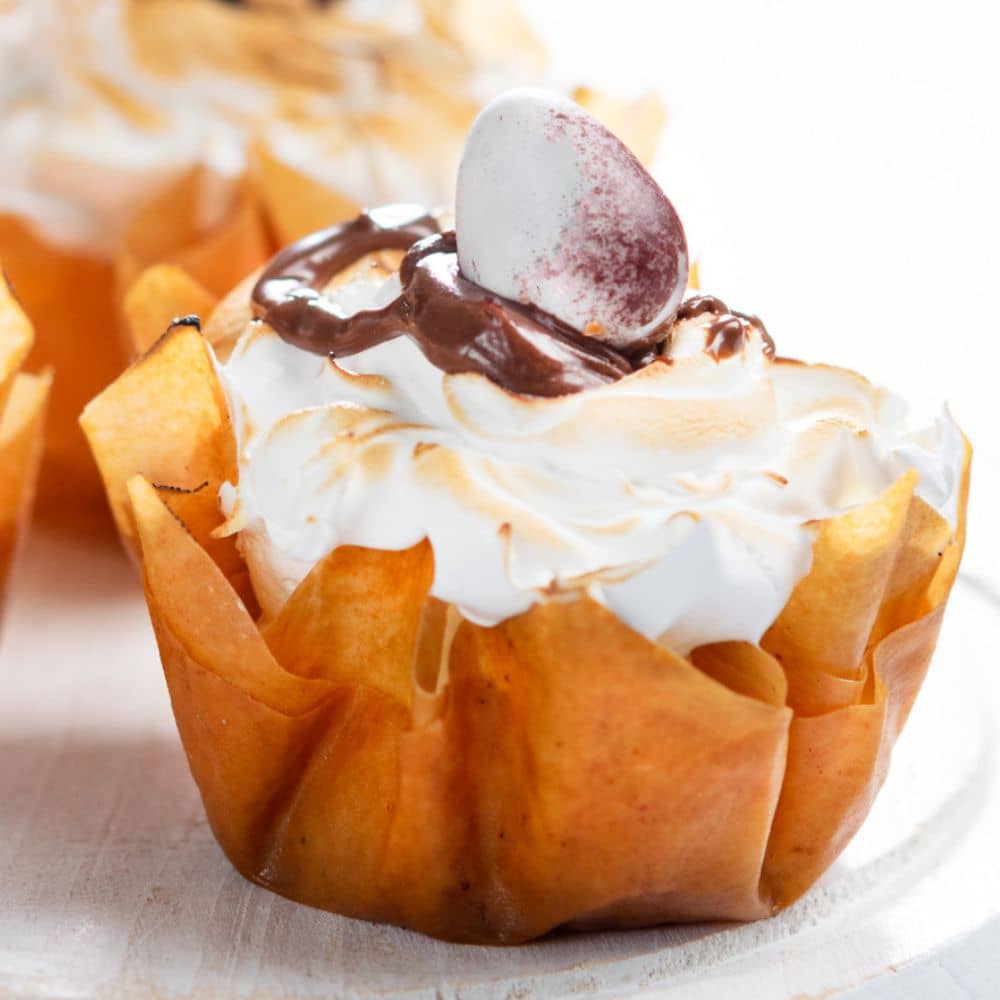 And today, there are so many different dishes that can be made from phyllo dough.
What to make with phyllo dough? Recipes with phyllo dough can look like many different things, from pastries to pot pies and other dinner dishes. There are just so many choices!
Get your baking pans ready for our favorite 27 easy phyllo dough recipes.
Phyllo comes from the Greek word for leaf and this Greek baklava made with phyllo dough is just as thin, light, and flaky as a leaf making it great for desserts like this one.
Along with honey and nuts, this phyllo recipe is easy to make and serves 18 people.
The secret ingredient to this recipe is cinnamon, of course. Cinnamon is easy to find and work with and makes this baklava warm and tasty.
It is the base of all the flavor and everything else is built on it.
Phyllo dough desserts are the best and this apple strudel is light, full of spice, and made with flaky phyllo dough to give it the best texture and taste.
This dessert is easy to make but will take about an hour to complete. Most of that time spent on the strudel is in the oven.
Some substitutes include replacing the cinnamon and nutmeg with gingerbread spice or pumpkin spice. Instead of orange juice, try apple juice.
And the best apples are golden delicious, but granny smith is good too.
Chicken pot pie is a classic dish that goes well with any cold day. Phyllo recipes for dinners are very common, but chicken pot pies made with phyllo dough are easily the best.
This recipe will take over an hour to make and makes one pot pie which can serve about four people.
We recommend doubling the recipe if you're feeding more or want leftovers.
This easy recipe includes a variety of vegetables including carrots, celery, potatoes, corn, onions, and peas.
You can pick and choose from this list or add your own vegetables too.
With phyllo dough, spinach, and Havarti cheese, this casserole is simple and makes six servings. It will take two hours to make, but over an hour of that is spent in the oven.
This dish does come with a lot of ingredients, but the steps are easy to follow and there are only four of them.
It's important to find sun-dried tomatoes with garlic in them. If you buy some without the garlic, put a clove of garlic in while browning the sausage.
And if you're looking to keep your dish, it can last in the fridge for about three days.
Phyllo dough can seem daunting when working with it for the first time, but this phyllo dough tart is beginner-friendly, healthy, and incredibly tasty.
This recipe is simple and only has 175 calories. With asparagus and herbs, this tart is good for everyone.
Our biggest tip is to buy thin asparagus. The bigger asparagus will take more time to bake and won't bake at the same rate as the dough.
Thin asparagus will take about 20 minutes which is the same time it takes for the dough to get crispy.
Greek spinach pie, also known as spanakopita, is a pie crust made of phyllo dough with spinach and feta cheese for the filling.
It's unlike any other pie, but it's just as easy to make. It's often served as a side dish with holiday dishes such as lamb and lemon chicken, but it makes a great main dish too.
It's important that you only use feta cheese. Other cheese won't make it an authentic dish and won't give it the same flavor at all. And don't buy low-quality cheese either.
It will lack in taste when the pie is done.
Tiropitas or phyllo cheese triangles are mostly made of eggs, cheese, and phyllo dough.
Originating from Greece, they're mainly found at breakfast or snack time. We recommend pairing them with a salad.
The most important ingredient of this dish is cheese. This dish uses many different kinds of cheese that end up mixed together into one cheesy triangle of goodness.
Choosing your cheese can vary, but we recommend using feta, ricotta, parmesan, blue cheese, and cream cheese.
Apple strudel made with phyllo dough is one of the best phyllo dough desserts. With sheets of phyllo dough and some yummy apples, spices, and butter, this dessert is great for holidays and large parties.
The best strudel is made with fresh apples. We recommend using Bramley apples that are cut into small pieces.
Make sure to keep all the seeds out of the dish.
We also recommend using unsalted butter. It will melt better and soak into the dough to make it lighter and fluffier.
Crinkle cake made with phyllo dough is crispy, tasty, and lighter because of the phyllo dough. It looks like a high-class dish while being incredibly easy to make. There are also a lot of variations and substitutions.
Rose essence can be replaced with rose water and the nuts can be left out. It's also easy to make this dish eggless.
The eggs can be replaced with whole milk, condensed milk, cardamom powder, and rose essence. And cinnamon can replace the cardamom powder.
Kanafa comes from Palestine and is a dish that has become loved around the world. Along with sweet cheese and rose water syrup, Kanafa is easier to make with phyllo dough.
And it gets that special orange and red color from kanafa dye that can be found in many markets.
This recipe is split into two sections, the syrup, and the kanafa.
The syrup is made from lemon juice, water, white sugar, and rose water.
While the rose water is optional, it is more authentic and has a unique flavor that adds to the kanafa's basic cheesy flavors.
Spanakopita triangles are cheese and spinach-filled triangles that make great snacks or appetizers. They're easy to eat and easy to make.
They take a bit of time and effort to make, but these phyllo dough triangles are worth it.
These triangles can be made in advance and stay in the freezer for a week.
When you're ready to bake them take them directly from the freezer and place them in the oven. You'll need to add about five minutes to the original baking time.
This dish is made from phyllo dough and is full of chicken, spinach, and cheese. This phyllo dough dish is a lot like a casserole, but easier to make.
It only takes three steps and a few ingredients to fully make this dish.
You can pick and choose which vegetables to use in this dish, but we recommend using spinach and broccoli. Other greens that go well are peas and beans.
And the amount of bacon you use is up to you, but we like to use quite a bit.
These meat and feta rolls wrapped in phyllo dough are better than any pig-in-a-blanket or regular roll.
This recipe uses store-bought phyllo which may still seem daunting, but this recipe is easy and makes about 16 rolls.
Our best tip is to cover the phyllo sheets with a fair portion of butter or oil. Brushing each sheet of phyllo dough generously will keep them flaky and moist.
Phyllo dough should also be kept damp while preparing it otherwise it may tear apart when you're trying to prepare them.
These fresh fruit phyllo dough tartlettes are great for desserts, brunch, and snacks.
They're light, made with fresh fruit and vanilla pudding, and look impressive enough to fool any guest into thinking you're a top-notch pastry chef.
This recipe is easy to make and the fruit can be whatever you'd like. While we recommend using berries such as strawberries, blueberries, raspberries, and blackberries, other fruits such as kiwi and even mango go very well with this dessert.
It's fun and easy to experiment with what you like and don't like.
Phyllo cups can be the base for many different fillings or even eaten by themselves. It's one of the easiest phyllo pastry recipes out there, using just phyllo dough and cooking spray.
These cups are just like other dessert shells, but lighter and crispier.
The best tin to use to make these phyllo cups are muffin tins.
Other tins can be used if you need different shapes, but the muffin tin will make a standard-size dessert shell making it bitesize and easy to hold.
This caramelized zucchini phyllo pie recipe is healthy, flaky, and cheesy. It has a long list of ingredients but is fairly simple to make.
And it can be amped up with hot sauce if you like a bit more heat.
While the star attraction is the caramelized zucchini, the cheese makes a big difference too.
With feta cheese and parmesan mixed together, the two create a unique flavor that can't be beaten.
The dish can also be kept as leftovers in the fridge for three days.
This veggie skillet phyllo dough pie dish is great for a chilly, fall day. It's packed full of vegetables and takes less than an hour to make. It makes six servings and is vegetarian-friendly.
We recommend using leeks, butternut squash, and Swiss chard, but if you're looking for extras or substitutes, we recommend pumpkin, sweet onions, spinach, and asparagus.
We also recommend using the highest-quality feta cheese you can find.
It will taste so much better. If you don't want feta, we recommend parmesan or crumbled goat cheese.
Phyllo dough triangles are commonly made with vegetables, especially in Greece. These chicken phyllo triangles are just as good and keep the yummy, flaky phyllo dough. It's just the filling that different from the original spanakopita.
The secret ingredients to this recipe are vegetables. We recommend using red bell peppers, onions, and corn kernels.
You can choose other vegetables to your taste such as broccoli or spinach, but we like these ones the best. It's also a good idea to get your feta as high-quality as you can.
This casserole made with phyllo dough and sweet potatoes makes for a great meal. Along with bourbon, maple, and cinnamon, this casserole is easy to make and unlike any other casserole, you'll find.
It's great for a large dinner as it makes eight servings. It will take some time though, about two hours.
The best part about this dish is the maple syrup. You'll need to get real maple syrup. Most grocery stores don't have pure maple syrup, but smaller markets and local shops may have real maple syrup.
It's best not to substitute this.
Recipes using phyllo dough are easy enough to come by, but this apple galette tart is at the top of the list. Galettes, originating from France, are made better with phyllo dough which makes the galette tart flaky, light, and sweet with the apples.
It's important to keep your phyllo dough damp while working with it.
One tip we have is to keep them covered with plastic wrap and put a damp kitchen towel on them as well. This will help to stop the dough from tearing while you're working on it.
This Lebanese dessert is a pastry made of sweet cream filling and phyllo dough. This recipe calls for not only the phyllo dough, but homemade Ashta cream to fill the pastry.
This recipe is easy to make and can be found all over the Middle East, usually during Ramadan.
The most important part of this recipe is the Ashta cream. You'll need whole milk, heavy cream, corn starch, sugar, rose water, and orange blossom water.
The rose water and orange blossom water may be harder to find, but going to local markets may help you find them.
This baklava cheesecake made with phyllo dough is easy, feeds a large crowd, and takes about two hours to make. It makes 16 servings which is great for a party or for seconds.
It's got yummy honey, nutmeg, cinnamon, and allspice all mixed together for a delicious dessert.
We recommend garnishing this dish with corn syrup, sugar, rosemary sprigs, and cranberries.
We recommend using fresh cranberries, but frozen and thawed cranberries will work just as well as long as they are patted dry before serving.
This Greek pastry is one of many store-bought phyllo dough recipes. It doesn't require too many ingredients and only takes five steps to make.
It's simple and while store-bought phyllo dough may seem difficult it's a lot easier than you'd think it to be.
The recipe is split into two pieces, the syrup, and the pie. The pie is important, but the syrup really helps it shine.
Using just sugar, water, honey, and vanilla extract, this syrup mixture is drizzled onto the pie and brings out all the flavors within.
This phyllo dough pizza made from tomatoes and onions is easy and doesn't take much time at all to make, only spending twenty minutes in the oven.
It can be made and frozen until you need to heat it up making dinner even easier.
You'll need to slice your tomatoes and onions very thin. It doesn't take long for phyllo dough to bake and the thinner your tomatoes and onions are, the quicker they'll bake as well.
It's easier to bake, cut, and eat in the end.
This date and walnut phyllo dough rolls with Greek yoghurt and honey are yummy and take only three steps to make. They're easy, light, and make a great snack or side dish.
This recipe makes eight servings and can feed a larger crowd, but we recommend doubling the recipe if you're throwing a party.
The secret ingredient to this recipe is no secret. It's the dates. It's important to find Medjool dates. Originally from Morocco, your best bet of finding these are at local markets or by asking local grocers where they may be found.
They have a sweeter, caramel taste.
These blueberry strudels are yummy and easy to make. They're beginner-friendly when it comes to working phyllo dough and make four servings.
We suggest doubling the recipe if you need more.
The best part about this dish is the blueberries so it's best to find fresh blueberries. Looking at your local markets or picking them yourself are the best ways to get the freshest you can find.
Frozen will work fine too, but don't buy thawed blueberries. They will taste bitter in the strudel.
Phyllo cups are commonly made and used for all sorts of fillings, but these hoisin sauce and mushroom-filled phyllo dough cups make the best appetizers.
Hoisin sauce can be made yourself or be found in the grocery store or local markets. There are even gluten-free hoisin sauce options.
Another gluten-free substitute is to use tamari sauce instead of soy sauce.
And if you'd like to replace the agave nectar, use honey instead. If you can't find shiitake or cremini mushrooms, use portobello mushrooms diced up.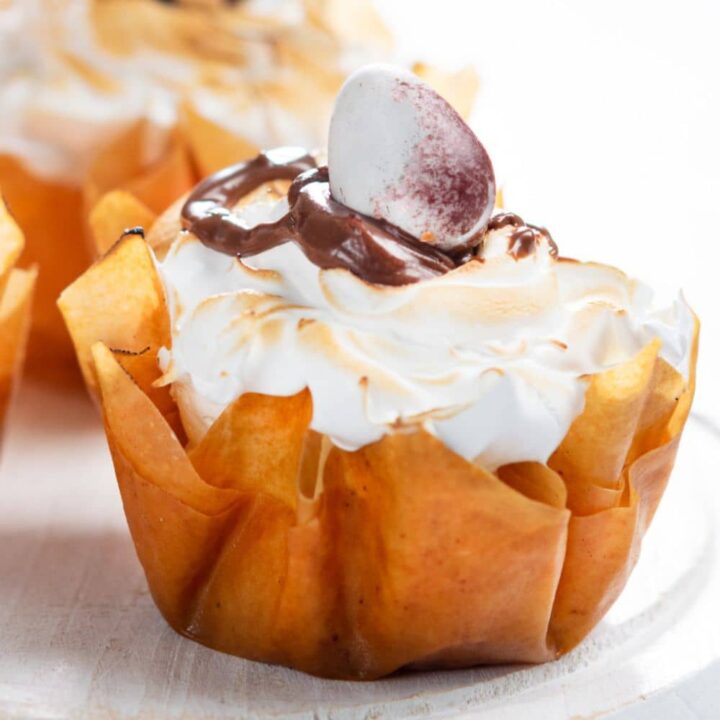 27 Easy Phyllo Dough Recipes
Ingredients
4 c finely chopped walnuts
1/4 c sugar
1 tbsp ground cinnamon
1 c butter, melted
1 package (16 oz) frozen phyllo dough
syrup:
1 c sugar
1/2 c water
1/4 c honey
1 tsp lemon juice
1 tsp vanilla extract
Instructions
Set aside the walnuts, cinnamon, and sugar in a small bowl.
With melted butter, grease the 13" by 9" pan.
Unravel the phyllo dough into sheets and put one sheet into the pan. Brush this sheet with butter and add a second sheet on top. Brush that sheet with butter. Turn the long edges over to fit the pan.
Sprinkle ¼ of the nut mixture over the phyllo dough sheet and place another two phyllo dough sheets over that. Butter those.
Repeat step four 18 times. Place any extra dough sheets on top, brushing them with butter as well.
Slice the phyllo sheet dish into 2" diamonds.
Place the baking pan into the oven and bake for 50 minutes at 350 degrees or until the dough has turned golden brown.
In a saucepan, place the syrup ingredients and mix them until fully combined. Bring it to a boil. Once boiled pour the syrup over the baklava.
Let the entire dish with the syrup cool and then serve.