Yukon Gold potatoes are the potatoes that make a difference no matter what you're cooking. Yukon Gold potatoes are known for their smooth skin and are free of eyes, and many Yukon Gold potato recipes use the skin as well.
Other gold potato recipes focus on the potato's golden, soft flesh.
If you're wondering, what to make with Yukon Gold potatoes, we have the answers. These golden potato recipes make the most of the spud's versatility.
One of the best uses of Yukon Gold potatoes is mashed potatoes. The creamy flesh makes the mashed potatoes taste delicious, while the smooth, eye-free skin makes the process of peeling and prepping the potatoes easier.
Start by cutting the Yukon Gold potatoes into quarters and boiling them until tender.
Then, mash them with melted butter and warm cream.
The dish will be smoother (and the process easier) if you use a potato masher.
Yukon Gold potatoes are some of the best potatoes you can use for baking.
They're large, so every person gets more than enough potatoes to eat. Plus, the thin, smooth skin holds the baked potato flesh together without becoming thick or rubbery in the oven.
Tip: To speed up the baking process, cut the potatoes in half and then bake them.
Season them thoroughly with oil, salt, and pepper, then finish with your choice of toppings.
Many yellow potato recipes recommend roasting these delicious spuds, who are sturdy enough to keep their structure when roasted but still tenderly fall apart when you poke them with a fork. However, few recipes can compare with this roasted potato recipe.
For extra flavor, drizzle the potato chunks with oil, flaky sea salt, pepper, minced garlic, and chopped parsley.
You can use any dried herbs or spices that you like and be generous with the garlic
If you're getting ready for a holiday meal or just want to make your everyday dinner feel special, you can't go wrong with scalloped potatoes.
This creamy, comforting casserole made from potatoes is the perfect side. Plus, using Yukon potatoes instead of any others adds an extra creaminess to the dish.
To make scalloped potatoes, slice Yukon Golds into even rounds and layer in a baking pan. Top with a cream sauce and shredded cheese, then finish layering.
What's even better than roasted potatoes? A potato recipe where you get all the delicious flavor of roasted potatoes but don't have to spend all your time chopping potatoes.
Smashed potatoes are tasty and super fun to make.
Start by boiling the potatoes. Then, put them on a baking sheet and use a glass to gently smash them (if your potatoes are large, cut them in half first).
Top them with melted butter and seasonings, then bake!
Do you think boiled potatoes are boring, especially when compared to all the other tasty ways to prepare potatoes? This recipe will make you think again. The secret is to use waxy potatoes such as Yukon Gold potatoes which hold their texture.
This is also one of the healthy Yukon Gold potato recipes because boiling is a healthy method of cooking.
All you need to season these potatoes is a little butter, salt, and parsley, not too much fat.
Do you like French fries but don't like the hassle of whipping out the deep fryer every time you want them?
Then this recipe is for you. Oven-baked fries are also much healthier than fried ones.
Yukon Gold potatoes work well because they are creamy without losing their texture and they're large enough to make long stringy fries.
Just cut the potatoes, soak them in cold water to get rid of the starch, season, and then fry.
Do you want to be the hit of every barbecue you get invited to?
Then this delicious potato salad recipe is for you. Yukon Gold potatoes make a great base because they have enough starch to hold their shape even after mashing them.
The other ingredients in this potato salad are mayonnaise, pickle relish, yellow mustard, apple cider vinegar, onion, dill, hard-boiled eggs, and seasoning.
If you don't like yellow mustard, use Dijon instead.
There's nothing more comforting than a bowl of creamy soup when the weather is bad. Potato soup is a favorite thanks to its simple, comforting flavors and warmth.
Yukon Gold potatoes make the best base for the soup thanks to their sweet flavor.
Besides Yukon Gold potatoes, you need bacon, onions, garlic, and flour to make the roux. Then, cook the potatoes in broth and milk.
For extra creaminess, add some shredded cheese or Greek yoghurt at the end.
Want to feel fancy at your next dinner? Serve potatoes au gratin, which is a more elevated, French take on scalloped potatoes but which doesn't actually require you to go to a lot of effort.
For the base, use Yukon Gold potatoes because they hold their shape well.
Start by slicing the potatoes and boiling them with garlic and salt. Then, transfer to a baking dish and cover with the cream sauce.
For extra flavor, add nutmeg.
If you're wondering what to do with Yukon Gold potatoes, why not take inspiration from your favorite bar snacks?
These potato wedges are just as tasty as the ones you can get as a snack or appetizer at your favorite corner joint.
Besides potatoes, all you need is olive oil, bread crumbs, and plenty of seasonings.
The recipe recommends paprika, salt, and dried herbs, but you can use your favorites. Cut the potatoes into wedges, season, and then bake.
Yukon Gold potatoes are delicious at any time of day, including for breakfast.
They make a great base for any sturdy, hearty breakfast recipe, including acting as the secret ingredient to this frittata.
Sliced Yukon Gold potatoes line the base of the pan.
Once you prep your potatoes, whisk eggs together with sauteed onion, shredded cheese, and plenty of herbs.
The recipe recommends thyme and rosemary, but you can also use oregano or parsley.
What's one of the best sliced Yukon Gold potato recipes? Potato chips, of course.
Making your own potato chips means that you can have some on hand every time the cravings hit, and you can control how much salt and fat goes into the potato.
All you need for this recipe are potatoes, vegetable oil, and plenty of salt.
The key to making this work is to slice the potatoes as thinly as possible with a mandoline.
Simple roasted potatoes, even without any fancy accouterments, can make any meal shine. The key to pulling off amazing roasted potatoes is using Yukon Gold potatoes.
Their slightly yellow flesh becomes a deep, rich gold after you roast them in the oven.
Tip: Be sure to leave plenty of room in between each potato chunk when you're arranging them so that the potatoes don't steam.
You want them to be nice and crispy on the outside.
Pan-fried potatoes is a very simple way to prepare Yukon Gold potatoes, resulting in a dish that feels rich and indulgent even if you didn't spend all day sweating over the stove.
Just chop the potatoes into small chunks and fry for 25-30 minutes until brown.
A few substitutions take this dish to the next level. Use Spanish pimenton instead of smoked paprika or duck fat instead of regular vegetable oil for frying.
Are you on the lookout for large Yukon Gold potato recipes that can help you feed a crowd?
Then this roasted potato recipe is for you. Regular roasted potatoes get some next-level flavor thanks to the addition of Parmesan cheese.
The benefit of using Yukon Gold potatoes for this recipe is that the skin is so soft and thin you don't have to even bother peeling the potatoes before roasting them.
One of the easiest ways to make potatoes is to put them in your slow cooker and let the appliance do all of the work for you.
Thanks to this delicious recipe, you don't have to sacrifice any flavor when you do so.
Yukon Gold potatoes are great for this recipe because they have a creamy texture that feels even better after a long, slow cook.
Plenty of chopped garlic takes the flavor to the next level.
For this and many other Yukon Gold potato recipes, oven finishing is key.
Baking the final frittata in the oven helps set the egg and gives the frittata a crisp upper edge.
The other keys to unlocking the best flavors? Sauteing the leeks in plenty of butter and dolloping Fromage blanc.
Fromage blanc is fresh French cheese similar to cream cheese.
If you can't find it, crumbled feta makes a good substitute.
This delicious hash makes for a hearty breakfast to start the day with a bang, but want to know a secret?
It's so delicious and filling that you can serve it at any time of day and have a delicious, complete meal.
Breakfast for dinner is always a good idea if you're running out of time.
Besides chopped, roasted potatoes, you will need bell pepper, onion, sliced bacon, and plenty of shredded cheese.
Elaborate breakfast hashes and baked casseroles are delicious, but realistically, who has time to put together complicated recipes that early in the day?
Enter this breakfast potatoes recipe, one of the tastiest easy Yukon Gold potato recipes.
Besides potatoes, the only other ingredients you need are olive oil and seasonings.
If you use Yukon Gold potatoes, you don't even need to peel the potatoes because the skin is so tasty, it crisps up in the oven.
Comforting potato soup is even better when you use creamy, tasty Yukon Gold potatoes as a base.
However, this comfort food classic is never at risk of becoming boring if you make sure to add plenty of toppings.
This recipe recommends frying up bacon beforehand so you have crispy bacon bits to top the soup. Other topping recommendations include sour cream, shredded cheese, and chopped chives.
Set up a topping station and let everyone make their own.
The best thing about Yukon Gold potatoes is their texture. Prepare them the right way and they're perfectly crispy on the outside and soft and fluffy on the inside.
This recipe for skillet-fried potatoes helps you get that sweet spot texture-wise.
The secret to getting the best texture is frying the potatoes over low heat while covering the pan to trap the steam.
This also helps you save time and effort because you don't have to par-boil them first.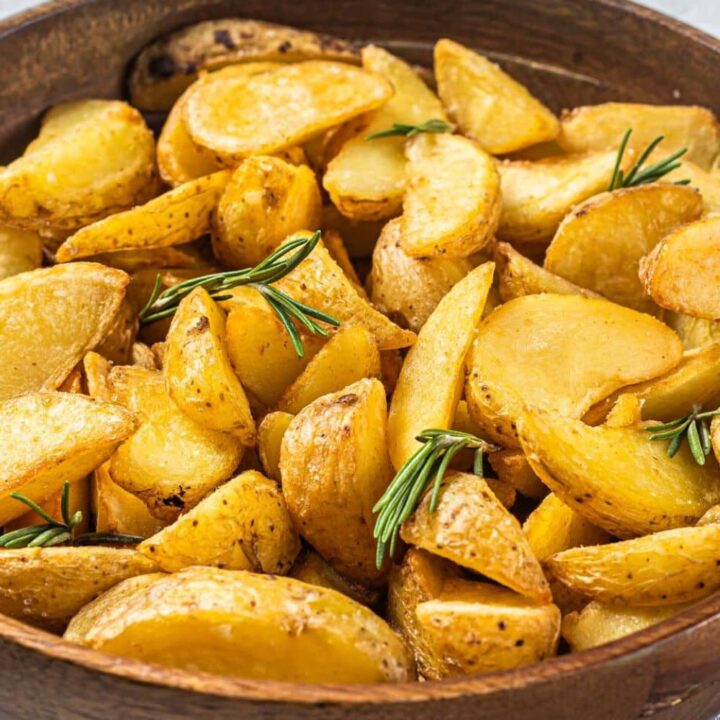 22 Best Yukon Gold Potato Recipes
Ingredients
2-3/4 to 3 lbs Yukon Gold potatoes
1/2 c half-and-half cream
2 tbs)ps butter
1/2 to 1 tspn garlic salt
1/8 tsp pepper
Instructions
Peel Yukon Gold potatoes and cut into quarters. Put in a pot with cold water and bring to a boil.
Once the water boils, reduce heat to a low simmer and cover the pot. Cook the potatoes for 15-20 minutes, until tender when you poke them with a fork.
Drain the boiled potatoes and transfer to a bowl.
Using a potato masher, mash the potatoes along with heavy cream, butter, garlic salt, and pepper.