If you enjoy making shrimp salad recipes, you're in the right place. Shrimp is a fabulous type of seafood, one of the best around, with its firm but squishy texture that has an abundance of flavors especially when marinated and mixed with other ingredients.
There are various dishes around which involve the use of shrimp, from a cold shrimp salad recipe to shrimp salad dishes with pasta, perfect for a family dinner, and you can even make warm shrimp salads which are just delicious.
Do you want a recipe for shrimp salad or multiple recipes? Keep reading, and you'll have endless recipes to make.
On a health kick and looking for healthy shrimp salads? This dish is the perfect meal and is so simple to make.
Like with most salads, it barely takes any time to prepare.
To make this delicious meal, you will need shrimp, celery, dill, lemon, red onion, white wine, or you could use white wine vinegar as an alternative, kosher salt and black pepper, and lastly and what we consider most important Dijon mustard and mayonnaise.
Whether you're looking for some meal prep, a work lunch or something else, this shrimp salad is great.
This isn't like your normal salad with tomatoes, cucumbers, onions and the other usual elements. Instead, this focuses on shrimps and your Old Bay seasoning.
For this recipe, you will need shrimp, mayonnaise and Old Bay seasoning, while we can't say this is the secret ingredient because it isn't secret, it is necessary.
You will also need white wine vinegar, Worcestershire sauce, celery and scallions.
If you did want to make your creamy old bay shrimp salad with the standard salad ingredients, then go ahead but sometimes, only a bed of lettuces is necessary.
Sometimes salads can feel sparse and boring. That's why shrimp salad ideas that are full of delicious flavors are something you need to know how to make.
This recipe needs shrimp, lemon or orange, spinach or arugula, extra-virgin olive oil, avocado, shallot, almonds and kosher salt and black ground pepper.
When cooking the shrimp, you will coat it with lemon or orange juice, and this will be absorbed, creating a beautiful citrus taste. Any leftover lemon juice works as a great dressing for the remainder of the salad.
Looking for healthy shrimp salad recipes with lettuce? We've got the perfect dish for you, plus it's a warm dish with the shrimp pan-fried. Each serving is 460 calories, the ideal dish size for your calorie counters.
To make this recipe, you need shrimp, butter, lemons, lettuce, tomatoes, avocado, celery, cucumber, carrots and salad dressing.
This works great for a rainy day when you want something healthy but doesn't want a cold salad.
Want a delicious shrimp salad with a bit of a kick? We've got the best shrimp salad recipe that you have to try.
For this recipe, you need shrimp, Cajun spice, garlic, unsalted butter, romaine lettuce, Roma tomatoes, red onion, cucumber, avocados, corn kernels, lemon, cilantro, extra-virgin olive oil, sea salt and black pepper.
To get the shrimp perfect in preparation for your salad, you need to saute it in the butter with the Cajun spice and garlic.
Need a dish for a hot summer's day picnic? We have an easy shrimp salad recipe that will work perfectly for this.
For this recipe, you will need rotini noodles, celery, red bell pepper, red onion, shrimp, mayonnaise, lemon, dill, salt and pepper.
Shrimp and pasta work flawlessly together, so you're certainly in for a treat.
Classic shrimp Louie salad is one of the easiest but most delicious salads you can make, perfect for lunch or dinner.
To make this recipe, you will need mayonnaise, ketchup, sour cream, lemon juice, apple cider vinegar, brown sugar, paprika, kosher salt, Worcestershire sauce, olive oil, shrimp, Cajun seasoning, avocado, cherry tomatoes, romaine lettuce and eggs.
A top tip for this salad to remain tasty is not to drizzle the salad dressing until you're ready to eat.
This is Caesar salad with a twist because it doesn't contain any egg, plus it's obviously shrimping instead of chicken. However, we think that it could top a normal standard Caesar salad.
To make this recipe, you will need sourdough, olive oil, lemon juice, garlic, Parmesan, anchovy paste, Dijon mustard, shrimp, romaine lettuce, cherry tomatoes and salt and black pepper.
A top tip to add some gooseberry and lemon flavor is to pair the Dijon mustard with lemon and Sauvignon Blanc wine.
Did you know it's possible to have a healthy comfort meal? People often presume a comfort meal needs to be full of carbs and sparse of greens, but that's not true.
You could even have your comfort meal at a family event such as a picnic or BBQ.
To make this, you need pasta, onion, celery, parsley, shrimp, mayonnaise, lemon juice, garlic powder, yellow mustard, sugar, hot sauce, Worcestershire sauce, kosher salt and black pepper.
What's even better about this recipe is the lack of time it takes, with only 10 minutes needed to prep and another 10 to cook.
Craving a taco but want a healthier version? Then this shrimp taco salad is perfect at only 229 calories and, as you can expect, absolutely delicious, especially as it still contains tortilla chips or not if you would rather.
To make this fantastic dish, you will need white shrimp, olive oil, ground cumin, chilli powder, paprika, garlic powder, dried oregano, salt and pepper, and to make the salad section, you need romaine lettuce, grape tomatoes, purple cabbage, avocado, corn kernels, tortilla chips, cilantro lime dressing and a lime wedge.
Want some super simple to make, perfect for your work lunch? Then this grilled shrimp salad with honey mustard vinaigrette will have you craving for more.
The elements of this recipe include shrimp, parsley, garlic, lemon zest, olive oil and salt, romaine lettuce, corn, bell peppers, cucumber, avocado, grape tomatoes and for the secret ingredients, the honey mustard vinaigrette dressing, yellow or Dijon mustard, white wine vinegar, honey and olive oil.
You want to make sure you fully marinate the shrimp so it can absorb all the flavors, helping to add the delicious taste that makes this recipe so great.
This shrimp veggie salad only takes a total of 20 minutes and makes a total of 12 servings, ideal for family potlucks, including BBQs and picnics.
This recipe involves elements such as shrimps, tomatoes, cucumbers, red onion, cilantro, green onions, jalapeño peppers, lemon juice, salt and avocados.
Each salad serving is only 108 calories, so perfect to pair with a more substantial dish or to double up if preferred.
We wanted to provide you with something different, with this recipe being entirely cooked in the oven rather than eating it cold
To make this yummy meal, you will need cherry tomatoes, carrot, yellow bell pepper, red onion, asparagus, shrimp, olive oil, lime juice, honey, lime juice and mixed greens and for the important part, the seasoning, chilli powder, oregano, salt and black pepper.
A tip to help make this recipe even better is to marinate the shrimp with the seasoning.
Sometimes salad needs a little bit of a kick to it. With this spicy Mexican shrimp salad, you can expect exactly that.
This recipe is packed full of elements that create an abundance of flavors, including shrimp, salted butter, lemon zest, garlic powder, sugar, Mexican hot sauce, red pepper flakes, lemon juice, ground cumin, cayenne pepper, salt and pepper, avocados, cherry tomatoes, red onion, cilantro and jalapenos.
The dressing for this dish is gorgeous and is an important part of the recipe, making it all come together to form a delicious flavor.
Fruit is often forgotten about when making a salad, but surprisingly it can be the best part, pairing perfectly with the other elements.
This recipe is so simple to prepare and will be pleasantly enjoyed by the whole family, including kids.
This mango & shrimp dish includes shrimp, extra-virgin olive oil, ground black pepper, lime juice, mango, grape tomatoes, red onion, garlic cloves, cilantro, lime juice and lettuce.
This salad can work as a meal alone or instead as a side dish and has a beautiful zesty and refreshing taste to it, making it something to crave on a warm summer's day.
Need something simple to make that you can easily bring to work? Why not try this easy classic shrimp salad full of many tasty flavors.
Shrimp is full of flavor alone, and when paired with other flavorful ingredients, you can expect the taste to be sensational.
The elements involved in the recipe include shrimp, celery, sweet onion, dill pickle, ground black pepper, cayenne pepper, mayonnaise, lemon juice and white breadcrumbs.
To make this recipe even better, or any recipe, in fact, you should use high-quality produce.
A simple salad is always good, especially for a family gathering with children, as they can be very picky sometimes.
The ingredients of the salad include shrimp, tomatoes, romaine lettuce, avocado oil, mayonnaise, lemon juice, olive oil, red wine vinegar, garlic, black pepper, dill, hot sauce and water.
If you wish to bulk this salad up slightly, you can add some other ingredients which you enjoy, perhaps cucumber, red onion or something else.
Creamy recipes often mean unhealthy, but this creamy dish is the exact opposite at only 192 calories per serving.
To make this dish, you will need lemon juice, plain yoghurt or sour cream, Dijon mustard, parsley, and olive oil, you can substitute for a different type of oil, shrimp, kosher salt and ground pepper, garlic, celery, red onion and green peas.
You can replace the green peas with a different type of vegetable, whichever you enjoy the most.
This dish can be used as a starter dish or as a side dish, perfect for a family party, BBQ or picnic.
Looking for a summer salad perfect for your holiday abroad or an enjoyable afternoon soaking up the summer accompanied by a delicious bunch of dishes, including a salad that's different from the standard salad.
The ingredients used in this recipe should be fresh and of top quality. It includes red onion, lime juice, olive oil, kosher salt and black pepper, shrimp, tomato, avocado, jalapeno and cilantro.
You can serve this as a light meal or could instead have it as a side dish, alongside others.
We wanted to add something to our list that is a little bit different from the rest of the shrimp salads we have spoken about, something that can be made into a delicious burger that is so simple to make, while having a delicious taste that will have you constantly craving for more.
To make these delicious shrimp salad sandwiches, you need kosher salt, raw shrimp, Old Bay seasoning, lemon juice, mayonnaise, Worcestershire sauce, celery, scallions, sandwich rolls and romaine or iceberg lettuce.
Be wary that while these shrimp salad sandwiches can have you fooled into thinking they're healthy, which they are, they still contain 607 calories, making them a highly calorific meal but so worth it.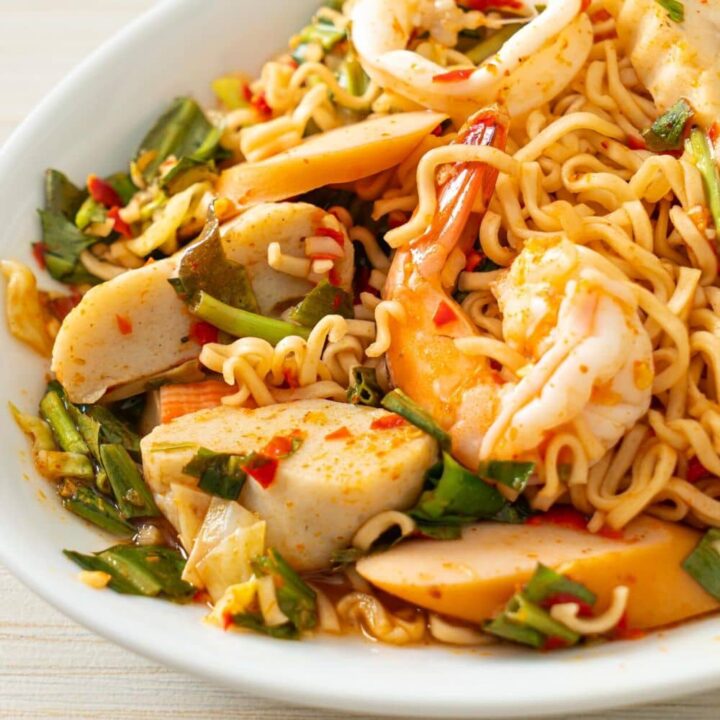 20 Best Shrimp Salad Recipes
Ingredients
8 oz uncooked small pasta shells (about 2-2/3 cups)
1 lbs peeled and deveined cooked shrimp, chopped
1 c frozen peas, thawed
4 green onions, chopped
1/4 c minced fresh parsley
1 c mayonnaise
1 c plain yogurt
1/4 c lemon juice
2 tbsps snipped fresh dill
1/2 tsp salt
1/4 tsp white pepper
Instructions
Boil the water in a saucepan with salt, add the pasta to the pan and cook for 8 to 10 minutes till the pasta turns soft.
While the pasta is cooking, combine together the mayonnaise, plain yogurt, lemon juice, fresh dill and salt and white pepper.
Once the pasta is cooked, mix together the pasta, shrimp, peas, green onions and parsley.
Add the pasta mixture to the other mixture, plate up and leave to cook in the refrigerator for 2 hours before serving.