For me, food doesn't get much better than a good, authentic Italian dish. Italian food really focuses on fresh and seasonal ingredients. The food is hearty and rich, and tomato-based. One of the most famous Italian dishes has to be pizza.
Perhaps due to its close proximity to incredible tomato and mozzarella producing regions, perhaps just because they have had more time to practice!
If you're looking to make some great Italian food from the comfort of your own kitchen, then look no further, here are 30 of the best easy Italian recipes.
Chicken Cacciatore is rich and hearty comfort food that is sure to be a family favorite. In English, Chicken Cacciatore translates to 'hunter-style chicken'. Now, this is not to be confused with the classic American hunter's chicken which is normally made by smothering a chicken breast in barbecue sauce and cheese.
Chicken Cacciatore is called 'hunter-style chicken' because it is traditionally made from chicken thighs and cuts of meat that are normally considered to be undesirable.
Chicken cacciatore was originally consumed as a humble countryside recipe but it is absolutely incredibly flavorsome!
Look, you can buy meatballs from the store, you can even get frozen meatballs… but it really
doesn't compare to the real deal.
There is a bit of a misconception that meatballs are difficult to make, and can be quite dry upon cooking. However, if you follow this recipe you will have 30 meatballs in just 2 hours which, once you've tried them, you will agree is well worth the effort.
One of my favorite things about this recipe is that you can make them in large batches. I tend to double this recipe and freeze most of my meatballs over the next few months.
If you're looking to do the same, then I recommend freezing them separately on a baking tray
and, once frozen, store them in a freezer bag together.
Chicken Parmesan is an easy Italian dish that is served in most Italian restaurants. However, did you know that Chicken Parmesan actually originated in America?
According to a recent survey, there are approximately 17.8 million Americans of Italian descent so it's really no surprise that many modern Italian food ideas are being cooked up in America instead of Italy.
Chicken Parmesan is a great dish and it's very children-friendly so you won't have to make two different meals at dinner time.
Spaghetti and meatballs are on every classic Italian dishes list, and with good reason too, everyone loves it and it is simple to make.
For this dish, you will be making a marinara sauce which is normally made from tomatoes, garlic, herbs and onions as the base.
That said, there is a lot of room for creativity in this sauce and one of my favorite things to do is to blend in a slightly salty element. I normally use capers, olives, or anchovies for this and it really elevates the flavor.
Pasta e Fagioli translates to pasta and beans in Italian and it originates from the Campania region, the capital of which is Naples.
Parmesan is an optional garnish in this authentic Italian recipe but if you skip it then you have a great and traditional vegan stew.
This recipe takes you just one hour to make, including the 40 minutes of passive stovetop cooking and yields between 6 and 8 hearty portions.
There is a lot of debate when it comes to making the perfect lasagna, some people add white sauce to each layer, whereas some believe it should only be added to the final layer.
The traditional way to make a lasagna, and the way to ensure it is rich and cream throughout, is to add a small amount of white sauce to each layer.
My top tip for this lasagna recipe is to add a few bay leaves and a pinch of nutmeg to the milk when making your white sauce, this will make it a little closer to the traditional version.
What is a calzone? A calzone is a type of folded pizza, made using leavened dough, also originating in Naples.
Some American calzones are filled with tomato sauce, but the traditional Italian food recipe is tomato-free. Instead, the calzones tend to be served alongside a tomato sauce.
These calzones are served like the traditional variants, full of cheese, pepperoni, and fresh mushrooms. This is a great Italian dish recipe to follow but remember that you can always swap out ingredients and add your favorites in their place!
These fritters are light and airy, perfect as a vegetarian side dish, or even as a main course. Ricotta is a type of Italian 'cheese', generally made from the leftover whey from the cheese-making process.
This can be made from buffalo, goat, sheep, or cow cheese and it's absolutely delicious.
The word ricotta literally means 'recooked' and it is not technically a type of cheese as it is made from whey. This Italian food idea makes 6-8 fritters and they can be frozen!
Alfredo is one of those great heavy comfort foods, it's certainly not a dish that you'd want to eat every day, but it's exactly what you need after a hard day.
This thick and creamy dish of goodness is also perfect for children and is a great way to get them to eat vegetables like mushrooms that they wouldn't normally.
This is quite a versatile dish and you can make it vegetarian by removing the chicken. Another variation of this dish that works really well is swapping the chicken for some prawns!
Chicken Marsala is another one of those flavor-packed Italian American dishes. Despite originating in the US, this recipe does hold a lot of similarities to more traditional chicken scaloppini dishes that can be found across Italy.
There are two different chicken marsala methods, in the first, you sauté slices of flour-coated chicken breast in a pan.
In the second method, you can braise the chicken breast in a mixture of marsala wine and butter.
The secret (not so secret) ingredient in this recipe has to be the marsala wine.
Risotto is not easy to make, and there really isn't anything to hide behind in this dish. Everyone can tell if it is overcooked and mushy, and everyone will know if it is underdone and hard. That said, there are some great methods to ensure a perfect risotto every time.
However, if you get it right, this can be one of the best Italian dinner recipes. The key to a great risotto is a good stock, this can be homemade or store-bought.
One very important step that many people leave out in risotto making is the toasting of the rice which forms a shell around the rice and means that it will absorb liquid at a slower rate.
If you're looking for a convenient one-pot recipe then this is a great Italian meal for you.
This pan-seared chicken breast is low carb, gluten-free, and sure to be a hit with the entire family.
Made using a cream-based sauce, and plenty of veggies, this recipe is the perfect balance of healthy and hearty. Now, this might not be an incredibly Italian ingredient to recommend but I love to add a generous sprinkle of paprika to this sauce.
Tomatoes and seafood are one of my all-time favorite pairings and this list would not be complete without a classic cioppino soup.
Did you know that cioppino doesn't actually come from Italy? That's right, this is another Italian American dish, with this one actually coming from San Francisco, California.
However, like many other Italian American dishes, it does share a lot of similarities with traditional Italian recipes. In fact, cioppino comes from the Italian word cupping which is 'chopped' and was commonly consumed by workers who lived on the Italian coast.
Look, before you can make a great pizza, you have to be able to make good pizza dough. Luckily for you, I have the recipe for the best pizza dough.
This recipe isn't just great, it's easy too, you can make it by hand or in a stand-up mixer, you can make it the same day, or you can make it the day before.
My top tip for this recipe is to be careful in how you mix the ingredients, yeast next to sugar is good, and yeast thrives with sugar. However, if you put the yeast next to the salt, it can kill the yeast.
If you're looking for authentic Italy, then this is a great recipe for you. Pasta puttanesca is a great and very simple pasta sauce.
This is a tomato-based pasta sauce that has great depth of flavor due to the olives, capers, and tomato paste giving it a distinct savory flavor with a subtle sweetness.
In Italian, this incredible dish translates to 'pasta in the style of a whore' and there are a few different theories about the origin of the name. One of which is that it came from the poor and working-class neighborhoods in Naples.
Seafood and pasta are a natural marriage, and this is a great option if you are looking for Italian dishes recipes.
This Italian American classic only takes 18 minutes to make from start to finish, making it a quick, easy, but incredibly tasty midweek meal.
If you're not in the mood for pasta, then you can serve this as a seafood sauce with bread on the side. Either way, this is a great garlicky dish that everyone is bound to love.
You will find bruschetta on every good Italian restaurant menu and, frankly, it would've been wrong to leave it off this list.
Normally served as a starter or appetizer, this light and fresh tomato-y snack is a real favorite among Italian food.
Bruschetta, pronounced 'bruh·sheh·tuh' is super easy to make and will only take 37 minutes to make (including marinating). The trick to a great bruschetta lies in the balsamic vinegar so don't skimp on this, make sure you invest in a good one!
Are you surprised at how far into this list we have managed to get before discussing a pizza recipe? I know I am! And no, the calzone and pizza dough don't count.
With that said, it makes sense to try and replicate the best. The key to success in this recipe is the ingredients that you use.
The mozzarella should be buffalo, and the tomatoes should be San Marzano variety. If you get this right, then you really can't go too. Far wrong!
Chicken meatballs are a real treat in my house and I make batches upon batches that can be stored in the freezer for months.
Pre-ground chicken works really well in these meatballs but I'm a little extra and, after buying my own meat grinder, I insist on grinding all of my own meat.
I'd be tempted to argue that this makes the meatballs 10x nicer as you get to add all of your favorite cuts of meat… but I
might just be biased on this one.
Meatballs are a great addition to any recipe and sometimes I even use meatballs to get children to eat hidden vegetables!
One of the best things about these meatballs is how well they keep in the freezer. This recipe yields about 20 meatballs and the recipe can be doubled and frozen.
These meatballs last around 2 months in the freezer and there are many different recipes that you can use for any leftovers.
Tiramisu is a real classic Italian dessert and can be very easy to make.
When looking at recipes from cultures outside of my own, I try to make sure they are authentic and respectful to the people who eat them in their daily diets and I can assure you that this one is incredibly authentic.
Tiramisu is a creamy coffee cake made from layers of ladyfingers soaked in coffee, mascarpone, and eggs.
This dish is made of giant pasta shells stuffed with ricotta, slathered in tomato sauce, and topped with mozzarella. It is hearty and exactly what you need on a Monday night.
This isn't exactly a traditional Italian dish but it sure is Italian-inspired and incredibly tasty. If you're looking for a rich, creamy, and cheesy baked pasta dish then this is exactly what you need!
If you want to master Italian cuisine then a great tomato sauce is the perfect place to start. Used in many dishes from Bolognese to Lasagna, as well as pizzas, and pasta bakes, the tomato sauce is very important in Italian food.
This tomato sauce is incredibly authentic and has been passed down for generations. If you're looking to make a big batch of sauce in less than 2 hours then this is the perfect recipe for you.
This is another recipe that I like to scale up on and keeps great in the freezer so don't be scared to make a big batch, you'll definitely use it.
Piccata is a very broad dish so don't be put off if salmon isn't your thing, there are many variations that use meat, veal, or chicken instead.
Whenever I see capers in a dish, I get excited. I rarely come across a capered Italian meal that isn't absolutely delicious.
This salmon recipe is the perfect balance of rich, creamy, salty, and fresh, and will leave you wishing you had made more. Best of all, it only takes 25 minutes to make!
Okay, I know this is called a simple Italian salad but it really is anything but simple. If you're looking for a quick lunch or even a light dinner, then this 10-minute dish is sure to be a winner for you.
Italian food is famously high in carbs, if it's not bread, then it's pasta and, as great as that is, sometimes you just need something light.
This salad is really ingredient forward and is packed full of light and fresh Italian food like parmesan cheese and olives.
Don't forget that salads are totally customizable. While this is a great version, don't be scared to add some of your favorite flavors, see what works for you!
The main ingredients for this dish are tomato, mozzarella, parmesan, and eggplant and it really is as good as it sounds.
Parmigiana Di Melanzane originates in Southern Italy and can also be made using chicken and veal.
Similar to lasagna, this is a real authentic Italian comfort food and works to warm you from within. A top tip for this recipe is to dip the eggplant in flour and then fry immediately to avoid any sogginess.
When I think of Italian food, several dishes come to mind immediately but Bolognese is always up there.
Bolognese is a little bit of a touchy subject amongst Italians as, outside of Italy, it is often served as spaghetti Bolognese which is not really consumed anywhere in Italy.
In Italy, the Bolognese sauce comes from the city of Bologna and is generally used alongside tagliatelle or in a type of lasagna.
When making a Bolognese sauce, it is important to start with onions, celery, and carrots, also known as a 'mirepoix'.
Sometimes, the most simple dishes are the best, and this certainly is true with this alfredo.
Fettuccine Alfredo has a really cool origin story as a recipe. Apparently, it was first made by a man, desperate to get his wife, who had lost her appetite due to pregnancy, to eat.
Of course, it worked just as he had hoped… I mean, who would say no to an alfredo?
You really only need three ingredients to make an authentic alfredo but that means that each one plays a massive role in the taste of the dish so be sure to buy quality ingredients!
This Italian-inspired dish is great if you want to present tried and tested flavors in new and exciting ways.
If you're looking for a way to introduce some more vegetables into your diet then this is a great way to do so. Additionally, this meal is keto-friendly and will be ready within an hour!
Like many Italian dishes, this is a great one-pot job that will save you on your washing up and guarantee a super flavorsome meal.
If you don't have any chicken breast or if, like me, you think that it can become a little dry after cooking it in a sauce; then I would recommend swapping out the chicken breast for skinless, boneless chicken thighs in this recipe.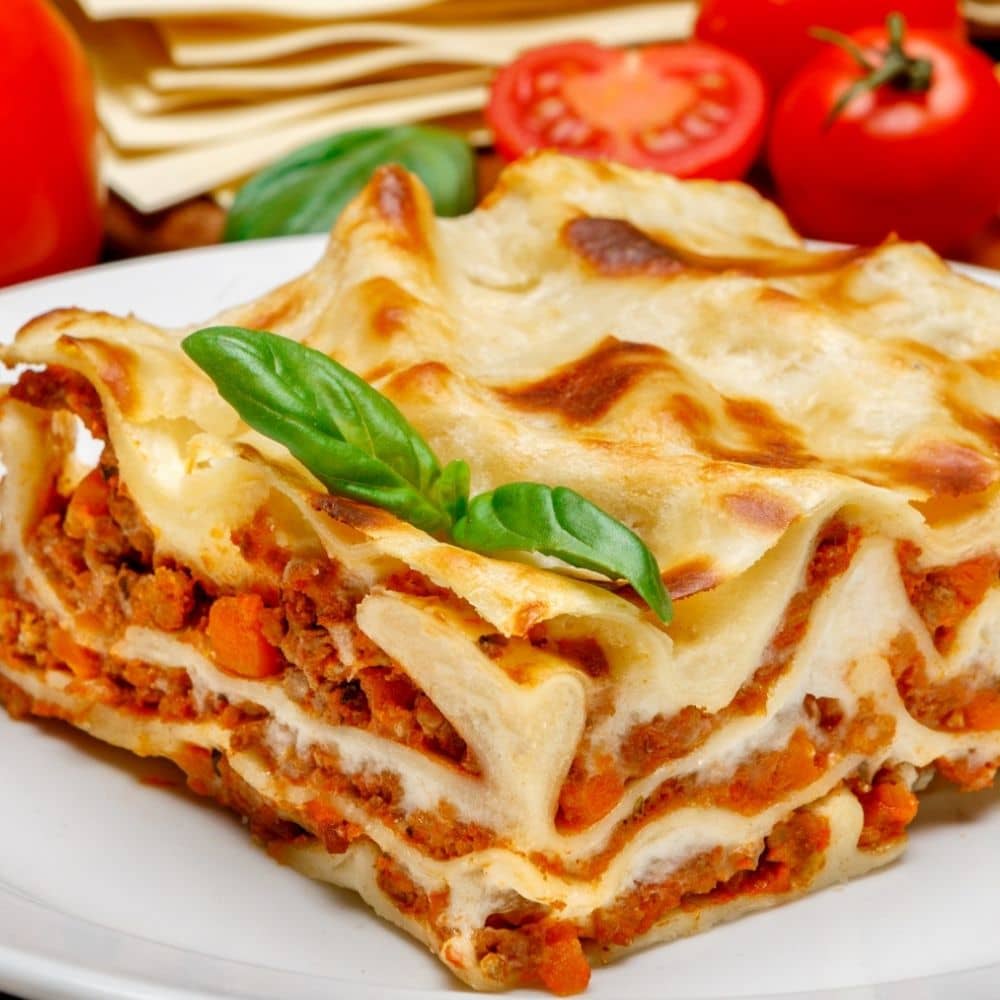 30 Best Italian Recipes
Ingredients
2 1/2 c uncooked cavatappi pasta (8 ounces)
1 c whipping (heavy) cream
1/2 pound bulk spicy Italian pork sausage
6 medium plum (Roma) tomatoes
1/2 c shredded fresh Parmesan cheese (2 ounces)
Instructions
Fill a large pan with water and salt until the water resembles seawater. You're going to want a large pan so the pasta has plenty of space.
Bring the water to a boil and, once ready, add the pasta.
Once the pasta is ready, drain away from the water and set it aside. The pasta should take around 8 – 12 minutes to be cooked but you can test it by taking out a single piece and biting it.
Take a large skillet and cook sausage over medium heat, stirring until browned.
Add tomatoes, cream, and the drained pasta to the sausage skillet and cook over medium heat until thoroughly heated, stirring frequently.
Sprinkle it with cheese and enjoy!