Meatballs come in many varieties, from Hawaiian to Swedish, and from Asian to Italian; they all have one thing in common… they're delicious!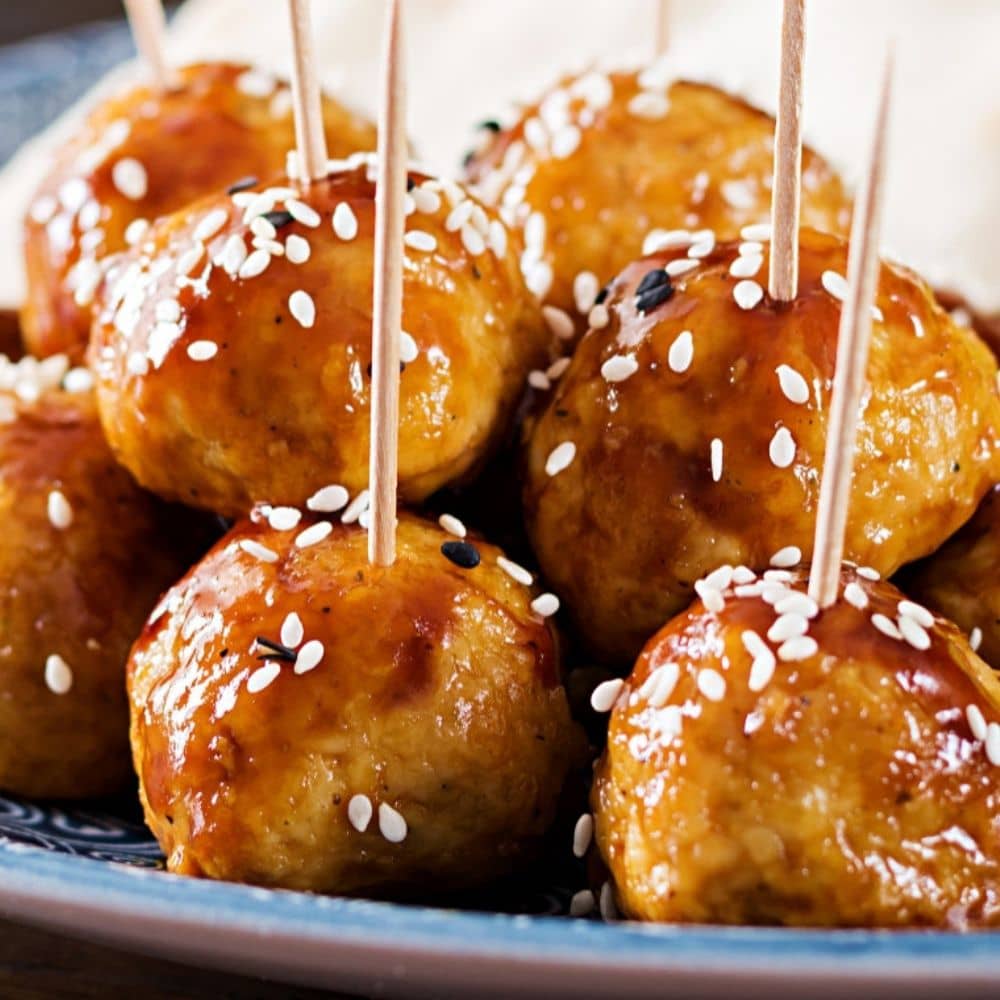 If there's one thing I love more than writing about food, it's eating it. As far as I'm concerned, it really doesn't get much better than meatballs, so you can imagine much fun I had exploring all of these different recipes in the name of journalism.
For this list, I have collected 25 of my all-time favorite meatball appetizers.
So, whether you're looking for a fancy meatball appetizer to impress your guests, or maybe just something fun and robust for the kids, you're sure to find the perfect recipe for you!
These sweet and smoky slow cooker meatballs are a real family favorite.
This party meatball appetizer takes just 30 minutes to prepare and then is left in the slow cooker for just over three hours until ready. If you're looking for a dish to take to a potluck then this will go down as a treat!
I think the real secret ingredient in this recipe is the barbecue sauce, so be sure to choose carefully. I tend to use Sweet Baby Rays as my go-to BBQ sauce but you can use any of your favorite barbecue sauce brands.
I make these bourbon meatballs as an appetizer but quite often eat so many of them that they end up being more like the main course.
The key to this mini meatball appetizer is definitely the sauce. The main ingredients of this sauce are barbecue sauce, apricot jam and, of course, bourbon. This sauce is as delicious and multi-layered as you can imagine, with a sweet and sticky mouthfeel.
One of my favorite ingredients in this recipe is the delicate spice brought by the sriracha in the sauce. If this recipe guarantees one thing, it's that everyone will be reaching for second helpings!
Some crockpot meatball recipes may sound a little strange at first, but if you trust the process then you will end up with an incredible appetizer.
For this meatball appetizer recipe, you're going to need two main ingredients; chili sauce and grape jelly. I know it may sound a little odd, but this balance of sweet and spicy always works well.
Another great attribute of this recipe is that it's freezer friendly. I generally space the meatballs out over a baking tray and pop them in the freezer overnight, in the morning I will remove the tray from the freezer and transfer them all to a zip lock bag.
The Italian meatball has to be one of my favorite dishes of all time, whether it's served as an appetizer, on top of spaghetti, or even on a deli sandwich.
In this recipe, you will make your own meatballs and use a store-bought tomato spaghetti sauce but I think there is no substitute for a good, homemade, spaghetti sauce.
However, if you're looking for a quick and easy-to-make meatball appetizer then this is the perfect recipe for you, you can even use frozen meatballs… no one will notice!
If you're looking for the perfect mini meatball appetizer then this is the recipe for you!
There's a lot of debate about what meat should go into a good meatball but, in my opinion, this recipe has got a perfect balance, blending lean ground beef with ground pork.
You might have tried poor quality, dry meatballs and wondered how you can retain the moisture. Well, this recipe uses breadcrumbs in the meatball to collect all of the juices and stop the meatballs from going dry.
If Italian meatballs are a little heavy for you in their rich tomato sauce, then Swedish meatballs might be more your speed.
This recipe makes around 50 mini meatball appetizers and will be ready in no time at all.
These meatballs are so good that I always double the recipe, making 100 meatballs. They keep really well in the freezer and are incredible as party meatball appetizers or with potatoes as the main meal.
Sweet, sticky, and spicy, these Thai meatballs are otherworldly good and they only take 35 minutes to make from scratch! If you're really tight on time, then you can also make the meatballs ahead of time and then warm them through with the sauce when you're ready to serve.
The secret ingredient in these meatballs is Thai green curry paste which really brings the whole recipe together.
Remember, if you're looking to turn this recipe gluten-free then these meatballs are great using gluten-free breadcrumbs too!
Mongolian glazed meatballs are one of the best meatball appetizer recipes you can find.
They are glazed in a sticky, sweet, and salty Mongolian sauce and garnished with sesame seeds and green onion.
This recipe also uses Shaoxing wine in the meatballs but you could use rice wine vinegar or apple cider vinegar and end up with a meatball just as tasty.
If you like Asian-style meatballs then this will soon be your new go-to meatball appetizer recipe.
As with any Cajun recipe, these party meatball appetizers have a little bit of a kick to them and if you're a lover of spice then you're bound to be a lover of these meatballs.
These meatballs have a really rounded and hearty flavor stemming from their secret ingredient Worcestershire sauce.
That said, don't worry too much if you don't have any at home, fish sauce, barbecue sauce, and balsamic vinegar all work as great substitutes for Worcestershire sauce.
Meatball sub cupcakes? It sounds crazy, I know. These meatball sub cupcakes are great for lunch or even as party meatball appetizers.
This appetizer consists of a sauce and mozzarella topped meatball baked inside a dinner roll in a cupcake tray. Sometimes, and this is a top tip, I will swap the dinner rollout for pizza dough!
Imagine it now, in just 25 minutes you can have 12 of the tastiest meatball subs made and ready to eat. So, what are you waiting for?
These meatballs are tender and succulent and work as the perfect base meatball for any other recipe!
Instead of serving these meatballs in a sauce, it is recommended that these appetizers are served sauceless alongside a selection of dipping sauces.
This is the perfect recipe for when you are having to cater to a variety of different tastes, or maybe even people who just can't pick their favorite type of meatball (consider me guilty).
If you're thinking that this sounds delicious, then you'd be correct!
The sauce for this recipe uses a lot of hoisin sauce which is very traditional in Cantonese cooking and can be quite similar to an American barbecue sauce so don't be scared to swap ingredients if you're low on hoisin sauce.
These meatballs work as great appetizers and are completely packed full of flavor.
If you are looking for low maintenance, three-ingredient recipe then this is the one for you!
This slow cooker grape jelly meatball recipe has to be one of the best meatball appetizer recipes if you are pressed for time and looking to make something quick and easy.
I'm aware that 'slow cooker' and 'quick' aren't normally used in the same sentence, but this recipe takes just 5 minutes in prep time and then you are free to go about your day, just come back in 4 hours and they'll be ready!
This is another great dish that can be served both as an appetizer by itself, or as a main meal with noodles.
Frozen meatballs are your time-saving friend in this recipe, they can be homemade meatballs that you have frozen, or even store-bought, but you really won't be able to tell the difference after the 4 hours of slow cooking.
Now, this might be my favorite meatball appetizer recipe of all time!
If you're looking to make a splash at the next potluck then I can almost guarantee that no one there has ever tried these delicious cheesy meatball bombs before.
Picture it, garlic topped exploding biscuits stuffed with hearty meatballs, mozzarella, and a beautiful tomato sauce. Have you been convinced yet?
I love Swedish meatballs but Italian meatballs will always hold a special place in my heart.
For this recipe, you can use frozen or homemade meatballs and top them with Marinara sauce and mozzarella. Fresh mozzarella works best for this recipe but if you can't find any then shredded will work too!
It's a classic that you know will go down well with children and adults alike.
There's nothing in the meatball rule book that suggests you can only use red meat and yet, most meatballs are just red meat!
These rebellious Asian chicken meatballs are great appetizers but if you have any left-over (I doubt you will unless you make extra) then my favorite thing to do is to mix them with noodles and veggies into a delicious stir fry.
So far, we've covered meatballs on sticks, meatball bombs, and even meatball cupcakes but this is the first meatball dip on our list.
This Italian-style meatball dip uses a marinara sauce as the base alongside cheese making it super indulgent.
Serve this creamy cheese dip with some crispy bread or even just a bunch of spoons and everyone is sure to 'dip' in!
Looking for a light bite appetizer to spice up your menu? Well, look no further, this Korean meatball lettuce wrap is delicious and it's going to be a great addition to your cookbook.
If you're looking for the perfect versatile recipe then this is a great recipe. If you don't want to make these Korean meatball wraps as appetizers then you can ditch the recipe and serve it in an incredible rice bowl instead!
The secret to these meatballs lay in the beautiful sauce; ketchup, Dijon mustard, and maple syrup make this simple but incredibly tasty three-ingredient sauce.
Sometimes, when you add the oven-baked meatballs to the sauce, the sauce can cause the meatballs to slightly overcook as you warm them up. To avoid this, I tend to warm the sauce as the meatballs are cooking then combine them together to serve.
This grape jelly meatball appetizer is a real family favorite and it only uses three ingredients, all of which you probably have at home already!
These appetizers are ridiculously easy to make and you don't even have to worry about thawing the meatballs, simply add all of the ingredients into the crockpot and relax.
If you're lucky enough to have any leftovers then they can be reheated on the stove – I like to serve mine with noodles.
This turkey cocktail meatball brings a real sense of sophistication to this list and it is sure to impress at any gathering.
This recipe is a real winner and it only takes a total of 35 minutes to make! If you're in a rush then you can also make these meatballs ahead of time and thaw them ready to glaze.
The only tip I have for this recipe is to double it, if you don't, you're going to wish you had more!
Keftedes is traditional Greek meatballs and they are normally made up of ground beef combined with ground lamb. In this recipe, we will be using beef and pork.
In Greece, they normally serve these tasty treats as part of a meze platter which is many small dishes served together. If you are going to serve these as an appetizer, then I would recommend also making a tzatziki sauce and pita bread.
Are you looking for great flavor without spending all day in the kitchen? Well, this might just be the perfect meatball appetizer for you!
A lot of meatball appetizer recipes have meatballs on sticks, and that's great but this one is served in a pan full of tomato sauce and mozzarella, making sure each serving has plenty of sauce and cheese.
When you're looking for a great meatball dish, you really can't go wrong with Italian meatballs.
Another three-ingredient meatball dish and it tastes so good that no one will ever know how simple it was to make!
You can make these crockpot jelly barbecue meatballs with just 5 minutes of prep, then all you have to do is sit back and let the slow cooker do its thing.
If you don't have nearly 3 hours to slow cook the meatballs then you can cook them the day before and simply warm them up when you're ready to serve.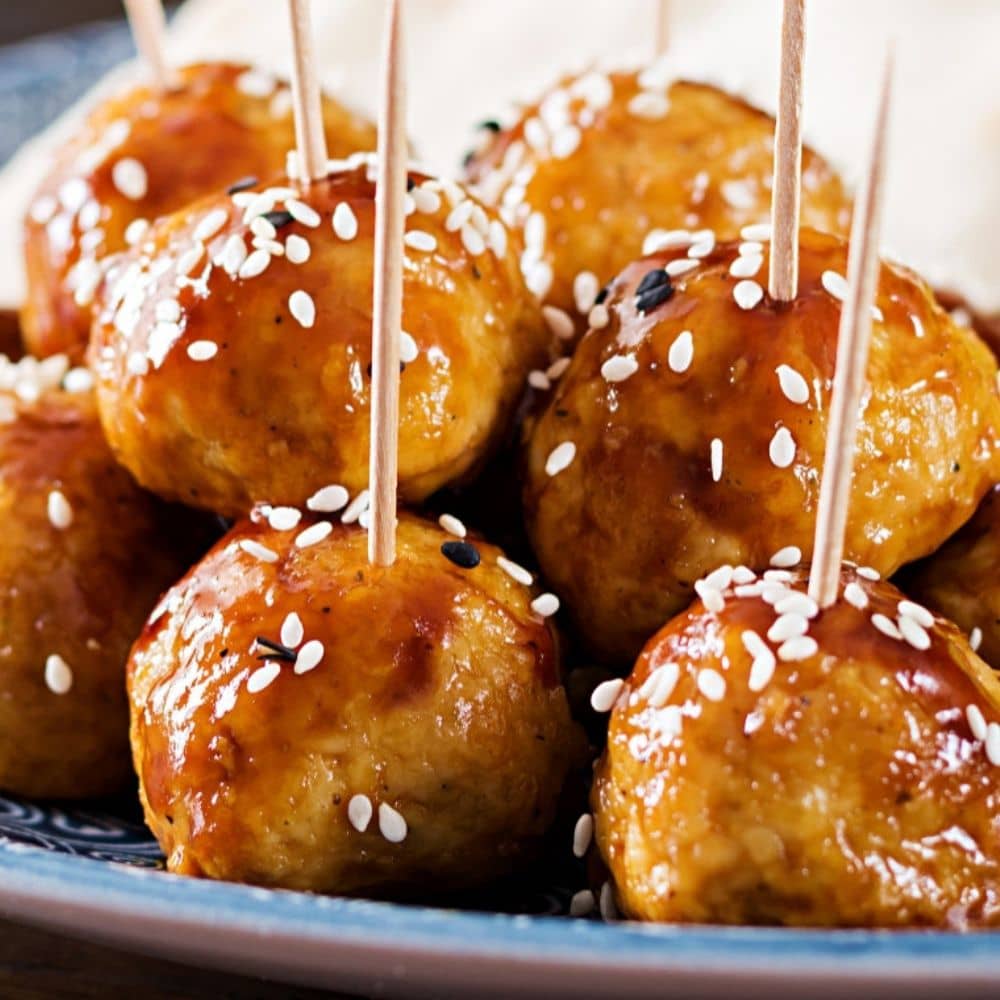 25 Best Meatball Appetizers
Ingredients
2 lb lean ground beef
2 eggs, lightly beaten
1/4 c finely chopped onion
1 tsp Italian seasoning
1/2 c dry bread crumbs
1 tbsps ketchup
2 tbsps grated Parmesan cheese
2 tsp Worcestershire sauce
1/4 tsp pepper
1 tsp dried basil
1 c shredded part-skim mozzarella cheese
1 tsp salt
sauce:
2 tbsps cornstarch
1 jar (12 oz) apple jelly
1 jar (12 oz) currant jelly
1 bottle (14 oz) hot or regular ketchup
Instructions
Combine the ground beef and beaten eggs in a large bowl and mix.

Add the mozzarella, bread crumbs, onion, and parmesan to the bowl and blend.

Once all of the meatball ingredients are in the bowl, add the seasoning; ketchup, Worcestershire sauce, Italian seasoning, basil, salt, and pepper.

Bake the meatballs at 350° for 10-15 minutes and then begin to prepare the sauce in a roasting pan.

For the sauce, add ketchup, corn starch, apple jelly, and currant jelly in a pan and then add the meatballs.

Cover and bake meatballs in the sauce for 30 minutes.

Notes
Because these can be made ahead of time, they are perfect time-saving Christmas appetizers or party food.