Italy is one of those places famed for its food. The pizzas and the pasta are legendary but the best part of the meal is dessert and Italian food delivers some of the most delicious and decadent desserts you'll ever find.
These are the best Italian desserts you can make for your next dinner party or just to treat yourself. Not only the most popular Italian desserts but also Italian pastries, traditional Italian desserts and treats and easy Italian desserts if you don't have time to go the full mile.
What do Italians like for dessert?
Sweet treats that feature light and airy cheeses like ricotta or mascarpone are everywhere. But they also eat lots of cookies, ice creams and layered desserts with seasonal fruit.
But, what is the most popular dessert in Italy? It has to be gelato. The absolutely velvety creamy ice cream treat that comes in every flavor under the sun.
Walk around anywhere in Rome and you won't have to look far to spot a Gelato stand. So transport yourself to that beautiful landscape with these easy Italian desserts.
What are the names of some Italian desserts?
We all know tiramisu is the most popular Italian dessert and a good biscotti, but there's also Italian pie and sweet treats you may have never even heard of.
These Italian dessert recipes will transport you to the canals of Venice or the cobbled streets of Florence with each delicious bite.
Unlike the well-known Parisienne or American dessert treats, traditional Italian desserts don't use lots of frostings or piping, fillings or overly sweet flavors.
The secret to a great, and traditional Italian tiramisu recipe, is good espresso or coffee and let your ladyfingers soak the right amount of time.
This dessert has it all, coffee-soaked cookies as light as a feather, creamy whipped mascarpone infused with amaretto, and a dusting of cocoa for just a hint of chocolate on your taste buds.
The dessert is pretty much perfection in a bite and will go with any dinner party you're putting on. Or just make a pan for yourself and have no shame eating it with a nice cup of coffee as an afternoon snack.
What people might not know about Italian desserts is that the cookie is widely utilized in their dessert repertoire.
These are little cookies made from a shortbread dough that when raw, are spread with some jam or chocolate, then pitched together and baked into a fun shape.
Reminiscent of cannelloni with its round shape and filling inside. This is an easy Italian dessert recipe you can make with your kids or friends, or bring to your next tea party.
We know and love cheesecake, but throw ricotta in the mix and you have a sure winner. This cheesecake is a traditional Italian dessert recipe, simple and clean with the option to top with any and all of your favorite fruits and chocolate toppings.
The combination of cream cheese, ricotta cheese and sour cream make for a tangy and delicious cake, not to mention super moist and satisfying.
Cheesecake is one of those desserts that looks hard to make but is actually really simple and hand-off to make.
Simply mix together the cake, put it into the prepared crust and bake then chill. Italians love this dessert because it's full of delicious cheeses with just enough sweetness.
These delightful little cookies originated in Sicily where figs grow all over the island.
They are a Christmas-time traditional dessert in Italy and use up the preserved figs from that season's crops. We know fig newtons, but these cookies are like a fig newton that's been taken to the castles of Italy.
They are decadent without being heavy and an absolute delight with an espresso or herbal tea. Light icing coats the top for an extra bit of lemony sweetness that cannot be resisted once you've taken a bite.
This may be a very recognizable holiday dessert that perhaps you didn't know came out of Italy! Now you can buy it at grocery stores and markets around Christmas and thanksgiving but a homemade version is always better than store-bought.
When do people ask what is the most popular dessert in Italy? And iIt'schristmas time, then it's probably panettone.
A slice is the perfect treat with a coffee and packs a nice bite with dried fruit and a lovely spongy cake that's lightly flavored with almonds.
If there is anything Italians love more than pasta, it's lemons and ricotta cheese. This cake is so delicious you may make it several times in a row.
The light mixture of lemon zest, juice, ricotta and egg is baked into a fluffy and satisfying cake that can be made any time of the year. It's a timeless classic in the Italian dessert recipe realm. Classic for anything from a dinner celebration to birthdays or weddings.
Many great Italian dessert recipes came out of Sicily, and cannoli might just be the most famous. Cannoli is said to have originated as a fertility symbol given to princesses by their suitors.
Now they are just delicious tubes of fried pastry dough filled with creamy whipped ricotta and sprinkled with nuts or chocolate.
The treats are found everywhere in Italy and now you can find them in bakeries around the world. Making them is fun and interactive and with such a scrumptious reward.
These little flower-printed cookies are very traditional in Italy. The name comes from their circular shape which resembled a pizza. They are thought to be one of the oldest known cookies dating back to the ancient roman empire.
These are very simple Italian cookies made from eggs, flour, sugar and butter and rolled thin and then stamped with a beautiful imprint of a flower or sunburst.
They are found all over Italy and are easy to make at home. A must-try! You can substitute the butter for vegetable oil if you want to cut down the fat, and use an egg substitute if you're vegan.
The classic almond biscuit is displayed in large jars at your favorite coffee shops. These are another cookie with ancient origins and if you've never dunked a biscotti into a cup of hot coffee you are missing out on something truly divine.
Biscotti are great because you can make them in any flavor that suits your fancy. Almonds are traditional but you can also make orange, cranberry, chocolate, cinnamon, pistachio or even biscotti dipped in white chocolate!
These easy Italian desserts make for a lovely addition to a breakfast spread.
A newer take on a classic. This dessert is a blend between French and Italian. This is an easy Italian dessert recipe that you can fill with just about anything at all.
A very simple crepe batter makes a dozen crepes that you then fill with whipped ricotta and sprinkle with chocolate chips.
If you don't want to use cheese in this recipe you can substitute Jam or whipped non-dairy milk like coconut to make a vegetarian/vegan version of this.
Lemony, frosted, buttery bites of perfect Italian cookie goodness. These are simply the best Italian desserts for a tea party, afternoon coffee, or light dinner party dessert. They come together so simply with just butter, flour, sugar and egg dough.
The secret ingredient in this recipe is a large amount of lemon zest macerated into the sugar that is used in the dough.
Lemon zest releases all of the bright and flowery lemon oil that is in the skin and flavors your cookies with such an intense lemon flavor you won't ever want to make another lemon cookie.
This Italian dessert is far from pedestrians. A trifle by any name is a wonderful assortment of layered goods like cake or cookies, with a layer of cream or custard and then more cake and some kind of liquor to bring the whole party together.
Zuppa Inglese utilizes a very special Italian liqueur made with the Kermes insect steeped into the alcohol and then flavored with warm spices like cinnamon and nutmeg as well as vanilla. A truly unique delight you must make.
This dessert is the Italian version of the beloved fruit pie. A crust that is filled with butter and irresistible flakey, is filled with whatever jam you love most.
It's a dense and sweet treat to finish any meal off right, and classic in Italian cafes during the summer months when jam fruit is at its peak.
The crust is sturdy enough to make beautiful designs on top of the bottom crust. Classic flavors are black currant, raspberry and fig.
Chocolate lovers, this one's for you! Italian desserts would not be complete without chocolate, a beloved and cherished ingredient in so many popular Italian desserts.
There's hot chocolate, then there is THIS hot chocolate. The thick and decadent concoction coats your mouth in the most luxurious velvety warm liquid that satisfies anything that ails you.
The secret ingredient? Cornstarch! Who knew cornstarch could be so delicious, but seriously this will blow your socks off.
Cornstarch and milk come together to create the thick creamy consistency then just stir in cocoa powder and sugar and give yourself a rich treat.
These doughnuts are popping up everywhere right now, and they are actually not too difficult to make.
They take a bit of time due to the rising of the dough, but that part is totally hands-off so you can just mix and walk away!
The secret to these doughnuts is to fill them with Italian-style pastry cream, which is less sweet than french pastry cream and more sturdy from extra egg yolks. The fried doughnuts are rolled in sugar then filled with cream and served filling side up. A truly delicious and special treat.
These are traditional Italian cookies with a very distinct and important flavoring. Anise is a seed that tastes a little like licorice and cinnamon mixed together.
The name comes from the flavoring of anise in the dough, and they get a lovely glaze over the top that you can decorate with sprinkles or chocolate or even freeze-dried fruit!
If you're not a fan of licorice flavor then substitute almond or vanilla and they will still be just as good.
Two of the best Italian desserts are made into one fabulous cheesecake.
This cheesecake takes all the flavors of Tiramisu but without all the fuzzy layering needed. It's creamy and decadent and delicious and it even looks like a pan of tiramisu when it's finished.
The best part of this recipe? There is NO baking involved! It's the best of both worlds and a truly decadent dessert.
In Italian, Panna Cotta translates directly to "cooked cream". It's one of the most simple and quick desserts that you will ever make, but it looks so beautiful and fancies no one will ever know!
The way to succeed with a panna cotta is to have enough gelatin for your cream mixture.
Once you master that you can make panna cotta with absolutely any flavor you like.
The vanilla one is perfect with some jam or macerated berries, and you can keep these in your fridge for several days before eating them or serving them to guests.
Italian desserts love to use almonds for flavoring. This cake features almonds in a big way and is absolutely perfect with a cup of espresso or tea.
If you're pressed for time and you still want to make a dessert that will delight and impress people, this is the recipe for you! This cake comes together in less than 30 minutes and it is moist, sweet and full of almond flavors.
The most popular dessert in Italy? Hands down gelato, the Italian ice cream delight is found everywhere, in cones, in bowls, on top of slices of Italian crostata.
It can be any flavor you imagine and making it at home is actually pretty easy, you may not even need an ice cream maker to indulge in this delicious treat.
Low-fat milk is the secret ingredient in gelato that makes it so incredibly creamy. It doesn't usually have eggs like traditional American ice cream, and it also has less air which creates that luscious creamy texture gelato delivers.
You can mix it at home and simply freeze it into a loaf pan for scoops of this amazing frozen Italian dessert.
If you love doughnut holes, you will love zeppoles. These are basically the Italian version of a doughnut hole and they are so incredibly addictive it will be hard to not make this recipe 100 times over.
The dough has the classic ricotta cheese in it which makes these doughnuts extra moist and fluffy.
Traditionally they are sprinkled with powdered sugar but try them rolled in cinnamon sugar as well. An absolute delight for your mouth.
Lemon drops aren't just for the cocktail world. These cookies deliver almost an equivalent satisfying burst of citrus as the cocktail by the same name. They are light, zippy with lemon flavor and softly coated in a delicate glaze.
The Italians always keep it simple when it comes to desserts and these cookies are no different. A basic dough is simply dropped onto a sheet tray for baking, giving an organic shape to the little balls of joy.
Then you dip the cooled cookie in glaze and let it dry for a perfect bite to satisfy your sweet tooth.
This is one of those desserts that you make for a special occasion. The name of this tart literally means "Granny's cake" and it features the absolutely divine nut native to Italy, the pignoli or pine nut.
If you know pine nuts, you know they cost a pretty penny to get so keep them just as your garnish for the top of this beautiful tart. The crust is a simple short pastry crust and the filling is the traditional Italian Pastry cream.
Together they dish sings, and the crunch of pine nuts on top is the perfect addition.
Panna cotta doesn't have to just be made of cream or milk. This version uses yogurt as well as milk to make for a tangy and refreshing panna cotta.
The texture remains creamy and delightfully light. Panna cotta can be made into any shape or vessel you like and topped with any fruit you prefer.
Here we use apricots which are a popular Italian fruit choice and pair perfectly with the yogurt flavor.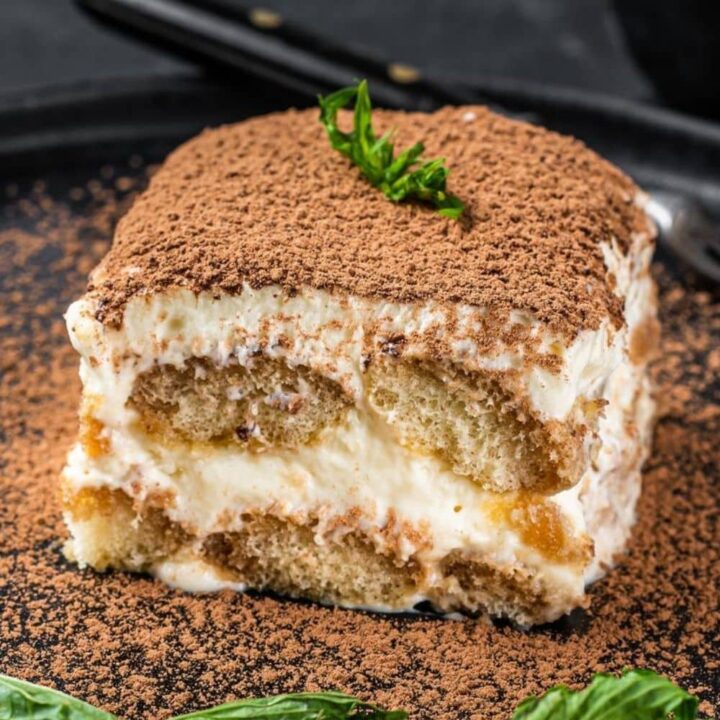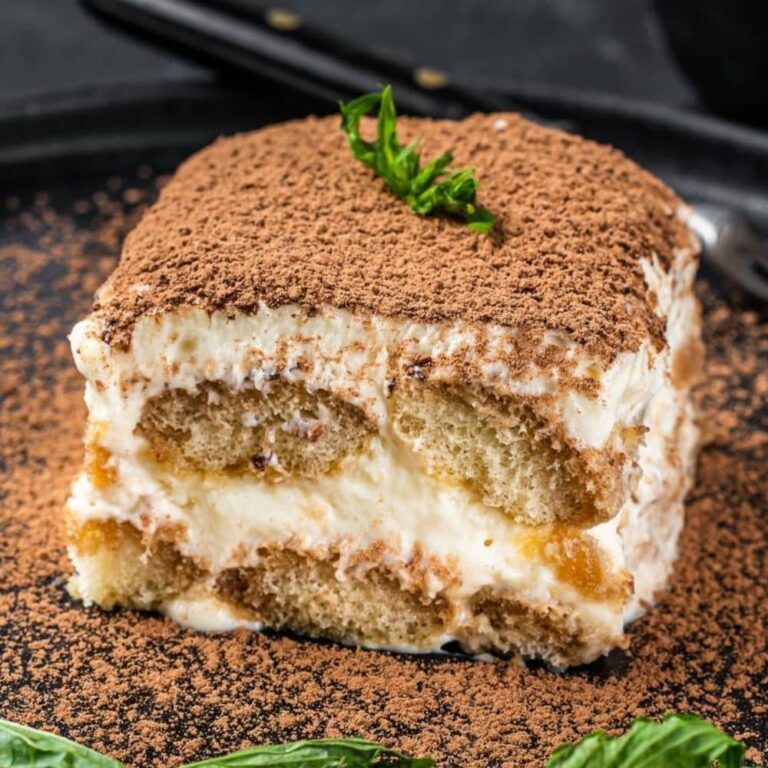 24 Top Easy Italian Dessert Recipes
Ingredients
1/2 c strong brewed coffee
16 ounces cream cheese, softened
2 tbsp coffee liqueur
1/4 c 2% milk
2/3 c sugar
2 packages (3 oz each) ladyfingers, split
2 c sour cream
1/2 tsp vanilla extract
1 tbsp baking cocoa
Instructions
In a mixing bowl, whisk together the coffee and the liquor and set aside while you make the filling.
Beat the cream cheese and sugar in a metal bowl till smooth and fluffy, about 2-3 minutes. Add in the sour cream, milk and vanilla and beat further until fully combined and blended.
Layer 1 package of ladyfingers in the bottom of an increased baking dish and drizzle over top about half the coffee mixture. Top with half of the cream cheese mixture and spread evenly over the ladyfingers.
Repeat this process with another half of each mixture and refrigerate for 8 hours or overnight. When ready to serve, sprinkle with cocoa powder.