If you're unsure what to make for your next brunch, dinner party, or special family meal, look no further. As you know, appetizers are the first impression your guests have of you as a cook. Impress them with these great cultural favorites We've put together a list of Italian appetizer recipes that you're going to want to try.
There's nothing better than Italian finger foods to entice folks to enjoy. These recipes are perfect for special occasions and every day.
If you love Italian food, you're going to adore these Italian appetizers. We've got Italian appetizer recipes for any occasion.
What are Italian appetizers?
Italian appetizers are typically finger foods or salads that are served before an Italian meal.
These range from variations on flatbread pizzas to bruschetta, and other crusty bread with Italian toppings and seasonings.
Meatballs, while often the main dish, also make great Italian appetizers. Antipasto with tomato, olives, Italian meats and cheeses top the list.
What is the most popular Italian appetizer?
Of all the possibilities for great Italian appetizers, finger foods are the most popular. Crostini, bruschetta, mini pizzas and skewers are great Italian appetizers using authentic Italian ingredients and the best quality Italian cured meats and cheeses.
Marinated olives and Mozzarella pears matched with salami or prosciutto ham are a family favorite.
This recipe is like a sub sandwich on a tortilla only without all the bread. You spread your spicy cream cheese, then layer provolone and Genoa salami, top with lettuce and roll.
Slice into single-size portions and arrange on a plate for a delightful Italian appetizer idea that will please your guests no matter the occasion.
These Italian Pinwheels make a lovely presentation and taste great. Remove the salami for a vegetarian-friendly version of this delightful Italian appetizer.
Caponata is not something that everyone will be familiar with, but once you try it, I guarantee that you'll be making it again and trying lots of new ways to use it in your cooking.
The diced eggplant, tomatoes, onions and peppers make a great topping for meat or fish, but you'll want to try it as an easy Italian appetizer as well.
Use Eggplant Caponata with some crusty bread or bruschetta and you're going to amaze and astound your guests.
Crostini is one of those Italian appetizer ideas whose time has come. You can't go wrong with chewy, rustic Italian bread, olive oil and some tomato mixture, topped with cheese and toasted to perfection.
This is one of the best Italian appetizers you're ever going to make. Whether it's brunch or a full Italian meal, simply toast up some Crostini and your guests will never complain about waiting for the main course to be served.
Change up the toppings, and you can make this vegan and vegetarian friendly as well.
This is the least well-known, but the best, easy, and homemade Italian appetizer on our list. It's simply a matter of slicing and toasting the bread, laying the ingredients and making the amazing sauce.
Secure it all together with a skewer and back into the oven to bake. Turn for even cooking and the result is going to be the most delicious loaf of hot bread appetizer that you've ever made.
We're pretty sure that this recipe is going to be put into regular rotation on your menu whether you're cooking Italian or not.
This Italian appetizer will feel like it's all from scratch, but you will use ready-made pizza crust. Don't tell anyone, and they'll never know.
All you have to do is serve it and smile because you'll know that you made this with store-bought crust and it tastes absolutely authentic and enchanting.
This Foccacia Antipasto recipe has all the Italian ingredients of olives, garlic, prosciutto, and mozzarella in between this amazing bread. This is one easy recipe that you're going to be asked to make over and over again.
This Italian Meatball Appetizer is one of the easiest on our list. Italian meatballs are great over pasta with your favorite sauces, but try them on skewers for a hearty Italian Appetizer that will disappear before your very eyes.
Mix up your meat and ingredients and use your favorite Marinara sauce either homemade or jar sauce, and after four hours in the slow cooker, you're ready to serve your guests. It's a "set it and forget it" favorite.
Serve with a side of parmesan cheese and more Marinara for dipping and don't forget the napkins!
I asked my family what their favorite Italian appetizer is, and in my house, it's this recipe for Italian Stuffed Mushrooms.
These are great for any occasion, but I tend to bring them out during the holidays.
They're super easy to make, and you can put them together ahead of time, and bake them just before your guests arrive, or while you're prepping your main course for your meal.
There have never been any complaints about this dish, and it's often requested for pot lucks or other group get-togethers.
This Italian Seafood Salad is an excellent precursor to any Italian meal. This appetizer will awaken the tastebuds of even your most discriminating guest. It's light, flavorful and packed with fresh seafood flavor.
Add extra flavor and texture with fresh vegetables and your Italian seasonings. Great for a Sunday brunch with friends or dinner get-together where you really want to impress your guests.
Serve this seafood salad with some crusty Italian bread or Crostini for a delightful appetizer that everyone will love.
This recipe tops the list as the easiest of all Italian appetizers to prepare.
Olive Oil Mozzarella Balls might sound complicated to make, but as you'll see, it's simply a matter of making the marinade and giving yourself enough time to let the cheese rest in the marinade before serving.
You can find Mozzarella Pearls or balls in the deli or refrigerated section at your regular grocery store. Use dried basil and oregano and fresh garlic for best results. This recipe is vegan-friendly. Tip: Store in an airtight container.
Pizza is one of the most popular of all Italian foods, so when we're rounding up Italian recipes, pizza, of course, will be on the list.
This appetizer is a fun take on pizza for appetizers. Italian Pizza Bites are finger foods you make in a muffin tin to serve as appetizers.
Cheese, pepperoni or salami and Italian seasonings make this an authentic Italian dish that will be a big hit in your home. Great for game day snacks, after school, or before a meal.
This easy and quick Simple Italian Green Bean Toss is sure to please. Fresh ingredients tossed together, you can't go wrong with that.
Even those who claim not to like green beans will be converted. It's a great vegetarian option as well. Tip: Be sure to use only very fresh beans. You can use string beans, wax beans or french green beans.
They must be crisp and snap when you break them. Don't over cook them as they will become mushy. Mince your garlic very fine for best results.
This Antipasto Appetizer on a skewer is a fresh take on antipasto. Simply put, Bocconcini (Mozzarella balls), tomato and basil are your basic Caprese salad ingredients, right? Add some olive and salami and you've got the perfect skewer appetizer.
You can substitute any of your favorite Italian deli meats, or simply omit the meat for a perfect vegetarian option.
The secret ingredient to this recipe is a bit of balsamic vinegar on the side, for that acidic bite. This is a pretty and colorful dish that is sure to please.
This delightful Italian Flatbread Appetizer eats like a meal. Start with an already prepared flatbread and top with rehydrated dried tomatoes and pesto sauce you can make from scratch or buy pre-made.
Top with strips of prosciutto ham or your favorite Italian cured meat, and mozzarella cheese. Sprinkle with thyme and sea salt and bake until cheese is melted and bubbly, and the flatbread is browned on the edges.
It's quick and easy to prepare, cooks up in a mere 7-8 minutes in a hot oven, and just like that, you've got a ready appetizer that you can even use as a main dish.
Eggplant is another food that is often used in Italian cooking but isn't widely popular.
This Italian Grilled Eggplant recipe is sure to be very popular with your family and guests.
The secret to making this dish come out perfectly is to grill the eggplant first, then toss the grilled pieces with olive oil and seasonings.
Tip: Let the eggplant sit in the herbs and oil for several minutes, toss and serve. This gives time for the flavors of the eggplant and seasonings to mingle. You can also keep for several days in plastic wrap.
This Easy Seafood Salad Appetizer takes several steps, but it all comes down to the marinade and the presentation.
Take care not to overcook your seafood. You can substitute whatever is fresh and you think your guests will enjoy.
The secret ingredient in this dish is white vinegar. You may think it's going to be overpowering or too much, but give it a chance.
Cooking the seafood in vinegar makes the entire recipe delicious. You and your guests are going to be delighted with this fresh-tasting Italian recipe.
You can't miss this Classic Italian Caprese Salad. The presentation is beautiful and will brighten up any table. Pure, fresh ingredients make this a delightful appetizer platter, or you can make individual Caprese salads for a side dish to your meal.
The secret to making the best Caprese salad is using fresh ingredients. Fresh basil, tomato and mozzarella, as well as freshly ground pepper and a good quality balsamic vinegar, is a must.
This salad makes a delicious compliment to any Italian meal, or serve it as a main dish for your pescatarian guests.
This recipe for Zucchini Fritters is a comfort food item that you're going to want to make again and again, once you've perfected it. The flavor and crunch cannot be beaten, it has everything we love in finger food.
This appetizer will disappear and leave you wondering why you didn't make a double recipe.
Tip: Fully drain your grated zucchini and press it in a sieve to make sure you remove as much liquid as possible.
Mix your dough before adding the shredded zucchini. Fry in peanut oil and serve hot with spicy mayo dipping sauce for best results.
This recipe for Proscuitto di San Daniele Truffle Cheese and Potato appetizer is unusual and delicious.
This dish uses the best prosciutto ham, and in place of bruschetta or flatbread, we use a potato slice.
Truffle cheese and truffle oil are the secret ingredients that give this dish a wonderful depth of flavor.
It's easy to make and your guests are going to be asking you how you made it taste so good. If you can't find truffle cheese, you can substitute Fontina or Asiago.
What is Chicken Spiedini? Grilled Chicken Skewers. Make your marinade and slice your chicken.
Place in the marinade for a minimum of 30 minutes, or you can prepare the day before and refrigerate the skewers overnight. Cook under the broiler or indoor grill, turning to cook both sides until golden brown.
Tip: If using wooden skewers, soak them in water before you begin so they won't scorch on the grill. Meat on a stick is a great appetizer for any get-together, and this one is sure to be a hit.
This recipe for Easy Italian Meatball appetizers uses frozen meatballs, but you can also make them from scratch and freeze them for later.
Use jar sauce or your favorite marinara recipe. Bake the meatballs in the sauce until cooked to temp. Add sliced Mozzarella cheese and return to the oven until the cheese is soft and melty.
The entire baking dish goes to the table for the appetizer. If you want to make this your main dish, simply add a salad, you've got a delightful, warm and comforting Italian meal.
This Easy Cheesy Garlic Pull-Apart Bread is about to become your favorite go-to recipe when you need an Italian appetizer, or simply want some gooey, melty, cheesy goodness in your life.
You start with a large sourdough round loaf and some Fontina cheese. Butter and grated garlic (not chopped), and you're on your way!
You can substitute smoked cheese such as Mozzarella or Gouda for an extra layer of flavor. This recipe is so simple and tastes out of this world delicious!
Start with Arborio Rice and Pecorino Romano cheese, Mozzarella and Ricotta for the best three-cheese blend for your Arancini. Add the hot rice to temper the eggs, slowly so they don't overcook.
Mix with your cheese and seasonings. Form your rice balls and chill before you roll them in the breading.
Tip: Use Italian seasoned bread crumbs for that authentic taste. Fry them in a skillet or deep fry for best results. Arancini can be frozen in plastic wrap for later frying. Serve with Marinara for dipping and a sprinkle of parmesan and parsley.
Marinated Olives are great to have on hand as a convenient Italian appetizer or to add as an ingredient in other dishes.
This recipe uses two varieties of olives and fresh garlic and herbs. You can use dried herbs, but they don't emit as much flavor as the fresh herbs.
The secret ingredient in this recipe is the red pepper flake. It's optional; however, if you like a little kick of spice, you're going to want to include that ingredient in your marinade.
This Calzone Pinwheel recipe is so quick and easy. Just a couple of steps to make a delightful presentation on your table.
Use refrigerated crescent rolls, lay them out and spread the cheese mixture over the dough. Roll and slice, then bake until golden brown.
They only take about 15 minutes to cook. They should be served right away. This simple Italian Appetizer is great for cocktail parties, brunch or whenever you want a quick and tasty snack or appetizer for your Italian meal.
This is a fresh take on Mexican nachos. These Italian Nachos use wonton wrappers in place of tortilla chips and a blend of Italian ingredients to make a delightful and colorful Italian Appetizer for your next get-together or Italian Meal.
Use jar Alfredo sauce or whip up some homemade with butter, cream and Parmesan cheese. Use some Italian sausage, hot or mild depending on preference, and shredded Mozzarella and Parmesan.
A variety of veggies, tomato, banana peppers and green onions make this a fun and different type of Italian appetizer that your family will love.
Italian Roasted Cauliflower makes a perfect Italian appetizer or side dish for your Italian main course.
You make a simple sauce of tomato paste, olive oil and Dijon mustard. Then add your seasonings and Parmesan cheese to the mix before tossing your Cauliflower florets.
Coat the vegetable well and then bake for 25 minutes in a hot oven and you've got a delicious appetizer ready to eat. You can add some chili flake or smoked paprika for more color and an additional spice layer.
This is a comfort food delight that you'll want to make again and again. This makes an excellent substitution whenever you might make garlic toast to go with your meal, or as an Italian appetizer on its own.
This recipe starts with frozen bread dough that you flatten and slice to form the twisty breadsticks.
You add your toppings and bake. The breadsticks all bake together to form a single loaf that you can tear apart to share with your family or guests. This one's a keeper!
We all know how prolific Zucchini can be in the summertime, and there are never enough new ways to prepare it.
This recipe for Zucchini Garlic Bites works as an Italian appetizer or a side dish on your table.
Tip: Remove as much of the moisture from your shredded zucchini as you can. Drain and then press with paper towels.
This keeps the finished product from being too soggy and helps them take the breading better. Fresh or dried herbs work well in this recipe.
This 15 Minute Easy Margherita Flatbread Pizza uses Naan bread for the base.
Topped with Mozzarella, basil and tomato, you might think of a Caprese salad. Margherita pizza adds garlic.
Simply top naan with garlic and olive oil and toast, then add your other ingredients and bake/broil until the cheese is toasty and the bread is golden.
Slice and serve. It only takes 15 minutes. This is a great appetizer any time, and can also be a main dish for a quick lunch idea in a pinch.
This Italian appetizer uses some unusual ingredients but the flavor combinations will astound your guests.
A three cheese blend, along with Proscuitto ham, dried figs and toasted pine nuts make this a recipe that will definitely prompt your guests to ask for the recipe.
The secret ingredient in this recipe is lemon zest. This adds a brightness to the recipe along with the acidity of the vinegar and brings out the creamy sweetness of the cheese and the figs.
Make these Tuscan Truffles for holiday get-togethers or whenever you need a good Italian appetizer to compliment your meal.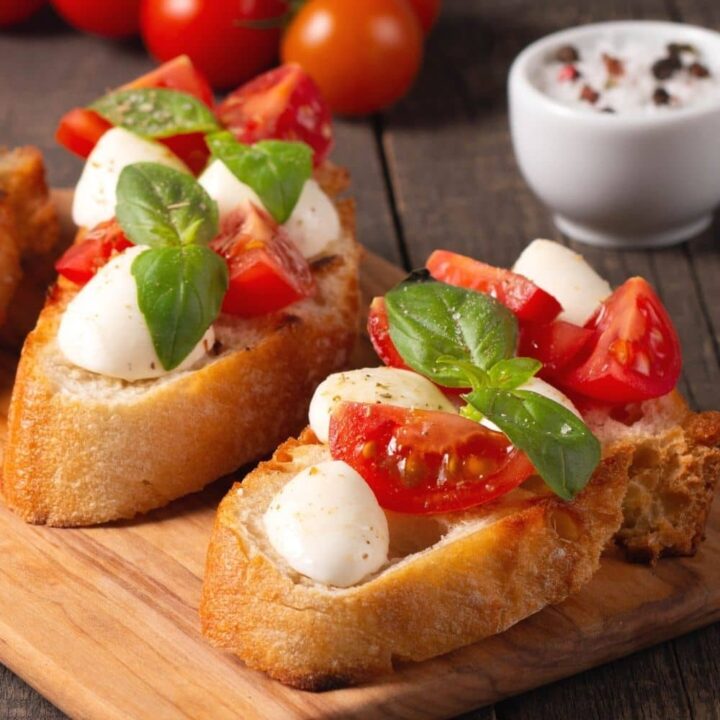 30 Easy Italian Appetizers
Ingredients
48 Triscuits or other crackers
1/4 c prepared pesto
4 oz cream cheese, softened
1/4 c oil-packed sun-dried tomatoes, patted dry and thinly sliced
Instructions
To prepare your Italian Party Appetizers simply spread your cream cheese on each cracker and top with pesto and a slice of tomato. Recommend Triscuit or other thick and whole-grain crackers. You can use jar pesto or make your own.