Smoothies are always hit with almost everyone, especially smoothies from Jamba Juice. They are perfect for any time of the day and can be full of nutritious benefits.
The downside is that Jamba Juice smoothies can be quite pricy. Fortunately, they are easy enough to make at home and can be done at a fraction of what it would cost to buy them at the store.
With a little sleuthing on the internet, you can find recipes for all your favorites even the Jamba Juice Secret Recipes.
Benefits of Smoothies
The benefits to smoothies really are endless. A few of their top benefits are:
Will keep you feeling full for longer: The high fiber content of fruits and veggies will leave you feeling sated and keep hunger at bay.
Keeps you hydrated: Fruits and veggies have a high water content, allowing them to help quench your thirst.
High in antioxidants: Many smoothie ingredients such as matcha, green vegetables, and berries are full of antioxidants that can help in preventing things such as cancers and heart disease. Antioxidants can also help with overall health by giving your immunity a boost.
Full of nutrition: In addition to antioxidants, smoothies are full of all the minerals and vitamins your body needs to stay healthy. They all work to support general health, making you look and feel good.
Best Jamba Juice Smoothie Making Tips
With most recipes, you can replace the high-calorie frozen yogurt with low-calorie non-fat Greek yogurt.
For best blending results, always put the most liquid or softest ingredients at the bottom of the blender and frozen ingredients at the top.
If you are wanting to increase the nutritional value of your smoothie, one of the best ideas is to add some spinach or kale. The taste of these remains undetectable in the smoothie while allowing you to take advantage of their health benefits.
To make clean-up a breeze after testing out any Jamba Juice smoothie recipe, simply put a squirt of dish soap and some water in the blender. Run it for a minute and then rinse everything off.
Any smoothie contains two basic things, a liquid, and a base. From there the possibilities are endless. Once you learn the basics, you can start to experiment with flavors and customize your smoothies to suit any palate.
If you are looking to make your favorite Jamba Juice smoothie recipes at home, the recipes on this list are a great start.
Love the Caribbean Passion Smoothie at Jamba Juice? This is one of those perfect Jamba Juice copycat recipes that will not leave you disappointed.
With its secret ingredient of mango passionfruit juice along with orange sherbert, strawberries, and peaches, you will feel like you are on a tropical beach somewhere.
Do not be intimated by the mango passionfruit juice, it is more readily available than you think. Just take a look at the juice aisle of any grocery store.
The combination of bananas and frozen berries allows this Jamba Juice smoothie recipe to deliver a sweet taste while being both refreshing and filling.
Looking for a way to make this even more nutritious? Swap out the sherbet for raspberry Greek yogurt that has been frozen.
This will provide the same creamy texture but with the added benefit of more protein and less sugar.
Ever wonder what the secret ingredient is to the Strawberry Wild at Jamba Juice? You may be surprised, it's an apple!
The crunch and sweetness of the apple add the best texture and taste to an already delicious drink.
In this Jamba Juice smoothie recipe, nonfat vanilla Greek yogurt replaces the higher-calorie frozen yogurt that is commonly used. This results in a delicious tasting drink that you can feel good about indulging in.
Looking for a way to add a healthy spin on one of your favorite Jamba Juice Smoothie recipes?
This easy recipe does just that! By using frozen bananas instead of sherbet, this smoothie cuts down on calories and fat, while still providing that same creamy texture you expect in a smoothie.
The secret to this is making sure that you use a frozen banana. You could make your smoothie even healthier and throw in some spinach or kale.
With this Jamba Juice copycat recipe, you will never believe that you are not drinking one bought from the store.
It has the same delicious and tropical flavors but can easily be made at home for a fraction of the cost.
Four ingredients and just a few minutes are all that is needed for this simple recipe. Who can resist that?
The Strawberry Wild may be what Jamba Juice is most well known for.
This Jamba Juice copycat recipe stays true to the roots of this classic. The combination of only a few ingredients results in a smooth blend of refreshing sweetness.
Why waste your time driving to the store, when you can make something just as good at home?
Keep those beach vibes any time of the year with this easy and refreshing Jamba Juice smoothie recipe.
The mix of passionfruit juice, orange sherbet, and fruit is so refreshing that with just a sip, you will feel the sand under your toes, breeze in your hair, and sun on your face. What are you waiting for?
Wondering what the perfect summer drink is? Once you taste this Jamba Juice copycat recipe, your search may be over.
This easy recipe brings together all the tastes of summer, like lemonade, strawberries, peaches, and lime sherbet into one refreshing smoothie.
If you are of legal drinking age and looking for something really irresistible try adding a bit of vodka to the mix. You will not be disappointed with this idea.
Put yourself in a Hawaiian state of mind with one of the best Jamba Juice smoothie recipes around.
Vanilla Greek yogurt, strawberries, bananas, and of course pineapples are combined for a truly tropical experience.
Serve this to your kids for an afterschool snack and they will be saying "aloha" in no time.
The Greek yogurt already makes this smoothie healthy, but you can increase the nutritional value by adding in some green veggies, avocados, or hemp seeds.
Love Jamba Juice but not how expensive they can be?
This Jamba Juice copycat recipe has you covered. With it, you can make your own restaurant-quality smoothie that is friendly on your pocketbook.
A great idea to keep costs down even more while you experiment with various Jamba Juice Smoothie recipes is to stock up on fresh fruit when it is in season. Slice them up, put them in the freezer and pull them out as needed.
Who can resist the Caribbean Passion smoothie from Jamba Juice? Now you can make it at home anytime a craving hits, with one of the best Jamba Juice copycat recipes around.
It combines strawberries, peaches, sherbet, and orange peach mango juice in the ideal blend of tropical flavors.
Make sure you make a double batch of this, as you will be wanting seconds.
Need a refreshing drink that is high in protein? Of all the Jamba Juice smoothie recipes out there, this may be one of the best that packs a powerful punch of protein.
It uses only four ingredients and can be made in no time. It would be great for breakfast on a busy morning, a post-workout treat, or even just a refreshing way to cool down on a hot day.
Tired of coffee and in search of a new drink to provide you with a boost of energy?
With this homemade version of a popular Jamba Juice smoothie recipe, that uses matcha tea powder you will feel energized in no time.
Matcha is full of antioxidants and has some amazing health benefits.
If you are wanting to add even more nutrition, take advantage of the vibrant green color of the drink and throw in some spinach or kale.
Want to recreate the Jamba Juice Razzmatazz smoothie at home? The easy-to-follow steps in this recipe can make that happen.
The author has done all the legwork and tested various methods and recipes to provide you with the best one.
What she comes up with is so close in taste to the original, you will not need Jamba Juice to get your fix anymore.
For the best results, make sure that you take the time to make the raspberry juice from raspberries, it is definitely worth the effort.
Love dessert but not all the calories that come with it? This is one of those Jamba Juice smoothie recipes that you will want to save then.
It takes the idea of Jamba's Chocolate Peanut Butter Smoothie and puts a healthy spin on it.
The secret is using frozen bananas to replace frozen yogurt that is high in calories and fat.
The result is the same creamy texture and decadent taste but with a fraction of the calories.
Is there any combination better than peanut butter and chocolate?
This easy Jamba Juice smoothie recipe draws inspiration from the chain's Chocolate Peanut Butter Moo'd Smoothie, and it is a decadent treat.
The best part is that this recipe uses all organic and natural ingredients, so it is healthier than the restaurant version making it a treat you do not have to feel guilty about.
With chocolate milk and bananas, it could even be used as a recovery drink after sports!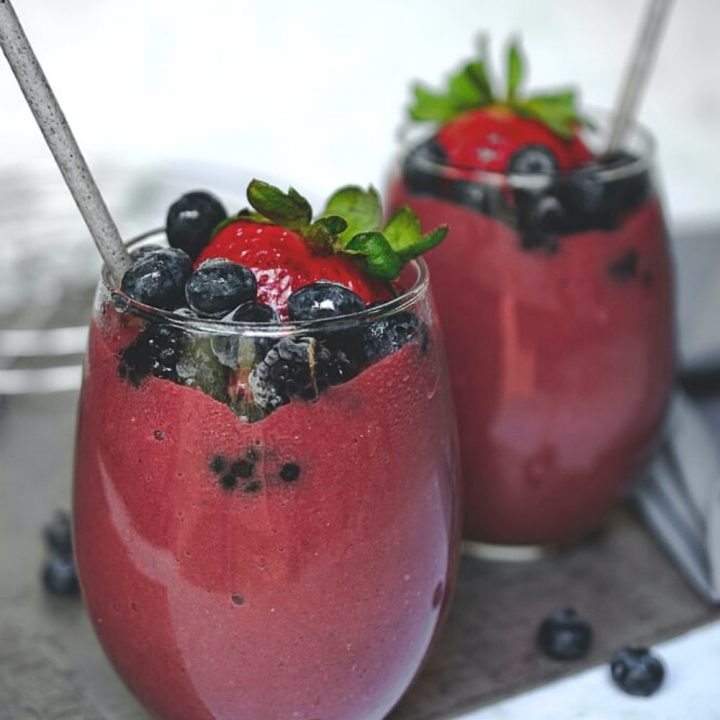 16 Of The Best Jamba Juice Copycat Recipes
Instructions
Choose your favorite dish!
Prepare ingredients according to the recipe.
Be ready in 30 minutes or less!