Have you ever lost your way on a diet due to that pesky sweet tooth? Perhaps you have hesitated to start a new plan because you're worried about the possibility.
With the best recipes, you can do it! We've compiled a list of decadent keto fat bomb recipes that are simple but will leave you satisfied on your keto journey.
Macronutrients are essential to watch and keto prioritizes fat, so these keto bombs will make the perfect supplement, snack, or dessert anytime.
There is so much variety to explore with these fat bomb recipes, you will find one that suits your favorite tastes and many more you'll want to try.
Cheesecake is such a classic dessert that people have been getting creative with it for decades.
One of the latest ways it has been adapted is into healthy keto fat bomb recipes.
The first cheesecake-inspired bomb on our list is so easy, it only required three ingredients! You might even have them at home already.
Pick your favorite peanut butter, cream cheese (or dairy-free alternative), and sweetener to make your cheesecake bomb base.
Then, you can pick your favorite topping to roll them in!
The next recipe is a deep dive into chocolate. The first cheesecake was pretty simple and customizable, but this one is more technical and a real treat.
That being said, you'll still only need 8 ingredients and 20 minutes to make 14 of these easy fat bombs.
Due to their extra ingredients, they also have extra health benefits!
This recipe will walk you through how to make a delicious chocolate coating for your treats that you could apply to other recipes if you like. Each piece has under 2 net carbs and will keep you satisfied.
This is a great basic cheesecake bomb option if you have a peanut allergy or don't like the flavor.
It calls for butter or coconut oil instead of peanut butter and takes a little vanilla extract for flavoring instead.
The recipe and directions are just as simple and give you plenty of opportunities for creativity. You can top these with whatever your favorite cheesecake complement might be.
It would be easy to make a vegan alternative to these if you're looking for plant-based keto options.
They could make a great allergen-free option.
The next fat bomb recipe on our list is a little extra fun. Have you tried the bulletproof coffee trend?
It's very popular, especially among keto dieters and this is an easy way to make it part of your routine.
You'll start with a base of 5 ingredients that will melt beautifully when you drop them into your warm mug of coffee.
You can add additional items for flavoring and they will only take 15 minutes for you to make.
They are then stored in the refrigerator until serving, making them perfect to cool off a hot cup.
These will make your morning routine feel that much easier and more elegant. They're a perfect treat to share as well if you ever want to create a special, sweet moment.
For another chocolatey concoction, you can try these! With only 5 ingredients and 5 steps, you'll have 5 servings of these pretty and potent snacks.
Once again you can trust that these will be low carb and high fat to meet the needs of your keto regimen.
Coconut oil is one of the main ingredients and it is a wonderful source of healthy fats.
This recipe includes alternative methods for making them dairy-free and offers the opportunity to use whatever sweeteners you like.
You could even try toasting the coconut before rolling your bombs in it for extra flavor.
If you didn't get enough peanut butter in the first recipe, this one is what you're waiting for. You'll only need 6 ingredients for this recipe too.
Do you love peanut butter cups? It's a common favorite treat that you won't have to miss out on any more while you're sticking to keto.
These are salty and sweet with a little bit of chocolate on top. This is a crowd-pleaser whether or not you're watching your carb intake.
Speaking of favorites you won't want to miss, brownies are another classic.
You'll be able to get your fix with this next one on our list of healthy fat bomb recipes.
If you aren't the biggest fan of coconut oil, these are a great alternative to some of the others and it still packs the same nutrient punch.
They're also dairy-free! You can choose your favorite nut butter as the base.
This recipe is simple and delicious as it is, only needing 4 ingredients and about 10 minutes of prep.
If you want to make them even more nutrient-dense, you can add some of your favorite crushed nuts or chia seeds.
Cookie dough is a guilty pleasure for many people but it wasn't always healthy or safe to indulge in, until now! Not only is it safe, but it is beneficial to your diet!
This recipe makes an amazing 30 bites with only 70 calories a serving.
They only require 6 ingredients and take 3 easy steps. You won't believe that these are keto-friendly.
Cookie dough bombs can be stored in the refrigerator for up to a week and in the freezer for up to a month, making them perfect for your next meal prep day.
Did you know that walnuts help lower cholesterol? They're also full of other healthy fats making them the perfect complement for any fat bomb recipe.
This recipe combines coconut oil and cocoa butter to make an especially velvety treat. If you don't have candy molds, you can use ice trays!
You will use a little bit of cinnamon in the mix with your nuts which gives it a spiced twist.
These are the perfect bite when you're looking for a quick energy boost and a little sweetness.
Are you interested in a keto sweet but not interested in any of the bombs we listed so far? This next treat is different.
Macaroons are a classic dessert cookie that can be made with all different kinds of ingredients, but these are chocolate!
These are sweet and nutty and you can top them with a little bit of salt if you want to add even more elevated flavors.
These are great options for sharing with your friends if you need something to bring to a party that won't break your diet.
They won't even realize how healthy they are!
We've talked about a variety of different cheesecake flavors, options, and ways that you can make it. However, not everyone loves the stereotypical chocolate, peanut butter, or vanilla.
For that reason, we've included these lemon cheesecake bombs on our list of fat bomb recipes.
You'll be surprised by the unique and elevated flavors coming from such simple ingredients.
If you wanted to you could customize these by adding some of your favorite berries or coconut.
This could turn into a delicious tropical treat!
To deviate a little bit from the bombs again, we have an amazing recipe for keto-friendly chocolate ice cream.
This is a simple recipe that would be so much fun to make with friends or with kids.
Chocolate ice cream is one of those things that is missed when dieting. Now, you don't have to worry about breaking your keto diet just for this craving.
You could multiply this recipe and freeze it for quite a while to keep it whenever you have that craving.
It's such an easy and crowd-pleasing way to get some healthy fats in your diet.
Looking for something a little more festive during the holiday season? This might be the most difficult time of year to maintain a diet like a keto.
Thankfully, now you have an amazing option to bring to any family gathering that everyone will be happy to share with you.
Pumpkin pie fat bombs will warm your heart without ruining your waistline.
Does your family have a special ingredient for their pumpkin pie? Feel free to adapt and customize the spices to your favorites!
All of these fat-bomb dessert recipes have been pretty rich so far. Perhaps you're looking for something a little less sweet to sustain you through your next hike.
These granola-inspired nut and fat bombs are the perfect energy booster to keep with you throughout the day.
They can make a great breakfast or pick me up anytime.
Pair these with your favorite keto-friendly yoghurt and a little fruit for a deconstructed parfait.
These are great supplements to a balanced meal.
If you're still feeling festive from the last pie-inspired fat bomb, don't fret, we have another classic for you to try!
Pecan pie is one of the most traditional American desserts you can serve during the holidays, but why should it be limited to one season?
If you love pecan pie, you have to try these, whether or not you're keto.
Pecans boast plenty of their health benefits on top of the other base ingredients for these delectable bites.
It's a treat you'll come back to year-round.
Haven't gotten your chocolate fix yet? We have one more, especially luxurious, and a chocolate-inspired recipe for you.
These fudgy, rich bombs will be hard to save for dessert.
These have a decadent, truffle texture you won't find in the other recipes.
You could serve them as is, or top them with some crunchy, coarse salt.
If you wanted, you could add coconut flakes to this recipe too! Soon you'll be making all sorts of creative, keto-friendly candies!
The final recipe on this list might be saving the best for last. This one is particularly unique in its flavor profile amongst the others, but it's a classic in its own right.
Cinnamon rolls are such a treat anytime, but especially for breakfast. Have you found yourself craving one since starting your keto journey?
These fat bombs are another great example of just how versatile fat bombs can be.
Keto doesn't mean sacrificing your sweet tooth!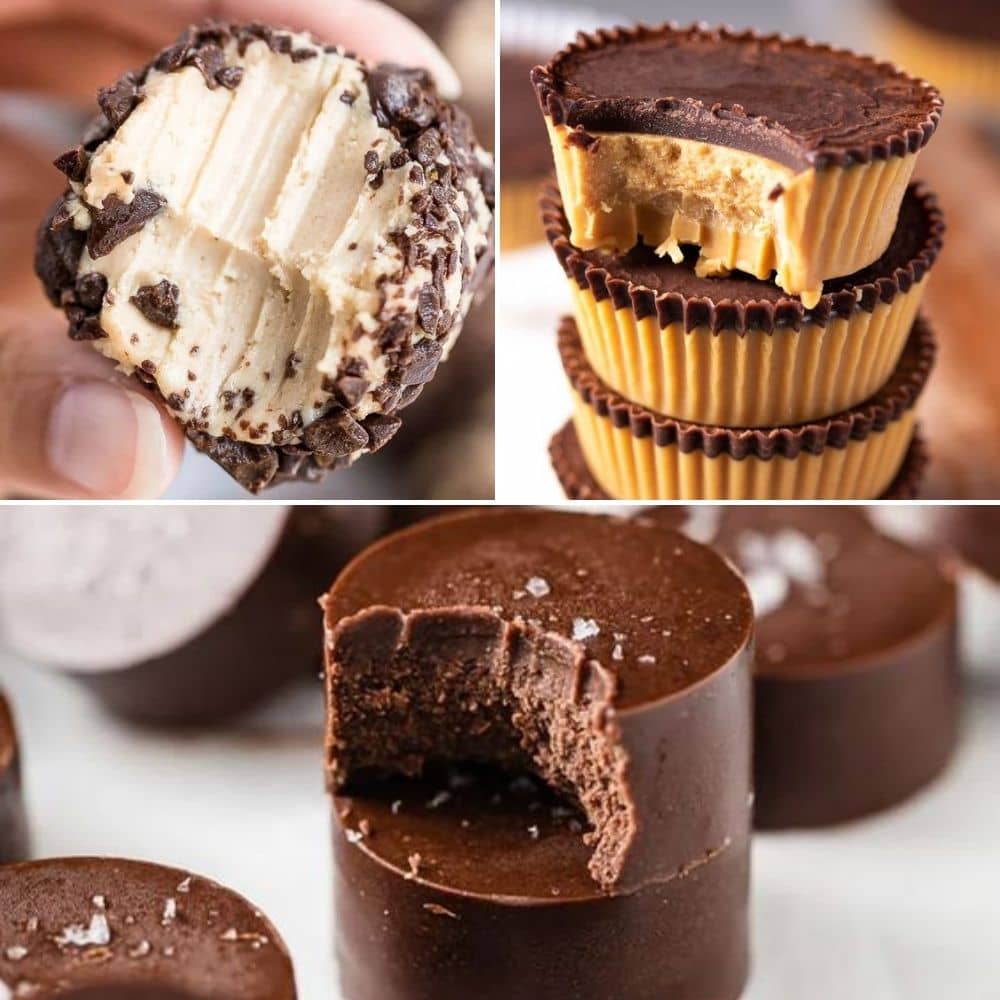 17 Best Keto Fat Bombs Recipes
Ingredients
8 oz. cream cheese, softened to room temperature
1/2 cup keto-friendly peanut butter
1/4 cup coconut oil, plus 2 tbsp.
1/4 teaspoon kosher salt
1/2 cup keto-friendly dark chocolate chips (such as Lily's)
Instructions
Combine cream cheese, peanut butter, ¼ cup coconut oil, and salt in a medium bowl.
Beat the mixture using a hand mixer for about two minutes.
Place the bowl in the freezer for about 15 minutes until the mixture is firm.
Using a small cookie scoop or spoon, create tablespoon-sized balls.
Place these in the refrigerator to harden for about 5 minutes.
In the meantime, combine the chocolate chips and 2 tablespoons of coconut oil in a safe bowl and microwave it for 30 seconds.
Drizzle your chocolate sauce over the peanut butter balls and place them back in the refrigerator for another 5 minutes before serving and return them to the fridge to store.