Steak can seem like intimidating food to cook with. The "correct" steak dinner recipes vary depending on who you ask. Some say steak dinner ideas should be simple to highlight the steak. Others note that steak recipes for dinner should be decadent and covered with sauce. In truth, cooking a steak is much simpler than you might expect.
The best part is that there's no "correct" way to make it! Trying out a steak dishes list allows you to find the right doneness and seasoning that works best for your tastebuds.
We've put together a list of 30 easy steak dinner dishes so you can choose the ideal options for you and your family! Now you can skip wondering, what to make with steak?
We love this recipe for its steak cooking tips and because it gives you an idea for a whole steak dinner, not just a main dish!
Perfectly cooked NY steaks are pan-fried in a skillet with asparagus and mushrooms for a dinner that everyone will love.
White pepper is the surprise ingredient in this dish. Many chefs use white pepper instead of black pepper because it has a stronger flavor and a lighter color, so it blends in well with lighter sauces.
If you can't find white pepper at the store, swap it out for black pepper.
Decadent buttery steak and potatoes that won't break the bank?! Sign us up!
This option is one of the steak meal ideas that are ready in less than half an hour and is a great meal when you're looking for a comfort dish.
The recipe calls for a flank steak, though you can swap it out with a ribeye steak, tenderloin, or any steak that's within budget.
The consistency will vary slightly, but it will still be mouthwateringly good.
Tip: You can marinate the steak the day before and leave it in the fridge overnight.
Steak fajitas don't have to only be a dish you enjoy at the restaurant!
It's a simple dish that's flavorful and, best of all, healthy! We love dinner ideas with steak that can be low-carb; just skip the tortillas for this one.
These steak fajitas get a kick from the secret ingredient – cayenne pepper.
If you forgot to grab some at the store, a few drops of hot sauce will do the trick.
Any hot sauce will work as a swap and allows you to add your own twist to the dish.
Surprisingly, you can make an excellent steak in the air fryer.
We were concerned that it wouldn't come out with a crust on the outside, but the air fryer works its magic once again!
This steak is juicy and moist on the inside, with a delicious sear on the outside.
This recipe is simple and uses spices like sweet paprika to season up the steak. You can use either if you prefer smoky paprika or hot paprika.
Don't be afraid to try different spices on your steak until you find a combo or a few combos that you love!
Did you know that you can also get a super juicy steak in the Instant Pot? You'll also have a super tender finished product by pressure cooking the steak.
This is a great opportunity to use steak that's typically tougher, like chuck or flank steak – as it will be tenderized during the cooking process.
You'll be searing the steaks using olive oil to get a delicious crust on the outside before turning on the pressure cook setting.
Any similar oil will work, including avocado oil.
What's one dish that everyone loves, including picky eaters? Steak quesadillas!
This delicious recipe uses two types of cheese, sauteed onions, and the perfect seasoning to create a yummy lunch or dinner option.
While flour tortillas work great with this recipe, you can also create these quesadillas using corn tortillas. You'll love using this swap if you typically enjoy tacos with corn tortillas.
You can also use a few tortilla wraps if you're in a pinch.
Tip: Choose your two favorite melty kinds of cheese to make the perfect quesadillas.
Have a special occasion like an anniversary or birthday coming up for your significant other and aren't sure what to make?
This yummy pan-seared garlic steak is covered in a creamy, flavorful mushroom sauce that will impress.
Add some mashed potatoes as a side, and your partner will be digging into their dinner!
Using crushed garlic is key to creating a great flavor in this dish.
Minced garlic from a jar is a great way to save a few minutes and add a similar flavor to this recipe.
Since flank steak is leaner and tougher, you can also marinate it, which helps tenderize the meat.
This recipe includes a simple yet flavorful marinade. It's sweet, salty, and tangy, making it one of the easiest steak dishes.
The marinade includes honey for its sweetness. You can use maple syrup instead for an equally delicious flavor.
Agave will also work well in this recipe!
Tip: Make sure to cook the steak low and slow to reach the perfect temperature without drying out.
What's a reverse-sear on a steak? Instead of searing steaks in a skillet first and finishing in the oven, you'll be swapping the steps.
By cooking steak in the oven first, you're left with a juicy steak that's perfectly cooked every time.
The ingredients are minimal in this recipe and include unsalted butter to help create a crust as the final step.
Try using sweet cream butter to alter the flavor slightly.
You'll still get the butter's richness and a slight sweetness.
Crockpots are one of the best kitchen inventions, especially when making recipes with steak!
They help you take leaner, cheaper steaks that are typically tougher and turn them into incredibly tender steaks.
This delicious dish is tangy, delicious, and a great way to cook steak.
Creating the tangy flavor is easy when using A-1 steak sauce. If you don't have any on hand, you can use Worcestershire sauce and ketchup for a similar taste.
If you have another sauce that you prefer to use, feel free to use that instead.
Sometimes, you crave surf and turf, and nothing else will do! This steak and garlic shrimp recipe will help you beat that craving.
This decadent dish is even low carb, and it only takes a few minutes to whip up. It's a win-win and one of our favorite meals to make with steak!
The not-so-hidden ingredient in this dish is shrimp.
You can swap it with any seafood you please, including lobster meat or crab meat. Any seafood that pairs well with a creamy, cheesy sauce is fair game in this dish.
Can't travel to Philly right now? Why not bring Philly to your home with these incredible cheesesteak sandwiches?!
This yummy recipe makes 10 sandwiches, so it's the perfect dish for get-togethers and parties.
These cheesesteak sandwiches are topped with Cheez Whiz for that famous cheesy flavor. Feel free to use regular cheese instead, like provolone.
Or, use another cheese sauce for a similar consistency to Cheez Whiz.
Tip: Use smaller rolls to make smaller sandwiches. These are great for appetizers or work get-togethers.
If you've never had Swiss steak before, you're missing out! It's super tender and smothered in a delicious tomato sauce. Use this cooking method to take leaner cuts of meat and turn them into easy-to-eat steak.
The secret to making the tomato sauce is by using pureed tomatoes.
You can also use a marinara sauce instead, though be prepared to add a small amount of water or broth to thin the sauce out slightly.
Thinning the sauce will help replicate the consistency of pureed tomatoes better.
Juicy steak bites covered in a rich garlicky butter sauce? It can't get any better than this! These steak bites are great with rice, salad, or noodles.
Red pepper flakes help boost the heat and flavor of these steak bites.
If you're not a big fan of spicy food, you can use smoked paprika instead.
If you're making these steak bites for a party, try making kebabs with roasted potatoes between each steak bite.
Your party guests will thank you!
Looking for creative steak recipes? How about making Philly cheesesteak pizza?
Each tasty slice is covered in a creamy garlic sauce, sauteed onions, and peppers and topped with a hearty helping of steak.
Making the creamy sauce is easy when using milk to help create the creaminess. If you want to make this pizza decadent, use half and half instead of milk.
This ooey-gooey sauce makes the pizza unbeatable!
If you don't like sauteed onions, you can add them to the pizza raw, and it will come out equally delicious.
If you can't find cube steak at the store, you can purchase a top-round steak and use a mallet to tenderize the cut. This leaves your steak with small indentations, which this particular cut is known for.
These tasty steaks are pan-fried with oil and then slow-cooked in a brown gravy to create the ultimate dish.
While the recipe requires you to make the gravy from scratch, you can also swap out the requested ingredients for a few powdered gravy packets.
You'll get a similar flavor and be able to cut out a few steps in the process.
If you tried the above recipe and can't get enough of the steak and gravy combo, you'll want to try this recipe! Tenderized round steak is pan-fried and then cooked with a scrumptious homemade gravy.
Try this recipe over potatoes for a complete meal.
The secret ingredient in this recipe is the beef broth which is the base for the gravy. Any broth you have on hand will work, including chicken or vegetable broth.
Using other broths will provide a slightly different flavor.
Tip: The steak is not ready until it's falling apart. Keep cooking until it reaches this consistency.
Still wondering need some steak inspiration? Why not make a super fresh and tasty salad covered in a creamy dressing?
This is one of the yummiest steak meal ideas!
This creamy dressing is made by using Dijon mustard as one of the ingredients. Depending on your flavor preference, you can swap it out for honey mustard or spicy brown mustard.
No matter which option you choose, you'll have a super yummy salad dressing that you'll want to make for all future salads.
We all know that takeout food is loaded with salt and typically heavy on oil. You can "healthify" them a little bit by making your favorites at home.
This yummy homemade beef and broccoli recipe has tons of flavor without using a lot of salt or oil.
This yummy recipe uses fresh broccoli florets as one of the main ingredients. If your family prefers cauliflower, you can easily swap it into this dish.
Since the flavor of cauliflower and broccoli is quite similar, it won't alter the dish too much.
It's hard to argue with pairing garlic and steak together – they seem to go well regardless of the dish. This yummy recipe uses whole garlic cloves instead of minced garlic.
Make this recipe ONLY if you're a garlic lover, as it will have a strong garlicky flavor.
You'll be searing the garlic and steak in olive oil to create a nice crust on the outside. We love swapping out olive oil for butter for a richer flavor.
Tip: If you have a lot of this dish left, you can section it into portions and freeze it for one month.
London broil is another great way to create tender, juicy beef from leaner cuts. Originally, London broil called for flank steak. Now, London broil recipes use nearly any lean steak option.
Adding fresh herbs to the butter is key for this dish!
One of the herbs you'll be adding is parsley. For a new twist on the recipe, try using fresh thyme instead.
If you have other fresh herbs on hand or in your garden, you can use your favorite combination for the herb butter.
If you're still looking for more steak ideas, here's a list of 450 recipes. Yep, you read that right! These 450 recipes vary from BBQ options to steak sandwiches and more.
Each recipe has a separate secret ingredient. For example, the miso-glazed skirt steak uses yellow miso paste.
You can easily swap this with red miso paste for a funkier flavor.
The best part about cooking is experimenting with new flavors and seeing which version you like best!
Steak cooked with the yummiest sauce, fresh vegetables, and noodles makes the perfect weeknight dinner.
It's not too heavy, so you won't feel lethargic after eating it. Yet, it's really tasty (and easy!) to make.
Both yellow and red bell peppers make an appearance in this dish.
If you prefer a less sweet flavor, you can swap them with green bell peppers.
Or, if you have leftovers of each color, chop up your leftovers and toss them in!
Tip: The steak is cut into thin pieces so that it will cook quickly. Don't overcook the steak, or it will be hard to eat.
Stop hunting for steak dinner menu ideas and give this recipe a try! This elegant dish is topped with a yummy red wine sauce that makes it stand out.
If you require a recipe that will impress the in-laws, this is the one!
An elegant dish calls for elegant ingredients, like shallots! If you don't have any shallots in your kitchen, you can skip the store and use yellow onions instead.
You may also include minced garlic clove, as shallots typically offer a slightly garlicky flavor.
We can't get enough of the takeout recipe dupes! Here's a beef and broccoli dish that's even easier than the first option.
Don't worry; you won't be sacrificing any flavor by making this version!
The hidden ingredient in many dishes that offer a thicker sauce is cornstarch. You can always use flour for recipes that use cornstarch in this manner.
Now you're on your way to a yummy saucy dish.
Tip: Sprinkle white sesame seeds right before serving for a more authentic appearance and flavor
Salisbury steak is a classic dish with ground beef patties and yummy mushroom gravy.
Did you know that this dish has been around since the 1800s in America?! A physician/chemist invented it as part of a meat-centric diet.
You don't have to be on a diet to enjoy this dish, though! You'll be using panko crumbs to make the beef patties.
You can use breadcrumbs or seasoned breadcrumbs for a similar patty consistency.
Using panko or breadcrumbs is an important step; it helps keep the patties from drying out!
You'll want to mark this under good steak recipes! One taste of the charred corn, blue cheese, tomatoes, and grilled steak, and you'll be hooked!
This salad is the perfect summer salad that will keep you full and your tastebuds happy.
Not everyone's a fan of blue cheese because of its intense flavor and unique appearance. Feta cheese will also work beautifully as a replacement in this salad.
If neither tastes good to you, you can use regular shredded cheese (like cheddar).
Steak is such a versatile ingredient, which makes it great to work in the kitchen. You can make everything from wraps to elegant sit-down meals by seasoning and cooking steak in different ways.
You can even make this delicious steak soup for a warm, comforting meal.
One ingredient you likely won't expect in this dish is the chopped celery leaves. They help provide a more subtle celery flavor and add bulk to the soup.
Carrot tops are easy replacements for celery leaves in this dish.
Move over boring stuffed peppers; here come cheesesteak stuffed peppers! These Philly cheesesteak-inspired peppers offer the same flavors as the sandwich version, though sans bread.
It will only take a few steps and ingredients to make these peppers come to life.
The filling is made with one hidden ingredient – cremini mushrooms. Portobello mushrooms will also work well.
It's important to slice whichever type of mushroom you use into small enough pieces so they're easy to stuff in the peppers.
This delicious dish requires a hot grill and 15-minutes. It's one of the best meals with steak, though we may be a bit biased.
Tender, buttery steak and shrimp are cooked to perfection on the grilled; then, you can serve them alongside your favorites like mashed potatoes or asparagus.
This yummy recipe uses fresh parsley to help boost the flavor of your surf and turf. Instead, try using chives. They add a delicious oniony taste to the dish.
Tip: Most fresh herbs will work well with this dish. Try using chervil, thyme, basil, etc.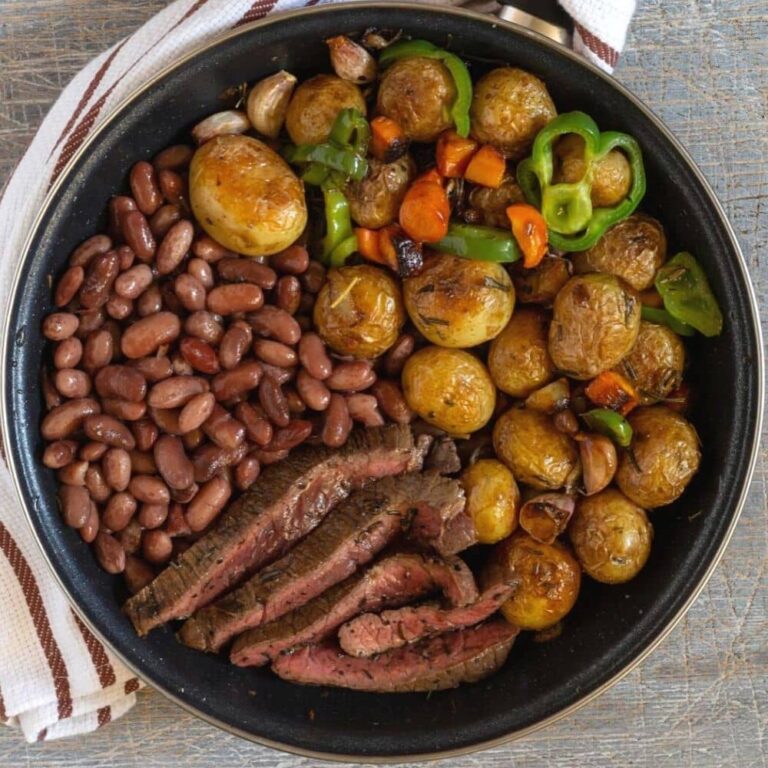 30 Best Steak Dinner Ideas
Ingredients
1 beef top sirloin steak (3/4 pound)
1/2 tsp salt, divided
1/2 tsp pepper, divided
1 tbsp olive oil
1 to 2 tbsps butter
1/2 lb sliced fresh mushrooms
2 tbsps white wine or chicken broth
3 tbsps chopped green onions
1 tbsp Worcestershire sauce
1 tsp Dijon mustard
Instructions
Season steak with salt and pepper, then add it to a large hot skillet with oil. Cook the steak on medium-high until you reach your preferred steak doneness (check with a meat thermometer). Remove steak from pan and keep warm.
Using the same skillet, add the butter and saute the mushrooms until they get soft. Use the wine to deglaze the pan after bringing it to a boil.
Stir in the remaining ingredients. Slice the steak in half and serve with your delicious sauce.