Linguine is one of the most popular pasta shapes, both in Italian restaurants and in American homes. Linguine recipes love to play up the versatility of this long, flat pasta shape.
The delicate texture is perfect for simple sauces, but it's also sturdy enough for linguine pasta recipes that call for chunkier sauces with chicken or seafood.
Another benefit of linguine is that it cooks quickly, making it perfect for getting dinner on the table when you don't have much time. Here are some recipes for linguine that are as delicious as they are easy.
Linguine pasta is a great base for very simple sauces that still taste delicious. This delicious twist on a classic cacio e Pepe uses just a few ingredients such as garlic, cream cheese, Parmesan, heavy cream, and plenty of salt and pepper.
Tip: When you have so few ingredients, their quality matters even more.
Be sure to use fresh garlic and quality Parmesan for this dish to maximize the flavors of the sauce.
Shrimp scampi is a classic Italian American dish that consists of shrimp prepared in a simple sauce made of butter, olive oil, lemon juice, and plenty of garlic. Linguine is the perfect pasta to absorb the sauce, thanks to its long, loose shape.
Shrimp scampi is a restaurant-quality dish, but it's surprisingly easy to pull off at home.
Plus, both the shrimp and the linguine cook quickly, so you can serve them as a weeknight treat.
In many authentic Italian linguine recipes, linguine is paired with seafood. This thin, long pasta is considered too delicate for meat, but it balances out the slight sweetness of seafood perfectly.
Linguine with clams is a very traditional seafood pasta dish.
Most home cooks are intimidated by clams, but these crustaceans are surprisingly easy to cook.
Just scrub them thoroughly and sauté in a pan with the other sauce ingredients until they open up, which is how you know they're done.
Who knew that two simple ingredients could have so many variations?
This delicious, creamy sauce is another variation of Parmesan garlic sauce, like the one mentioned earlier in the roundup. However, this one doesn't use cream cheese for a lighter but just as creamy dish.
Tip: You can make this pasta as a one-pot dish easily.
First, cook the linguine, then add butter, cheese, minced garlic, heavy cream, and some pasta water back to the pot until a sauce forms.
Many linguine dishes lean heavily into creamy sauces, which are delicious but not that convenient if you are on a diet. This fresh linguine dish is a perfect quick dinner without packing on the calories. Plus, the light taste makes it perfect for the summer.
The sauce comes together with just minced garlic, chopped parsley, and melted butter.
If you don't think the linguine will be filling enough on its own, this recipe is the perfect base for some grilled chicken or fish.
This dish is one of the best easy linguine recipes that doesn't sacrifice flavor or health.
The earthy flavor of the mushrooms pairs well with the mild flavor of the linguine, while the creamy sauce envelops the thin, silky noodles.
The recipe calls for mixed wild mushrooms to maximize the earthiness and funky flavor of the sauce.
However, if you can't find wild mushrooms at your local grocery store just yet, rich cremini mushrooms work well.
What do you do on a summer day when it's too hot to cook but you still need to feed your family? Make this easy, breezy, linguine pasta al Limone recipe, of course!
This is one of the most traditional linguine recipes popular in Campania, one of Italy's best lemon-growing regions.
The addition of lemon to the sauce in the form of zest and lemon juice makes for a pasta dish that is refreshing and light yet creamy at the same time.
While linguine works well with simple, creamy sauces, it's also robust enough to hold up to more intense dishes such as this one.
This is not your mother's shrimp scampi—plenty of chilli flakes and garlic make the shrimp sauce intensely flavorful, while handfuls of rockets add a hint of flavor.
Tip: If you can't find a rocket, any delicate greens such as baby spinach, arugula, or watercress work well as a substitute.
From Campania, we go up to Liguria, which is the region of North Italy where pesto comes from.
Its herby, bright flavors make for a delicious dinner with any pasta shape, including this linguine noodles recipe.
You can get pesto at the store but making it yourself is so easy. All you need are fresh basil leaves, garlic, olive oil, salt, and plenty of grated cheese (Parmesan or Pecorino Romano).
Pulse all the ingredients together in a food processor, and you have your sauce!
The earlier recipe offers a modernized take, but this recipe hews very close to the traditional method of preparing linguine with clams. This dish is popular along the Italian coast, where people have access to very fresh seafood, particularly around Naples.
The traditional recipe for pasta all vongole calls for vongole verace or cross-cut carpet shell clams.
However, those are expensive to find outside of Italy, so you can use littleneck clams as a substitute.
You've probably heard of making linguine with shrimp, prawns, or clams, but what about crab meat?
Crab linguine may not be a very traditional dish, but it's still one of the most delicious seafood linguine recipes.
The slight sweetness of the crab meat pairs well with the delicate flavor of the linguine.
The sauce is even more flavorful thanks to the addition of spicy chilli flakes and fresh chopped parsley. Try to use fresh crab meat if you can.
Conventional wisdom claims that you shouldn't mix dairy with seafood. However, the sauce for this delicious chilli prawn linguine relies on fromage frais, a smooth French cheese, and lime, which balances out the spiciness of the chilli.
It shouldn't work, but it's such a delicious blend of flavors and cooking techniques from all over the world that it does.
If you can't find fromage frais, replace it with cottage cheese or Greek yoghurt.
This is one of the great healthy linguine recipes to serve if you need to get dinner on the table quickly, but you also want to make sure that everyone gets their daily serving of veggies.
Instead of relying on fattening heavy cream for flavor, this dish gets its deliciousness from chopped, fresh tomatoes.
When you're cooking the shrimp or prawns, be sure to take them off the heat when they turn pink to avoid overcooking them.
This is one of the best linguine recipes if you're trying to avoid creamier sauces.
There are no mild alfredo or heavy cream sauces here. Instead, a generous heap of chilli flakes gives the pasta sauce some kick.
To continue the untraditional take, add plenty of grated ginger to the prawn sauce.
When you're serving your spicy prawn linguine, make a simple garden salad with arugula or rocket on the side to balance out the spicy flavors.
Everyone says that salmon is good for you, but what if you get tired of roasted salmon fillets day in and day out?
Enter this creamy salmon pasta dish. The flaky salmon combines with broccoli, a creamy, cheesy sauce, and salty capers for a delicious dish.
This dish requires some preparation ahead of time. You need to cook the salmon and then flake it before making the other ingredients.
Once you do this work, the rest of the dish comes together easily.
After so many seafood recipes, you might be wondering, are there any linguine recipes with chicken?
Yes, there are because this delicate noodle makes the perfect base for the mild flavors of poultry, as this recipe shows.
This chicken dish packs boneless skinless chicken breasts with flavor by cutting the cooked meat into strips and finishing it in a creamy sauce with plenty of butter, onion, green onion, and Parmesan cheese.
The sauce goes particularly well with the linguine.
Did you know that traditionally, Italian seafood pasta dishes come in two versions, Rosso o Bianco?
Many of the dishes on this list use Bianco or white cream-based sauces, but this Rosso dish packs in the flavor thanks to the tomatoes.
For this recipe, you can use canned crushed tomatoes or fresh tomatoes.
The key is to use tomatoes that are packed with flavor because for such a simple sauce. You need to use quality ingredients.
This American take on traditional linguine alle vongole is one of the best creamy linguine recipes.
The surprise here? The recipe doesn't use any dairy to achieve its silky-smooth, creamy texture. Instead, you build the sauce using clam juice, white wine, and plenty of herbs.
The silky-smooth clam sauce clings to the linguine noodles as well as if it was packed with heavy cream and adds a punch of seafood flavor.
This chunky sausage dish comes together in just a few minutes using only two pots. It's hearty and filling, perfect for a winter weeknight when you need a meal that sticks to your bones.
The sauce comes together after pan-frying onions, peppers, and sausage, then add tomatoes and seasonings.
Tip: You can adjust the spiciness level of this dish easily by adjusting the number of chilli flakes that you add.
The peppers are sweet bell peppers, so don't add any heat.
Do you have trouble convincing your family to eat their daily serving of vegetables? Don't worry. You're not alone. This delicious pasta dish should solve your problems.
The sauce is so tasty picky eaters won't even notice that they're eating vegetables.
The vegetables in this dish are zucchini, mushrooms, and tomatoes, but you can use whatever your family likes or is in season.
Try adding in some eggplant for a ratatouille-like dish, or add some peas for brightness.
This garlic and bacon pasta dish is one of the few meat linguine recipes (traditionally, this pasta is mostly used with creamy or seafood-based sauces). However, the sauce is so delicious you won't mind breaking with tradition a bit.
The key to building this delicious sauce is letting the bacon sauté with onions and minced garlic.
Then, add a whisked mixture of eggs, parmesan, and cream to create this modern take on spaghetti carbonara.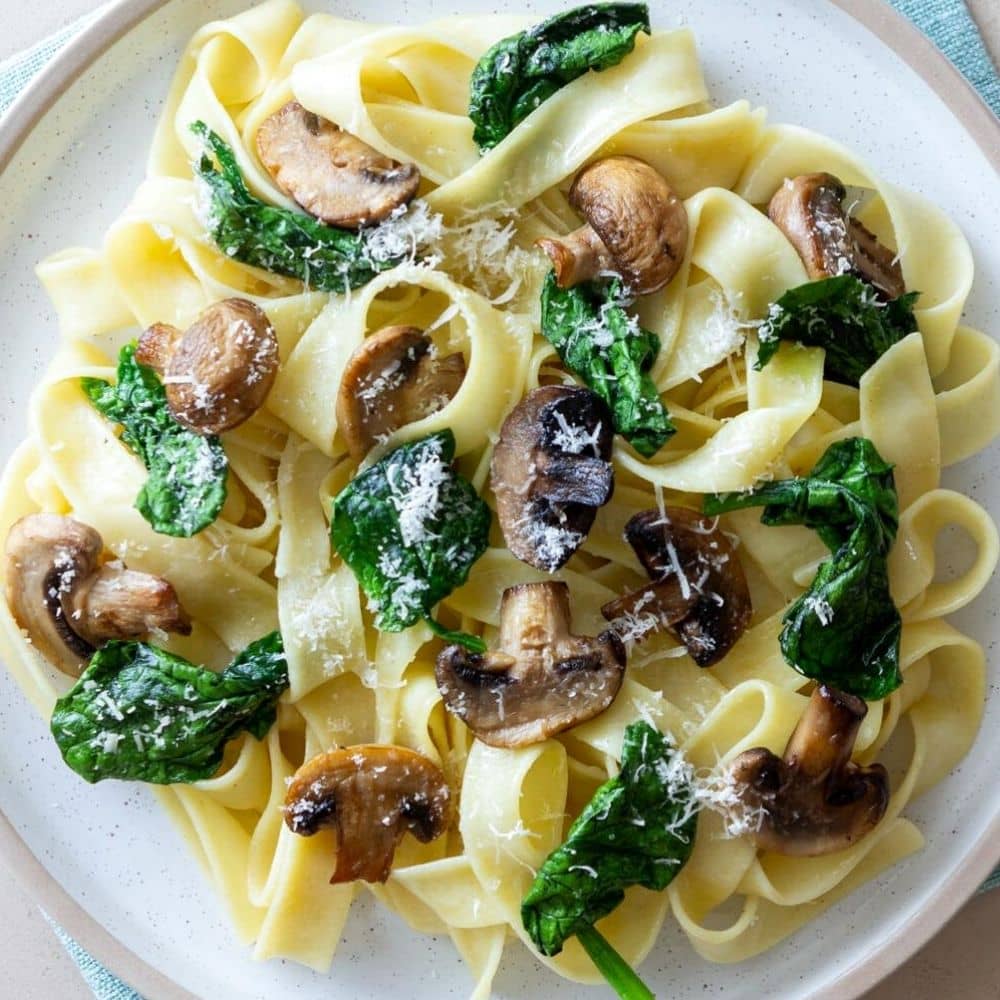 21 Easy Linguine Recipes
Ingredients
4 ounces dried linguine
¼ c butter, melted
1 tsp minced garlic
1 tsp dried parsley
1 tsp seasoned salt, or to taste
Instructions
Boil a pot of water. Once it's boiling, lightly salt the water then add the linguine and cook according to package instructions. The pasta should be slightly al dente (meaning it still has a bit of bite).
Drain the pasta and set it aside.
Melt butter. Mince the garlic and chop the parsley.
Combine melted butter, minced garlic, and parsley flakes. Pour the melted butter sauce over the pasta, tossing well to coat every strand.
Taste the pasta and sprinkle with seasoned salt (a mixture of salt and your choice of spices) if it needs more flavor.