Crab is tasty and versatile food, and there are so many delicious crab meat recipes out there! Of course, high-quality crab meat tastes great simply tossed in butter, but why not prepare it in a new and exciting way?
We've gathered 20 amazing Recipes With Crab Meat that make a great weeknight meal or will wow at your next dinner party.
What Is the Best Method for Cooking Crab Meat?
Fresh crab is usually sauteed or baked as part of a recipe. You can also boil or steam a whole crab and then take it apart to use in your favorite dish.
What Goes with Crab Meat?
These Lump crab meat recipes can be served with your favorite bread or as a side dish with a grilled steak. Most mayo-based crab dishes work well on their own, with salad or stuffed into a lobster or mushroom.
The next time you're in the seafood aisle, pick up some crab meat and experiment with some of these fun and creative crab recipes.
Combine crab meat, mayo, and celery with fresh flavors for a yummy seafood salad that's ready in minutes. It's an easy recipe and is perfect for a picnic or a school lunch.
We like serving it on bread as a sandwich, but you can also scoop it on leafy greens or as a side dish with any meaty dinner. This recipe uses minimum mayo, so the crab flavors really come out.
But you can always make it creamier if you prefer by adding more mayo.
Serve it chilled for up to 3 days after you make it.
These Crab Stuffed Mushrooms look amazing and taste even better. You can use any mushroom variety as long as they're at least two inches across. Use extra-large portobello mushrooms if you want to serve them as a meal instead of as an appetizer.
Hollow out the mushroom heads and fill them with a creamy crab mixture.
You can use real or imitation crab, and it can be canned or fresh.
These are an easy treat you can put together for your next dinner party or simply as an afternoon snack!
If you've come across a great deal on fresh crab, you may wonder what to do with crab meat besides mixing it with mayo.
Try preparing a restaurant-quality meal in minutes with this crab pasta. Like any great pasta dish, it features butter, garlic, white wine, and parmesan cheese.
Fresh and high-grade crab meat will elevate this simple dish, but you can also use canned or imitation crab. Try using sliced garlic instead of minced for the best flavor.
Serve this with fresh salad or a summer-inspired zucchini side. This is an excellent warm-season dinner but can also be enjoyed year-round.
Skip the store-bought tub of crab dip and instead prepare this easy and fresh recipe. It features may, sour cream, cream cheese, and cheddar for a rich mixture that will be a hit at your next get-together.
Since you're going through the effort of creating a homemade dip, go on and use a good quality crab.
You can serve this cold, cook it in a slow cooker, or even bake it right in a bread bowl!
Are you wondering what to make with crab meat? Try a fresh-made crab dip like this one!
Take your tastebuds to New England with this classic restaurant dish. To make this easy Crab Imperial, you basically just need crab meat, eggs, may, and seasoning. The recipe gets its name from using Jumbo Lump crab meat, but you can use any variety.
You'll start by making the tasty Imperial sauce, and then add it to the crab meat a little at a time. Then bake it until it's golden brown. Some people like topping their Crab Imperial with breadcrumbs, but this recipe leaves that out.
Bake it in one large dish, or bake and serve in individual ramekins. This is how to cook crab meat in a proper North-East way!
Want to combine two favorite kinds of seafood? Try this flavorful dish that features both salmon and crab.
The crab goes into a mixture that features cream cheese and rich flavors. Then it goes inside the salmon, which holds it together in a tasty and nutritious way.
To avoid slicing through the entire salmon, you can make a small slit and put most of the mixture on top.
Try using Cajun seasoning instead of Old Bay, and garnish with parsley for a picture-perfect presentation.
If you've never made sushi before, these cream cheese and crab rolls are a perfect place to start.
They're easy to make, cost less than a grocery-store roll, and feature fresh ingredients that you'll feel good about eating.
Homemade sushi is a fun way to get the kids into the kitchen. And since you use crab meat, you don't have to worry about sourcing and handling raw fish.
Sliced carrots also go great in these roles, and you can top them with sesame seeds for extra pizzazz.
Pack them in your lunch or eat them as an afternoon snack. They are also an excellent appetizer for dinner parties.
If you've ever ordered overpriced crabcakes at a restaurant, you may assume they are difficult to make at home.
Don't be intimidated by these popular appetizers – this recipe will help you make crab cakes that are fresher and tastier than a restaurant variety.
The secret to this recipe is the sauces. You'll combine Worshesthire sauce, hot sauce, and Dijon mustard for a flavor that brings out the best of the crab.
Pan-fry the crab cakes to have crispy edges and a rich taste. This recipe is delicious enough that you can use any type of crab, but fresh, high-quality crab will really wow your dinner guests.
How about eating your seafood for breakfast? This Crab Omlet will satisfy your seafood craving any time of day, but it's a perfect dish for a coastal-inspired brunch.
The raisins are a surprising ingredient that you shouldn't leave out, and the potatoes make the meal extra filling.
The other great thing about this omelette is that it features crab instead of processed breakfast meat, so it will keep you full while being healthier than other brunch entrees.
Fresh crab recipes rarely show up at breakfast, so this is an exciting way to mix up your mornings!
Lobster rolls are a New England staple, but have you ever had crab rolls? They're just as delicious as their lobster counterparts but easier to make and less expensive.
Don't just toss some mayo in with crab meat and scoop it on a bun. For an authentic restaurant-quality taste, follow the instructions and be sure to monitor how much mayo you're mixing in.
Use hot dog buns or your favorite type of hoagie. Shrimp, crawfish, or lobster can be used instead of (or in addition to!) the crab meat.
This hearty and delicious soup is ready in just 20 minutes. You'll love the taste and texture of Crab Soup, which features fresh crab, Old Bay Seasoning, and Dry Sherry in a creamy soup base.
Be sure to use half-and-half instead of milk to make sure you get the rich, creamy taste.
And canned crab won't work well for this soup, so stick to the fresh variety.
This soup is filling enough to be a meal on its own, or you can serve it with a surf-and-turf dinner.
Bique sounds and tastes like a fancy restaurant item, but it's so easy to make at home.
The base of this dish is fish stock and heavy cream, but you can use vegetable stock if that's easier to find.
You can make the soup ahead of time; just wait to add the crab until you're ready to serve. Also, be sure to puree the soup before adding the crab.
Or, if you like the soup chunkier, you can skip the blender altogether.
So many crab dishes originated along the North East Coast, but this Shrimp-and-Crab Gumbo is a fun spin on a classic New Orleans dish.
You have to get the Roux just right to make a great gumbo. It takes about 40 minutes to get a dark-brown, gumbo-ready roux.
This bisque requires about 4 hours on the stove, but it's definitely worth it.
The shrimp and the crab go into the pot last just minutes before serving. Eat this with rice and add a little Tobasco to make it spicier.
Crab Fried Rice is a delicious Thai dish that makes a complete meal on its own. The ingredients will mix and cook perfectly in a wok, but you can use a frying pan if you don't have a wok in your kitchen arsenal.
The aromatics and sauces remain mild in this recipe, so you really get to taste the fantastic crab flavor.
Adding chilli oil as you eat it is a great finishing touch.
Have you ever made fried rice at home? You'll love this fun and delicious crab recipe.
Anything is better stuffed with crab! This recipe makes an excellent filling for anything you want to top with crab, whether you spoon a small dollop into Jumbo Shirmp or a half cup over salmon.
A light drizzle of butter over your dish and a paprika sprinkle will bring out the delicious flavors.
Use a vacuum-sealed package of crab meat, and then use a strainer to press out any access moisture.
You can also serve this on non-seafood items as well, like steak or mushrooms.
So when you ask yourself: "What can I make with crab meat?" You should try all-purpose crab stuffing!
This simple sandwich is packed with flavors and textures. Serve it as finger sandwiches at your next event, or make them for an everyday lunch.
The great thing about these sandwiches is that they feature crab in two ways. First, it's turned into a paste with mayo, ketchup, and mustard, and then it's piled on the sandwich as the meat.
We say the more crab, the better!
Use a hearty bread so you can really pile on the ingredients. Try customizing the crab paste with your favorite flavors, and leave out any condiments you don't like.
If you want a classic North Eastern dish, you must try this Crab Imperial. It's an old-fashioned recipe and is a yummy way to serve high-quality crab.
This recipe was created by a professional chef who focuses on easy, fool-proof, and restaurant-quality meals.
You can eat Crab Imperial on its own with a side salad or use it to stuff mushrooms, lobster, or shrimp. Depending on how rich you want the dish, you can use a whole egg or two egg yolks.
A Seafood Linguine is a great way to enjoy a fresh pasta dish in warmer months. This yummy recipe features fresh crab and a lemon butter sauce and only takes about 40 minutes to make.
Do you love light, flavorful pasta? Linguine With Crab will allow you to enjoy the flavor and texture of fresh crab while creating a hearty and wow-worthy dish.
Use fresh lemon juice in the sauce and then reserve slices to garnish the dish.
The recipe calls for homemade breadcrumbs, but you can use storebought if that's easier.
This beautiful and tasty Crab Au Gratin is perfect for dinner parties. The cream sauce elevates the mild flavor of the crab, and the melted cheese on top will make this a true crowd-pleaser.
You can bake this in individual-size dishes or cook all of it in one cast-iron skillet.
To cut costs, use a combination of Jumbo Lump and regular crab meat.
Serve with toasted bread as a decadent appetizer or side dish.
Do you love an easy casserole? This Crab Meat Casserole offers all the ease of a one-pan meal and all the great taste of a seafood dish.
This casserole has so many flavors and textures that you can simply use canned or refrigerated chunk crab. So this is great if you're looking for inexpensive canned crab meat recipes.
Crab Meat Casserole is great for lunch, as a dinner side dish, or as a dip with pita chips. E
even picky eaters will love this cheesy and flavorful recipe!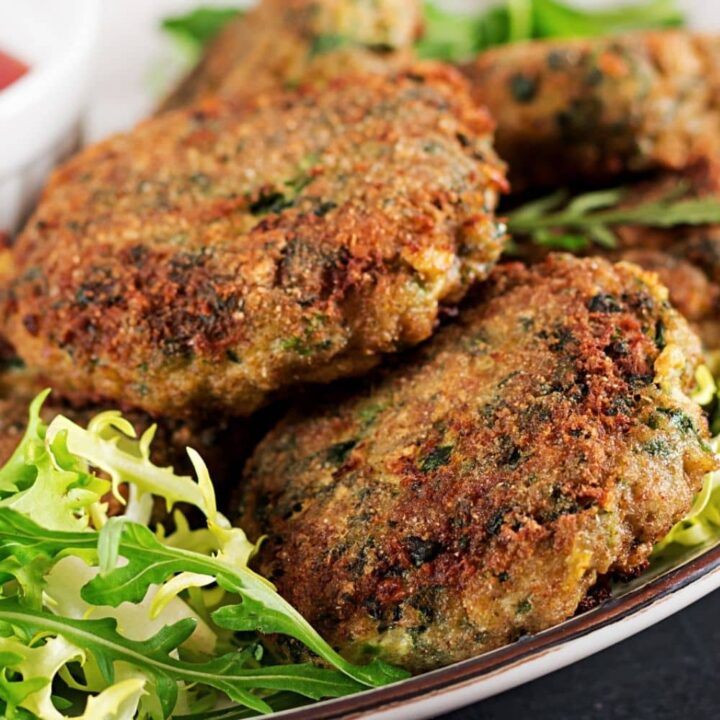 20 Best Crab Meat Recipes
Ingredients
1 pound lump crab meat
1/2 red bell pepper, finely chopped
1 stalk celery, finely chopped
1/4 cup finely chopped red onion
1/2 cup mayonnaise
1/2 cup sour cream
Juice from half a lemon
1 teaspoon old bay seasoning
Kosher salt
Freshly ground black pepper
Ritz crackers, for serving
Instructions
Mix together the celery, bell pepper, and onion, then add almost all of the mayo and sour cream (reserve about a fifth to the side)
.Add the lemon juice, salt, pepper, and Old Bay Seasoning.
Pat the crab meat with a dry paper towel, and then gently fold it into the mayo and vegetable mixture.
Add more mayo and sour cream in equal amounts until you reach your ideal creamy consistency.
Serve with crackers or on top of a green salad.