Medjool dates are such a dynamic ingredient. They can be used as a natural sweetener in health-conscious snacks or turned into decadent treats with bacon or brown sugar. No wonder everybody is going crazy for date recipes!
While other date varieties work well for most recipes, Medjool dates tend to have the best flavor and texture.
Are you ready to explore some incredible recipes with dates?
Keep reading to learn what to do with dates. Family, coworkers, and dinner guests will delight in these fantastic treats.
Check out these four stuffed date recipes that are creamy, crunchy, and flavorful. Whether you want to use soft cheese or nut butter, the fillings go so well with the sweet and chewy dates.
You need to slice open the Medjool Date, remove the seed, and then scoop in your toppings.
You can serve these at room temperature as a no-bake snack, or pop them in the oven for a few minutes to enjoy the warmth.
These gluten-free treats are a satisfying afternoon snack, and they're pretty enough to give as gifts as well. Chocolate makes the best date recipes even better.
Sweet dates are filled with peanut butter and then dipped in melted chocolate.
Once the chocolate hardens, you have a delectable dessert that tastes like it's from a gourmet shop.
Put the dates in the freezer for 15 minutes after filling them with peanut butter. This will help them set properly in the chocolate.
You can use Deglet Noor dates or Medjool dates for this yummy recipe.
This creative recipe combines the best of savory and sweet ingredients.
The result is a tasty appetizer that will satisfy any craving. Plus it's a great idea for what to do with lots of dates.
Stuff an almond inside a date, and then wrap it all up inside a half strip of bacon. Bake them for 15-18 minutes and then serve them to your family or any house guests you may have.
Use toothpicks to hold everything together as it bakes. That will also make them easier to enjoy as finger foods.
Try using different flavored almonds inside the dates to make these even more interesting and delicious.
Dates are an excellent base for energy balls or bars because they pack so much natural sweetness and bind the other ingredients together.
These are one of the best healthy date recipes that leave a lot of room for customization.
Process some Medjool dates with your choice of nuts and a pinch of salt, and then form them into the balls. That's it! They're ready to eat or store for later.
Try adding protein powder, dried fruit, coconut, or chocolate to your date mixture if you want to change up the nutrients or taste.
These no-bake bars are so fun to make and are customizable. Plus, they're so easy to take on the go for a handy snack.
Start by processing dates and nuts together for a filling and sweet base.
Once you've pressed your date mixture into a rectangle dish, you can choose to top it with chocolate and peanut butter or leave it plain for a lower-calorie snack.
If you topped it with the melted chocolate, be sure to let it chill for at least 30 minutes so the chocolate can harden and become the perfect topping on these bars.
Your entire family will love these snacks, and you'll love how easy they are to make.
How about trying a new cookie recipe? Dates add amazing flavor and natural sweetness to these oatmeal cookies.
The Tahini creates a unique texture, and you can experiment with seasonings to make them even more distinct.
You don't need to chill the cookies before baking them, so it only takes 20 minutes to mix, shape, and bake them. We love a cookie that's fast and easy!
Feel free to use any nut butter instead of Tahini if you want, and try adding chopped nuts or shredded coconut to your dough.
You'll feel good about feeding your kids these filling snacks, and they can even help you make them.
Coconuts and dates feature some of the best tastes found in nature, and they allow for so many creative recipes. These snack balls combine these awesome ingredients in a gluten-free and vegan treat.
Are healthy snacks getting expensive to make at home? Try making these snack balls, which don't have added sugar and can be customized to fit your diet.
You can add oats, nuts, or seeds, or make them sweeter with chocolate chips or maple syrup.
You're making the snacks, so you get to make the call!
Use these date balls as a meal-plan recipe to have a handy and healthy snack throughout the week. Coconut adds such great flavor to recipes using dates.
Ready to mix up your smoothie routine? Try this date smoothie! Dates add natural sweetness, fibre, and potassium to smoothies, allowing you to feel more filled and satisfied.
This smoothie recipe also features banana, spinach, oats, and mango, but you can customize the ingredients based on what you have handy.
If your smoothie isn't cold enough, try adding ice as you blend it.
If the dates aren't mixing smooth enough, try soaking them in water before making your smoothie.
This will taste so great that you'll be making it a lot, so soon you'll have your personal smoothie recipe perfected.
We often see dates in no-bake recipes, but this Date Cake is a fully-baked connection that will wow anyone who eats it. If you're looking for easy date recipes, this is a must-try!
The dates and raisins bring a lot of natural sweetness and unique flavor to this old-fashioned cake.
The most notable part of this cake is the creamy nut mixture that's broiled on top of the cake. It brings out so much earthy flavor.
Try adding cocoa powder or cinnamon for more flavor.
You can make it in a 9-inch square pan, or a loaf pan. Just adjust the cooking time based on your pan's size.
Date caramel is basically just a date puree, but it's so naturally sweet that You can use it to replace caramel in many of your favorite recipes.
Are you wondering what can be made of dates? Try this easy and fast treat!
Be sure to use moist, fresh dates. If you feel like yours are dry, soak them in some water before pureeing. Then add even more water as needed to the food processor.
Store your date caramel and enjoy it as a topping throughout the week. You can pair it with oatmeal, mix it into a homemade energy bar, or dip apples in it.
The next time you're at the grocery store, be sure to pick up some Medjool dates to make this yummy caramel alternative.
Medjool dates elevate this nutritious and flavorful salad. It makes a delicious weekday lunch or a crowd-pleasing salad for a potluck.
The roasted sweet potatoes are time-consuming since you soak them in warm water for an hour before roasting them for another 50 minutes.
It's worth it because of how delicious and filling they are, but you can experiment with quicker ways to cook the sweet potatoes.
The homemade balsamic dressing couldn't be easier, and you can use extra dates to bring even more sweetness and fibre to the salad.
This is one of our favorite healthy Medjool date recipes.
Do you want to enjoy mouth-watering truffles without all the added sugar? Try these date-sweetened truffles made with cacao powder, cashew butter, and almond flour.
Not only do these truffles include healthier ingredients, but they also only take 10 minutes to make.
Everything is prepped in one food processor; just follow the instructions to make sure you add them in the correct order.
Kids will love helping to make these chocolatey treats, and they are so much more affordable than the ones you find at health food stores.
You can freeze the truffles to enjoy throughout the month.
This is an old-fashioned quick bread recipe that will delight young and old alike. It's super moist, perfectly sweetened, and so easy to make.
If you asked "what can I do with lots of dried dates?" then you should try Classic Moist Date Nut Bread.
Try soaking the dates to make them even moister, and be careful not to overmix your batter. Try including cinnamon, nutmeg, or cardamom for a distinct winter flavor.
You can also dress it up with an orange cream cheese frosting.
This yummy bread will likely disappear fast, but you can store slices in the freezer if there are any leftovers.
These drop cookies are so fun to make, and they taste amazing. Plus, they're a healthier alternative to other sugar-packed cookies.
Fresh dates lend the best texture and flavor, but you can substitute dried dates if that's all you have.
This recipe uses only natural sweeteners: honey and dates. Try adding cinnamon or ground ginger to make them more flavorful.
These date biscuits are a tasty and healthy snack that you can enjoy anytime your sweet tooth strikes.
These date bars are easy to make and perfect for when you need a filling snack. The one recipe yields 40 bars, which you can store for later.
The cooked dates bring a lot of sweetness and fibre to these treats, and the oats make them extra filling. Reviewers recommend cutting down the salt, making them even healthier.
Store them in the freezer once you've cut the cooled bars into snack-size rectangles.
Then pack them for late morning snacks that will help keep you full and focused until lunch.
Fruit crisps are always a hit with dinner guests, but have you ever made a date crisp?
These delicious squares feature a date-based filling and a classic buttery topping. It's simply delicious and perfect for any time of year.
Keep a close eye on this dessert as it bakes – it may need less cooking time than the recipe says.
You can also experiment with extra seasonings or nuts.
We love enjoying these date squares with coffee, but they also go great with ice cream or whipped cream.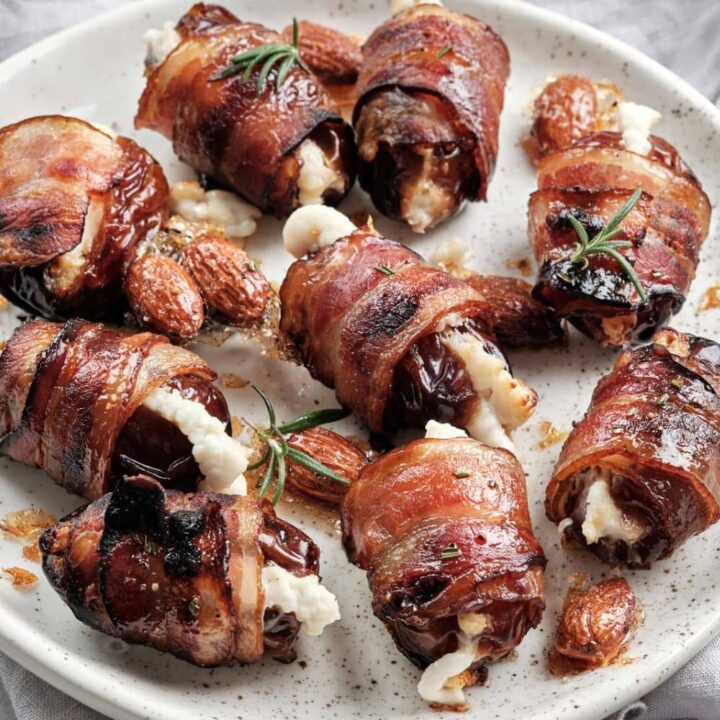 16 Best Medjool Dates Recipes
Ingredients
35 to 40 pitted dates
70 to 80 salted roasted almonds
2 lbs thin bacon, cut in half
Instructions
Soak 40 toothpicks in water for about 10 minutes.
Slice open 40 dates and replace the pits with 1 or 2 almonds.
Use a rolling pin to make your bacon as thin as possible. Then wrap a half strip of bacon around each almond-stuffed date. Stick a toothpick through each one to hold the bacon in place.
Spread the wrapped dates on foiled-line baking sheets and bake at 425 degrees for 15-18 minutes. Flip the dates over halfway through cooking. Serve warm or at room temperature.