Ginger recipes are found across the world but are featured heavily in many Asian cultures where recipes with ginger are thought to have powerful medicinal properties.
Cooking with ginger can be challenging to get right so that you can taste this spicy root but not feel overpowered by its unique flavor.
From drinks to desserts to full meals, there probably isn't a thing you can't squeeze some ginger into!
If you've ever thought to yourself "what can I do with a lot of fresh ginger?", these recipes are for you!
The power of tea is not lost on me! This tea actually doesn't use any tea leaves but does make a bracing cup that is non-caffeinated and basically calorie-free!
Simply boil your water and ginger together and you're well on your way to a wonderful brew!
For me, the optional flavors that can be added to the boiling water that make each cup different from the last are what I like best about this recipe. Cinnamon makes for an especially warm drink on a cold night!
Recipes with fresh ginger often utilize the spicy flavor of the ginger to temper the sweetness of a dish like this carrot soup.
Serve this bowl of heartwarming goodness on the table along with all your other favorite vegetarian, gluten-free, or paleo dishes!
Coconut milk is what gives this dish its oh-so-good creamy factor along with some extra flavor that you wouldn't usually be able to achieve with regular cow's milk.
You can experiment with other alternative kinds of milk like oat as well to find what you like best!
Just one of many ground ginger recipes, these cookies are a tempting staple of my household as soon as November rolls around.
Although these cookies are meant to snap for their namesake, I prefer making my ginger snaps a little on the softer side.
Cloves and cinnamon are what complete the fresh bite brought to these cookies by the ginger but the molasses is actually my favorite part when I make my chewy cookies.
Molasses' unique flavor profile from the sugarcane comes through clearly and adds more color to the dough.
This might not look like one of the easy ginger recipes from the wall of ingredients that greet you when you open the page but it doesn't have too many complicated steps.
I mean, even I managed to make it last holiday season!
The vanilla cream sauce accent on top of the gingerbread cake lifts the whole dessert to new heights.
I especially like the amount of vanilla extract called for in the recipe. I use a bourbon vanilla extract made from real vanilla beans for extra flavor!
You don't have to make a whole dish out of ginger just to make it the star of the show. A light, zesty ginger dressing brightens any salad you choose to pour it over but it goes especially well with Asian slaw-type vegetables.
A rice vinegar keeps the dressing vegan and gluten-free while giving the dressing a slightly sweeter taste than traditional Western vinegar might.
You can try to use coconut aminos instead of soy sauce to make the dressing soy-free too!
Orange chicken may be one of if not, the most popular Chinese takeout dish out there today but ginger chicken deserves some love too!
Like many other foods with ginger, this dish focuses on bringing out the best of the ginger you use by using fresh scallions and shallots for even more spiciness.
The alcohol of the Shaoxing wine is cooked off but the lovely flavor permeates the sauce.
If you don't have access to Shaoxing wine, you can use dry sherry or mirin (a sweet Japanese cooking wine) instead for a similar effect!
This fabulous fish dish is a great way to get your kids the omega-3 fatty acids they need for a healthy, developing brain!
Don't forget to add some veggies and rice on the side to balance out the dish and soak up any extra sauce you have leftover!
When cooked to perfection, the salmon fillets are the most wonderful flaky bites you may ever have from a home-cooked meal.
Crispy skin and pliable flesh hold onto all of the seasonings for an irresistible dish.
Looking for more involved ginger root recipes to use with salads? This recipe goes a bit further than the last ginger dressing we looked at on this list with just over twice the ingredients!
The minced ingredients can easily be filtered out when pouring the dressing so you don't get some of the harsh tastes like that of uncooked garlic.
It feels like cheating to use ketchup to achieve the fine balance of sweet and tangy found within this dressing but I couldn't ask for more!
Fresh ginger recipes don't get much simpler than this. By pickling the ginger, you take the edge off of the spice enough to be used as a palate cleanser. Take a bite whenever you try a new piece of sushi to fully appreciate every bite!
What can I say? The ginger is the focus of this recipe but it is important to get the right kind of ginger!
Young ginger works best and regular ginger is fine but you'll have to increase the boil time to reduce the spice!
This recipe reminds me of some trips I took to the beautiful islands of Japan. A popular dish called Gyu-don (literally translated as "beef bowl") is a mainstay even in the fast-food establishments there.
A half-cup of beef broth becomes a concentrated, saucy glaze that is drizzled over the top of the strips of sirloin steak.
Normally, I would think that the beef would be flavor enough by itself but the sauce acts as a bridge between the beef and the rest of the bowl's contents.
Halibut is the target fish used in this recipe instead of the salmon fillets we saw earlier in the list but any white fish will work just as well.
If you have smaller fillets, don't worry! Instead of being a sit-down meal, the dish becomes a twist on street food that you can eat with your fingers!
Sesame oil gives this dish a wonderful aroma but is careful to use the listed amount or a little less because it can soon become overwhelming!
If you didn't know, not all recipes with ginger require fresh ginger!
A powdered form, like the one used in this recipe, are sometimes more desirable if you want the taste of ginger but need a smoother or more liquid resulting dish.
The turmeric powder in this recipe contends with the spice of the powdered ginger for a fantastic dance played on the tastebuds.
Its vibrant orange color stains the hummus through and through, giving it a strong exotic feeling.
Are you tired of boring white or brown rice that accompanies your main dish with no flavoring or excitement of its own?
So am I, which is why I'm sharing this ginger rice recipe! No longer will you have to hope that the flavor of the main dish rubs off your rice!
There isn't too much going on in this recipe but choosing the right type of rice can have a bigger impact on the taste than you think! Jasmine rice has a muted flavor but is the perfect vessel for carrying the ginger's heat!
There's just something about how fresh seafood and ginger seamlessly complement each other that leaves me amazed every time I make this scrumptious shrimp dish.
Make sure whatever shrimp you choose to use is properly deveined, otherwise there can be some really gross stuff in your food!
The garlic is what I love about this dish, sometimes I even "accidentally" add a whole other clove or two when I'm feeling like living life a little on the wild side.
With ginger recipes, baking is usually high on the list but on a hot summer's day can be surprisingly draining on the body and mind!
This lemonade will invigorate and rehydrate you so that you can keep cool during a stay-cation.
Even though you're looking to get the sour and spice from this ginger lemonade, the sugar plays a vital role in making sure neither of the other two gets out of hand.
Don't want to drink a whole jug of ginger lemonade? Freeze some in ice cube trays for future drinks!
Do you ever get tired of meat? I'm not a vegan by any means, but meatless Mondays sometimes help me appreciate the meat I do consume.
This amazing vegetable stir-fry is one of my go-to meals on those days. Not to mention it looks almost like a rainbow on your plate with how many ingredients it uses!
Snow peas are one of my favorite veggies to crunch on so I like to change the vegetables to cater to my and my family's tastes!
A good vegetable curry can be hard to come by. You have to think about the consistency, the flavor, the heat, and more!
This vegetable curry has seen my family through many a cold and flu season thanks to all of the beneficial nutrients it packs.
Red curry paste contains a lot of the seasonings that you need to have a good curry without the hassle of sourcing everything yourself.
Small cans of this red delight go a lot further than you think and help to eliminate waste!
Another showcase of the variety of recipes using ginger, there is a lot going on behind the scenes in making this pudding.
It has a softer texture than what many people might think about pudding because of the unique way the ginger reacts with heated milk.
Fresh ginger is the key to making a successful version of this pudding because you need the starch in the juice to thicken the milk.
I used full-fat organic cow's milk to make my pudding which worked well but you might be able to get results with other types of milk.
This approach to ginger chicken might seem like a simpler version of what we looked at earlier in this list but you'd be amazed at how just a few ingredient changes here and there can drastically affect the flavor!
The toasted sesame oil especially is one of those changes that will make the dish brand new!
Where I like to deviate from the recipe is with the chicken breast.
I much prefer having a little more flavor from the fat of chicken thigh's dark meat but if you want a low-fat meal stick to the recipe.
The days of uninspired cocktails with only one or two ingredients are behind us.
Now, we experience drinks with fireworks of flavor from all the different elements added to the shaker.
This ginger simple syrup is just one way we easily add spice and heat to our mixed drinks.
The fineness of your sugar doesn't matter too much since they will all dissolve in more or less the same way.
White sugar will ensure the ginger is what stands out about the simple syrup while brown sugar can add a little intrigue to what otherwise might be a predictable flavor.
Blenders are the juice cleanser's best friend. But you don't have to be on a liquid diet to feel the full power of ginger shots in the morning!
This four-ingredient drink has anti-inflammatory and immune support properties to help you feel your best.
If just ginger wasn't enough heat for you, the cayenne pepper in these shots might change your mind!
The pepper has a pretty neutral flavor but bolsters the spice of the ginger to really open your eyes whenever you wake up!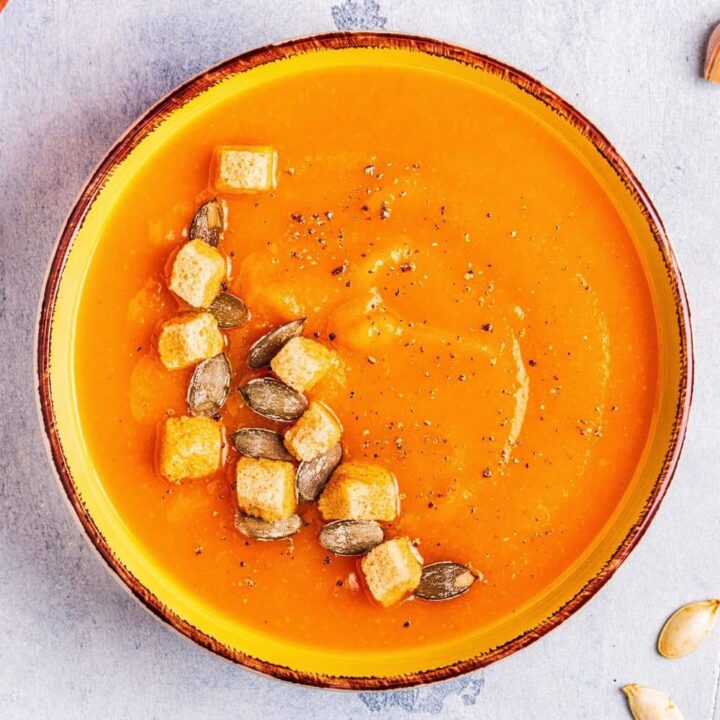 21 Easy Ginger Recipes
Ingredients
1-inch piece ginger root, peeled
1 large strip lemon rind
6 c water
1/3 c honey, eyeball it
1 lemon, juiced
4 camomile or other tea bags
Instructions
Cut peeled ginger into thin, circular discs.
Boil the ginger, honey, lemon rind, and water in a small pot. Add the lemon juice after reaching a boil.
Transfer the contents of the stovetop pot to a teapot, using a funnel if needed.
Add your tea bags (herbal and green teas work best) and steep according to their directions.
Remove the tea bags before serving.