Millet is a wonderfully versatile ingredient that can be used in a huge range of ways, but it is often overlooked by people who aren't sure what to do with it.
Luckily, these millet recipes show you exactly how to cook millets and provide some truly tasty, relatively easy and rewarding millet recipes for dinner.
These millet recipe dinner ideas are great for a midweek meal or as something to kick away the Monday blues.
They're even perfect for a decadent weekend dinner! If you've got millets on hand, these recipes with millet will help you to make a huge range of dishes for any time, to satisfy any cravings.
Looking for a cheesy comfort dish? This is one of the most homely millet dishes out there.
With cheesy goodness and some greens for your health, this casserole is a great alternative to any of the usual meaty casseroles.
To make it, you simply need broccoli, olive oil, salt, pepper, garlic, milk, butter, cheese, and, of course, millet!
From there, it takes 20 minutes to prep and comes out as a cheesy baked casserole full of flavor, protein and absolute deliciousness.
These millet cakes really make the most of millet's natural nutty flavors and pair them with the delightful flavors of both carrot and spinach. They're the perfect gluten-free, vegetarian and vegan snack or side dish.
If you're looking for versatile recipes using millet, then this is perfect for you.
These millet cakes work as a great alternative for any carbohydrate side dish, but they can also work great as appetizers or party food!
If you're watching your carb intake, then recipes using millet will definitely help you to come up with some more interesting (and filling!) dinners.
This is one example. This pilaf swaps rice for millet to make a tasty but less carb-filled dinner or lunch that is bursting at the seams with nutrition and flavor.
As well as the millet, you will need coconut oil or ghee, sea salt, yellow onion, sea salt, turmeric powder, butternut squash, carrot, celery, frozen peas, spinach, tamari, scallions, toasted seeds, extra virgin olive oil and black pepper.
Want something spicy and Cuban? Wondering what to do with millet? Well, this recipe solves both of those issues!
This meal is packed full of veggies, with carrot, green bell pepper, vegetable broth and onion in it.
You can add in chilli, red bell pepper and spinach if you want some more in there, too.
Depending on your spice taste, you might also want to add in some paprika or some cayenne pepper to give this Cuban dish a bit of a kick.
Perfect for a light summer meal, this Mediterranean salad with chickpeas, feta, olives and vinaigrette is incredible.
It has a huge range of tastes that all balance one another out, creating a perfect flavor in each mouthful.
And if that wasn't enough, this salad is also incredibly easy to make. All you'll need to do is cook your millet, make your vinaigrette and chop all of your other ingredients.
Once all prepared, simply mix it together and top it with your vinaigrette – it couldn't be easier!
Millet can make some really cozy, homely dishes that are perfect for cold winter nights and fall lunches.
This millet and vegetable soup is precisely that. It's the perfect recipe for a cold day and can even be batch cooked.
To make the flavors in this dish really pop, toast your millet first.
This better unlocks the nutty and aromatic flavors within the millet which pairs beautifully with the veg and stock in the soup.
Wondering if there are any millet recipes or breakfast ideas? Well, you're in luck.
This millet bread can be used for breakfast, lunch or dinner. Pair it with an avocado, some tomato, or even deli meats and cheese – the opportunities are endless.
Since the base of the bread is millet, it is completely gluten-free and vegan, and it doesn't even require yeast!
All you need is millet flour, baking powder, baking soda, salt, water, cider vinegar and psyllium husks.
Finding a good veggie burger can be a tiring process, but these millet burgers will take all that struggle away.
They are simply made of millet and veggies and are packed full of nutrition, flavor and protein.
To make these burgers you will need millet, onion, arugula, celery, carrots, salt, cumin, chilli powder, cayenne pepper and millet flour. If you don't want to chop all of your vegetables up, you can always use a food processor to break them down.
This dish is a creative take on an Indian dish and can be used for breakfast or any other meal. It is full of flavor, and it only takes 30 minutes to make!
The dish includes lots of spices, and they all pair incredibly well with the naturally nutty flavor of the millet and of the peanuts in the recipe.
To make this dish you will need Foxtail Millet, vermicelli, onion, mustard seeds, cumin seeds, raw peanuts, curry leaves, sambar powder, turmeric, salt and oil. It is often paired with a cup of coffee to help you start your day.
Millet is so versatile that you can even use it to create perfect timeless classics like this ridiculously tasty breakfast porridge.
All you have to do is use the right amount of water and the right amount of heat to create a delicious porridge alternative.
Pair your porridge with fresh fruit and berries, syrup, chocolate or whatever else you fancy. One of the most enjoyable topping choices is sliced banana, syrup and sliced almonds.
The nuttiness and flavors in the fruit create a really tasty flavor profile.
Ready in 20 minutes, this spicy noodle soup is easy, healthy and perfect for clean eating diets. It's super flavorful and is definitely a recipe you'll come back to time and time again.
The noodles really soak up the sauce and flavors, making sure that each and every bite you take brings a flavor explosion to your mouth.
To make it, you will need millet and brown rice ramen, boiled eggs, garlic, ginger, red onion, tomatoes, red bell pepper, carrots and green onion.
You can't go wrong with egg and spinach, especially if you add in the nuttiness of millet. They're three flavors that just belong together.
This spinach millet egg bake demonstrates that. It is a nutritious, protein-full dish that is easy to make and perfect for a lunch or dinner.
You can choose what cheese you'd like, but the saltiness of parmesan works particularly well with the nuttiness in this recipe.
Likewise, you can add more vegetables or swap out the spinach if you're not a fan. Zucchini, asparagus and potato are great additions to this recipe!
These breakfast bars are similar to flapjacks or protein bars. They're made with millets, oats, nuts maple syrup, honey and dates.
They're a great and easy way to make sure you have enough energy to go about your day and are perfect for a Sunday afternoon batch bake as they'll last fine stored for the week.
You can add to these if you want something more exciting by melting chocolate and dipping or covering the bars.
Or if you wanted to, you could add other fruit like raisins, apricot, or even cherries.
Risotto is a brilliant meal, it is tasty and it can be made with any of your favorite ingredients – including millet!
This gluten-free risotto is just as creamy as your usual risotto would be, but without as many carbohydrates.
Instead, the millet becomes the creamy base and provides a nutty flavor that goes well with the pesto and tomatoes.
In addition to the millet and pesto, you will need vegetable stock, virgin olive oil, brown onion, garlic cloves, spinach, butter and goat's cheese.
Stuffed peppers are a great way to make a nutritious and colorful meal, and adding millet to your stuffed peppers adds a bunch of protein and a great flavor.
These stuffed peppers have millet, black beans and tomatoes, making them incredibly flavorful and a great way to get your daily fix of protein in.
You could add cheese to these peppers and put them under the grill for a few minutes once stuffed to melt the cheesy lid over the millet for an extra bit of flavor.
Mozzarella or parmesan will complement the flavors perfectly.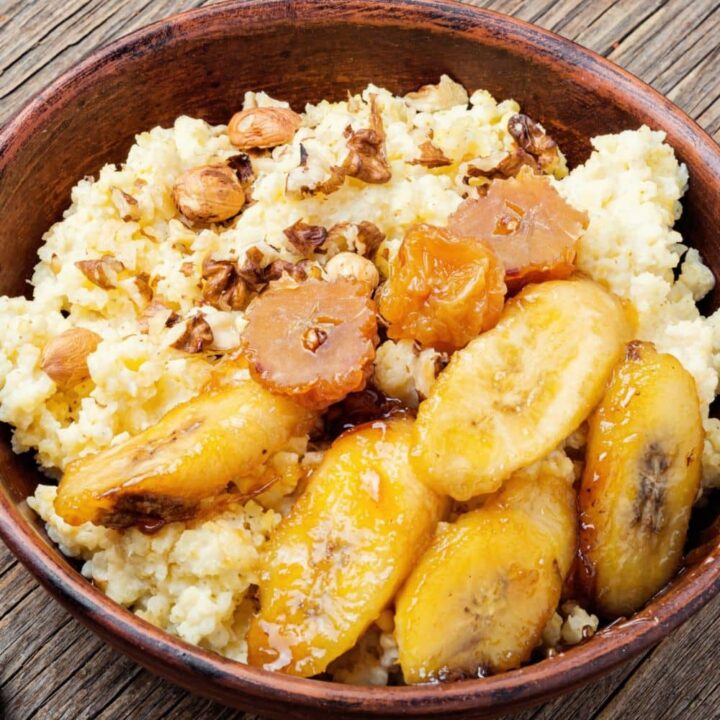 15 Best Millet Recipes
Ingredients
1 carrot, chopped
2 cloves garlic, crushed
1 tbspolive oil
1 onion, chopped
1 green bell pepper, chopped
1 c millet
2 c vegetable broth
salt and ground black pepper to taste
¼ c chopped fresh cilantro, or more to taste
Instructions
First, blend the carrot and garlic in a food processor until fine. You can also choose to chop both into fine slices if you do not have a processor. Then, cut up the onion and green bell pepper.
Heat the olive oil in a pan over a medium heat, and once warm add in the carrot and garlic, the onion and the pepper. Cook for 10 minutes, or until softened.
Add in the cup of millet and cook whilst stirring until the millet is toasted and fragrant. Pour in your vegetable stock and season with salt and pepper. Over low heat, simmer the mixture until the broth is completely absorbed. This should take around 20 minutes. Finally, stir in the cilantro.