Pasta side dishes are a great way to liven up a weeknight dinner. They're easy and quick, plus they taste amazing. And who doesn't love a little mid-week carb load?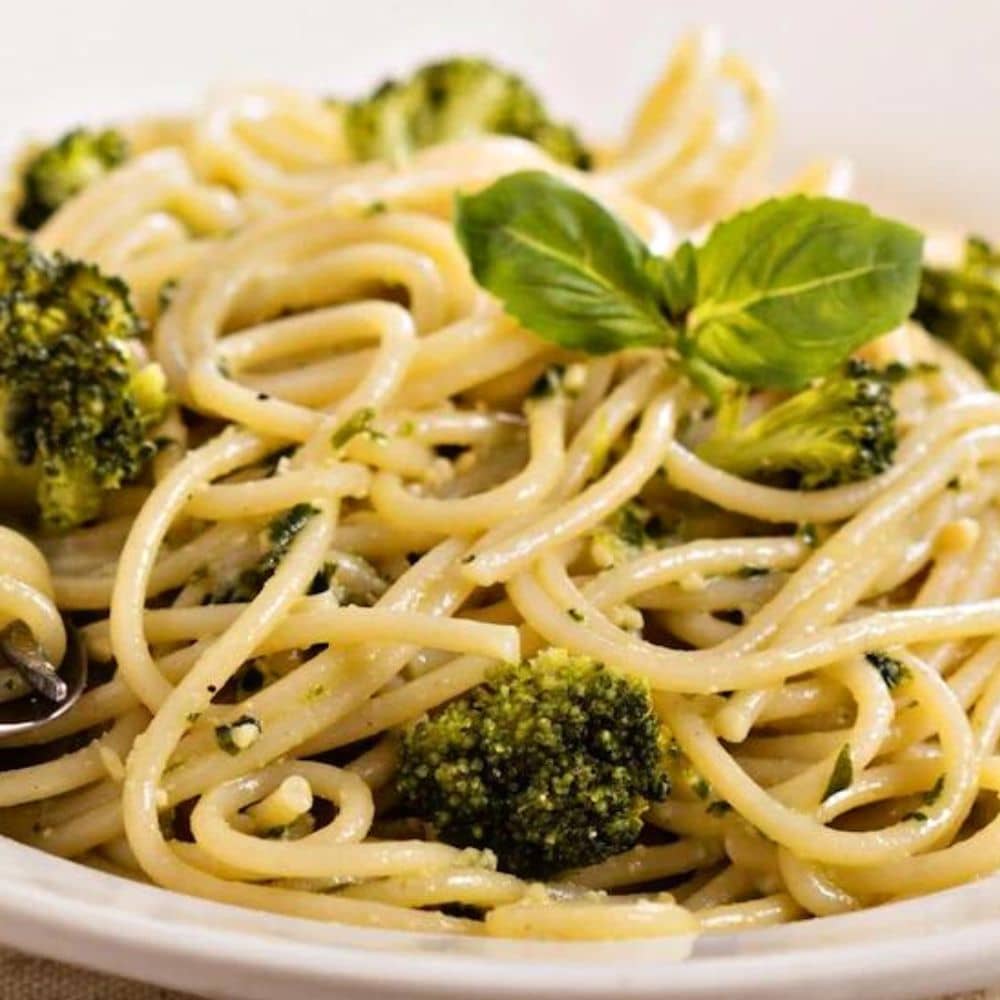 Whether you like your pasta light and delicate or rich and creamy, there are so many great recipe options out there.
Pasta side dishes for chicken can be nutritious and flavorful, and of course, you can also serve these sides with other meats and seafood.
Each side dish for noodles offers so many ways to customize, and they're all a fun way to get kids involved in the kitchen. Keep reading to discover your next favorite pasta side!
This white sauce pasta is super creamy and cheesy, and it's ready in just 20 minutes. A garlicky roux is mixed with milk and broth until it's a decadent sauce.
Then you add parsley and parmesan cheese for a simple yet satisfying flavor.
You can serve this as a meatless side dish, or add chicken or shrimp to make it a fuller meal. And you can never go wrong by adding even more cheese.
This recipe uses Penne pasta, which is perfect for scooping up heaps of the flavorful sauce, but you can use any type of noodles you want.
Skip the store-bought pasta sides and instead make this delicious recipe at home. Creamy Garlic Pasta Shells are tastier than a packet and just as easy to make. Plus, you can control the ingredients!
You'll begin by sauteeing garlic with olive oil, and then turn it into a creamy sauce.
That sauce fills the pasta shells for a divine side dish that goes great with steak, pork chops, or chicken.
This recipe only calls for parmesan cheese, but you can include more cheeses in your sauce to make it even richer.
Easy Garlic Butter Pasta is a go-to favorite for picky eaters, and it's also an easy weeknight side. This classic dish is elevated by fresh garlic, parmesan, and parsley.
You can add vegetables to the pasta to make it more nutritious and filling.
Easy Garlic Butter Pasta is a great side to make if you've recently bought or cooked too many noodles.
It complements grilled shrimp, steak, or chicken. Serve it as a side to those great proteins, or mix them in the pasta for a filling meal.
Want to make classic parmesan pasta even easier? Try making it all in one pot with this tasty recipe.
You'll start by making the creamy garlic sauce and then add uncooked noodles directly to that pot of simmering sauce.
Once the noodles are cooked, the dish is ready to serve – you just may need to add a little more milk if it's too thick.
Try adding roasted vegetables to make this a nutritious side dish with even more flavor.
Even picky eaters will love this Really Quick Broccoli Pasta. A flavorful lemon sauce elevates broccoli and shells, and cheese makes it all even better!
Cook the broccoli along with the pasta to save time. The key is reserving some of the pasta water to mix into your lemon sauce.
Give that sauce a bright flavor with fresh herbs, and make it spicy with red pepper flakes.
This is a fantastic side dish that can go with all kinds of meats, or you can make it the main dish and serve it with a salad on the side.
Want a lighter-tasting pasta that is still really satisfying? The lemon garlic parmesan is perfect for a summer day.
Use the juice from a fresh lemon for the best flavor – bottled lemon juice just doesn't compare to the real thing.
Toss the cooked noodles with some olive oil to keep them from sticking. It also makes the dish taste even better.
Lemony Garlic Parmesan Pasta goes great with grilled meat and vegetables. Try serving it cold to bring out the bright lemon flavor even more.
Whisps of angel hair pasta are tossed with garlic and herbs in this delightful side dish. The light flavors allow the spices to truly shine, so it's a great dish to make if you've been working on your herb garden.
Make the meal richer by using butter instead of olive oil. Try reserving some of the pasta's water to toss in before cooking – this will give everything a light texture without sticking together.
You can serve this immediately while it's still warm, but it also tastes fine at room temperature.
Who doesn't love a colorful and flavorful pasta salad? This fantastic recipe features fresh summer vegetables like zucchini and bell peppers, plus salty parmesan and olives.
The dressing is quick and straightforward, and the mozzarella is the perfect touch. Chill the tossed pasta salad for at least 30 minutes, but you can make this a day or two in advance.
In fact, letting it chill for a day or two will allow the flavors to really soak into the pasta and vegetables.
Bring this light pasta side dish to a BBQ, or add some chicken to make it an easy lunch.
This Lemon Garlic Pasta takes only a half-hour to make, and it's so easy yet delicious. It tastes creamy yet light, thanks to the touch of lemon on each bite.
Use freshly shredded parmesan cheese to get the right flavor and texture – a powdery grated cheese will have lacklustre results.
And get creative by adding other cheeses or topping it with other fresh ingredients.
Serve it at home with a leafy salad or grilled vegetables. It's also a great option if you've been assigned a side dish at a potluck.
Have you ever made brown butter before? It has a unique nutty flavor and works well in many pasta side dish recipes.
But it really gets to shine in this Brown Butter Garlic Angel Hair Pasta.
A touch of tarragon will elevate this simple recipe. Kids will love that it's a classic butter-noodle dish, while adults will love the unique flavor of the brown butter.
A little chicken or shrimp turns this yummy side into a filling main dish. You can also top it with sliced cherry tomatoes or a little bit of mozzarella cheese.
Garlic and pasta are a match made in heaven, and they don't need many other ingredients to make a delicious dish.
This simple recipe includes sun-dried tomatoes and red pepper flakes for extra color and flavor in the pasta.
Try using lentil pasta to make this recipe more nutritious, or use the extra sauce on top of sauteed chicken.
Adding oil from the sun-dried tomatoes to the pasta will add a touch of rich flavor.
You can also try adding lemon, herbs, or butter to give it extra pizzazz.
This unique one-pot meal takes only 30 minutes to make, and it's so yummy. One-Pot Cheese Taco Pasta is packed with Tex-Mex flavor, pleasing everybody in your house.
You can easily make this a vegetarian dish by using black beans instead of ground beef. Sliced beef or blackened chicken can also make it more elegant.
Add the broth and enchilada sauce once you've cooked your meat, then throw in your uncooked noodles. That's right, the pasta cooks in the same pot as everything else: so less clean up, less time, and less worry.
Pesto pasta is a nutritious and tasty side, but it can be challenging to get a good saucy coating on the noodles.
What's the secret to getting a saucy pesto that's not overly oily? Add a little of the water that the noodles were in! It will thicken up the pesto just enough so that the ingredients coat the pasta perfectly.
Make sure not to cook the pesto at all – the basil won't taste right when it's heated.
That means tossing your pasta in a bowl off the heat, and don't microwave or sautee it as leftovers. We doubt there will be any leftovers of this delicious side anyway – it usually disappears fast!
Mac and Cheese is the ultimate pasta side dish that people of all ages love. While it may be tempting to whip up a box of mac & cheese, you'll be surprised how easy it is to make it at home.
Shredded cheddar cheese and grated parmesan bring the cheesiness to this creamy dish.
Shred the cheese yourself for the best results – bagged shredded cheese doesn't melt as nicely.
Once you've mixed the pasta and cheese sauce, you'll top it with breadcrumbs and paprika and then bake in the oven.
It's a family-favorite meal that's easy and satisfying!
Garlic Butter Pasta is proof that recipes don't have to be complicated to be delicious. You can't get much simpler than a garlic-butter sauce coating cooked noodles, but somehow it's still decadent and satisfying.
These noodles go great with a creamy chicken dish or grilled seafood. The pasta water gives it a smooth, silky texture, making it saucy without using any cream or milk.
Add the pasta water gradually until you reach the best consistency.
Only sautee the garlic for a few seconds to ensure you don't overcook it. A little lemon juice can cut the bitterness of undercooked garlic and add another flavor to the dish.
Here is a restaurant-quality meal you can make at home on a busy weeknight. And when bacon is involved, you know it will be a great recipe!
The key is simmering the bacon in water before adding it to the skillet. This will keep it from sticking and burning. Use three large eggs plus one more egg yolk for the Carbonara sauce.
When combining your egg mixture and pasta water, make sure the water is nice and hot. This will allow the egg mixture to thicken properly.
Pasta Carbonara is a complete meal on its own, or you can serve it on the side of a flavorful steak or seafood.
Want to make a creamy pasta carbonara even cheesier? Try pairing it with three-cheese tortellini instead of a typical spaghetti noodle.
Not only does this make the dish more flavorful, but it becomes even more fun to eat!
A little bit of pesto on top of this 20 Minute Tortellini Pasta Carbonara really amps it up another notch, but you can skip that or top it with even more cheese instead!
This goes great with a caesar salad or some warm bread.
Serve it warm for an easy weeknight meal or even for a special occasion.
This fancy Italian dish doesn't take much time or ingredients, but it tastes incredible. The lemon's brightness combines with the sauce's creaminess for a perfectly balanced pasta.
Be sure to add in the butter and cheese gradually. It's got to combine slowly and thoughtfully to achieve the right texture.
Taste it as you go to ensure it has the right amount of salt and pepper.
Pasta al Limone will be a great addition to a summertime meal, or you can prepare it with a fresh salad on the side.
This cold and colorful pasta salad features a delicious homemade Italian dressing, charcuterie-quality meat, and lots of fresh vegetables.
It's delicious and refreshing.
You can simplify the recipe by using a store-bought dressing, but the homemade version is pretty easy anyway. Plus, you can customize the exact flavors when you make it yourself.
Italian Pasta Salad is a great way to enjoy your seasonal vegetables and any herbs you're growing.
Bring it to a summertime potluck, or add some fresh kale to turn it into a filling and nutritious lunch.
This restaurant-style pasta is going to be a hit with your entire family. Sauteed tomatoes and Cavatappi pasta are coated with cream and pesto – you'd be hard-pressed to find an easier recipe that tastes so great.
Try adding a protein or more vegetables to this satisfying dish. The recipe calls for a whole tomato, but sliced cherry tomatoes will be even brighter and have a unique flavor.
Want to make it even more special? Try sundried tomatoes!
Follow the recipe's link for a homemade pesto recipe, or use your favorite store-bought variety.
This Tomato Goat Cheese Pasta is absolutely delectable! Creamy goat cheese is added to a simple homemade tomato sauce and then tossed with any kind of noodle.
Don't skip out on the fresh basil – it adds brightness to this rich dish. Try Italian sausage or meatballs if you want to add protein to this Tomato Goat Cheese Pasta.
Some spinach will add some nutrition to it too.
You can use your own recipe for a chunky tomato sauce, or try starting with a store-bought version.
But the recipe is so easy that you might as well try making it as-is first and then see how you'd like to adjust for next time.
Alfredo sauce is fun and easy to make, and it can be a base for all kinds of creamy pasta recipes.
This Fettuccine Alfredo is perfect for a quick family meal, and you can always elevate it with your favorite proteins and vegetables.
Be sure to reserve some of the pasta water. You'll add this into the white sauce to get a silky smooth texture that coats your noodles nicely.
This is comfort food and one of our favorite easy pasta side dishes. It is sure to be a recipe you'll make again and again.
Do you sometimes feel like you make the same thing for dinner each week? Try adding a delicious shrimp recipe to your routine.
This Creamy Shrimp Pasta is a delicious way to use shrimp, and it comes together so quickly.
Try using lemon juice instead of white wine as you make the sauce. You can also use different seasonings on your sauteed shrimp, like spicy blackened shrimp or smokey grilled shrimp.
If you want a super filling meal, serve this as a side dish to a steak.
Or the Creamy Shrimp Pasta can be the main dish with a green salad on the side.
How about a side dish you can make in 10 minutes or less? This Angel Hair pasta tastes like a gourmet restaurant dish, but it's easy to make at home.
The flavor of the fresh herbs really stands out against the subtle taste of buttered noodles. And the thin angel hair pasta makes it look so lovely when you serve it.
Add a dash of lemon juice and zest to add more brightness to this dish, or try it with a little pesto or cream sauce mixed in.
It's a versatile side dish that the entire family will love.
Don't stress over your next pot-luck assignment. This Quick and Easy Pasta Salad is sure to impress and requires minimal effort.
The mozzarella balls make this pasta salad unique, and you can customize it with your favorite vegetables. Use multi-colored noodles to make it look even more fun, or use lentil pasta to make it into healthy pasta side dishes.
Quick and Easy Pasta Salad goes well with grilled chicken or gourmet sandwiches.
This one-pot meal sounds fancy, thanks to the addition of goat cheese. But it's easy to make and will satisfy even picky eaters in your family.
If you love macaroni and cheese, you must try Creamy Goat Cheese Pasta. It's like the childhood favorite has grown up and become a decadent dish.
Lemon zest, fresh basil, and creamy goat cheese make this pasta really stand out.
Not only does this pasta dish taste amazing, but it will also make your house smell like delicious garlic and butter.
And don't worry if your stomach starts to growl – your Creamy Goat Cheese Pasta takes less than 30 minutes to make, so you'll be enjoying it in no time.
Whether you have extra mushrooms in your fridge or are looking for a way to dress up your basic garlic-butter pasta, this recipe is for you.
Sautee your choice of mushrooms in a lot of butter, then add garlic for a minute or so.
Then add some pasta water and toss in your noodles. It's an easy recipe for anyone just learning to cook or for experienced home chefs looking for an easy dinner.
You can add some meat if you want, or enjoy this vegetarian dish on its own. Get ready to make this delicious mushroom pasta a lot, since your entire family will love it!
27 Easy Pasta Side Dishes
Ingredients
2-1/2 lbs fresh broccoli
2 garlic cloves, minced
1/3 c olive oil
1 tbsp butter
1 tsp salt
1/4 tsp pepper
Pinch cayenne pepper
8 ounces linguine or thin spaghetti, cooked and drained
Instructions
Cook pasta according to package instructions, then drain.
While pasta is boiling, cut the broccoli florets and tender stems into 1 - 2 inch pieces.
Heat oil and butter in a heavy skillet over medium, then add the broccoli, garlic, salt, pepper and cayenne pepper.
Sautee for 3-4 minutes, until broccoli turns bright green and gets some brown edges
Add an inch of water to the pan of broccoli, then cover and cook for another 5 minutes.
Drain any remaining water from the broccoli, then toss in the cooked pasta.
Transfer to a serving dish and top with grated cheese.