PO…LEN…TA!! It may look plain to an unfamiliar eye, but once you've tried even one of these polenta recipe ideas, you will surely be back for more!
Ever heard of it? Originating from Northern Italy, this cornmeal-based food will soon be a fam-favorite!
It brings comfort and soul to the dish, which is why it is often referred to as Italian grits. Recipes with polenta are so easy, you'll be an Italian polenta pro in no time!
You may be wondering: What to do with polenta? Polenta is perfect for a whole meal or as a side dish.
It is also a great substitute for mashed potatoes or pasta if you want to mix up your cooking with something a bit more worldly. And it's so versatile!
There are so many different ways of serving it, from sweet to savory, that you're sure to satisfy your taste buds. So, check out these 20 best polenta recipes.
Craving lasagna and asking yourself: What can I do with a roll of polenta? While lasagna is typically made with pasta, you can actually use tubed polenta instead for a gluten-free option!
All you have to do is cut the polenta into slices and layer it in your baking pan. Top it with marinara sauce, sauteed vegetables, and cheese and then bake. Dinner is served in under an hour.
This delicious and healthy tubed polenta recipe is sure to be a huge hit in your home!
A dish for the mushroom-lovers, this baked polenta recipe is sure to wow your dinner party guests.
Baking the polenta and roasting the mushrooms with thyme, gives you less time standing over the stove, and more time to entertain. It's creamy, rich, and elegant, yet super simple to make in just 30 minutes!
You can also jazz it up with any of your own additions as well.
I suggest topping with a drizzle of heavy cream and some finely grated garlic and serving it with fresh ciabatta bread.
Still wondering, what to make with polenta? How about this easy side dish or starter!
This is one of my favorite tube polenta recipes, and it is super simple.
Cut your pre-cooked polenta into fries, toss them in salt and herbs, and then bake.
After 30-40 minutes, you will have perfect polenta fries that are crispy on the outside and soft on the inside.
You can serve them as an appetizer with a marinara or ketchup dipping sauce, or as a side to your homemade burgers or grilled steaks!
One of the classic recipes using polenta is this one. Polenta is an excellent alternative to pasta, especially for those who are gluten-free.
Start by making the sausage and tomato-based sauce, or 'ragout,' and season it with lots of fresh rosemary.
Then make the polenta, either homemade or from the packet, and add some grated smoked cheese to make it even more flavorful.
Serve by spooning the polenta onto the plate first and topping it with the ragout.
Dinner is on the table in just 35 minutes. Buon appetito!
Another one of my Italian polenta recipes is this one made from scratch.
Homemade polenta sounds intimidating, but it's actually quite simple. All you need is cornmeal, water, salt, butter, and parmesan cheese.
Pro tip: use coarse cornmeal and not cornflour. And, if you don't want to have to constantly stir, use a heavy-duty, non-stick saucepan or Dutch Oven.
After just 30 minutes, you've got yourself a homemade polenta dish that you can serve with a tasty vegetable side or use as a base for a slow-cooked stew.
This is one of the best polenta dinner recipes that you can serve up in just one casserole dish and have it prepped and ready in advance. It is vegetarian and gluten-free and will have your family begging for more.
This layered casserole is made with fontina cheese.
Fontina cheese is an Italian, semisoft cheese with a buttery, nutty flavor.
After making a hearty tomato sauce and polenta (instant or homemade), layer the two with the cheese like a lasagna.
Let it sit until you're ready to serve, then bake for 25 minutes.
One of the most delicious recipes with polenta is this one! It is served with some healthy homemade baked meatballs that are made with ground turkey and fresh spinach and herbs.
Once the meatballs are ready, serve them on top of creamy instant or homemade polenta and your favorite warmed marinara sauce.
Still, this whole meal can be ready in just under 35 minutes!
Your friends and family with being surprised by this restaurant-quality polenta dish. Serve with cheese garlic bread!
Wondering what else you can make with polenta? Pizza! Polenta is an excellent gluten substitute for so many things, including pizza crust.
After making your creamy polenta, from scratch or from a packet, spread it out on a baking sheet.
Refrigerator for at least an hour, but you can make the base 1-4 days in advance.
Then make your pizza by first drizzling oil on the polenta pizza crust and baking for 15 minutes. After that, top with your choice of toppings, such as tomatoes, garlic, cheese, and basil.
Bake for another 10-12 minutes and serve!
Ratatouille? Yes! Creamy polenta? Yes! Of all the vegetable-based polenta recipes, this one is one of my favorites.
It combines cheesy, comforting, homemade polenta with balsamic and herb-roasted Mediterranean vegetables into a healthy one-bowl meal! Dinner for one is ready in just 40 minutes.
Pro-tip: Make the polenta and vegetables up to a week in advance and store them in the fridge.
Then, when you're ready to serve, you can simply reheat and dig-in in under 20 minutes. Stir in more liquid if the polenta gets too thick.
Summertime is grilling season, so what can I make with cornmeal polenta? This grilled polenta recipe is the perfect all-in-one, plant-based dish.
Cook the polenta according to the package instructions and add butter and parmesan. Pour it into your baking dish, bake for 45 minutes, and cool for 2 hours.
Meanwhile, mix the chickpeas, artichokes, and tomatoes mix.
Once you're ready to grill, cut the polenta into rectangles, brush with oil, and grill on medium-high heat on each side until they are golden crispy.
Top with your vegetable mix, garnish with fresh herbs or parmesan, and serve!
Looking for more polenta recipe ideas? Check out this homemade pesto that will make your polenta side dish even more delicious and flavorful.
Make your homemade polenta with vegetable stock and garlic. Then add cheese, pine nuts, basil, oregano, chives, and cream. That's it! Your pesto polenta dish is ready in just 30 minutes.
Budget tip: Use walnuts instead of pricey pine nuts to keep the cost down.
Serve with roasted lamb or sausages and some roasted veggies, and your gourmet-level polenta dinner recipe is complete.
This simple 30 minutes baked polenta recipe makes the perfect side dish to take your Italian-style dinner from ordinary to extraordinary!
It is best to make this side hour in advance, or better yet, the day before. That's because after cooking the polenta in chicken stock with parmesan and butter, it needs to be set in the baking pan for at least 4 hours.
Fifteen minutes before serving, bake the polenta until it's puffed and turns a golden brown. Serve as a side dish to a juicy steak fillet or grilled piece of fish.
Still asking yourself, what to do with polenta? This super easy-baked polenta dish is ready in just 20 minutes!
Unlikely the classic polenta recipe which has the cornmeal cooked in water, this one mixes it up by cooking it in milk (or heavy cream) and chicken stock.
Before baking, top the polenta with your favorite Italian marinara or tomato sauce.
Then serve with a side salad and your choice of main.
Note – this recipe also works great as leftovers, so feel free to make plenty of it!
Not your average shrimp and grits, this Italian polenta recipe comes straight from Venice and is sure to impress.
Dinner for two is now easier than ever with this Venetian-inspired dish which combines classic, homemade polenta with lemon-zested shrimp sauteed in garlic and butter.
This is a perfect dish to wow your significant other on a date night and is ready in just under an hour. Serve with rustic garlic bread and a nice bottle of Chardonnay or Sauvignon Blanc.
There are so many great recipes using polenta, and here comes another one! In fact, it is probably my favorite of the tube polenta recipes.
The salmon is grilled and simmered in oil, white wine, chives, garlic, tomatoes, and thyme. To life a little easier, the salmon is served on a bed of warmed tube polenta, which tastes just as good as homemade.
Pro tips for this recipe: Use skin-on, center-cut salmon fillets, extra-virgin olive oil, fresh thyme and chives, and a crisp dry wine like a Chablis or Pinot Grigio.
You may be asking yourself, what can I make with cornmeal polenta? The answer is pancakes! That's right, polenta doesn't only have to be served at dinner time. It can also be used in your breakfast!
Combine polenta with your normal flour to make your pancakes not just tastier, but also healthier. That's because polenta adds fibre and a good amount of protein to your morning meal.
In just 30 minutes, you can be serving up these sweet and scrumptious cinnamon polenta pancakes to your family.
Looking for more polenta recipe ideas? Well, polenta is so versatile it can also be used in your next cake!
That's right, and it's healthy too! This Italian polenta recipe uses naturally gluten-free polenta and almond flour.
It is moist, buttery, and not too sweet. It's the perfect dessert to offset a heavy dinner or to serve on a warm night.
Even if your guest says they don't like cake, they will love this recipe. And the splash of orange liqueur gives it a little something extra!
There are so many tasty recipes with polenta, but this creamy polenta dish will melt in your mouth.
It is perfect for impressing your guests or for cooking a romantic dinner for two.
The full-flavored polenta is homemade using butter, heavy cream, and fresh parmesan.
It is then topped with grilled flank steaks marinated in garlic and herbs and cherry tomatoes that are roasted in olive oil and balsamic vinegar.
In just 40 minutes, you can taste for yourself just how perfectly the polenta, grilled steak, and roasted tomatoes work together!
This is one of my favorite recipes with polenta to make in the fall. In just 20 minutes, you can have the perfect side dish to elevate your next meal.
After making the butternut squash puree, add the polenta slowly to prevent lumps. Once thick, finish with butter and parmesan, and that's it!
Serve your butternut squash polenta as a side, along with roasted sprouts, to brisket or slow-cooked pork. It also goes great with an autumn vegetable stew.
Tip – If you plan to serve it later, simply reheat the polenta with a bit of water to thin it out.
Many people wonder what to make with polenta. The truth is polenta is an excellent (and gluten-free) substitute for pasta and takes just as long to prepare.
Start by making a classic ragu/Bolognese sauce with sausage, root vegetables, crushed tomatoes, white wine, and cream. Of course, you could serve your sauce over spaghetti or penne, but why not try it with polenta instead?
While your sauce is simmering, make your polenta from scratch.
Slowly add cornmeal to boiling water, stir until it's thick, and then add the parmesan cheese. Simple and delicious!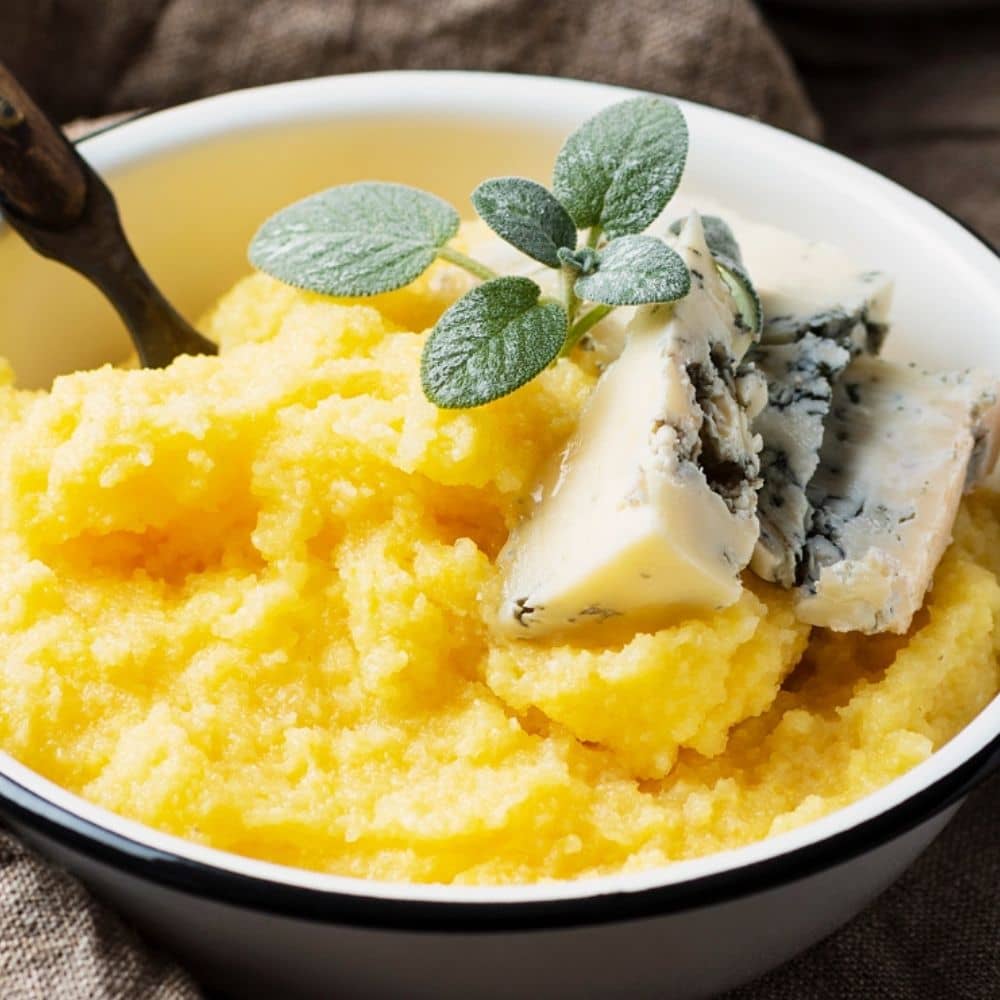 20 Best Polenta Recipes
Ingredients
1 package of tube polenta (18 oz.)
2 TBSP oil
1 jar of pasta sauce (12 oz.)
¼ c of pesto
¼ c of pine nuts
1 c of shredded mozzarella
Instructions
Preheat your oven to 375° F.
Cut the tubed polenta into ¼ inch slices.
Brush oil on the bottom and sides of your baking dish.
Layout a single layer of polenta slices at the bottom of the dish.
Spread a thin layer of pesto over the polenta
Spoon half of the sauce and spread it over the pesto.
Top with another layer of polenta slices and repeat steps 5 and 6.
Bake uncovered for 25 minutes.
Turn on the broiler and top polenta with shredded mozzarella and pine nuts
Broil for 5 more minutes or until the cheese browns and the nuts are toasted.