Tex Mex brings together traditional southern and Texan foods with spice blends and recipes from south of the border. These Tex Mex recipes have "Sabor" which means 'taste" in Spanish. There is an added boost of flavor and spice in these Tex Mex dinner ideas.
If you're unfamiliar with Tex Mex cooking and looking for authentic Tex Mex recipes, look no further.
We think you're going to want to try every recipe on this list and a few of them are sure to end up in regular rotation in your kitchen.
From appetizers to entrees, we've got your Tex Mex right here!
Cook this recipe in stages adding layer upon layer of flavors for the perfect blend of tastes in this Tex Mex recipe.
This dish comes together easily using canned beans and tomatoes and some hearty stew meat.
The spice blend gives it the perfect amount of flavor.
The secret ingredient in this recipe is the cayenne pepper. Add more or less according to your personal preference for an added boost of heat for this tasty recipe.
You can also adjust the red pepper flakes for an extra kick of spice.
This Tex Mex Chili Chopped Salad brings the flavors of the southwest to your table.
This delicious chopped salad has a great many tastes and textures to delight the senses.
Serve this at your next BBQ cookout or get together and bring the flavors of summer to your table.
It's one of our freshest, healthy Tex Mex recipes.
Toss all the ingredients together with some taco-flavored ranch dressing for a colorful and delicious presentation on any occasion.
You can serve this fresh and delicious salad as a side or entree.
There really is no magic to making perfect Tex Mex Rice, but there are a few tricks to making this vegetarian Tex Mex dish.
Start by infusing the oil with fresh garlic. This builds a foundation of flavor that you add to with layers of flavor as the rice cooks.
The best trick to making perfect rice is to brown it in the oil, taking care not to scorch it. Add your liquid and other ingredients, stir to combine, and then cover.
Cook it under very low heat without lifting the lid. Fluff with a fork before serving.
A bit of a different spice blend and the absence of enchilada sauce is what makes these Cheese Enchiladas one of our favorite Tex Mex meals.
The secret ingredient in this dish is the chili gravy.
The combination of gravy and cheese is the reason these enchiladas are considered "the essence of Tex Mex."
Tip: Use only warm tortillas to make your enchiladas. Tortillas right out of the refrigerator will tear when you attempt to roll them.
Top before baking with gravy, extra cheese and chopped onion for a delightful take on a traditional dish.
This is one of our favorite Tex Mex recipes for a potluck, game days or summer cookouts.
Texas Style Nachos are full of authentic Tex Mex taste and the kick of pickled jalapeno peppers.
The trick to making great nachos is to use sturdy tortilla chips, from stone-ground corn, or to make your own.
The sturdier the chip, the more toppings it can tolerate without breaking or becoming soggy.
Serve with guacamole, salsa, pico de gallo and some sour cream on the side for a delicious appetizer or add some ground beef, shredded chicken or pork for some loaded nachos that eat like a meal.
This easy one-pot Tex Mex Chicken and Rice recipe take traditional chicken and rice to a whole other level.
Tex Mex spices combine with southwest ingredients to make a Tex Mex meal that everyone will love.
You can substitute the bell pepper for mild chile peppers for an added kick of flavor and hint of heat.
The recipe calls for fire-roasted tomatoes, but you can use whatever you have on hand, Mexican stewed tomatoes with green chile and onion are also a great substitute.
This Tex Mex Casserole is one of our favorite Tex Mex recipes with ground beef.
This casserole bakes up yummy and cheesy and is a perfect comfort food meal. It's sure to be a hit with everyone.
You can substitute white rice or quinoa in place of the brown rice, and try it with a can of green or red enchilada sauce for some added variety and a different type of spice.
This works great when you have some leftover cooked rice, and will also work well with shredded chicken or ground turkey instead of ground beef.
Breakfast burritos are a great grab-and-go meal on the run for busy workdays or when you have a crowd to feed on a weekend.
These Tex Mex Breakfast Burritos are filled with seasoned ground beef, eggs, cheese, potato and pico de gallo all wrapped up in a warm flour tortilla.
Sliced avocado or guacamole is an additional option.
You can omit the potato and substitute the flour tortillas with whole grain or carb balance tortillas for a lower carb option.
These Tex Mex Breakfast Haystacks will soon become one of the most popular Tex Mex dishes at your table.
This fun and tasty breakfast bring together all your breakfast favorites in a colorful and delicious presentation that is sure to be a hit.
Tip: Be sure to get the majority of the liquid out of your hash browns by squeezing with a paper towel before frying.
Hash browns and cheese from the base and you build your haystack with the eggs and bacon, then top with the onion sour cream mixture.
Garnish with salsa and chopped scallions for a tasty dish that is certain to be a winner.
Want a great way to use up this summer's zucchini crop? This Tex Mex Chicken and Zucchini meal is a classic skillet, a thirty-minute meal that is sure to be a favorite.
Start with boneless, skinless chicken breasts and combine them with your aromatics. Add fresh zucchini, canned tomatoes, corn and black beans.
Stir in your cheese and cover, cooking the chicken to temp and serve hot and bubbly over rice or quinoa.
This is Tex Mex comfort food at its finest.
One of our favorite beef Tex Mex recipes is this Tex Mex Cornbread Casserole. This dish combines all the favorites of southwest cooking in one tasty cornbread crust.
This is a great meal to put together with what you have on hand.
You're making a savory filling and it works with tomato sauce or salsa, and mild green chiles instead of bell peppers. Don't skimp on The Tex Mex seasoning or the meat.
You can also make homemade cornbread, but a box mix is quick and easy as well.
Try adding some of your corn or sundried tomatoes to the cornbread batter for another layer of flavor.
A good salsa recipe is a great thing to have at your disposal. So many dishes can be enhanced by the addition of tasty and spicy salsa.
This Tex Mex Salsa recipe is no exception.
This is a fresh salsa that requires no cooking, so all you need to do is blend the ingredients together in a food processor or blender, and it's done!
Use it straight for dipping tortilla chips or use it as a condiment for other Tex Mex Favorites.
Top your nachos or tacos with this delicious fresh salsa. Can also be canned and has a 6-month shelf life.
Beans are a staple in both Mexican and southwest cooking cultures.
Many recipes call for black beans, refried beans or whole pintos. This recipe for Mexican Pinto Beans, a.k.a. Charro Beans, works as a side dish for just about any Tex Mex recipe.
Charro beans are whole pintos cooked to creamy perfection with some jalapeno for an added kick of heat that pairs well with everything from meat dishes to Tex Mex meals.
Tip: Make these beans ahead of time. A day in the fridge will help the flavors meld together and make them taste even better!

Don't let the picture fool you. This Tex Mex Corn is not what is pictured.
This authentic Tex Mex Corn is a twist on Mexican elite and is grilled in the husk and served on the cob with chilli powder and a tasty spread.
Once grilled, the cobs are spread with mayo, grated cheese and bacon crumbles.
This is the perfect side for a summer BBQ, with a steak, or any hearty entree.
Tip: Roll the cob in melted butter before grilling to help the chilli powder stick to the corn.
Chili Con Carne is an inherently Tex Mex dish, even though this recipe contains kidney beans, it's still quite a traditional tasting.
Start with your aromatics, then add the seasoned beef. You can use ground beef, ground sirloin, or chuck steak that's been chopped into cubes. Shredded beef works as well.
Build this dish up with layers of flavor using your Tex Mex spices, tomatoes, and optional beans.
This dish is best made ahead and refrigerated overnight, allowing the flavors to perfectly blend together.
Top with sour cream, shredded cheese, chopped onion and sliced jalapenos or avocado.
Chopped cilantro is the perfect garnish.
This savory and hearty Mexican Birria is a recipe that you are going to want to make again and again, once you get a taste of it. Birria is usually made with lamb or goat shank but works just as well with beef.
The secret ingredients in this recipe are the Birria spice blend which includes rehydrated guajillo (California ) chiles.
Once you've cooked your aromatics, you blend them all together.
An immersion blender works well for this.
This step creates a thick and smooth texture for the stew and eliminates chunks.
Marinate the meat for at least two hours then simmer until perfectly tender for best results.
This 7 Layer Tex Mex Dip is always a hit at parties, game days or potlucks.
Easy to make and quick to put together, this dip is the perfect appetizer or snack for any occasion.
You can add variety and substitute pepper jack for your cheddar cheese and omit the mayo and use low-fat sour cream for a lower fat option.
Use classic Tex Mex spices instead of packaged taco seasoning mix for a more authentic spice blend.
We can just about guarantee that you will always come home with an empty dish.
Deviled eggs are a summer staple. Everyone gets-together you attend has a plate of them. They are always popular and gobbled right up.
These Tex Mex Deviled Eggs are no exception. The secret of making these Tex Mex eggs is the spicy additions to the egg yolk filling.
Onion, jalapeno, chilli powder and cheese are added to the traditional mayo and seasonings to create an astonishingly good spicy deviled egg.
Top with chilli powder instead of paprika for a little touch of heat and you've got an amazing twist on the traditional deviled egg recipe.
Fajitas elevate a cheaper cut of meat such as skirt steak or flank steak to a whole new level of deliciousness.
These Traditional Tex Mex Fajitas make the perfect summer cookout meal for parties, game days, or any occasion.
The secret of great fajitas is in the marinade. Fresh ingredients and spices combine to make this dish taste authentic and delicious.
Marinate the carne asada steak overnight for best results.
Done right, you get a tender and flavorful steak served with grilled onions and peppers along with some warm tortillas on the side.
On the surface, it might sound strange, but this Spicy Tex Mex Salad is delicious, tangy and full of delightful textures and flavors.
It's always a fun surprise to serve it for the first time.
The creaminess of the beans, smoothness of the cheese and crunch of the lettuce combine with Catalina salad dressing and a topping of crisp tortilla chips to make this spicy salad a delight.
Pull out this recipe for a perfect addition to a summer cookout or potluck get-together.
This salad is a perfect side for any entree or can be a lunch or dinner meal all on its own.
Tex Mex Pasta is one of those super simple one-pan meals that go from oven to table in a hurry.
This dish is a great way to stretch your grocery budget and feed a crowd.
Just a few simple ingredients and wow! You've got a tasty pasta dish that the whole family is sure to enjoy. Use rotelli, penne or large shells. Smaller pasta will not hold up to the meat and sauce.
The secret ingredient in this recipe is the cream of chicken soup. You can substitute cream of celery or mushroom if that's what you have on hand.
You may never have heard of Tex Mex Popcorn but we can guarantee you'll remember the flavor.
The chilli spice, garlic, and paprika added to the traditional butter and salt make this the most savory popcorn you're ever likely to taste.
Make this for game day, movie night or any time you're craving a salty, savory snack.
This one is perfect for adult get-togethers.
You can adjust the chili for more or less heat depending upon your personal preference. The kids will love it too!
This Cheesy Tex Mex Pasta is the perfect comfort food meal. Bonus points are that it's also a quick and easy one-pan meal that you can make to stretch your grocery budget and feed a big group.
This dish is perfect to take to a potluck, game day get-together or whenever you simply want to make a hearty and flavorful dish your family will love.
Tip: Use a hearty pasta such as large shells, rigatoni, or penne for best results.
Here is one of our favorite throw-together slow cooker recipes that are perfect for days when you know you're going to be busy, and still want to give your family a hearty and delicious meal.
Slow Cooker Tex Mex Chicken begins with boneless chicken breast meat, but you can use thighs if you prefer dark meat. Simply toss your cut-up chicken pieces with the taco seasoning and flour then place them in the slow cooker.
Add your peppers, and corn and pour over the salsa. Set it and forget it.
Serve over rice with a topping of shredded cheddar cheese and some chopped scallions.
This Slow Cooker Tex Mex recipe uses whole boneless and skinless chicken thighs. All you do is add the ingredients, stir, and then set your slow cooker on low.
5-6 hours later, you have tender and flavorful chicken thighs with a savory boost of Tex Mex spices.
This recipe is a perfect weekday on-the-go recipe. Simply set it and go about your day
You'll be glad to have leftovers from this recipe. We think this dish tastes even better on the second day!
Comfort food with a Tex Mex twist!
This Tex Mex Shepherd's Pie turns the traditional version on its head. This version still uses the potato topping instead of crust but the filling is pure Tex Mex.
Shredded cooked chicken, black beans and corn combine with your aromatics and Tex Mex spices to produce a savory and hearty dish that the entire family is going to love.
You're going to want to put this recipe on repeat throughout the cold weather months and we're sure it will be an often-requested favorite at your table.
Two types of potatoes and two types of dipping sauces sound like the perfect pairing for us.
These Tex Mex Oven Fries are a combination of sweet potato and russet potato for a delightful variance of flavor and texture.
The two dipping sauces are chipotle lime and avocado ranch. There's something here to please everyone
You can substitute the coconut oil for another light cooking oil, but we like the coconut for that bit of sweetness that it imparts to the oven fries.
This recipe can also work in your air fryer, if you toss the potatoes in the oil and spices then air fry to perfection.
Quesadillas are a simple and tasty snack or meal anytime you want something quick and easy.
What makes these Tex Mex Cheese Quesadillas so great is the garnishes.
You can use a variety or blend of cheeses for your filling and use corn, flour, or whole-grain tortillas.
Toast them just until the cheese inside is melted and gooey.
Use sour cream, guacamole, black olive, and salsa or pico de gallo to complete this savory and colorful meal that works as an after-school snack or appetizer; or add some cooked shredded beef or chicken and turn your quesadillas into the main course.
This spice blend is the perfect thing to have on hand when you are thinking of Tex Mex cooking.
Whenever the recipe calls for taco seasoning or Tex Mex Seasoning, all you have to do is reach for it.
Tex Mex seasoning is the perfect savory spice blend for all of your southwestern and Mexican dishes with a hint of chile spices and all the savories.
Mix this up in advance for spice rubs, marinades, grilled meat, or whenever you want just a dash of heat in soups or stews.
This seasoning will be one of your most reached for on the spice shelf.
Don't let the name fool you. This Taco dinner is not tacos, but all the things we love about tacos in a one-skillet meal. Simply cook the meat and layer on the other ingredients and you've got a tasty and filling meal that the family will love.
You can substitute canned nacho cheese or pre-shredded cheese for the spray cheese and Spanish rice for the white rice for an authentic Tex Mex dinner.
This is a great weekday meal when you're busy and in a hurry, and who isn't?
Tex Mex lovers can't miss this one-pan meal.
This recipe for Tex Mex Skillet Fried rice produces a dish that is southwest beef fried rice.
It's not a taco, and it's not just rice, the combination makes it ever so much more than that.
Tex Mex seasonings, corn, and a can of mild green chiles give this dish the savory southwest taste you love. You can also throw in a can of drained black beans to complete the dish.
Substitute pepper jack for Monterey jack for an added bit of creamy cheese and spice and you have a delightful comfort food meal that is easy and delicious.
This Tex Mex Lasagna has everything you want for a southwestern meal. The recipe calls for ground round, but you can use ground sirloin or shredded beef, or substitute cooked, shredded, or cubed chicken for the beef.
Use your Tex Mex Seasoning and canned tomatoes with green chiles and layer with tortillas instead of pasta for a cheesy and savory baked casserole that is sure to be a hit at your table.
This is one of the Tex Mex recipes that is sure to be put into regular rotation in your kitchen.
Cook your pasta and tomatoes in the beef broth while you sweat your aromatics and cook the meat.
Stir everything together and add back into the pot until fully combined.
The sauce will thicken as you stir the cheese in.
Add and adjust your spices to taste. Continue to heat and stir until done. Tip: Take care not to overcook your macaroni.
It will get mushy and fall apart. Remove from heat while al dente.
Serve with cilantro, sour cream, avocado and green onion as garnish. We recommend that you make enough to freeze or keep the leftovers. We think they taste even better the next day!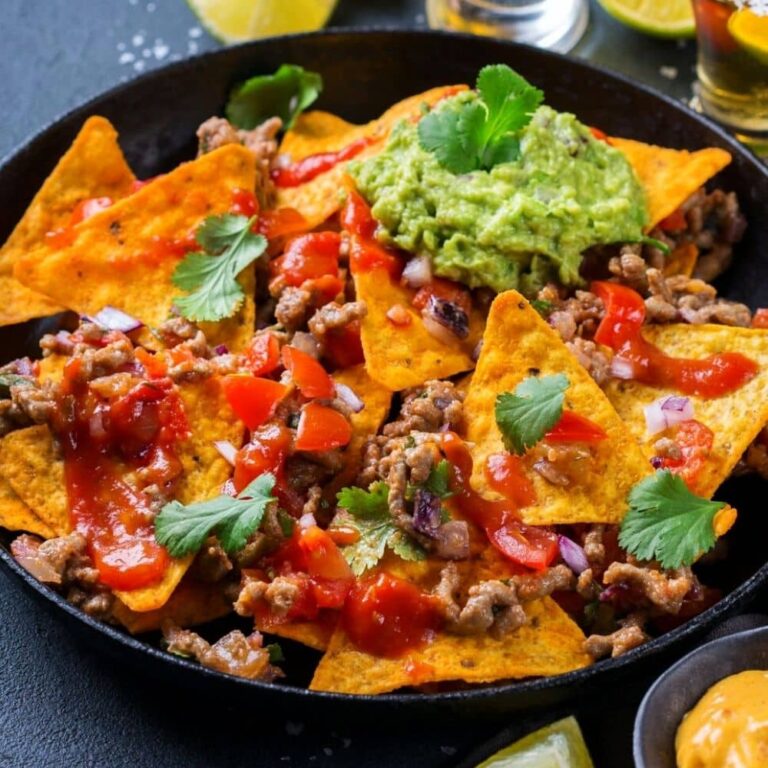 34 Best Tex-Mex Recipes
Ingredients
2 c uncooked spiral pasta
1 LB ground beef
1 jar (16 oz) salsa
1 can (10-3/4 oz) condensed cream of chicken soup, undiluted
1 c shredded Mexican cheese blend, divided
Instructions
Preheat your oven to 350 degrees
Bring water to boil and cook pasta according to package instructions
While pasta is cooking, cook the beef in a heavy skillet or Dutch oven
Stir in salsa, canned soup, and half of the shredded cheese
Drain pasta and mix it into the meat mixture
Transfer into a greased casserole baking dish
Top with remaining cheese and bake until cheese is melted and bubbly about 15-20 minutes. Serve.