Have you got an upcoming potluck and are looking for potluck ideas that suit everyone? Well, we can tell you that you are certainly in the right place, and we can't wait for you to try some of our particular favorites.
There are so many easy potluck dishes out there, so we've compiled together some of the best potluck dishes that we think you and everyone else will thoroughly enjoy.
From meatballs to salsas, you'll have so many choices to choose from.
If you're looking for good potluck dishes, keep reading, and you'll certainly have your taste buds blown away.
People all around the world adore meatballs, so if you need food to bring to a potluck, this is the dish made to please.
This meatball dish has 14 ingredients, beef consomme, ground beef, onion, parsley, eggs, beef broth, tomato paste, brown mustard, cornstarch, breadcrumbs, butter, and most importantly, the seasoning, salt and pepper and red chilli flakes for that extra fiery flavour.
With this recipe, you'll be the talk of the show, with your friends and family lining up for plate after plate.
Stuck for potluck food ideas? Potato casserole is always an easy and enjoyable option.
This potato casserole dish makes ten servings, but if your potluck has many people attending, you can easily double or triple the ingredients.
This recipe only requires 9 elements, including cheddar cheese for the smooth, creamy and cheesy sauce, cream of potato soup, sour cream, cream cheese, green onions, garlic cloves, hash brown potatoes, Parmesan cheese and lastly but most importantly, salt to taste.
You can swap the cheese for different types depending on what flavour you desire.
Almost everyone loves to have a pasta dish, and we're certain if you turn up with a large delicious pot of pasta for your potluck, you'll be adored by everyone.
You needn't double or triple this recipe, as it creates a large dish, perfect for a gathering.
To make this dish, you will need rotini pasta (you could use fusilli, penne or any other type you desire, salami, grape tomatoes, black olives, bell peppers, red onion, mozzarella, parmesan, parsley, basil, dried oregano, olive oil, lemons, Dijon mustard, honey, red pepper flakes.
These elements combined provide an abundance of fresh flavors.
If you want pot-luck dishes that will impress, this is certainly one to consider.
Ever gone to a party and not had some sort type of deviled eggs?
The answer to that (we hope) is unlikely because everyone loves deviled eggs, meaning they make one of the best potluck dishes.
Eggs are obviously the main taste you'll experience, but you can also expect the garnish to seep through too.
This recipe requires eggs, mayonnaise, white vinegar, yellow mustard, salt and pepper and smoked paprika.
When people arrange parties, it's quite easy for them to forget great dishes such as dips, instead, they often go for a more substantial recipe.
Why not surprise everyone with a tasty potluck olive tapenade to spread on a beautiful loaf of bread or to pair with other dishes on a mezze platter.
To make this, you will need brine-cured olives, capers, olive oil, parsley, lemon juice, anchovies (either fresh or as a paste) and salt and pepper.
The anchovies are the secret ingredient that gives the dish a savory umami flavor.
Potlucks aren't always about side dishes or savory main meals, they also include desserts too, and for children and many adults, it's often the best party of the gathering.
For this scrumptious potluck dessert, you will need chocolate chips, chocolate instant pudding mixture, confectioners' sugar, container topping, vanilla extract, cooking spray, pecans, chocolate sandwich cookies, butter, cream cheese and milk.
Has your work arranged for everyone to bring in food to share, and you're struggling to come up with ideas? We have potluck dishes that will impress, and this is one of them.
Almost everyone loves pizza, so why not bring a dish you know everyone will thoroughly enjoy?
Stuffed mushrooms are delicious, so pizza stuffed mushrooms just sound divine.
The great thing about this dish is how easy and quick it is to prepare, all you need is 6 ingredients, and that's it.
Your ingredient list needs to include mushrooms, mini pepperoni links, pizza sauce, mozzarella, pepper and basil.
If you're making for a large group, it's worth doubling the ingredients.
We love this recipe as it's perfect for the festive season paired with crackers, cheese, salami and, of course, some wine, champagne or anything else that tickles your fancy.
To make this cheese ball antipasto dish, you will need cream cheese, sun-dried tomatoes, red bell peppers, salami pieces, chives, parsley, onion powder, garlic powder and salt.
Make sure to dry each ball with a paper towel. This will soak up any excess oil and help them to stick together.
We personally think it's one of the impressive potluck dishes out there, especially as it gives you that fancy feeling.
Got an upcoming BBQ where you've all been asked to bring a food dish with you? These BBQ chicken sliders are the perfect recipe to bring.
The ingredients for these are rolls, chicken, barbecue sauce, red onion, pepper jack cheese, butter and parsley.
An added tip to make these even better is to season the chicken with salt and pepper, garlic powder, paprika and allspice.
The seasoning will give it a fiery and peppery aroma.
This dish is full of fantastic flavors, perfect for a potluck gathering.
Even if you have already made a dish in preparation, this is so simple and quick to do and will be pleasantly enjoyed by everyone.
The ingredients include sour cream, bacon, cheddar cheese and green onions. So simple but so worth it, and only 401 calories per serving.
What's great about this dish is it can be served with anything, but it's especially good with potato chips. Give it a go!
Looking for work potluck ideas? This one is so simple but yummy, and your colleagues will definitely be impressed.
What we love about these is how they look like cinnamon buns, except they're the savory version.
To make these pizza rolls, you will need pizza dough, olive oil, pizza sauce, Italian seasoning (always important to include!), garlic powder, mozzarella cheese and pepperoni.
You can choose to put any toppings on them if you don't just want pepperoni.
Why not mix it up and have a couple with one type of topping and another couple with something different.
When people bring dips to a potluck, it's often the usual ones like hummus but trying something different is always fun.
This is one of our quick potluck ideas, perfect for when you're in a hurry.
This dish is so creamy and infused with an array of flavors, but it is certainly not for the faint-hearted with its hot wing flavors.
Now for the important part, the recipe requires unsalted butter, garlic, chicken, hot sauce (any will work), cream cheese, sour cream, cheddar cheese, American cheddar, blue cheese and green onions.
You can substitute the cheese or hot sauce for a more preferred option.
We love these snickerdoodle cookies for many reasons, firstly, because of their name and secondly, because they're just so tasty when you bite into them.
The elements for these are all-purpose flour, cream of tartar, baking soda, cinnamon, salt, unsalted butter, granulated sugar, eggs and vanilla extract and the best part, the topping, requires more cinnamon and granulated sugar.
The secret to making these so great is the ratio of butter to leavener to flour to egg, but this recipe explains this more.
If you need potluck ideas for work, why not try these excellent cookies. Everyone loves a bit of sugar in their life.
If you've got any veggies coming to your potluck, you'll need some veggie potluck meals, and this veggie tray is perfect.
As can expect, it's an assortment of all kinds of colorful veggies along with some yummy dips.
You will need carrots, celery sticks, cucumbers, cherry tomatoes, radishes, asparagus stalks, green beans, fresh herbs to garnish and any dips of your choice.
You can substitute any of these veggies for another type.
Doesn't this just sound divine, a dip with 7 layers. Absolutely heavenly, if I say so myself, and it has such a creamy and fresh flavor to it.
This only takes 15 minutes to prep and includes salsa, refried beans, milk, cream cheese, sour cream, taco seasoning, guacamole, cheddar cheese, black olives (or you could use tomatoes), and green onions.
We personally think the best part of this is the cheddar cheese, so make sure to include it.
Who doesn't love bruschetta? It has such a fresh, Mediterranean taste to it. Nothing could be better for a potluck gathering.
This recipe requires tomatoes, black pepper, extra-virgin olive oil, basil leaves, Italian or French bread and garlic cloves.
The secret ingredient when it comes to making the best possible bruschetta is the seasoning, so always ensure they are included.
We think these skewers are great, not only are they so tasty and loaded with various flavors, but they also look really pretty too, so for you Instagram lovers out there, these should definitely be something you try.
To make these glorious skewers, you will need skewers, cheese tortellini, Italian salad dressing, tabasco sauce, olives, grape tomatoes, salami, mozzarella, basil and artichoke.
If you don't like mozzarella cheese, you can use cheddar, pepper jack or something else as an alternative.
This could possibly be the best idea to ever exist. Macaroni is such a comfort food and to have it mixed into a salad is a fantastic idea. Certainly a great dish for a potluck on a hot summer's day.
This salad is so simple and quick to make, it takes 15 minutes to prep and only 7 minutes to cook.
The salad dressing is the secret part of this recipe, and without it, it just won't taste the same. So make sure you add it and don't miss a single element!
Got kids at your potluck? Why not make this sheet pan pizza? Plus, adults love pizza too, so, it's a great all-rounder dish.
While the prep and cooking time does take an hour and 10 minutes it's definitely one to consider, especially when you finally get to dig into a slice of it.
For this pizza, you will need active dry yeast, granulated sugar, warm water, all-purpose flour or bread flour, garlic salt, olive oil, pizza sauce, pepperoni, mozzarella cheese and lastly, but not least, Italian seasoning.
Want a mouth-watering dessert to serve your family and friends? We have this beautiful chocolate brownie recipe.
To make this, you need unsalted butter, dark chocolate, brown sugar, eggs, vanilla extract, flour, cocoa powder, salt, and for the salted caramel, sweetened condensed milk, maple syrup or golden syrup, unsalted butter and salt.
If you don't want to make your own salted caramel, you can buy store-bought, it works just as well and sometimes even better.
You better be quick with grabbing one of these because they won't last long!
Salads are great dishes to bring to a potluck, especially a tasty but super healthy one.
This recipe makes 20 servings, so they'll be more than enough for everyone.
The ingredients for this salad include broccoli florets, red grapes (make sure to cut in half if any children are coming), celery, onions, mayonnaise, sugar, cider vinegar, bacon and slivered almonds.
You can always choose to add some other veggies if you see appropriate.
Before you think no because the kids are there, these are kid-friendly rum balls, meaning yes, you can have them, especially when they're so quick and simple to make, only taking 5 minutes and require only 4 ingredients.
What we love about these compared to other rum ball recipes is that there's no rum required, meaning you can enjoy them with your kids.
All the recipe needs are crushed biscuits, sweetened condensed milk, cocoa powder and desiccated coconut.
Need to bring an appetizer, try this lovely chunky shrimp full of amazing flavors.
It's not like your usual guac, more of a salad version, but so worth having because it's just delicious.
To make this, you'll need lemon juice (or lime), this is important as it goes great with the shrimp, garlic, salt and pepper, shrimp, avocados, red onion, grape tomatoes, jalapeños, red pepper and the dressing lemon or lime juice, olive oil, cilantro, kosher salt, cumin, and black pepper.
You can have guacamole with anything, on bread, chips, served with veggie sticks, whatever you might fancy.
Like we were saying earlier, mac and cheese is comfort food and is loved by so many people.
It's just beautifully creamy, and we had to add it to our list because it's a great potluck idea, especially for dinner or a work gathering.
To make macaroni and cheese, you will require macaroni, Velveeta, Mexican cheese blend, cheddar cheese, whole milk, evaporated milk, butter and eggs.
This recipe is only 388 calories per serving, too, meaning there's always room for more mac and cheese or other delicious potluck dishes.
It's always good to have a nice hearty meal when you go to a potluck, something that's going to fill you up if all the other dishes are only appetizers.
This is especially a good idea if it's a dinner gathering you're going to.
The dish serves 8 people and takes around an hour and a half, so is slightly longer than our other ones, but we 100% recommend trying.
You will need chicken breasts, mushrooms, all-purpose flour, sour cream, dry white wine, butter, rosemary and salt and pepper to taste.
Whether you have a BBQ, picnic, work potluck, or any other type of sandwich is always an easy option that everyone loves.
For this, you will need eggs, mayonnaise, yellow mustard, green onion, celery and dill.
What's even better is that this only takes 20 minutes to make, and it makes a total of 4 sandwiches at 320 calories each.
Mango is such a delicious fruit, especially when in season, but did you know it works really well mixed with other vegetables?
To put this together, you will need mangos, red bell pepper, cilantro leaves, jalapeños, lime and salt.
If you need to make more servings, you can easily double or triple the ingredients.
Give this a try, it's perfect for a summer potluck.
Want something more filling? These buffalo chicken sliders are perfect for that.
Whether you have a work gathering or are planning a picnic, these work perfectly and are so scrumptious to eat.
You will need rolls, mozzarella, chicken, hot sauce, ranch dressing and butter. Such a small recipe list, but expect to taste a range of flavors.
If you didn't want chicken, any other type of meat would work too.
These are so good that you won't want to be sharing them. These crispy chicken bits are beautiful, especially when drizzled with the sweet chilli mayo sauce.
Your mouth will be watering just thinking about them.
To do this recipe, you will need vegetable oil, buttermilk, all-purpose flour, cornstarch, egg, hot sauce, kosher salt and black pepper, chicken breasts, and panko, and to make the sauce, you need mayonnaise, sweet chilli sauce, honey and Frank's Hot Sauce.
These take a quick 20 minutes to prep and only 10 minutes to cook. They do only make 6 each, so it might be worth doubling or tripling the recipe.
This pasta salad is perfect for the Summer weather, whether you've got a BBQ, picnic or just a casual gathering with family and friends, you should try this pasta salad.
We fully believe it's one of the best dishes on this list.
To make it, you will need fusilli or rotini pasta, extra-virgin olive oil, grape tomatoes, sea salt, mozzarella, basil and white balsamic vinegar.
Give it a try and see what you think, we know you'll love it.
Sausage rolls are just delicious, but these Aussie sausage rolls are even better.
To make these, you will need an onion, chives, basil, garlic cloves, salt and pepper, paprika, pork sausage and puff pastry.
The important elements of these are the added flavors, especially the chives, basil and salt and pepper.
Sausage rolls are perfect for a potluck, so we definitely recommend adding them to your list.
These sound delicious and are perfect for a potluck dessert.
If you've got kids coming, we're certain these might just be the favorite dish on the table.
To make these, you need butter, sugar, eggs, very ripe bananas, vanilla extract, flour, baking soda, salt and for the cream cheese frosting, butter, cream cheese, powdered sugar, vanilla extract and salt.
Lastly, we wanted to add in another delicious dip that can be served with whatever you desire, bread, veggie sticks, potato chips or perhaps something else.
You will need cream cheese, corned beef, Swiss cheese, sauerkraut, sour cream and Thousand Island salad dressing.
No matter your type of gathering, this dip will be perfect and adored by all who have it.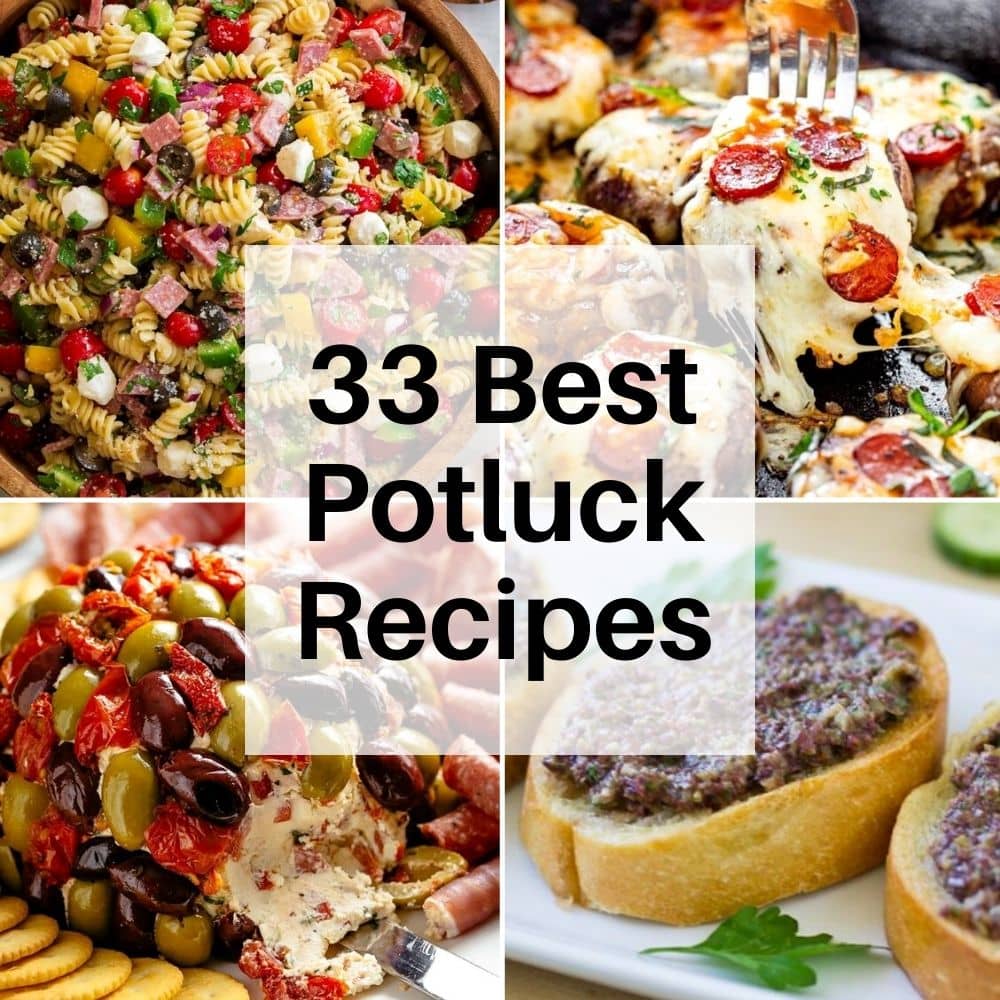 33 Best Potluck Recipes
Ingredients
1 pound of lean ground beef
¼ cup of minced onion
½ cup of breadcrumbs
2 tablespoons of water
1 Eggs
1 teaspoon of salt
1 teaspoon of black pepper
1 teaspoon of Paprika
1 teaspoon of Oregano
1 teaspoon of garlic powder
2 cups of enchilada sauce
Jar of salsa
1 cup of shredded Mexican cheese blend
Instructions
Preheat the oven to 400 degrees.
In a bowl, you will need to combine the egg, water, breadcrumbs, diced onions, ½ teaspoon of oregano, ½ teaspoon of paprika, ½ teaspoon of garlic powder and ½ teaspoon of salt and ½ teaspoon of black pepper with the ground beef and 1 cup of enchilada sauce to make your meatballs. It's important that the ingredients are thoroughly mixed but not overdone.
Once the mixture is fully mixed, you can make it into small balls about 1-inch in size.
Cook the meatballs in the oven for 10 to 12 minutes until they turn a slightly light golden brown color.
While the meatballs cook, combine the remaining enchilada sauce, salsa, ½ cup of cheese, ½ teaspoon of oregano, ½ teaspoon of paprika, ½ teaspoon of garlic powder and ½ teaspoon of salt and ½ teaspoon of black pepper, and put into a slow cooker.
Once cooked, add the meatballs to the mixture in the slow cooker and cover with the remaining cheese.
Cook the meatballs for roughly 3 to 4 hours until fully cooked.