Relish is a great way to spice up any dish with a sweet or sour kick! They can be made with just about any fresh produce and are simple. These relish recipes only take a couple of ingredients and some elbow grease to make. Anyone can make them with a little bit of time!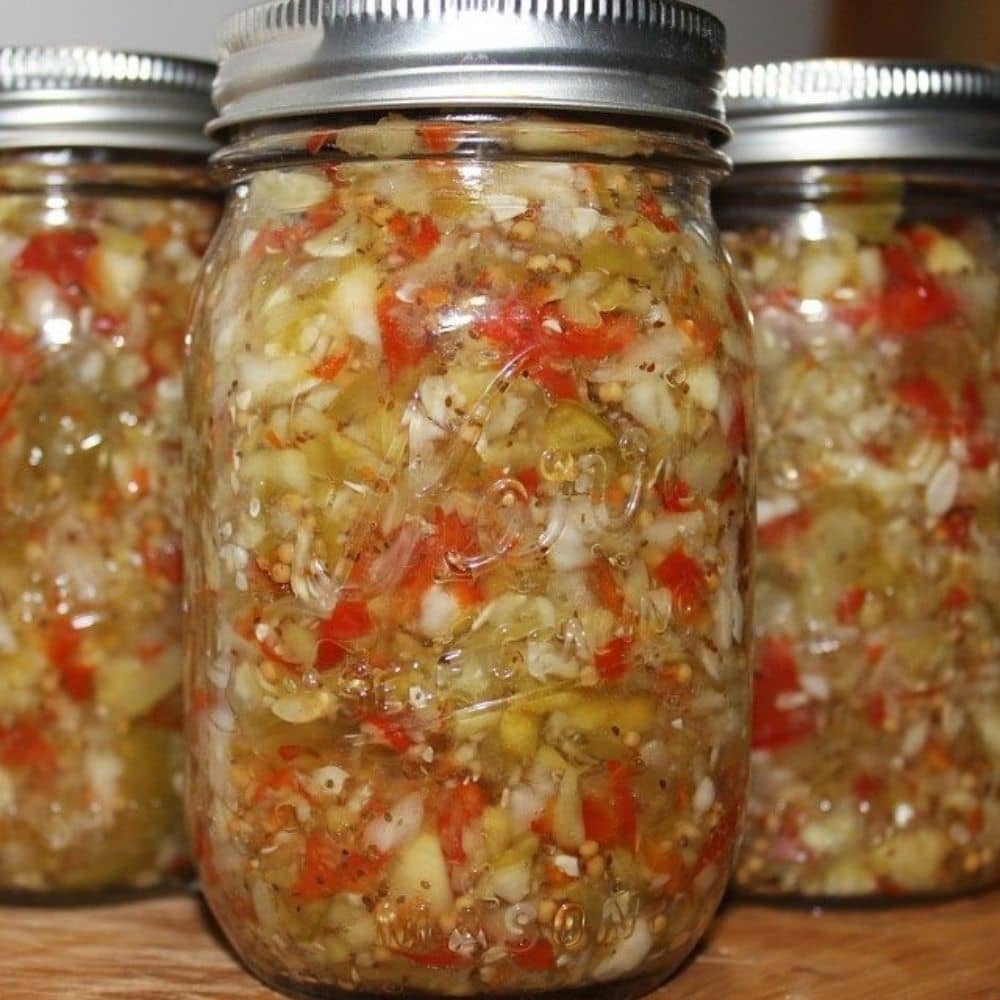 Relish uses pickling and canning procedures to preserve the topping. It can be stored in mason jars for over a year on the shelf and a month in the fridge, which makes this great if you don't use relish too often.
If you've got a lot of other products that will go bad, relish is a great way to turn them into a usable format. Relish can stay a lot longer than other vegetables and will keep them preserved.
When used correctly, relish can cut through fatty flavors and uplift heavy dishes.
Cucumber relish is just a fancy way of saying pickle relish. Pickle relish is made with cucumbers and can be found in pretty much every grocery store.
However, there's something special about making it yourself, especially if you've grown the cucumbers yourself. It adds a unique touch.
This relish recipe is simple and will impress any of your guests. This is a sweet relish recipe, so if you want a sour dill relish, you should scroll further down and see our recommended dill relish a little bit further down.
Zucchini relish has a similar but earthy flavor different from your typical pickle relish.
You can add all different shades of bell peppers like red, orange, and yellow for extra color. If you want a smoother finish, you should use sweet yellow onions like Vidalia.
The secret to creating a delicious zucchini relish is to soak all the vegetables in a bowl of iced salt water. This cold process will help the textures match and begin the bringing process.
If you've never thought of relish as sexy, this is a recipe that might change your mind!
Onion relish is an excellent example of how much pickling can transform a vegetable. It is easy, simple, and brightens any dish.
Onion relish or pickled onions are a delicious topping for burgers, hot dogs, or even pizza!
If you want a sweeter version, you can use yellow onions. You could also mix in a bunch of different onion types for a full-bodied flavor.
If you use red onions, you'll get a beautiful, vivid purple color that will add shades to every dish.
Hot pepper relish is one of the best condiments, and it is amazingly easy to make! You can make this relish very hot and use ghost peppers, or make it mild and use bell peppers. The possibilities are endless!
The real trick with this recipe is to keep the peppers evenly cut.
Some peppers have a much thicker peel, and others are much smaller. Evenly cutting your peppers will make sure each variety isn't overcooked or undercooked.
Use this relish on everything from hot dogs to nachos and even in a hot version of Thousand Island dressing!
Sweet and spicy pickle relish has the same great flavor of pickle relish, but with a kick. It will spice up any recipe!
This recipe has sugar, mustard, apple cider vinegar, and red chili flakes to pack a unique punch. This is a sweeter form of other common relish recipes out there, but it has a solid heat to it.
If you want to make it even hotter, you should substitute jalapenos or another hot pepper for the chili flakes. This may also add other flavors to this dish that weren't there originally.
Chow chow is a uniquely Southern relish made with cabbage, tomatoes, peppers, and onion.
All of these make a unique flavor profile that is a trademark for the region. You'll find chow chow at BBQs, potlucks, tailgates, and holidays!
It's believed that chow chow was made as an end-of-harvest relish to preserve the final product that wasn't enough for a whole recipe. Chow chow recipes vary from family to family and year to year with the backyard garden.
You can substitute in all kinds of peppers and different vegetables to make it your own. It's easy, fast, and will remind any Southerner of home.
Dill relish is a sour variety of most typical pickle relish.
It is less common in stores, so knowing how to make it yourself is a game-changer. Homemade relish is infinitely better than store-bought, and you can modify it as much as you want.
This recipe, in particular, has jalapenos included for a hot kick. You don't need them specifically to make a killer relish. You can substitute any other hot peppers in!
Like other recipes, this relish calls for whole dill, mustard, and celery seeds. However, you can use ground seeds or a spice bag if you don't like the texture of the entire grains.
The second zucchini relish recipe is an excellent variation on the first one covered.
If you want a different flavor, you could always substitute apple cider vinegar for the white vinegar this recipe calls for.
If you want to keep the same white vinegar flavor with a unique undertone, you could use half white vinegar and half apple cider vinegar.
This recipe is different from the first zucchini roundup because it uses red bell peppers for an almost sweeter flavor.
For a sweet and decadent relish, you should look at this balsamic onion relish.
It will pair with any Italian dishes you make and accentuate all kinds of pasta. Mix with flavored olive oil to create a unique twist on traditional Italian flavors.
Sweet relish recipes can be really heavy on sugar and can be overpowering. This recipe is less sweet than a lot of others and is more tart.
If you want a different kind of flavor, you could use this relish on a modified bruschetta. This kind of thing can make the whole dish pop and be a great conversation starter. It will compliment mozzarella nicely.
Corn might not be the first vegetable you think of for making relish, but it is a great way to add color and vibrancy to relish.
It uses two types of bell peppers, celery, and onion. Fresh sweet corn that you've cooked yourself is the perfect touch for this recipe.
Corn relish goes excellent on chicken, tacos, and chili. It is also a great addition to nachos and as a dipping relish.
Huevos rancheros with corn relish and salsa are a great way to start your day.
Have you ever wanted the best of both worlds with sweet and spicy? Then this is the recipe for you!
Spicy and sweet pepper relish is an excellent addition to any home cook's recipe book.
This recipe calls for brown sugar to create a more prosperous and sweeter flavor. This secret ingredient completely changes the flavor profile. You could also use molasses for this recipe if you wanted a smoother finish.
The brown sugar flavor works amazingly with BBQ and warm sandwiches to give a hot kick.
This relish recipe is an excellent addition to any Thanksgiving or holiday table.
It is a much sweeter form of relish, but it is an excellent choice for holiday events. It is sweet, tart has all kinds of fun fall flavors, and is delicious!
This relish features walnuts and can even be used on pancakes. It is sweet and has a tart flavor that you can't imitate until you've tasted it.
The bright color is sure to be a showstopper at any gathering and gives you a ton of ideas for future recipes.
Hot sweet pepper relish combines all the best things about relish. You get the sour pickling kick, the sweet punch of honey or sugar, and the heat from peppers you use in the mix.
This recipe is similar to chow chow but is almost entirely made with different types of peppers. Banana peppers might not be the first peppers you'd think about putting into a relish, but they shine in this recipe.
Use this relish on top of pinto beans and chili for a hot and sweet flavor.
Rounding out this list is a great sweet pickle relish recipe. Having a solid sweet pickle relish in your repertoire is essential for any chef.
Sweet relish can be used not just on different types of dishes, but it can also be used in sauces, like Thousand Island dressing. It's perfect for any Fourth of July BBQ or cookout you have to go to!
Homemade sweet relish is nothing like store-bought. You can control all the ingredients that go into it and make sure it's exactly what your family needs.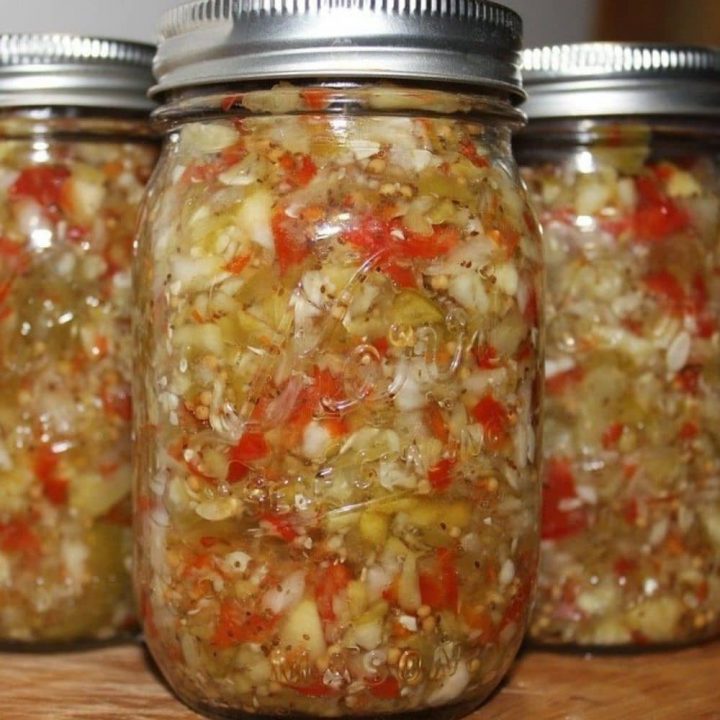 14 Best Homemade Relish Recipes
Ingredients
10 lb tomatoes
3 sweet onions
2 medium sweet red peppers
2 medium green peppers
2 tsp mustard seed
1 tsp celery seed
4-1/2 c white vinegar
2-1/2 c packed brown sugar
3 tbsps canning salt
2 tsp ground ginger
2 tsp ground cinnamon
1 tsp ground allspice
1 tsp ground cloves
1 tsp ground nutmeg
Instructions
Bring 8 cups of water to a boil and add 10 lbs of tomatoes, a few at a time.
Blanch the tomatoes for 30 seconds.
Drain and put tomatoes in ice water to make peeling easier. Peel and cut the tomatoes.
Put the tomatoes, three finely chopped onions, and two chopped green peppers into the same pot.
Make a spice bag with mustard and celery seed and add them to the pot.
Add all the other ingredients (brown sugar, salt, ginger, cinnamon, allspice, cloves, nutmeg, and white vinegar) and carefully mix.
Bring to a boil, occasionally stirring to prevent anything from sticking to the bottom of the pot.
Reduce heat and simmer uncovered for 60-75 minutes. Cook longer or remove earlier when the mixture has thickened.
Remove the spice bag.
Use a ladle and funnel to put the relish into sanitized canning jars. Leave about half an inch of space at the top of the jar. Too much or too little space risks breaking your canning seal.
Remove air bubbles with a knife or spatula and seal with sanitized lids.
Place jars into a boiling water canner. The water should be at least one inch over the top of your jar lids and already simmering when you add the jars.
Let jars cook for twenty minutes and carefully remove.