It's that time of year where Instant Pot recipes are coming into play. The chilly weather combined with the changing leaves makes it a perfect time to whip up some yummy dishes to keep you warm.
I'm always a big fan of anything I can make in an Instant Pot or crockpot due to the easy clean-up and the delicious smells that fill the house. In particular, beef is a favorite with family members, and they're always begging for more beef-based meals.
That's why we've put together this list of 30 Instant Pot Recipes (beef-based) to share with you. Enjoy these delicious, fast instant pot dishes that you'll want to make every night until summer comes around.
With a few ingredients, simple directions, and an Instant Pot, you'll have created mouthwatering recipes in no time. Grab your friends and family and hit the kitchen with the below recipes!
After glancing at the original beef bourguignon recipe, which requires hours of work and constant basting, it can be pretty intimidating.
Finding an Instant Pot version has been a total lifesaver. You still get the juicy, tender beef without spending a whole day cooking.
If you've never cooked this recipe before, you may find it surprising that red cooking wine is used in the sauce.
This wine can be easily swapped with more stock for those who aren't fans of the taste.
Do you want a beef stew that doesn't need to sit on the stove all day?
You're in luck! This hearty stew is filled with your favorite ingredients like potatoes, beef chunks, and carrots.
The surprise ingredient in this dish is tomato paste. It helps add a tasty, acidic flavor that balances out the fattiness of the beef.
Use tomato puree instead if you can't find tomato paste in your cupboards. You'll need to adjust the broth by using less liquid with this substitute.
Nothing is better than these instant pot beef tips. This is one of the yummiest instant pot beef recipes you'll find. These beef tips are super tender and covered in a thick sauce.
Part of what makes this dish surprisingly tasty is the steak seasoning added to the beef. You can, of course, use your favorite seasoning mix instead. Or, get creative and blend a few different spices for a special meal.
Tip: It's important to sauté the beef first, so it has a nice golden color on the outside. This will add loads of flavor!
Ahh.. roast beef. It's such a yummy dish that it is easy to eat with any side.
This version is somewhere between regular roast beef and a beef stew as it has tasty gravy, potatoes, and carrots added to it.
Golden baby potatoes are the hidden ingredient in this dish. Swap them out for whatever potatoes you have on hand. If you prefer a sweeter taste, you can use sweet potatoes instead.
This recipe makes eight servings, so you'll likely have leftovers. It's perfect for lunches or dinners throughout the week.
This dish gives you everything you love about pot roast and so much more! Of course, potatoes, carrots, and juicy meat are included in a delightful rub. Save this recipe for a Sunday night family dinner.
What makes this pot roast stand out is the slight bit of heat you'll taste from the rub. Cayenne powder is used to add spiciness and make the flavor pop.
Try using chili powder instead for a more complex taste. You can also add in a few dashes of hot sauce in a pinch.
It can be tricky balancing work, family, and friends. Anytime there's a recipe that I can set and forget, I'm all for it.
After sautéing the beef, veggies, and bacon – you will need to pressure cook all ingredients before adding a cornstarch slurry.
Yes, that's right, there's bacon in this beef burgundy stew dish. It adds an immense amount of flavor to the stew and veggies (especially while sauteing). Swap the bacon with a smoked version for a delicious meal.
Bring the Mexican restaurant to your home every time you make this homemade beef barbacoa dish.
It's so tasty. Your family will think you've ordered dinner from a restaurant. This barbacoa is delicious and packs some heat too.
Even though beef is used in the recipe, it recommends including some better than bouillon powder.
This vegan bouillon substitute is a tasty way to add flavor to the dish. Of course, you can use regular beef bouillon if you have that on hand.
Looking for the best Instant Pot recipes for beginners? Give this a try!
The final result is beef that's so tender it's hard to scoop up with a fork smothered in a thick gravy.
What's the surprise ingredient? That would be Heinz chili sauce. If you've never used this before, it has a tangy tomato flavor that meshes perfectly with beef.
Ketchup can be used in its place, though you'll end up with a sweeter gravy.
Tip: Deglazing the Instant Pot is an important step to help avoid any burned bits in the stew.
Chinese food is oh-so-tasty. It's the perfect comfort food to keep you full, though it's usually heavy on the oil.
This instant pot of beef and broccoli lets you add the right amount of oil to fit your needs for a healthier alternative.
As you may have guessed, garlic is used in this recipe to add additional flavor. You'll have a more pungent taste with fresh garlic (perfect for garlic lovers!).
However, you can also use garlic powder though you want to adjust the quantity based on your preferred taste.
Looking for another dish to go alongside the beef and broccoli? How about this Mongolian beef? Thin slices of beef are covered in a sweet, spicy, salty sauce and cooked to perfection.
You may be wondering what adds the tanginess to this dish – it's rice vinegar.
Finding this ingredient may be tricky if you don't have a large Asian section in your local grocery store. You can use white wine vinegar instead or just a squeeze of lime juice.
Curry is such a delicious dish because there are so many varieties. Because of this, there's bound to be at least one type of curry that everyone enjoys. This beef curry recipe combines tanginess with heat and just the suitable aromatics for the ultimate dinner.
The unexpected food item in this recipe is yogurt. It helps to balance out the heat and makes the sauce incredibly creamy.
You can swap this out with sour cream or heavy cream.
Tip: Ensure you set the correct temperature after the yogurt has been added in. It can curdle easily.
What's better than a big bowl of piping hot chili topped with melty cheese? Not much! You'll want to add this to your list of delicious beef instant pot recipes.
This chili recipe offers four large portions. However, it can easily be split into six smaller portions for snacks or smaller meals.
Kidney beans are, surprisingly, the only beans used in this chili. Try using red beans as a swap for a similar texture.
If you think corned beef and cabbage meals are only reserved for St. Patrick's day, think again!
This tasty dinner is perfect, no matter the weather or the occasion. Carrots, potatoes, cabbage, corned beef, and seasonings combine for a fantastic meal.
So, how does this recipe differ from other corned beef and cabbage dishes? That would be the beer that is added into the sauce. You can use extra broth or ginger ale if you don't like cooking with alcohol.
So, you've never included red wine in a dish before; what's stopping you? It adds a delicious sweet or bittersweet flavor to all sauces. Give this short rib recipe a whirl as a painless way to start cooking with red wine.
Rosemary adds the extra oomph that pushes this dish to the next level.
It's an incredibly aromatic spice that works well, fresh or dried. Sage is an excellent option as a substitute, especially if you have some growing in your garden.
Have you caught yourself wondering how you can make homemade brisket?
This instant pot version is much quicker than smoking and grilling up brisket. It's served with a tangy sauce that meshes well with the meat.
Adding in yellow onion increases the sweetness of the dish slightly. You can also swap in shallots for a similar flavor and sweetness. Red onions will add some extra spiciness.
Tip: Turn this into one of the best keto instant pot recipes by leaving the homemade sauce.
Have you been searching for the ideal meatloaf recipe – one that's not too busy but still tastes divine? Then, look no further!
This traditional meatloaf works well as is, though, of course, you can also spice it up with a bacon wrap.
I don't know about you, but I don't usually add bell peppers to meatloaf.
However, it's an excellent way to sneak some veggies into the dish. Instead, try sliced green bean pieces to add the green color and additional nutrients.
Trying to hunt down a paleo recipe that will satisfy your short ribs craving? This is the dish for you. It's herby, saucy, and only requires a few ingredients.
Surprisingly, gelatin powder is used as a thickener. It's more common to use cornstarch or flour as thickening agents. If you're not worried about making a paleo dish, both of these alternatives will work well.
Tip: Serve these ribs with white rice for a complete meal.
Wondering what the difference is between regular pot roast and Mississippi pot roast? Well, for one, there are no carrots and potatoes in the dish. The seasoning is also quite different – you'll find au jus, ranch, and beef broth combined to make the gravy.
You may be surprised to find out that pepperoncini peppers are included for heat and flavor.
If you've never tried these peppers, they're both spicy and sour. For those who can't handle spicy dishes, use banana peppers instead for a similar taste without the spiciness.
Instant pot meat recipes tend to be quick to make, and this is no exception! After sauteing the beef and veggies, everything will be added to the Instant Pot and pressure cooked for 30 minutes. You have yourself a complete meal in less than an hour.
It's probably not a surprise that this meal includes beef. Suppose you're craving a lighter version – use ground turkey instead. The ground chicken will also work as a substitute.
Tip: Shred some parmesan cheese on top for some pizzazz.
Having a bad day and think nothing can fix it? Then you haven't had a chance to taste these street tacos.
They're so yummy; they can change your day from bad to fantastic in no time.
You'll be crumbling some queso fresco right on top of these tasty tacos. It's a Mexican cheese that has a mild yet slightly sour flavor.
Sometimes you want a melty cheese on tacos; you can use quesadilla cheese instead. It will make the tacos extra ooey-gooey and delicious.
So, you're craving a hamburger and soup at the same time? We've got you covered! This soup is loaded with vegetables, beef, potatoes, and seasoning, making it a tasty lunch option.
Celery in soup is not for everyone, and that's okay! You can swap the celery with carrots. Make sure to cut the carrots into smaller pieces so they cook through.
Tip: Veggie lovers can add in additional veggies if they are desired. Try slicing some white button mushrooms.
It's time to let the younger generations in on this tasty dish. Goulash is typically passed down as a recipe from family member to family member.
Grab your kids and have them help you whip up traditional goulash; you'll be happy that you did!
Surprise, oregano is added to this version of goulash. If you don't have the fresh herb, the dried version can be a great alternative. Or, experiment with the taste and try fresh basil or dried basil.
Planning a Chinese dinner and need some additional ideas? Try this pepper steak for a delectable meal that everyone in your family will enjoy.
Don't forget to make some rice to go on the side of the steak; you'll want to soak up all of the sauce.
Grated ginger adds a bold, slightly spicy flavor that many Chinese dishes are known for.
Powdered ginger will also work to season the dish. Add extra powder to create a stronger flavor that's more similar to freshly grated ginger.
Here's another great way to stay on your keto or low-carb diet. It's also an excellent dish if you are not a fan of beans – as there aren't any in this version of chili. This soup is full of protein and tomatoes to keep you full and to feel good.
The hidden food item is canned green chilis. They add a slight spiciness to the meal without making it overwhelming or too spicy. You can swap these chilis out with jalapeños for a slightly different flavor, yet mild heat.
Tip: Always wash your hands well when handling any chilis and avoid touching your face.
This is an even more accessible version of corned beef with cabbage. The recipe calls for simple, straightforward ingredients that make this dish a weekly staple.
Keep in mind, you'll need to cook the corned beef and cabbage for over an hour, so this is a make-ahead meal.
Of course, as you may have guessed from the name, green cabbage will be used in this meal.
To make the dish more festive, try using purple cabbage instead. The flavor will be nearly identical, but you'll have a fun, bright dish.
How do you feel about a Mongolian beef recipe that's even saucier than previous versions?
Sounds pretty good to me, especially as the sauce is one of the yummiest parts! Your family will be begging for this to be one of the regularly made beef pressure cooker recipes.
You'll be garnishing the top of the Mongolian beef with slices of green onions. Try using chives instead when you need a swap.
Tip: Serve this dish with noodles or rice so the sauce can be soaked up.
Instant pot Philly cheesesteak pasta offers the best of both worlds. You no longer have to spend time considering which option you want since this recipe combines the famous Philly cheesesteak with pasta.
There's no beating the flavor combination of beef and melty cheese.
As you may suspect, elbow pasta is included in this meal. Instead of going to the store to buy more, you can substitute it with any pasta you have on hand. This recipe should work with pasta that is similar in size.
Round up your brisket with these delicious beef ribs! You know it's a good recipe when there's a homemade rub mix included. Sweet, spicy, and garlicky are the perfect descriptions for these ribs.
Store-bought BBQ sauce is needed to finish off these ribs. If you're feeling adventurous, you can make the sauce at home.
Many recipes can be found online, so it's not a challenge to create a sauce to your liking.
Tip: You'll need to carefully remove the ribs from the Instant Pot as the meat will be falling off the bones.
Porcupine meatballs are a fun way to jazz up a meatball dish. They're named after their appearance as they look almost pricky. Rice is used inside the meatballs, and it sticks out after being cooked.
The rice is used that creates this odd appearance is long grain rice. It's typically easy to find at stores, though traditional rice will work as well if you aren't able to.
You may not notice standard rice poking out like the long-grain rice, though it will be yummy.
How many times have you told yourself you would prep for the next week only to forget? This recipe is so tasty that you'll want to prepare it ahead of time. This taco meat is restaurant-quality and leaves you with five servings.
The hidden ingredient is the onion powder that's included. It is in quite a few recipes, though it's not always detectable with its subtle flavor. Use fresh onions for a more pungent taste.
Tip: Don't add the taco meat into your tortilla ahead of time, as you'll end up with a soggy taco.
If you've already started planning your weekly meals based on the above recipes, you're well on your way to becoming an Instant Pot fan. Each recipe is flavorful and provides juicy, tender meat. Even if you aren't on a keto or paleo diet, you'll want to try each dish. Bon appetite!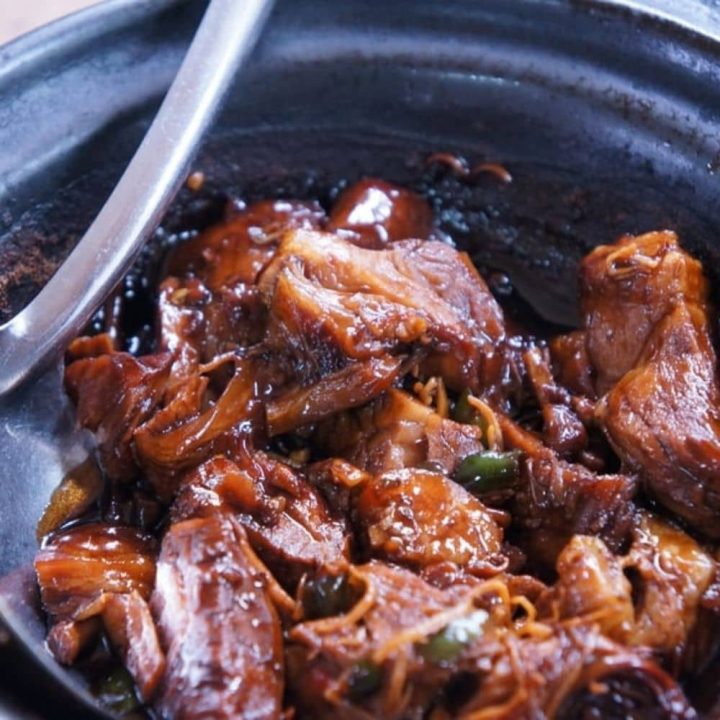 30 Easy Instant Pot Beef Recipes
Total Time:
1 hour
25 minutes
This Instant Pot Beef Stew Recipe is reminiscent of mom's crockpot stew.
Ingredients
1 tbsp vegetable oil
2 1/2 lb boneless beef chuck roast
2 tbsps all-purpose flour
Kosher salt and freshly ground black pepper
2 tbsps tomato paste
1/3 c dry red wine
3 carrots, cut into 2-inch pieces
3 celery ribs, cut into 1-inch pieces
1 sprig of fresh thyme
1 c frozen pearl onions
Instructions
Turn your instant pot to sauté and add in your oil.
Mix the pepper, salt, and flour in a bowl, then toss the beef with the mixture. Add this mixture and the meat into the Instant Pot.
Brown the meat for three minutes, stir, and brown for another two minutes. Put the tomato paste in the instant pot and mix well. Pour in the wine, stir, and boil for one minute, making sure to get the browned bits off the bottom.
Add remaining ingredients, cover, and pressure cook for 40 minutes.