If you want unique recipes, you should explore the world of Russian food. This region of cuisine makes delicious dinners that your entire family will enjoy. And you'll feel adventurous about going out on a culinary adventure.
Here are 25 traditional Russian food recipes you can make today
. Most of these recipes are perfect for a cozy winter day, but we've also included some warm-weather favorites.
The best thing is that they feature easy-to-find ingredients that you can customize for your family.
Keep reading to find your new dinnertime favorite!
This recipe for beet soup is delicious and packed with nutrients. It's a vegetarian recipe that features freshly chopped veggies and beans for protein.
This recipe leaves out cabbage, but some Borscht enthusiasts prefer to include it.
Use a food processor to get the beets to a smooth texture. Once you've got your veggies peeled and sliced, it's as easy as sauteeing them and simmering them in broth and water. Once they're ready, top the colorful soup with mayo or sour cream.
Dumplings are the go-to comfort food for many regions, and Russia is no exception. Pelmeni is simple dumplings filled with ground meat and seasonings.
This recipe guides you through the entire Pelmeni-making process, from creating the tender dough, filling it with the delicious meat and seasoning, and then forming it into the dumpling.
Once they're assembled, it's time to boil them. Then you serve with butter or sour cream for a fun and filling meal.
You can choose any ground meat for the filling or mix them for a savory dish.
Want to make the process even easier? You can purchase a Pelmeni mold that will help shape your dumplings.
This soup recipe is packed with cabbage and other fresh veggies, so you'll love that it's nutritious and filling.
You'll start by sauteeing cabbage, carrots, and celery in soft buttery onions and then simmering it with peppercorns.
Boiled potatoes make the soup hardier, and fresh tomatoes lend a bright flavor.
To make different variations of Shchi, substitute the fresh cabbage for sauerkraut or other leafy greens like spinach.
Yes, Russia loves its soup! That's why we love turning to this region for wintertime dinner inspiration.
You'll feel like a skilled chef by creating the simple herb sachet, which you boil in water and beef base. This recipe features sausage and chicken, but you can use fish instead, or make the meal vegetarian by using mushrooms.
Once you've mastered the flavors profile of this iconic soup, you can experiment with different proteins and include ingredients you have on hand.
Who doesn't love pancakes? These blini are thin pancakes that are ready for any kind of filling, similar to crepes. And they're so easy to make!
Mix up a runny batter and then spread it thinly on a frying pan prepped with butter. Cook all your Blini, and then add your choice of fillings. You can make them sweet with berries or chocolate, or make them savory with ground meat or smoked salmon.
Once you've added your filling, you can fold them into a triangle or roll them up like a burrito. It's hard to go wrong with these delicious pancakes.
Who knew Russian foods could be so sweet?
This classic soup has its roots in Russia's fishing culture. For centuries, Russian fishermen have gathered around a fireplace cooking their fresh catch in a pot of Ukha.
Now you can make this classic dish at home using ingredients you find at the grocery store. Cod or Salmon makes for a delicious Ukha, but you can use any fish you can find.
This recipe provides directions for making your own fish stock for the soup, but it also recommends packaged vegetable stock as an easy alternative.
Finally, a Russian dish that is perfect for a warm-weather dinner. These BBQ skewers are tender and flavorful.
You have lots of options for making Shashlik.
For example, you can use any quality red meat instead of traditional lamb, and you can mix up the marinade with different flavors; just be sure to use lots of onions.
Start your marinade the night before, and cook it over charcoal or wood chips instead of gas heat.
Do you love baking bread? You should mix things up with this exciting recipe.
Traditional Pirozhki is a fresh dough filled with cabbage and hard-boiled egg. Bake the filled dough into delicious rolls.
Even if you're new to bread-baking, you can master this yummy and filling recipe.
Get creative by adding other ingredients, like potatoes and onions.
Eat these rolls as a satisfying lunch or serve them with a Russian soup for a delightful dinner.
Here is another delicious Russian pancake recipe to add to your weekend breakfast collection. They're made by whisking tvorog cheese into a thick and sticky dough.
You'll mold the dough by hand into a pancake shape, which you'll then fry on a pan.
You can substitute the Tvorog cheese with farmer's cheese or quark to get the most similar results. Once they're ready, you can serve them with jam or sour cream.
Have you ever made authentic Beef Stroganoff?
Beef Stroganoff became a popular recipe in America. You may have memories of eating it in a school cafeteria or of your mom making this dish as a weeknight meal with a can of cream of mushroom soup.
But traditional Beef Stroganoff is in a league of its own.
To get Beef Stroganoff that's authentic Russian food, choose a quality cut of meat and use fresh mushrooms.
Serve them over french fries for a truly Russian experience, but you can use any starch to catch the delicious gravy.
If you're looking for delicious eggplant recipes, you may be surprised to come across this Russian dish. Eggplant Ikra is a simple spread created from baked eggplant, tomato sauce, and onion.
You simply saute your ingredients, season with salt and pepper, and serve with bread or another spread-ready appetizer.
Keep this dish in your refrigerator for up to 2 weeks and pair it with a Russian main dish for a delicious meal.
Do you love White Russians? If so, you'll love this ice cream. Mix the ingredients and then prepare in an ice cream freezer.
A classic cocktail becomes a delectable dessert in this cool and creative recipe.
You can leave out the vodka to make this recipe family-friendly. Serve it for dessert after enjoying Shashlik on a warm summer day.
This show-stopper dessert only takes 30 minutes to prepare, but you do want to plan to refrigerate it overnight so everything can firm up nicely.
Bring this delicious dish to your next Easter or springtime gathering to wow the crowd.
And with so many flavorful ingredients, you can experiment with customizing it to your taste and favorite ingredients.
This Pierogi recipe is a big undertaking but is really satisfying. Plus, you can make a big batch and freeze it for later.
Since you can fill the dough with sweet or savory fillings, you can create different meals with one batch of dough.
To make Pelmeni, use savory meat inside your dough.
For a Vareniki, you can use flavorful vegetables like cabbage or potatoes or sweet fruit like cherries.
Fold your filled Pierogi into a crescent shape and boil them for a couple of minutes. Top with melted butter, and you have a delicious snack or meal.
Spice up your salad with this delicious dressing. Russian dressing is similar to Thousand Island but a little spicier.
You'll want to start by getting your onion mashed into a good paste.
Once you mix in the other ingredients, you're ready to put this dressing on top of your favorite salad or sandwich.
Isn't it satisfying to make your own dressing? Plus you know exactly what it's made from!
Play around with the seasonings to master your own version of this delicious dressing.
Meals in Russia are often served with yummy tea.
This easy recipe creates a unique drink that can be drunk hot or cold.
All you need to do is gather up your ingredients, mix them together and then add them to hot or cold water. It dissolves in liquid, so there's no need to brew steep tea.
The mixture also makes a unique gift. Cut down the calories by using an artificial sweetener or sugar substitute.
How about putting a Russian twist on your potato salad? Simply boil your potatoes, carrots, and eggs.
Then let them cool some, add in the other ingredients, and mix them with enough mayo to get the consistency you like.
You can leave out the ham to make this a vegetarian dish.
This will be a great addition to your next BBQ. How about pairing it with Russian Shashlik and some refreshing ice tea?
Russian cuisine gets even sweeter with this Honey Cake. Spend a cozy day inside preparing this complex and delicious recipe, which features 13 steps and a long list of ingredients.
But don't let the complexity keep you from trying out this recipe. You'll be rewarded with a delicious cake that you'll be eager to make again.
You'll want to make sure to burn the honey just right. Then follow the instructions for the light whipped frosting.
You can use any honey you want. In fact, all the ingredients are easy to find at the grocery store, and you likely have most of them in your pantry and fridge already. So why not tackle this satisfying dessert?
If you love making cakes, then you'll love this Russian buttercream frosting. What sets this apart from other frostings?
It's made with only butter and sweetened condensed milk. So the texture and flavor are unique and delicious.
The key is whipping the butter for at least 5 minutes.
Use a stand mixer to achieve perfect results. Gradually add in the sweetened condensed milk, and then you've got your frosting.
Amp up the buttercream by adding vanilla extract, salt, or food coloring. Or keep it simple with those two ingredients. Frost your choice of cake right away and then store it in the fridge.
While you may not be familiar with many Russian food recipes, you likely are familiar with their cocktails.
The Moscow mule is a bar favorite, but have you ever tried making one at home?
Gather your vodka, lime juice, and ginger beer and mix it with ice. Experiment with different Ginger Beer and Vodka varieties to master your own version of this cocktail.
Serve it in a copper mug for an authentic Moscow Mule. Make it a mocktail by leaving out the vodka.
Pair it with any of our great Russian food recipes.
Are you looking for easy Russian recipes? This Baked Russian Chicken is an easy and delicious weeknight meal.
You just need four ingredients and about an hour of time.
Find your ideal ratio of Russian Dressing and Apricot Jam, combine it with the onion soup mix, and pour it over your chicken.
From there, all that's left is baking it in the oven and serving it.
Pair it with rice and your favorite vegetable. It really can't get easier, and you'll love mixing things up with a yummy Russian Recipe.
Baklazhannaya Ikra is a yummy eggplant spread that can be served as an appetizer or side dish. If you aren't familiar with this dish, you might be hesitant based on its looks and the star ingredient – Eggplant.
But you should definitely give this recipe a chance!
Each Ikra recipe will be slightly different because each family has customized its process and passed it down through generations.
This delicious version includes coriander seeds, garlic, and red pepper. The key to its amazing texture and flavor is letting it cook on low for at least an hour and a half.
That long cooking time will allow the eggplant to reach a silky smooth consistency and take on the delicious tastes of the other ingredients.
Here is another filling Russian soup recipe that will warm you up on a winter day. This Rassolnik is made with pantry staples, including dill pickles.
You'll get your beef boiling while you saute your vegetables. Simmer it all together and serve it with your favorite bread.
Don't you love easy soup recipes?
Like all the best Russian soup recipes, you can top this with sour cream or serve it as-is. Either way, you'll have a delicious dinner that will soon be a family favorite.
It's time for beets to earn a regular spot in your dinner rotation, and this recipe is a great place to start.
This vibrant salad is a delicious side for any Russian main dish.
This recipe simplifies a traditional meal by using canned beets and ready-made sauerkraut instead of homemade pickled cabbage.
Make it a day ahead to make mealtime more manageable and to allow the flavors to marry together.
You can taste it as you mix everything to make sure you have a ratio of pickles and sauerkraut that you'll like.
Serve this with any of our Russian dinner Ideas, Best Recipes, and Favorite Cocktails.
These simple and pretty cookies are common on Russian store shelves, but making them at home results in a tastier treat that you'll be excited to share with family and friends.
They're a spice cookie that features coffee as an unlikely ingredient. Bake the thick dough into small cookies and then top with a simple glaze.
Make them in advance and serve them at your next holiday party or with tea any time of year. They're sweet and addicting!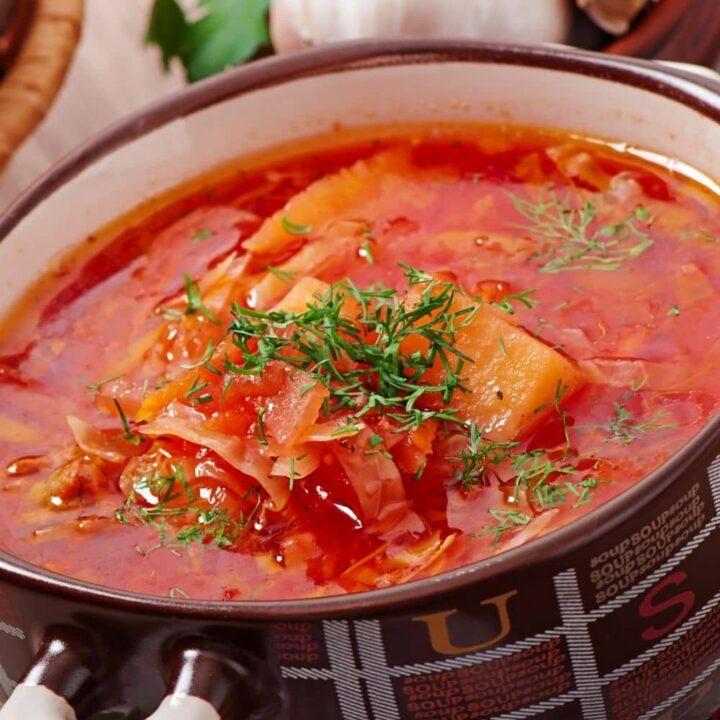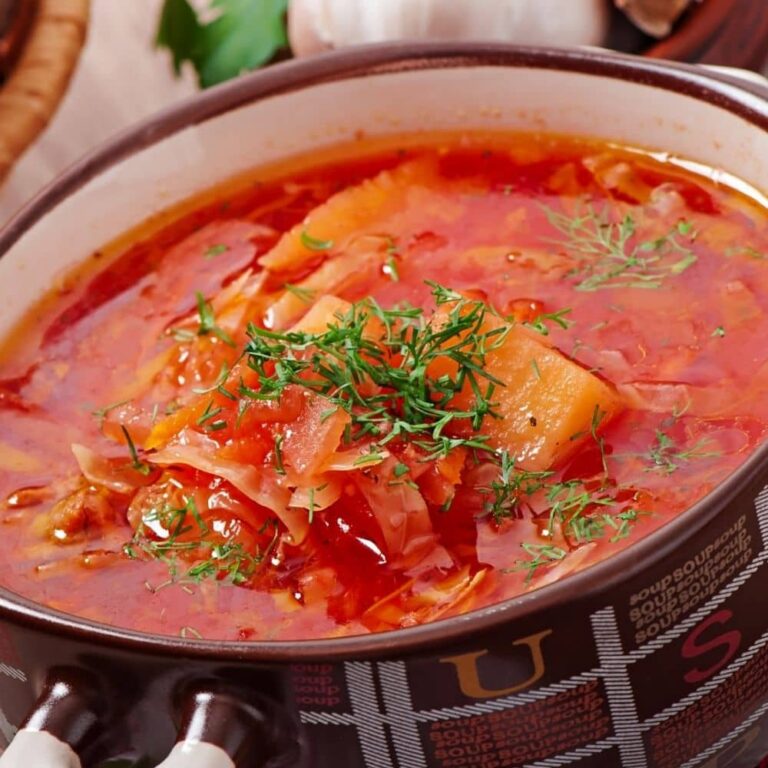 25 Most Popular Russian Food Recipes
Ingredients
2 c chopped fresh beets
2 c chopped carrots
2 c chopped onion
4 c beef or vegetable broth
1 can (16 ounces) diced tomatoes, undrained
2 c chopped cabbage
1/2 tsp salt
1/2 tsp dill weed
1/4 tsp pepper
Sour cream
Instructions
Bring Broth, beets, carrots, and onion to a Boil in a Big Pot.
Reduce heat, then cover and simmer for 30 minutes.
Add tomatoes and cabbage and simmer for another 30 minutes or until cabbage is tender.
Remove from heat and stir in salt, dill, and pepper.
Serve with sour cream.