Are you stuck on ideas for what to serve with meatloaf? We've got you covered! When considering meatloaf sides, variety is the key. There are lots of ways to dress up this dinner classic and make your meal top-notch.
From more elegant meals to countryside simplicity, meatloaf is a meal for everyone.
Kids and adults alike love meatloaf because it is easy to make, tastes amazing, and is a hearty, filling meal. It can also be made in advance and leftovers freeze great.
Here are 27 of the best sides of meatloaf the internet has to offer!
Mashed potatoes are usually the first choice for meatloaf dinner sides. They pair well with just about anything and are easy to make.
There are some tips with this recipe that are very helpful such as not waterlogging your potatoes when cooking them and using a mixture of types of potatoes for the best results.
The author also shares that adding a little, or a lot, of garlic, can make all the difference. Regardless, everyone agrees that mashed potatoes deserve a place next to meatloaf at the dinner table!
Another good idea for what goes well with meatloaf is bread, especially these soft, dinner rolls from Sally's Baking Recipes!
These delicious rolls do take a while to prepare because of rising time (3 hours!), but it's an easy recipe to follow and worth it.
She does offer some make-ahead and freeze-ahead options that would be perfect if you prefer to make these in advance and bake them the day that you will be using them in your meal.
Make sure to use fresh yeast and these will turn out perfect every time!
Another great bread recipe, garlic bread isn't just for Italian fare. With ingredients like butter, garlic, and parmesan cheese, who wouldn't like a slice?
There are two ways to prepare this bread. One way is to wrap the prepared loaf in foil before placing it in the oven for a softer, more chewy garlic bread.
The other is to place it under a broiler for a toasted, crisper loaf.
Whichever method you prefer, this recipe is sure to become a family favorite for more meals than meatloaf at night!
One of the healthier sides that go with meatloaf, steamed broccoli is packed with essential vitamins and minerals but still tastes great!
An important tip to get your steamed broccoli perfect every time is to bring your water to a boil before adding the broccoli to the steamer basket.
You can dress the finished broccoli with butter and salt or opt for a more healthy option like pepper and rice vinegar.
Kids love it with cheese sauce drizzled on top!
If you are not a fan of regular bread as a side to be served with dinner, this cornbread recipe might be a good alternative.
Soft, buttery cornbread is so satisfying with a meal and is simple to make.
The secret ingredient in this recipe is buttermilk, it adds much more flavor than you would think!
You can add things like jalapenos to the batter to spice things up or cheese to give even more flavor. Honey drizzled over it is divine and a favorite with children.
If it's 4 o'clock and you're left wondering "What to eat with meatloaf?", then this quick and easy recipe for crispy garlic potato wedges will come to the rescue!
Simply wash, cut potatoes into wedges, coat with the seasoning, and bake!
Kids love these because they are like giant french fries, and mom likes them because prep and clean up is easy.
These are also great for a snack and can be made in large quantities for impromptu get-togethers or movie nights.
Another simple, but indulgent side dish is these sauteed mushrooms with garlic.
The earthy rich flavor of the mushrooms pairs well with meatloaf and will quickly become a staple to serve with your main meal.
A tip to add a lot of flavors is to cook them long enough so that the mushrooms begin to carmelize, that's when the magic happens!
Garlic and other aromatic seasonings round out the recipe and the white wine adds depth to a side dish that can't be beaten.
Don't eat potatoes for dietary reasons? No problem! This mashed cauliflower recipe is just as good. And truth be told, most people cannot even tell that it's not potatoes!
This is perfect for those who follow a low-carb diet but still want classic sides for meatloaf that they can enjoy.
Pro Tip: For extra smooth and creamy mashed cauliflower, use a food processor to blend the ingredients instead of a masher.
Delicious garnishes include chopped green onions, bacon crumbles, and herbs like thyme, rosemary, and parsley!
Pairing sweet side dishes with salty entrees is a good choice when it comes to certain meals and these glazed carrots provide a delectable accompaniment to the savory flavor of meatloaf.
Brown sugar and butter melt together and cover the carrots in a sweet candied glaze. The great thing about carrots is how long they last.
You can store fresh carrots in your fridge for several weeks before they begin to go bad, making them a great side to keep on hand for meals.
When thinking about planning for good sides with meatloaf, creamed spinach should be a top choice. This cooked greens side dish will convert even the most passionate critics of spinach.
With double cream, cream cheese, and butter, it's not exactly the best choice for those watching their waistlines, but it's so delicious you will want to indulge at least once in a while!
The pinch of cayenne pepper adds just a hint of heat that rounds out this dish's amazing flavor.
Sometimes, regular white potato dishes won't suffice. You need something with a little extra something. These oven-baked sweet potatoes are the bomb and so addicting!
Served as a side to meatloaf, they bring in the right amount of sweetness to counterbalance the savory depth of the meat.
Which spices you choose to use are completely up to you.
You can add more heat with cajun or chipotle seasonings, smoky flavors with paprika, and even sweeter with pumpkin pie spices!
Roasted brussels sprouts have become all the rage in the last few years. They are so simple to make and the result is a deep caramelized cabbage-like flavor that is perfect as a side for any type of meal.
The key to getting the perfect amount of crispness is to not use too much oil, just a light coating, before placing them in the oven.
Too much oil will result in soggy Brussel sprouts so be sure to follow the directions and they will turn out great each time.
These onion rings are the perfect side for leftover meatloaf sandwiches!
You might think making your own onion rings is complicated, but it's really easy. If you don't have an oil fryer, simply use a saucepan to heat up the oil and you will be good to go!
It's important to raise the oil to the right temperature before cooking the rings, so make sure that you use a thermometer.
If you are using a pot to cook with, a helpful tip is to use a splatter guard in between batches to avoid an oily mess on your stovetop!
For this recipe, you'll need an air fryer but we promise, it is so worth it!
If you don't have an air fryer, you can make these in a conventional oven, but you'll probably need to adjust the temperature and cooking time, plus flip the tater tots halfway through.
Cauliflower is blended with egg and cheese to give a bit of a twist to this old classic finger food.
And don't forget to make the spicy ketchup to dip them in, it's delicious!
Tender asparagus gets oven-roasted in this yummy side dish.
Dressed in garlic and parmesan cheese, this Springtime favorite is pretty enough for a special occasion when served on a beautiful platter but can still dazzle for an everyday meal at home.
The key to great asparagus is not to overcook it. Otherwise, it becomes a soggy mess that will still taste good but isn't exactly appetizing.
So pay attention to those cook times and you'll love the result at every meal.
When you're looking for a more comforting homestyle side dish for your meatloaf dinner, look no further than the classic homemade macaroni and cheese.
Cheesy, creamy mac and cheese is actually a really simple side to make on the stovetop and this recipe is a good standby to keep on hand. If you want to dress it up a little, try different cheeses, add a crunchy topping, and bake.
But we agree this nice, basic recipe is simple and quick for an easy weeknight meal and can totally stand on its own.
Another great side to serve alongside meatloaf, it's also good on those next-day sandwiches from leftovers!
Homemade coleslaw is a top pick for those warmer days when you don't want to heat up your kitchen but still want a side that delivers a flavor-packed punch.
You can adjust the sweetness of this coleslaw by adding more or less sugar.
This coleslaw is delicious when eaten right away, but refrigerating it for an hour or so before serving it allows the flavors to meld together and for the cabbage to soften a little.
Baked beans are a side dish classic and this smoky baked beans recipe will become a family favorite.
The concentrated flavors of smoked paprika, chipotle, and dijon mustard in the syrup make all the difference.
The great thing about this recipe is that it is semi-homemade, so it won't take a lot of time in the kitchen.
Canned baked beans are the base and then you add other ingredients and bake.
Bacon, onion, and bell pepper round out the dish and a hint of BBQ sauce and vinegar adds that familiar tang.
Sometimes with a heavier main dish like meatloaf, you want a lighter, fresher side to serve with it. This simple tossed green salad is the answer and it is totally customizable!
It's also more nutritious to consume raw vegetables and adds beneficial enzymes to your diet. Red onion, cucumber, and sunflower seeds add crunch to the greens while the dijon dressing is just the right balance of tang.
Bacon bits are a delicious addition but you can omit them and add other vegetables if you wish to keep it on the healthy side.
A rice dish that tastes like garlic bread?? Count us in! This garlic butter rice side dish is a pleasant and tasty addition to your dinner table. You'll want to serve it with more than just meatloaf!
From prep to finished, it only takes 20 minutes to make so it's a good choice for when you are short on time.
The crispy garlic slices are so yummy and the scallions add that crunch of fresh flavor to the dish.
Make sure to let it rest for 10 minutes so that your rice will be nice and fluffy!
Got a bunch of fresh veggies in the fridge? Toss them together and roast them! This simple recipe for roasted vegetables is the easiest way to use up leftover produce in the fridge and it always turns out fantastic.
One sheet pan will comfortably serve a family, but it's also a great side dish for larger gatherings.
Roasting vegetables in the oven activates the sugars in the vegetables for a beautiful caramelized result.
Balsamic vinegar and garlic add even more depth of flavor. This colorful side dish is an easy-on-the-eye and nutritious addition to your family meal.
Great for your next picnic or potluck, Broccoli Salad fixes up quickly and tastes great!
The cranberries lend a sweet bite while the cheese and bacon make this savory salad a winner to serve at any meal.
This salad can be made up to 3 days in advance and it gets better every day as the flavors meld together.
The slightly sweet dressing is creamy and tangy and the perfect complement to the salad. Make extra because this one will disappear fast!
Tender with a crispy outer layer, this roasted broccolini is so good with meatloaf!
Broccolini has less butter than traditional broccoli and is mildly sweet like Chinese broccoli.
The stems are longer and have a pleasant crunch to them. Some people say that the reason they prefer broccolini to normal broccoli is that the stems and florets cook more evenly, which solves the problem of overcooked florets.
Regardless, we think you will love this side with your main dish!
Earthy and creamy, this cream of mushroom soup from Cafe Delites is a wonderful side to enjoy with meatloaf.
Marsala wine is the secret ingredient that makes this soup way better than any store-bought can you may have tried in the past.
Garlic and thyme add an herby undertone and butter with heavy cream make a rich broth to enjoy.
You can experiment with other herbs and different types of stock to vary the flavor, but we are convinced you will love the original recipe as is.
This classic side dish mixes sweet with salty and goes with so many styles of meals and will take your meatloaf to the next level.
Corn pudding is southern homestyle comfort food that combines 2 types of canned corn (regular and creamed), eggs, milk, and butter into a delectable savory custard pudding.
This is a great basic recipe that you can elevate with different variations like bacon bits or jalapeno peppers for a spicy kick!
It can also be made a few days in advance or freeze it for up to 2 months.
You're in for a real treat with these Hasselback Sweet Potatoes from the Food Network!
The sweet potatoes are coated in a marinade rub and baked in the oven till the outer layer is crisp but the inner potato is tender. Halfway through the roasting time, you gently fan out the potato and then finish the potatoes to perfection.
The yogurt dipping sauce elevates the dish with its tangy creaminess. This side dish makes for an elegant presentation next to the meatloaf!
This broccoli salad has a fun twist by adding chopped apples! Its flavors are reminiscent of Autumn and are a good pairing with heavier meat dishes.
Cranberries, carrots, and golden raisins make sure this recipe is plenty sweet, but the sliced onions, walnuts, and broccoli balance it out well.
The light tangy dressing is perfect for a salad of this caliber and helps the flavors to stand out.
This broccoli salad is best served chilled so be sure to refrigerate for an hour or so before serving.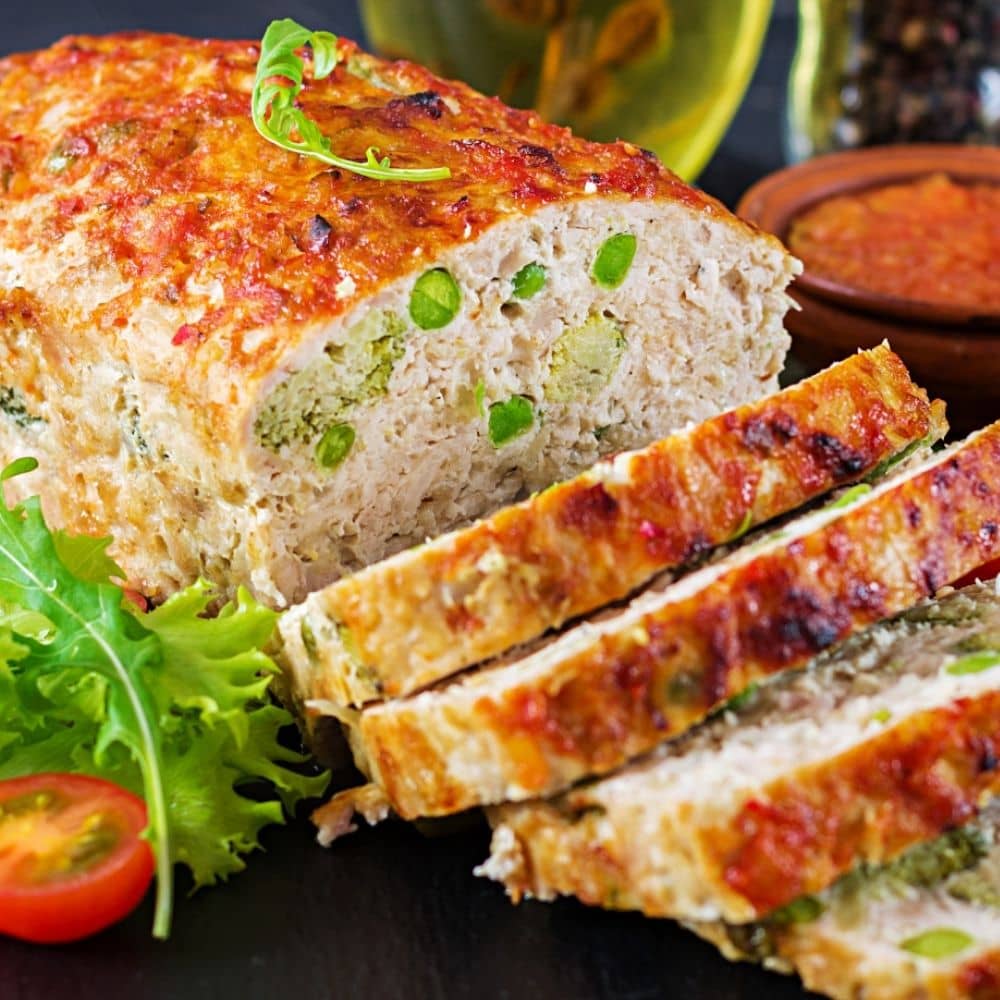 27 BEST Side Dishes for Meatloaf
Ingredients
5 lbs Yukon Gold potatoes
½ c butter
2 c Parmesan cheese
1 c chopped fresh chives
1 ½ c cream cheese
½ medium head garlic, peeled and minced
1 pinch salt and pepper to taste
Instructions
Fill a large pot with salted water and bring to a boil.
Peel and chop potatoes into similar-sized chunks.
Add the potatoes to the boiling water, and cook until tender but still firm.
Drain the potatoes and return to the pot on the stovetop to dry for a couple of minutes.
Add butter, cream cheese, parmesan cheese, chives, garlic, salt, and
pepper to the pot of potatoes.
Mash until creamy and blended well.
Garnish and serve.