Saffron is a delicious, delicate, and expensive spice that a lot of people have not used in their kitchens before. If you have stumbled upon some fresh saffron at the market or have been gifted some, you may be wondering, "What can I do with saffron" or "what is the best dish to use saffron in?"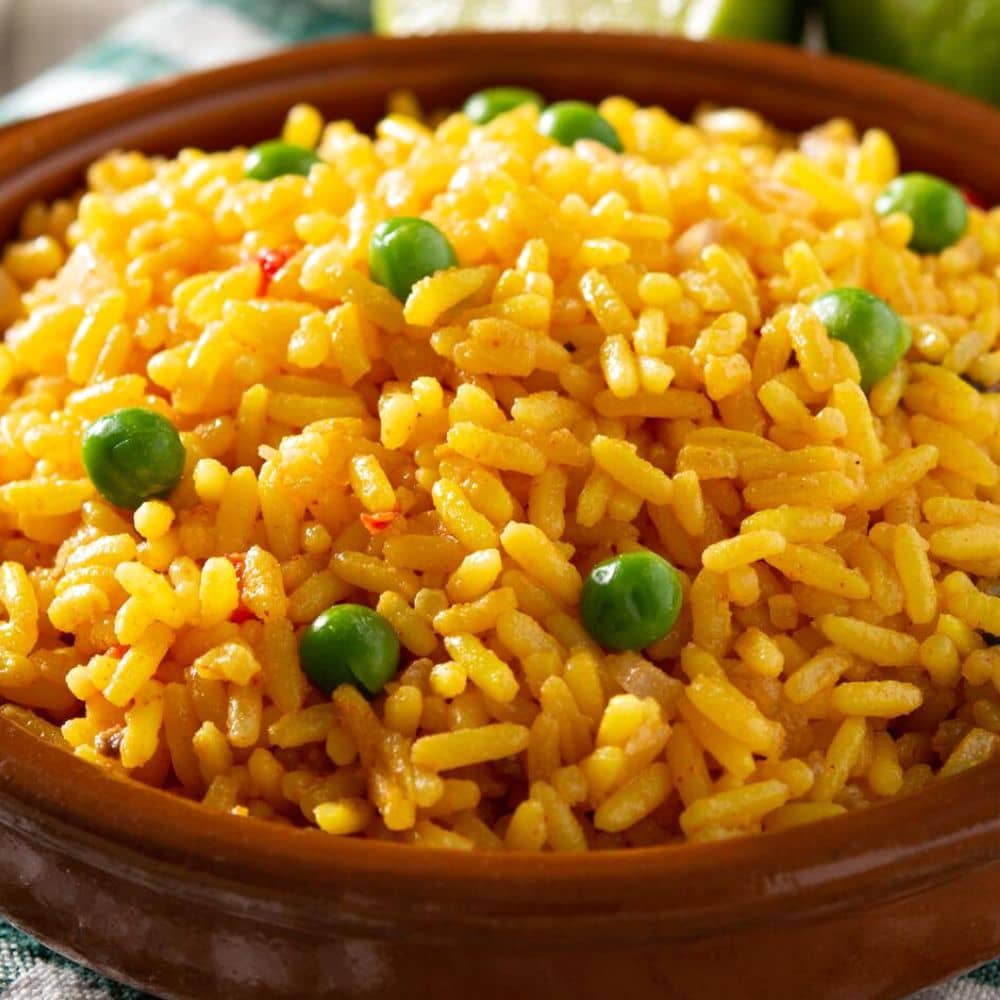 Well, wonder no more! We have rounded up the most amazing saffron recipes that allow you to showcase this exciting and exotic spice.
Whether you want to try to bake a cake, season your pasta, or make a stew, we have the best recipes with saffron listed below!
Looking for savory saffron recipes? Try adding some spice to a weeknight dinner with this delicious and exotic Moroccan Saffron Chicken dish!
Bursting with spices like cinnamon and turmeric, this recipe is sure to become a family favorite.
Saffron pairs with the juicy chicken and the sauce of this dish seep into the bed of rice it is served on. Your tastebuds will feel like they went straight to Morocco!
Want delicious yet easy saffron recipes? Try saffron risotto.
A simple yet elegant dish, saffron risotto could become a staple family meal! Its creamy and mouth-watering rice is flavored with the delicate saffron spices in this classic recipe.
Try adding some grilled chicken breast for even more flavors in this already flavorful dish.
With only 8 ingredients, this recipe impresses home cooks and professional chefs alike.
By far one of the most delicious saffron chicken recipes, this Persian Saffron Roast Chicken and Barberry Rice recipe will dazzle everyone!
Plated, this recipe looks so beautiful it is almost too pretty to eat, making it the perfect centrepiece for an elaborate dinner party.
The barberry rice takes your taste buds on an exotic and exciting journey. Your saffron roast chicken will be the talk of the town!
Bursting with seafood, spices, and of course, saffron, this traditional Spanish paella recipe is sure to dazzle dinner guests.
Another dish that is almost too pretty to eat, Spanish paella is sure to be a hit at your next dinner party.
Serve your Spanish paella with fresh dinner rolls or pair with some lemon pepper asparagus for even more flavors.
If you do not want to use saffron with your main dish, try this side of fluffy saffron rice!
This saffron recipe Indian-style rice is perfect for any weeknight! Made with only a few ingredients, saffron rice pairs well with almost any main dish.
Try serving your saffron rice with grilled lemon and herb chicken breast or try an Indian twist and pair the rice with tandoori style chicken!
Looking for the perfect summer saffron recipe? You have found it with lemon saffron salmon and dill rice.
The sour dill herbed rice marries with the flaky saffron salmon to create an elegant summertime dish.
Lemon adds brightness and perks up the salmon, adding a taste of sunshine in every bite. You cannot go wrong with this classic pairing!
Another great-for-summer saffron recipe is pan-seared scallops with saffron cream sauce.
Searing scallops may seem tricky, but it is really quite simple! Just heat a pan with oil on medium flame, add your scallops, and cook for 30 seconds on each side!
Perfect and impressive seared scallops paired with saffron cream sauce are sure to dazzle at your next event.
Ready for another impressive seafood dish? Sautéed shrimp with fermented black beans is a wonderful saffron recipe for those who do not want to try to sear scallops.
Shrimp is relatively easy to cook, just sauté until they are pink! Larger-sized shrimps may need a little more time, so if you are unsure, you can cut one open and check.
Shrimp can be eaten raw, but the texture may throw off the dish.
Serve your sautéed shrimp with fermented black beans by itself or as part of a summertime feast!
Full of flavor, this saffron recipe will leave your guests wanting more and more!
Creamy, warm, and bursting with garlic and saffron flavor, nothing beats this soup! Serve as an appetizer or soup course with fresh bread.
Guests love this cream of garlic and saffron soup recipe so much, that you could even serve it as the main course!
Looking for a heartier soup recipe? This saffron and seafood stew should do the trick.
This recipe is full of a delicious variety of seafood ranging from prawns to mussels all stewed together in a saffron spiced broth.
Serve this stew with fresh bread and allow it to be the whole meal!
Want a way to enjoy saffron foods in a unique recipe? Fresh, warm, and slightly sweet, these spiced buns have bursts of fresh flavor with raisins baked right in!
Enjoy these St. Lucia Saffron Buns for teatime or serve them at your next lunch gathering.
Guests will not be able to put these perfectly spiced buns down!
Is there anything that saffron can't do? From sweet to savory and everything in between, this saffron tea adds another way to incorporate this exotic spice.
Mixed with herbs like mint, cardamom, and cinnamon, this saffron tea is best enjoyed warm.
Serve with some biscuits at your next teatime and watch your guests be delighted!
Another exotic saffron recipe brings us this Moroccan Saffron Chicken Tagine dish.
An explosion of flavors, herbs, and spices dances on your tongue with every bite! Moroccan saffron chicken Tagine will soon become a family favorite.
Bringing eastern cuisine into your kitchen has never been easier!
Pair this dish with rice or garlic naan for a complete meal.
Not all saffron dishes have to be savory. Check out this saffron cake!
Warm and fresh from the oven, this cake is light and fluffy. The saffron provides a touch of elegance to the perfectly moist cake.
This cake is flavored only with vinegar and saffron, making it a clean and delicious way to incorporate saffron into your baking.
Another simple yet elegant way to showcase saffron at your next dinner party is this golden saffron pasta recipe.
Buttery noodles are seasoned with a pinch of saffron and a dash of crushed, dried peppers to bring this meal to life.
Simple, easy to make, and a short cook time all make this recipe a favorite in every home cooks recipe box.
Looking for a way to bring saffron into your favorite creamy pasta recipe? Try this tagliarini and saffron cream sauce recipe. Recipes using saffron do not need to be spicy!
With hints of lemon and saffron, this herbed cream sauce is the perfect pasta topping to whip up on a weeknight family dinner or to show off at your next dinner party.
Serve your tagliarini with a side of steamed vegetables drizzled in butter and salt to pair with the freshness of the cream sauce.
It is no secret that saffron pairs well with seafood. If you are looking for a unique way to showcase saffron, try this seared swordfish with tomato saffron coulis recipe.
The tartness of the tomatoes helps break down the extra fibre in the swordfish, allowing for flaky and delicate fish in every bite.
This dish is sure to impress everyone! Make sure you make enough for seconds!
Another hearty, fish-based stew that incorporates saffron is Portuguese fish stew.
Full of flavors and herbs, this fish stew is sure to warm up anyone, no matter what the weather.
Serve with fresh homemade bread or pick up a loaf of sourdough at your local bakery to pair with this delicious fish stew!
An Italian twist on an eastern spice, this eggplant, mozzarella, and saffron rice bake is a delicious weeknight dinner.
Prepping this dish is easy and the recipe freezes well if you want to use it later during the week.
Another great perk of this dish is the number of people it serves. With the ability to feed an entire party, this bake is a great option for a large family gets.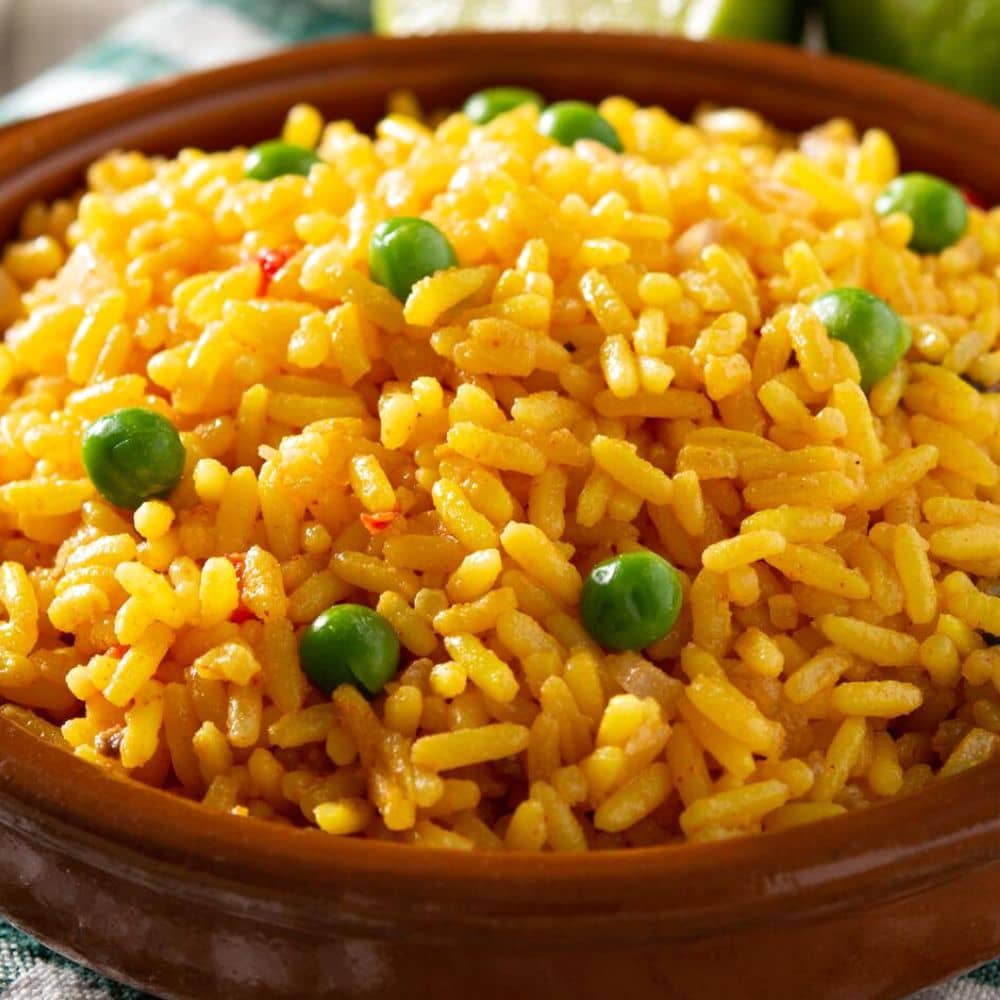 19 Easy Saffron Recipes
Ingredients
⅛ tsp powdered saffron
2 c boiling water, divided
2 tbsps butter
1 c uncooked long-grain white rice, not rinsed
1 tsp salt
Instructions
In a small pot, boil ½ cup of water and allow the saffron to steep for 5 minutes. In another pot, boil 1 cup of water.
Choose a skillet that can be tightly sealed with its lid. Melt butter over medium heat and salt butter mixture. Add in rice, and stir constantly, until rice becomes opaque. Be careful not to brown the rice.
Pour the 1 cup boiling water and the ½ cup saffron water into the skillet. Cover your pot quickly. Reduce your flame to low heat and cook rice and water for 20 minutes. Check to see if all the liquid is absorbed. Rice is ready once the water is absorbed and cooked thoroughly.
Fluff rice: Quickly pour in the remaining 1 1/2 cups of boiling water along with the saffron water. Cover immediately, reduce heat to low, and cook for 20 minutes, or until all of the liquid is absorbed. For best results, do not remove the lid while the rice is cooking.