Kabobs are a summer favorite and there's nothing quite like kabobs on the grill and a sunny day to go with it. But you'll also want some side dishes for kabobs. Sides for kabobs are just as important and they really bring the whole meal together.
What to serve with shish kabobs? There are so many options. With salads, rice, corn, and more, there are so many opportunities to mix and match your meals.
So let's get those skewers ready and take a look at our 20 best side dishes for kabobs.
If you're not looking for a full Caprese salad kabob try having just the salad by itself. It's so easy to make and only has a few ingredients.
This Italian salad is simple, yummy, and pairs well with a summer's day.
The most important advice we can give is to keep your ingredients fresh. The basil, mozzarella, and tomatoes should all be bought as soon as they can before serving.
The freshest ingredients usually come from local food markets. Talking with vendors directly will help you get the freshest ingredients possible.
Rice may not be the first thing that pops into your mind when thinking about kabobs but it should be. Especially this coconut rice recipe.
This rice is extra fluffy and doesn't stick together or have excess goo from the coconut milk.
Here's a tip. Rinse your rice thoroughly before cooking it. Like all rice, coconut rice has extra starch on the outside, but coconut rice has even more.
Rinsing the rice will take away all the excess and make it less gooey.
Grilled corn on the cob goes so well with kabobs and you've already got the grill out. Might as well use it. Cooked corn on the cob is good, but grilling them is even better.
It gives it a sweeter taste and brings out more flavor.
There are two ways to grill your corn. One is to keep the husks on, the other is to take them off.
Just remember, if you're keeping the husks on, you'll need to soak the corn before grilling it. Not only will it steam the corn on the inside, but the outside won't burn.
Green salad is the classic of classics when it comes to salads. Kabob sides can get complicated sometimes, but this salad is so simple to make.
There's chopping, cooking, and serving. It's that easy. This recipe makes eight servings which are perfect for a large crowd.
Like other salads, you'll want the freshest ingredients available. Going to a local market will help you get the best veggies available. You'll also want your meat to be fresh.
While it will be cooked, meat that is left out can go bad quickly, so you'll want to make this dish right before serving.
What to serve with kabobs for dinner? Greek lemon rice is always a good choice. White rice can improve any meal, this Greek lemon rice is easy to make and most of the time is spent on cooking. Plus, it serves about six people so it'll feed everyone at the table.
This dish is made as a pilaf. Just sauté, stir, and cook. Try garlic prawns, pork chops, or fried fish if you're looking for something to serve alongside your kabobs and rice.
Each of these will go well with the kabobs depending on what you're adding to your skewers.
Potato salad is a great dish for the summertime. It takes a while to make, but it's so worth the wait. And it has a lot of substitutions and add-ons.
Bacon, pickles, and radishes can all change the flavor of your potato salad and are fun to try out.
If you're looking for a good substitute for the Miracle Whip, look no further than mayonnaise.
Or if you'd like to go further, a half portion of mayo and a half portion of sour cream or Greek yoghurt will do the trick too.
Corn pudding is an old-fashion dish that's making a comeback. This recipe will make eight servings and will take over an hour to make.
Fortunately, only ten minutes of that is spent prepping the dish. The rest of the time is for baking the corn pudding.
This recipe calls for a lot of corn. Cornstarch, canned corn kernels, and canned cream-style corn.
It can get overwhelming. If you find that you need to make it less sweet, add in just a little salt. Too much will make the dish bitter.
Sweet potatoes have a unique flavor that you can't get from other potatoes. Other baked potatoes won't bring out that flavor or get the texture that you get from sweet potatoes.
This recipe only takes five minutes to prep and the rest of the time is baking.
A tip for making baked sweet potatoes is to not wrap them in foil. It's a good idea not to do this with other baked potatoes as well, but this is especially important for sweet potatoes.
The skins of the sweet potato will become slimy and wet. It won't taste good.
What goes with kabobs? Potatoes, of course, but scalloped potatoes are really the best side dish you could get for kabobs. They're cheesy and creamy and go really well with oven-cooked kabobs.
The best-scalloped potatoes are made with Yukon gold potatoes. They keep their shape, don't require peeling, and taste really with cheese. Russet potatoes work well for this recipe too.
They mix well with the cheese and add to the creaminess.
Paprika can be added to this dish too. Extra hot paprika will make this dish pop!
Of course, you could just go to the store and buy chips, but homemade is always better. This recipe will make about eight cups so we recommend doubling the recipe if you're serving a larger crowd.
The best potatoes for making your homemade chips are Russet potatoes. They do need to be thoroughly soaked before cooking them though.
Just like rice, you need to wash away the extra starch. Extra starch will make your chips less crispy and it will be harder to fry them.
Cucumbers and tomatoes go well on your kabobs, but they also go well off of them too. This cucumber tomato salad recipe takes ten minutes to make, doesn't require cooking, and is incredibly easy to follow.
However, it only serves four so we recommend doubling or tripling the recipe.
Aside from the cucumbers and tomatoes, what you put in your salad is really up to you. Mozzarella, avocado, and croutons are all good add-ons.
And when it comes to serving, put in as much salt and pepper as you want. Just don't go overboard or it could become really bitter.
Garlic bread is so yummy and a fan favorite of people of all ages. If you're grilling your kabobs, grilling your garlic bread should be just as easy. Grilled garlic bread is smokey, crunchy, and full of garlic.
You have to be careful when making grilled garlic bread. Butter on the grill is not always your friend. It can burn your bread or drip off.
Using melted garlic-infused butter will not only add to the garlic taste but will stay on your bread better. It will keep your bread crispy, but not burnt.
You can use the grill for many things, kabobs, chicken, burgers, and surprisingly fruit. Grilled fruit can come with a lot of options, but we don't recommend using small fruit.
The smallest fruit you can successfully grill is plums. They won't fall through the cracks or get immediately burnt.
Stone fruits are the best for grilling, as are pineapples and watermelons.
The average fruit will take about 20 minutes to make, with five minutes on the grill.
You can place your fruits directly on the grill or make a fruit kabob and grill them that way.
If you've never tried maple-roasted carrots you are missing out. Maple-roasted carrots are glazed in maple sauce and sugar and they are the sweetest side dish you'll ever have.
They go perfectly with kabobs as a sweet pairing to your kabobs.
The most difficult part of making maple-roasted carrots is the cooking. You need to be very careful and very watchful over your carrots as they are roasting.
Just an extra minute or two in the oven can make the maple and sugar burn and darken. Some people like this extra crispiness, but overall it doesn't do too well.
Sides for kebabs or kabobs as they are usually called in North America are plentiful, but not all of them are vegan and gluten-free.
This red cabbage slaw is a basic dish that takes very little time and can be served to nearly any crowd.
To make this truly a vegan dish, substitute the mayonnaise with vegan mayonnaise and you'll want to be sure that the brand you're buying is gluten-free.
While most mayonnaise is already gluten-free some companies add ingredients with gluten in them to their recipes.
Roasted mushrooms are what goes good with kabobs. These oven-roasted mushrooms are savory and makeup in flavor where dry mushrooms lack.
They can be used as a substitute for meats and have the same thickness. If you're making your kabobs in the oven adding the roasted mushrooms won't be a problem.
Substitutions for the cremini mushrooms include portobello mushrooms, oyster mushrooms, and shiitake mushrooms.
Most mushrooms will work for this dish and will require very little alterations to the recipe.
This classic pasta salad recipe is easy, makes its own dressing, and feeds ten people. It takes about 20 minutes to make, but we recommend making it a day or two in advance and keeping it in the fridge.
This will allow everything to sit together and blend their flavors more.
What you put in your salad is up to you, but we recommend using bell peppers, zucchini, banana peppers, mozzarella balls, and cherry tomatoes.
Make the pasta salad to your taste.
There is nothing better than a good dinner roll to go with a meal. Whether you're grilling or cooking your kabobs you'll definitely want some dinner rolls to go with them.
These homemade dinner rolls are easy to make, especially for beginners, and they only take seven ingredients to make.
If you're looking to freeze or refrigerate your rolls, we recommend keeping them in the baking pan.
They will come apart from each other in the freezer and will make it easier to pull them apart if you let them thaw separately.
A great day out with kabobs can't be beaten when you have Boston baked beans for your side dish.
Slow-cooked with bacon, onions, and sauce, these Boston baked beans, take a long time to make, but they are worth the wait.
It will take over four hours to make this dish so we recommend starting early in the day and setting aside a lot of time for baking.
This recipe uses Navy beans, but if you're looking for something else, Great Northern or cannellini make great substitutes.
Avoiding canned beans is the whole point of homemade baked beans.
What to eat with kabobs? Garlic green beans are always a yummy and crispy treat. This recipe only requires 15 minutes of your time and cooks really quickly.
The crunchier you want your beans to be, the longer they can stay in the oven. Just to be sure to watch them so they don't burn.
Our tip is to get the freshest beans you can find. The fresher they are the less likely they are to taste bitter and get soggy. They are also less likely to brown.
The same should be done for the garlic.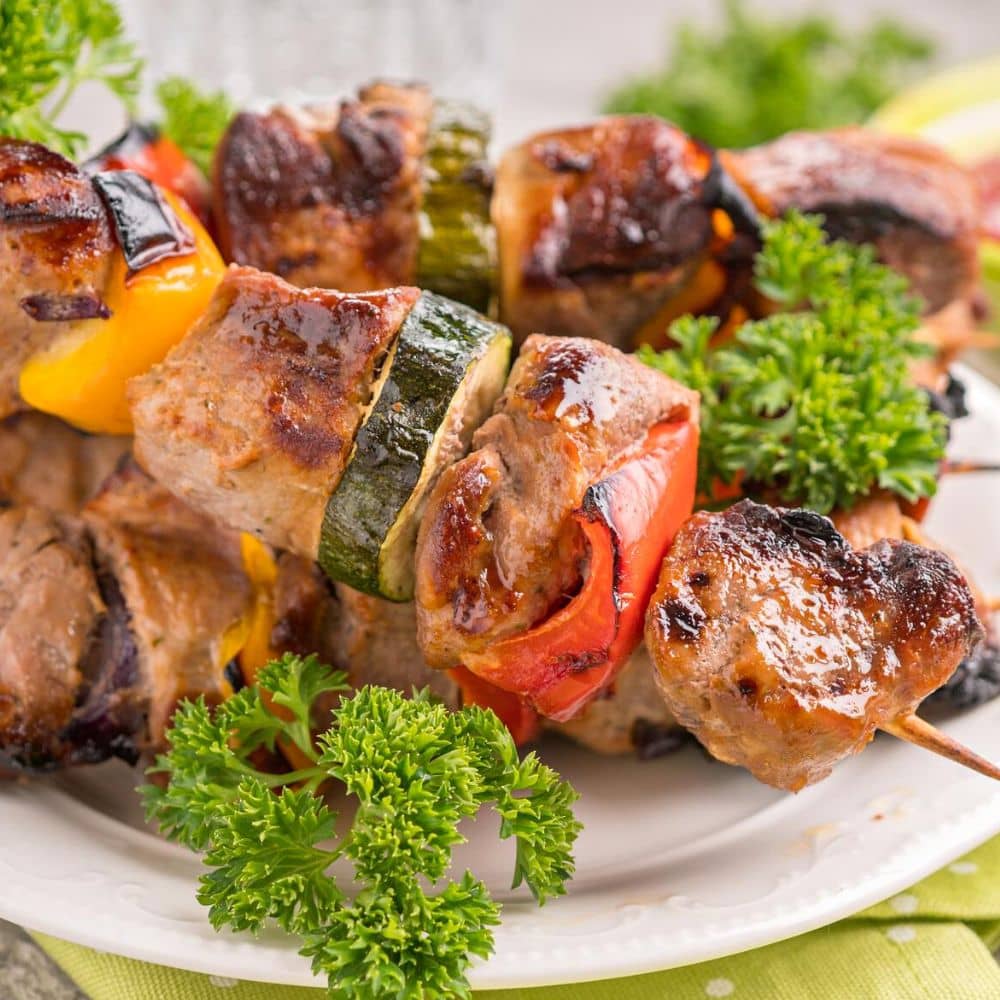 20 Best Side Dishes for Kabobs
Ingredients
1-1/2 lbs vine-ripened tomatoes, cored
1 lb fresh mozzarella
3/4 to 1 tsp fine sea salt or fleur de sel
Freshly ground black pepper
1/3 c packed basil leaves, torn or cut into thin strips
1/4 c extra-virgin olive oil
Instructions
Take your tomatoes and cheese and slice them into ¼-inch thick pieces.
Alternate your tomatoes and cheese onto the dish with one piece of cheese and two slices of tomatoes.
Season your dish with salt and pepper as you see fit.
Toss basil on the top of the dish and drizzle your oil over the platter.
Serve and enjoy!