Asian desserts are so tasty and unique, and their signature subtle sweetness allows their flavors to really come through. If you are responsible for bringing dessert to an upcoming event, or if you want a unique way to wrap up a night of Asian cuisine, you should try these Asian dessert recipes.
Have you ever baked with Matcha? How about Red Bean Paste? Explore these distinct ingredients and other delicious flavors through these recipes
Not only are these Healthy Asian Desserts easy and delicious, but they are also fun to make. So bring the kids into the kitchen and be ready to enjoy new flavors!
Looking for more? If you enjoy making a variety of desserts, you will surely enjoy these 35 Easy Fun Desserts to Impress Guests as well!
Have you ever bought Chinese Cookies from the grocery store? This homemade version tastes terrific and is so easy to make!
It features ground walnuts in the dough, and you can choose to make your own chocolate filling or simply use store-bought chocolate frosting.
You want to be sure and chill your dough. This will ensure the cookies have the right shape and texture as they bake. Let the cookies cool completely before adding your chocolate.
Plantains or Namwa bananas become a sweet treat in this fun and easy dessert. They're fried in a batter that features toasted sesame seeds and coconut.
You really can't beat how great they taste!
Use your first batch as a test to see if your battery is the proper consistency. If you use dried coconut, be sure to rehydrate it before frying.
You can also try this recipe using sweet potatoes or taro instead of plantains! Serve them straight out of the fryer for an unforgettable dessert.
Asian pears get to show off their great flavor in this delicious crisp.
Garam Masala and Cardamon make this recipe truly unique, and you'll love serving something with such a noteworthy flavor profile.
Of course, you can skip the unique spices and stick with classic cinnamon, just like you can sub any pear variety for the Asian pears.
But we encourage you to try this great recipe as-is! Serve this with whipped cream or ice cream, and be prepared to wow your dinner guests with this fun and tasty dessert.
Have you ever had Hong Kong egg tarts? They're mini pastries filled with sweet custard, and they're popular at dim sum restaurants.
Have you ever had these popular Asian desserts? Whether you are trying them for the first time or have enjoyed them for years, you'll love making Hong Kong Egg Tarts at home – especially since you'll be eating them fresh out of the oven.
Follow the instructions carefully to get a good pastry dough, which you can make the day before if you want.
You also need to strain the custard mix to eliminate the air bubbles.
It may be intimidating to make homemade pastry dough and custard from scratch, but this recipe is really manageable, and you'll feel so accomplished for succeeding at this unique and tasty recipe.
These snowball cakes are as tasty as they are cute! Coconut and peanut flavors combine in a sticky cake that will look perfect on a dessert table.
This recipe puts a fun twist on traditional Banh Bao Chi by adding mashed mungbean. The result is a lighter, more moist filling.
Use food coloring for their signature pastel hue, and serve warm. Fresh coconut tastes best in this dessert, but follow the instructions if you need to use dehydrated coconut.
If you love the unique, tropical taste of mango, then you'll love this dessert. You can use fresh, frozen, or canned mango, so this recipe is possible year-round.
If your pureed mangoes end up stringy, use a strainer to smooth them out.
Canned coconut milk goes great with the mango flavor, but you can also use evaporated milk or cream instead.
Chill and serve in individual bowls. This is a refreshing treat on a hot day, or the perfect dessert after a creative Asian meal.
This Chinese sponge cake is so light and fluffy and is perfect for anyone who prefers less sweet desserts.
Have you ever made a chiffon cake before? The process is similar, and you'll want to be careful as you separate your egg whites and beat them into stiff peaks.
To get the most height on your fluffy cake, skip greasing the pan, and cool it upside down.
Serve it with whipped cream and fruit, or enjoy it on its own.
These simple buttery cookies are especially popular around Chinese New Year. Now you can make them at home any time of year with this easy and tasty recipe.
Using a cookie press will allow you to achieve the pretty designs on these traditional Asian desserts, and the best part is that you don't have to chill the dough.
You'll be surprised how easy it is to make these cookies, and everyone will love how they taste.
Are you ready to ring in the Chinese New Year with these yummy cookies?
Have you ever had dessert soup? We love it as a way to satisfy a late-night sweet tooth in a more filling and healthy way.
This soup is easy to make and has minimal ingredients: Purple or Orange Sweet Potatoes, Brown Sugar, and Ginger.
Using a brown sugar slab and old ginger will result in the most authentic and tasty soup, but you can use regular brown sugar and ginger if needed.
Once you've mastered the easy recipe, you can make it even more filling with mung beans, taro, or dates. Your entire family will love this unique and nutritious dessert.
Sweet Sticky Rice is super popular at Thai restaurants, but it's also fun and delicious to make at home.
This recipe simplifies the process by using short-grain white rice instead of traditional glutinous rice, but you can experiment with the type of rice you typically have on hand.
Khao Neeo Mamuang is a great way to enjoy in-season mangoes, but you can also use frozen mangos that have come to room temperature.
If your mangoes are already sweet, reduce some of the sugar in the sauce mixture. Serve this with a Thai-inspired dinner, or on its own for a delicious snack.
These classic walnut cookies will become a family favorite from the moment you try them.
Mix chopped walnuts into the buttery dough, and then press a walnut half into each uncooked cookie.
The key is allowing them to bake a few extra minutes after you've turned off your oven.
Your kitchen will smell amazing as these cookies bake, and you'll be tempted to eat them fresh out of the oven. But try to let them cool completely.
Enjoy these easy Asian desserts as a breakfast treat with coffee or in the afternoon with tea.
This Chinese Jello recipe is refreshing and easy to make. Start with an unflavored packet of gelatin, and then use almond extract and evaporated milk to give it a subtle sweetness.
Just make sure you give the gelatin plenty of time to firm up. It can take up to four hours, or you can let it sit overnight.
Once your sweet gelatin mix is ready, you can top it with canned or fresh fruits. Make this recipe even more unique by using lemon or vanilla extract instead of almond.
This vegan Asian dessert is so pretty and tasty! Have you ever made a dessert with Pandan flavoring?
It has a subtle tropical taste that goes great with coconut milk.
Agar-Agar jelly is an alternative to gelatin. It's vegan and will be set at room temperature, so it has a lot of great benefits.
If you don't like traditional jello, you should still try this dessert, which has a unique taste and texture.
Agar-Agar Jelly is a great snack to take on the go, or you can dress it up as a table dessert with fresh fruit and ice cream,
Chinese banana fritters are such a comforting dessert! Instead of mashing the bananas, you coat simple chunks of bananas in the batter before frying. This means you get to enjoy more banana flavor and texture.
For the batter, use half corn starch and half flour. The combination gets the coating even crispier as you fry it.
A little bit of sugar in the batter is all the sweetness this treat needs, but why not amp it up by topping them with powdered sugar or syrup?
Fans of American-style shaved ice will delight in Asian Shaved Ice, or Baoding.
It's sweetened with natural flavors, like honey or sugar water, and then packed with fresh fruits and other delicious toppings.
This recipe includes Azuki beans, strawberries, lychee, mangoes, and grass jelly. But you can experiment with your favorite additions.
You will need a shave ice machine for this dish, but the investment could be totally worth it as you enjoy all kinds of shaved ice treats at home.
Kids will love helping to make (and, of course, eat!) this unique Asian dessert.
Tapioca is a versatile ingredient that's popular in Asian-inspired desserts.
This Tropical Thai Coconut-Tapioca Pudding is delicious, gluten-free, and customizable.
The key is to not over-soak your Tapioca granules and to keep enough water in your pot as you simmer them. This way, the tapioca holds its shape well in the pudding.
The pudding will thicken and gel together as it chills. Once it's cold, mix in coconut milk and syrup, and then top with mango.
Try using any tropical fruit – fresh is best, but canned will work too!
How about a vegan and gluten-free dessert that doesn't require any baking? It sounds too good to be true, but it's actually a traditional recipe that dates back to 17th-century Korea.
These sweets are still popular today, and you can make them at home in about a half-hour.
Find Dasik moulds to create perfectly shaped cookies with pretty designs, but the cookies taste just as good if you roll them into a ball by hand and then coat them with sesame seeds.
Create the cookies in different colors using black, brown, and white Sesame seeds, along with green tea.
Matcha is such a popular flavor in Asian desserts, and this is a great recipe to make! This roll features a chiffon-style sponge cake and a creamy filling.
The sweetness is subtle, and it's pretty enough to show off at any dinner party.
Matcha is a green tea powder that's so versatile and tasty. This recipe uses it in both the cake and the filling.
It lends a fun green hue and brings a unique flavor to the simple dessert.
Rolling the cake can be tricky, so follow the directions carefully and take it one step at a time.
You can change the recipe by using matcha powder in the cake and adding unique flavors, like blueberry, strawberry, or red bean in the filling.
Strawberry Shortcake is a summertime staple in American cuisine, but this Matcha strawberry shortcake is even better.
The cake is a chiffon sponge cake that features a subtly sweet matcha flavor, and the whipped cream is so fresh and light.
Make this when strawberries are in season for the best taste, and sprinkle a little matcha powder on top for an excellent presentation.
Serve this at a weekend BBQ for an eye-catching and delicious dessert.
Purin is similar to Flan and is super popular in Japan. You can make this traditional dessert at home with easy-to-find ingredients.
The ingredients are basic, but you need to use the right amount of each one.
This will ensure that your custard is firm but not eggy while having the right among of sweetness and flavor.
Serve this in individual bowls with homemade caramel sauce. It's a fun recipe that the entire family will love!
Are you looking for fun Asian dessert ideas? This one includes fresh fruit and a subtle sweetness. The sticky rice balls are easy to make and are a great way to get the kids involved in the kitchen.
This dessert is soupy and can be enjoyed cold or at room temperature.
At first glance, the instructions for this recipe seem complex, but it actually comes together pretty quickly.
Be sure to serve right away, since the rice balls and tapioca lose their texture over time. Enjoy this as an afternoon snack or a unique treat for Chinese New Year!
Have you ever made chocolate truffles at home? These Chinese Five-Spice Chocolate Truffles are easy to make and really unique.
Even without the unique seasoning powder, these truffles would be delicious.
But the Five Spice add an artisan quality that will impress anyone who bites into them.
Add the Five Spice to the cream and heat it up, carefully following the instructions. Pour that over the chocolate and stir as it all melts together. Allow it to firm up in the fridge, and then shape into round truffles.
Share this decadent treat as a gift, or serve it as a fun snack.
A bean soup may sound like an appetizer, but this delicious soup is for dessert! Red Bean Dessert Soup, or Tong Sui, is a staple at authentic Chinese Restaurants. Now you can complete any homemade meal with this delicious treat.
The secret ingredient is the Tangerine peel, which adds a citrus aroma and flavor to the dish.
You can also add coconut cream and Taro balls.
This is a fun recipe to try if you're spending a day at home, as it needs to soak and boil for a while but involves very little labor. Enjoy this dessert soup hot or cold.
Have you ever added avocado to your smoothies? It's a great ingredient that adds nutrition and creaminess to any smoothie.
But this Vietnamese Avocado Smoothie features healthy fruit as the star ingredient.
Condensed milk adds sweetness and an extra creamy texture, and you'll want to include some ice to help get it super cold and refreshing.
This is an excellent recipe if you have a bunch of avocados that got ripe all at once, and you can include other fruits to add unique flavor and texture to this Asian dessert.
This soft and sweet dessert is a delectable treat, and it's so quick and easy to make!
This recipe fills a traditional mochi dessert with red bean paste, a popular dessert ingredient for Asian recipes.
Kids will love making these Mochi cakes, and you can experiment with all kinds of fillings.
In this recipe, you must use glutinous rice flour – not regular flour.
Otherwise, the cakes won't have the right texture. But once you've used this great ingredient in Daifuku Mochi and other great recipes, you'll wonder why you weren't baking and cooking with it all along.
Fah Sang Wu is a creamy peanut puree that's popular in Asia. This recipe is easy and quick, allowing you to delight in this regional dessert with little effort.
The key to great Fah Sang Wu is grinding the peanuts into a really smooth paste.
If you can't get the peanuts as smooth as you need, put them back in the blender after simmering with the cream for a few minutes.
Serve Fah Sang Wu warm with a crispy red bean pancake for a truly Malaysian experience.
Don't you love all these unique Asian dessert soups? This recipe for Sago Soup features earthy Taro, Tapioca Pearls, and Coconut Cream for a unique flavor and texture.
Once you've cooked the taro, you'll blend some into a paste with coconut cream, and then leave some pieces to add to the soup in chunks.
You can also use sweet potatoes instead of Taro if you want.
This soup tastes terrific as-is, but you can also try topping it with glutinous rice balls, bananas, or nuts.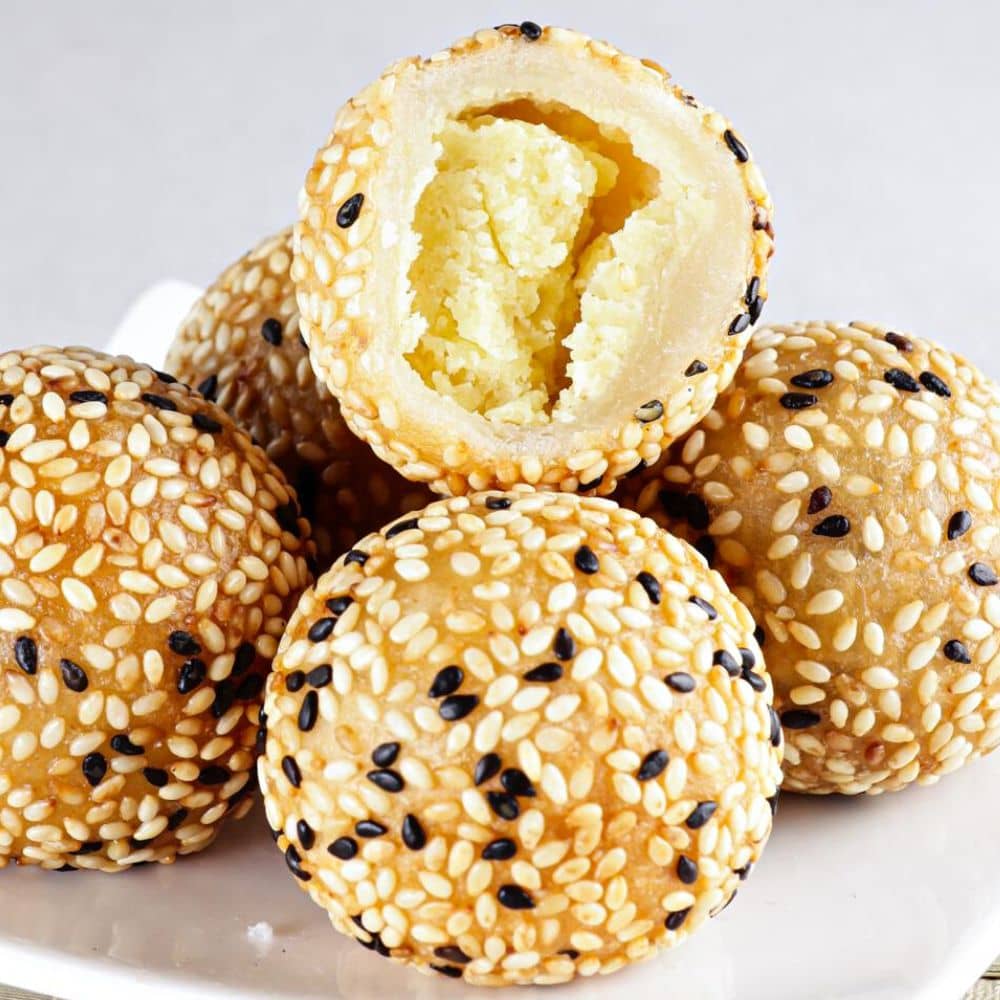 27 Easy Asian Desserts
Ingredients
1 ½ c white sugar
1 ½ c shortening
1 large egg
1 tsp vanilla extract
3 ½ c cake flour
1 ¼ tsps baking soda
¾ tsp salt
½ c ground walnuts
1 c prepared chocolate fudge frosting
Instructions
In a small bowl, whisk together cake flour, baking soda, and salt. Set aside.
.In a separate bowl, cream together shortening and sugar for 1-2 minutes
Add eggs and vanilla and beat for another 1-2 minutes, until it's a pale yellow color
Fold the flour mixture into the egg and sugar mixture so that you have a stiff, crumbly dough.
Use your hands to work the ground walnuts into the dough, and then form it into a log, about 15 inches long.
Wrap the log in plastic wrap and chill for at least one hour.
After the dough has chilled, preheat the oven to 350 degrees and grease two cookie sheets.
Cut the dough into ½ inch slices and lay them out on the cookie sheets, leaving at least 1.5 inches between each piece.
Bake for 10-15 minutes. Cool them on the pan for 5 minutes, then transfer to a wire cooling rack until they're completely cool
Add a tablespoon of chocolate frosting to the center of each cooled cookie