Growing up, sausage dinners were a personal favorite. There's nothing better than coming home from school to a house that smells like pasta with a sausage inclusion. Walking into the house, you immediately knew that dinner would be something to look forward to.
You may think of a few recipes you want to make when you purchase sausages. Whether that be pasta and sausage or jambalaya, they're both tasty options.
What happens when you purchase far too much sausage (hello, grocery sale!)? You make even more delicious sausage recipes for dinner. Don't worry; we won't leave you hanging with a stack of sausage packs.
Below you'll find 27 dinner ideas with sausage that are fun to make, different than the usual offerings, and creative. Now, you can spend more time cooking and less time recipe hunting!
On those days when you are not looking for nostalgic recipes but need something different, any of these 30 Unique Dinner Ideas to Impress, will serve as great inspiration!
Do you feed your family dairy-free or gluten-free meals but are running out of inspiration? Give this quick recipe a try!
This skillet recipe is filled with herby vegetables and slices of sausage for a yummy, healthy dinner.
Zucchinis are the surprise ingredient in this dish. If you have a picky eater in the family, this item may not bode well with them. Instead, you can try another squash like butternut or add roasted pumpkin if it's in season.
When I tell you this sausage and rice recipe can be made in less than an hour, I mean it! Since you're cooking this dish with an Instant Pot, the cooking time is only five minutes. This quick meal idea produces a tasty, filling dish with sausage, veggies, and rice.
You'll find smoked paprika as a seasoning in this recipe. If you're craving a slightly sweeter taste, use sweet paprika. Or, if you and your family love spicy food, use hot paprika instead.
Tip: If you're using frozen veggies, make sure they are thawed before creating the recipe.
Confession, we are suckers for anything that is covered in gravy. How can you not love a sauce-covered dish?! Plus, the gravy is made from scratch, so it's that much better (don't worry, it's easy to make).
So, what makes this gravy so good besides making it from scratch? Fresh thyme that's added as a garnish, that's what.
Thyme is such a fragrant herb that adds an extra touch to any dish.
Don't have access to fresh thyme? You can use fresh rosemary as well or any similar herb from your garden.
Yes, you can even combine sausage with seafood for a land and sea style dish. Think jambalaya as a noodle dish, and you'll know what to expect with this recipe! With this dish, you get spicy, flavorful, creamy, and slightly sweet.
You'll be using fettuccine pasta for this recipe. Instead, you can use any pasta or noodles that you have. Try it with bowtie pasta for a fun take on this dish.
Tip: Use less Cajun seasoning for less heat in the recipe.
Constantly hunting for Italian sausage recipes and want something tasty and quick?
This dish gives you all the above and so much more. Italian sausage and peppers are combined with a tomato base and seasoning for the ultimate bun filling.
The recipe calls for mild Italian sausage from Johnsonville. If you have a local butcher who packages a similar sausage, you can swap that instead. Or, try it with spicy Italian sausage for a tasty heat in your dish.
Following a low-carb diet has never been easier with this broccoli sausage cauliflower casserole.
The cauliflower adds heartiness to it and mimics other carbs typically added to casseroles like pasta or potatoes. You'll still feel like you're eating a decadent dish with the melty cheesy topping included.
Mayonnaise is one of the hidden ingredients that make this dish feel even more decadent.
Try plain Greek yogurt instead if you don't enjoy the flavor or don't want to include mayonnaise. Not only will you save calories, but it also has a much lighter taste yet still adds creaminess.
Yummy – another pasta dish filled with veggie goodness! It's one of the tastiest sausage dinner recipes on the list that won't leave you feeling heavy and sluggish. A tomato white wine sauce covers the pasta, veggies, and sausage, making a meal fit for the whole family.
Fresh basil adds the perfect flavor to the sauce and adds a pop of green to the dish. If all you have is dried basil, you can swap that into the recipe. It will provide a similar flavor yet slightly stronger taste.
Tip: If using dried basil, reduce the amount by half.
Yes, you can have your cake and eat it too! Or, should we say have your jambalaya and eat it too? This recipe proves you can enjoy your favorites and make them healthier!
So, how exactly does this version produce a healthier alternative? Regular rice is swapped out for cauliflower rice for an equally tasty version. You can also use broccoli rice, though you'll notice a difference in coloring for the final dish.
If you feel like indulging, you can add rice in and leave out the cauliflower rice.
Talk about one of the best dinner ideas ever! There are some days when it's hard to decide between cold-weather favorites. Do you indulge in cheesy lasagna or a warm bowl of soup?
You can avoid choosing by making this delicious recipe with lasagna noodles and a tomato broth, like tomato sauce in lasagna.
Use your favorite noodles instead for a dish that is more like soup than lasagna. You can also swap out traditional noodles for wheat noodles or even protein noodles.
Don't forget to serve this one with some toasty garlic bread!
What happens when you're craving pasta but want to try a new recipe that involves Italian sausage?
You whip up this tasty version with whole tomatoes, sweet and spicy seasoning, and an array of vegetables. The flavors blend perfectly together-you won't be able to eat pasta any other way after tasting this dish!
Chili flakes work their magic in this dinner, making it spicy and warm – perfect for wintertime! Use slightly more cayenne pepper if you can't find your jar of chili flakes. Or, try adding in some chili garlic paste for additional heat.
You can never go wrong with a big ol' bowl of chili. It can cure colds, heartbreak, and of course, hungry tummies!
This version of chili includes beans, spicy peppers, Italian sausage, and plenty of seasoning for a flavorful dish that will impress everyone at the dinner table.
You might not be able to guess what the secret ingredient is that makes this recipe oh-so-tasty. The unexpected food item is bacon. We firmly stand by the idea that bacon makes everything taste better.
Try using turkey bacon instead for a lighter yet still tasty meal.
Casseroles might seem old-fashioned, but we're here to prove you wrong! This specific casserole is filled with tasty items – sausage, potatoes, onions, and more. It's also got a good amount of heat and delightful seasoning.
Slap Ya Mama seasoning helps provide the heat mentioned above and gives this dish an indescribable flavor that knocks it out of the park. It might be tricky finding this seasoning blend at your nearby store.
If this is the case, use a combination of salt, cayenne powder, and sweet paprika.
Here's another delicious pasta recipe you can try this week. Instead of a marinara-like sauce, you'll find a creamy white wine sauce filled with diced tomatoes and spices.
This version is a decadent pasta recipe, so of course, you'll want to add extra cheese!
You will be adding spinach to the recipe for extra veggies and to provide a spinach taste.
You can also use baby kale in its place for a green that won't shrink as much when cooking. Add as much or as little as you'd like of the spinach/kale.
As always, we're a fan of any recipe that is cooked in one pan. Anytime we can avoid extra dishes during a busy week is a massive success in our book.
This recipe offers a cheesy topping, smoky flavor, and a combination of turkey sausage, potatoes, and broccoli.
Turkey smoked sausage is the unexpected ingredient. It's more common for a recipe to require Italian sausage made from pork. You can, of course, use this as a replacement for the turkey sausage in the dish.
Struggle with knowing how much a serving is for a dish? These individual foil packets are filled with the perfect amount of sausage, potatoes, and green beans, making it easy to pack the leftovers for lunch. These packets are a tasty way to prep dinner in 30 minutes during the week.
The not-so-hidden ingredient in each foil packet is the green beans. You can easily replace them with baby carrots, corn, or even a veggie blend. You're in control of this tasty dinner.
Tip: Cut the potato pieces to the same size to avoid consuming raw chunks.
Anyone who tells you that you don't need any more pasta recipes is not someone we endorse! Here's a great way to use up any leftover sausage you have from making the other tasty recipes listed.
This dish is creamy, cheesy, and flavored perfectly for a dinner meal.
You'll be using premade cheese tortellini as the pasta in this recipe. If you're feeling like a seasonal version, try using pumpkin tortellini. Nearly any type of tortellini will work with the creamy tomato sauce included.
Add this recipe to your list of quick, tasty dinners! Pasta is covered in slices of smoked sausage, melted cheese, and a creamy sauce that packs some heat. This is one recipe that does not have a bland flavor.
Cheddar jack cheese is the unexpected food item you'll be using in this recipe. If you prefer a lighter cheese taste, try using mozzarella. Any shredded cheese that melts is an excellent substitution in this dish.
Tip: Use regular diced tomatoes for less heat.
Feeling like a dinner that isn't filled with pasta or tomato sauce? Here's a dish you can make in the oven that offers big BBQ flavors and cheese-covered broccoli.
This meal is one of the yummiest sausage dishes, and you won't need to cook any other sides with it!
The recipe calls for white potatoes to add heartiness and round out the meal perfectly.
A personal favorite is swapping white potatoes for sweet potatoes. If you're using spicy BBQ sauce, sweet potatoes help cut the heat slightly.
If you thought stew couldn't get any better, you haven't tried this version yet that's served over mashed potatoes!
Pork sausages are incorporated into this recipe for added flavor. You'll also find chopped tomatoes, spring greens, and baked beans.
Baked beans are the secret ingredient found in this stew. They help add flavor, thickness, and texture to the dish. Use any of your favorite beans instead, like kidney beans, to compensate for the taste with extra seasoning.
Tip: Take the stems off of the greens, so they are not challenging to eat.
If you've ever wanted to try new meals with sausage that incorporate pasta, seafood, and a creamy, spicy sauce, we've got you!
Give this incredible recipe a try that features parmesan cheese, fettuccine, and plenty of herbs and spices. Don't worry about the heat; the heavy cream helps cool down the spiciness while adding richness to the dish.
You will be using chicken broth to help create the delicious sauce covering the pasta, shrimp, and sausage.
While you can use water as a replacement, it's not optimal. Instead, try vegetable broth first since it also has a lighter taste.
How can you say no to a soup that uses Italian sausage, pasta, and fresh tomatoes? This is a "don't knock it until you try it" recipe. It's super quick to make (like 15 minutes quick!), tasty, and filling.
This soup calls for fresh Roma tomatoes. You can use any similar fresh tomatoes that you have available with a sweeter flavor. Grape tomatoes work well in a pinch.
Tip: Make sure to remove the sausage from the casing before adding it to your soup.
Here's another quick dish for you! You can whip up this sausage and creamed potato recipe in about 30 minutes. Plus, there are only a few ingredients, and you'll likely have them already in your cupboard and fridge.
Flour aids in making the sauce thicker for a more rich experience. Corn starch is an excellent substitute for this – your family won't tell the difference.
You can double (or triple) the recipe as needed for those with larger families, so everyone leaves the table with a full belly.
Still, aren't sure what to make with sausage? Use this creamy bean soup with a sausage recipe for inspiration! This recipe is a healthier alternative to a soup that uses heavy cream.
This dish has not one but two surprise ingredients! The food items are milk and flour, which help create the creaminess found in this soup. You can use dairy-free milk instead in combination with cornstarch.
Tip: This recipe does not require a slurry. However, you can use one to help avoid clumps of flour or cornstarch.
While this recipe works as a dinner dish, you can use it for breakfast or lunch as well!
It incorporates hash browns, kielbasa, and potatoes into a creamy, cheesy sauce. It is the perfect, decadent dish to enjoy throughout the year.
Sour cream only adds to the richness and creaminess of this casserole. It's also an excellent ingredient to add thickness to the sauce.
If you're longing for an even more decadent recipe, you can use crème Fraiche to replace sour cream.
Fast, tasty, and filled with delicious ingredients are three things we always look for when recipe hunting.
We can confidently say that this meal abides by the above checklist. A tomato sauce filled with seasoning covers pasta, sausage, and veggies in this 15-minute recipe.
You'll be using scallions as a topping when you serve this recipe to your family. It adds a pop of bright green color and a nice oniony bite. Use chives instead for similar color and milder taste.
We love sausage and pepper recipes, don't you?! Something about the combination of flavors from bell peppers and Italian sausage is a mouthwatering duo. This version includes a tomato sauce for the perfect taste trifecta.
Spaghetti sauce is the base for the tomato-flavored sauce that coats the sausages and peppers. You can use tomato paste in a pinch, though you'll need to thin it with liquid or broth and add extra seasoning.
Tip: Grab some hot dog or brat buns to serve the sausages on. Don't forget to include some peppers and onions on there!
Sometimes you need a big bowl of comfort food after a stressful week filled with work, chores, and activities.
This Instant Pot sausage rigatoni will keep you satisfied and fulfill the need for comfort food. As with most rich meals, the sauce is made creamier with heavy cream – yum!
Usually, with pasta, you will cook it in water (as the recipe recommends). You can kick up the flavor by using chicken broth or another lightly flavored broth.
If you can use this swap to add flavor to boiling potatoes, why not pasta?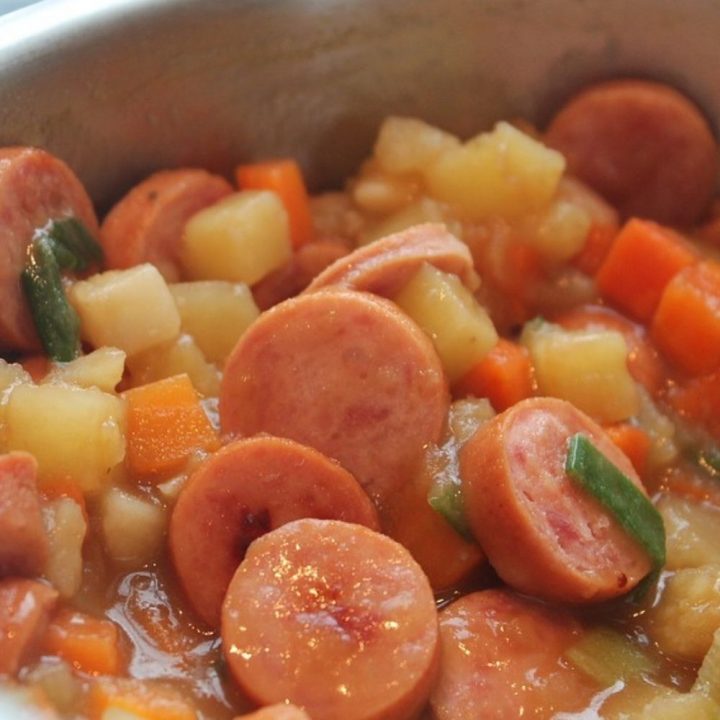 27 Easy Sausage Recipes For Dinner
Ingredients
yellow onion, sliced
butter
red onion, sliced
cloves garlic, minced
ed bell pepper, sliced
green bell pepper, sliced
links sweet Italian sausage
dried basil
white wine
dried oregano
Instructions
Brown the sausage on all sides in a large frypan or skillet at medium heat. Once all sides are brown, place the sausages on a cutting board and slice.
Add your butter to the pan and allow it to melt. Red onion, yellow onion, and garlic are next on the list. Cook them in the pan for three minutes. Add in the bell peppers next. Basil and oregano are to be added in next and then the white wine. Cook until you can easily insert a fork into the peppers and onions.
At this point, you can add the sausage back in. Switch your stove to low heat, place a lid on the pan, and cook for 15 minutes.
These sausage recipes are perfect for year-round dinners. Eat them in the winter as a way to keep warm and in the summer as comfort food. Each recipe offers delicious flavor, quick cooking times, and detailed step-by-step directions. Check them out, and keep track of your favorites!