Seasoned rice recipes come from all over the world and we've collected the best of the best recipes. Rice seasoning comes in all tastes and flavors. And these seasoned rice recipes aren't just for casual dinners or luncheons, they go great with holiday dishes and celebratory meals.
How to season rice, you ask?
There are many different ways, spicy, tangy, sweet, and more. Some of these recipes include Jamaican seasoned rice, Texas Roadhouse seasoned rice, and Mexican seasoned rice.
We'll be covering more than just those three, so let's get cooking and take a look at delicious seasoned rice recipes.
Seasoned rice is a very popular meal in Jamaica and is usually cooked all in one pot. It is prepared in coconut milk which is quite a change from the average cooking. It is recommended to serve this with chickpea curry or Jamaican jerk cauliflower.
Jamaican seasoned rice can have many substitutes, instead of using white rice, use long-grain brown rice, Basmati, or Jasmine brown rice. Not only will this give you a heartier taste, but it is healthier as well.
If you don't want much spice, leave your Scotch bonnet pepper whole.
This seasoned rice has become a beloved home dish favorite. Not only does it present strong, active flavors, but it also has a bit of spice. This dish is mainly served on its own as a side dish to any classic meal.
Here's a tip, be sure to rinse your rice thoroughly before cooking. Be sure not to overcook the rice either. Both will make your rice mushy or crunchy. Rinsing your rice also gets rid of the extra starch to ensure the rice is fluffy and doesn't stick together.
Once the rice is done, the seasoning is very simple.
This is a simple and quick seasoned rice recipe. Not only can this be eaten on its own, but it pairs well with almost anything.
Some dishes to pair with this seasoned rice include southern fried chicken or garlic butter shrimp.
Like any good recipe, there are substitutions. Instead of meat, such as pork, beef, or chicken, try adding shrimp, fish, or lobster instead. For a stronger, spicier rice add taco seasoning, curry, or cayenne pepper.
Seasoned rice can be kept in the fridge for about three days, or frozen, seasoned rice can last up to two months!
What to season rice with? Onion, of course! This dish goes very well with oven-fried chicken or buffalo wings. It even goes well with steak. This recipe is very simple and doesn't require a lot of ingredients. In fact, there are only six ingredients. It really is that easy.
To make the dish a bit healthier, you can add some vegetables such as diced carrots or peas. And because the dish is already salty, there is no need to add extra salt.
One yummy substitution is to use bouillon and extra water, instead of broth.
A well-seasoned rice recipe will have butter. White rice is good on its own, but it usually needs a sauce of some kind, and with some bouillon, spices, and butter, this rice will turn from a classic to a showstopper.
Onion powder can be substituted with more garlic and thyme can be replaced with oregano, although sage powder comes highly recommended. The butter will be added at the end when it melts over the seasoned rice from the rice's heat.
This seasoned rice goes with plain meals that don't have much spice, including chicken breast or pork chop.
This restaurant-style Mexican rice is easy and full of our favorite Mexican ingredients. It can be paired with beans as a side dish, or be the basis of many other meals such as burritos and tacos, even salads.
There are only six ingredients in this recipe, and three of those are the seasonings; taco seasoning, salt, and carrots. The recipe does call for chicken stock but can be substituted with vegetable stock for a vegetarian option.
Out of many wonderful flavored rice recipes, this one definitely has a unique flavor that comes from a very rich culture and is very tasty.
This seasoned white rice recipe is easy to make when you have no real dinner plans and just want to grab something from the pantry. The total cook time comes out to less than 30 minutes and makes a great side dish.
This savory seasoned rice recipe is paired well with meat-based dishes such as pork chops, steak, or even chicken tenders. This recipe will make 8 servings, which is enough to feed the whole family!
And if you're looking for a healthier option, substitute the white rice, for long-grain brown rice or wild rice, which is rich in nutrients.
This quick seasoned rice recipe is quick to make but packs a lot of flavors. It uses spicy chicken rub to add a lot of spice and a bit of tang. This recipe only takes 20 minutes to make which is the fastest seasoned rice on this list.
When it comes to nutrition, this recipe is less than 220 calories and has less than 175mg of sodium. The carbohydrates come up to 41g, but what else can you expect from rice?
It's important to note that if you're using an instant pot you must use equal parts rice and stock.
Garlic and herb rice is softer seasoned rice, meaning there's not much spice. It still presents a strong flavor, though. Some meals that pair well include Mexican shredded chicken, grilled lemon chicken, and Irish pot roasts.
This recipe takes a little over 20 minutes to make, and of course, the Instant Pot does a lot of the work for you.
It is most important to rinse your rice beforehand to avoid dryness and when it's done in the Instant Pot, you simply add in your seasonings and you're done!
This recipe is simple and goes with everything.
Many seasoned rice recipes have chicken and this one is based in chicken seasonings to make the ultimate chicken flavored rice. This white rice seasoned with chicken goes well with other meat-based meals, but of course, goes incredibly well with chicken.
The secret ingredient to this recipe is orzo. Orzo is small, pasta-shaped rice that changes the look, feel, and taste. It soaks up the chicken broth really well.
Dehydrated onion also makes this chicken-flavored rice a family favorite.
This seasoned rice dish has very few flavor rice seasonings but still remains fluffy and tasty. The two herbs used in this recipe are dried parsley and dried thyme. You can use fresh parsley and thyme if you'd prefer, but the amount should be doubled.
One secret and extra ingredient that can add a punch of flavor are adding onion powder along with garlic powder.
With this recipe, you can take out the extra salt and get more flavor with less butter and olive oil making it healthier.
This homemade seasoned rice is not only tasty but also very frugal. The seasoned mix can last a long time.
Simply make your rice and add your seasoned mix anytime. This recipe will make six servings but can be multiplied easily to add to your stores of seasoned mixes.
Like most homemade seasoned rice, this recipe includes parsley, garlic, and thyme, however, this recipe also calls for onion powder which can boost the flavor.
With all of the ingredients, it should make about 3 ½ cups of seasoned mix.
Unlike other homemade seasoned rice recipes, this one is incredibly quick to make and very adaptable. Many recipes use parsley, thyme, garlic, and onion. With so many rice seasoning ideas, there are so many options to choose from, such as dried basil, dill, taco mix, or peppers.
To make this homemade recipe even healthier, use brown rice instead of white rice. Grain rice is good too.
With other homemade recipes it is suggested to add the seasoning after, but with this one, layer the pan with seasonings first, and then cook the rice.
This recipe has been experimented with time and time again to get it just right and it only takes two steps to make. One step to make the rice. The other, to add your seasoning mix. Cooking can be as easy as that, and with this recipe, it really is that easy.
This recipe is healthier than others and can be adapted, different kinds of rice and different herbs and spices may be used to your satisfaction. In total, this recipe only has 185 calories.
It is recommended to serve this dish with lentil dishes and steamed vegetables.
This seasoned white rice recipe can be made with ingredients that are most likely already in your pantry. Rice can over time become very bland, but using stock bases, herbs, and spices. And like any seasoned rice recipe, the secret is butter.
When it comes to stock, many prefer chicken or vegetable for this recipe, but ham-based is really good too.
To make this recipe match your tastes, add some salt or pepper after plating and to add some color, sprinkle some dried parsley on top.
The trick to starting this recipe is to heat up the oil first in a saucepan until it is smoking. This recipe calls for many ingredients to add a lot of flavors including scallions, bay leaves, butternut squash, frozen peas, and of course, garlic.
To add the rich flavor of chicken, the chicken will actually be cooked in the saucepan before cooking the rice. The oils from the chicken, pepper, oil, and salt will make the seasoned rice burst with flavor.
This recipe will likely take over an hour to make, but it is worth it.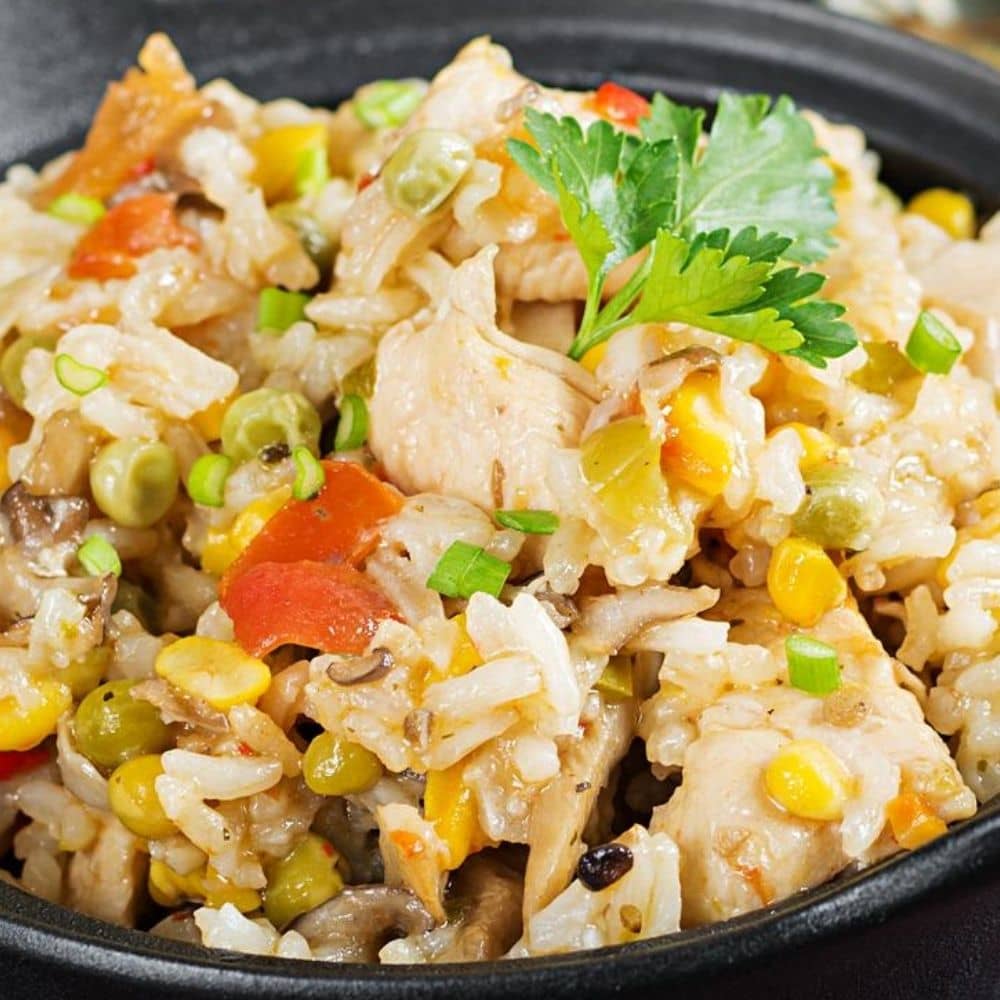 16 Best Seasoned Rice Recipes
Ingredients
3 c uncooked long grain rice
6 tsps chicken bouillon granules
1/4 c dried parsley flakes
2 tsps onion powder
1/2 tsp garlic powder
Instructions
Firstly, take all of your rice mix ingredients and put them into a storage container. Make sure the container has a tight-fitting lid and can hold about 4 cups of the mix.
To make this the perfect side dish you'll be using 2 cups of water and 1 tablespoon in a saucepan. You'll bring these to a boil.
Once boiling, you'll in a cup of your rice mix. Reduce the heat, add the cover, and let it simmer for 15-20 minutes until it's fluffy.
Enjoy and serve.