Who doesn't need a big list of Italian chicken recipes for their recipe collection? Every cook should have plenty of ways for cooking Italian chicken dishes.
Chicken goes with so many sauces, gravies, and other toppings because of its mild taste.
The following 25 Italian chicken recipes will not only fill your recipe collection but also delight the taste buds of your family and friends.
If you're looking for an Italian chicken dish for the family or for a gathering or potluck, this easy peasy Italian chicken II recipe is perfect.
It takes about 2 hours and 5 minutes from prep, to marinating, to cooking, but that time is well worth it when you see how tasty it is. Everyone will rave about this chicken dish.
It may take some time, but it's mostly cooking and marinating, so you have very little preparation to do.
So, if you're ready to impress your family and friends, give this easy recipe a try.
When you're looking for some traditional Italian chicken dishes to make, nothing represents traditional Italian recipes like parmesan cheese.
The parmesan cheese complements the breading mix to create a beautifully crusted chicken breast that offers texture and flavor all in one easy Italian dinner.
This is one of the best Italian recipes with chicken that goes well with roasted potatoes and broccoli for color.
The breading will stick better if you dip the chicken in melted butter before rolling each chicken breast in the coating mix.
You will find this meal to be a family and friend pleaser.
https://themodernproper.com/italian-baked-chicken-meatballs
This easy Italian baked chicken meatballs recipe will help you to create one of the best Italian chicken dinners that you will want in your recipe collection.
The preparation, cooking, and clean-up are all easy with this Italian chicken recipe.
While you can buy pre-ground chicken at your local grocery store, this dish will taste better and will be lighter in texture if you have a way to grind up your own chicken. for these meatballs.
You can also ask the butcher at the store to grind up the chicken for you.
Store bought ground chicken becomes dense after sitting for a few days, making the meatballs denser.
This is one of the easiest authentic Italian chicken recipes you can find.
This recipe requires chicken thighs, colorful and flavorful fresh vegetables, and plenty of Italian flair. In other words, it's an aromatic comfort dish that will delight the whole family.
It's so easy that it basically cooks itself in your oven or on your stove and turns into a tasty dinner for any night of the week.
Some ideas for sides with the Italian chicken dinner include rice, mashed potatoes, or pasta.
If you're on a low-carb diet, you can substitute steamed veggies, zucchini noodles, or cauliflower rice.
This easy creamy Italian chicken pasta recipe is one of the best Italian chicken breast recipes you can make. This dish gives you a restaurant-quality meal for less made by your own hands.
The sauce is very creamy, the chicken will be flavorful and tender when you follow the directions, and you can do it all in one skillet for less clean up.
From preparation to cook time, it will take around 3 hours to make this dish. The longest time is consumed by leaving the chicken breasts to marinate in the refrigerator for two to four hours.
If you want a little extra flavor in the sauce, use sun dried tomatoes instead of adding the extra olive oil.
Are you looking for a one-pot quick and easy Italian chicken dinner? This one-pot Italian chicken recipe will help you get it done.
You can have dinner ready in under 30 minutes with this recipe. It's one of the best ideas for Italian recipes with chicken.
This is a casserole style meal made from chicken breast filets, tomatoes, basil, white wine, and bread. It's essentially a classic Italian chicken dinner.
Just because this recipe is easy and quick to make doesn't mean you will sacrifice flavor. You will love this so much that you will want to add this to your weekly dinner plan.
How would you like an Italian chicken recipe that will make you seem like a gourmet chef? This easy Italian chicken Piccata recipe is just what you need.
Piccata is where you use thinly cut slices of meat, like chicken, coated in flour and then sauteed and served alongside a buttery lemon sauce.
You will need to know how to butterfly two skinless, boneless chicken breasts for this recipe but that's not a hard or time-consuming thing to do.
You just can't go wrong when you have traditional Italian chicken dishes ready to go in your recipe collection.
If you ever wanted to learn how to make an authentic chicken parmesan dinner, this recipe will show you the way. It features loads of Italian herbs, melted cheese, and dense tomato sauce.
Your family will love this one since it comes from a family recipe that is proven to please.
Before you cook the chicken you need to tenderize it by putting it in a resealable bag and then pound it with a meat mallet or rolling pin.
If you need a low-carb option, you can use parmesan cheese without flour or breadcrumbs for the coating. It will just be cheesier.
Is there anything more family-friendly than chicken strips? This simple Italian chicken strips recipe will be a keeper among your Italian chicken dinners.
Also, if you need something quick to whip up for dinner, this is the recipe for that. Don't think that being easy makes it less delicious because it's a real people pleaser.
If you want a faster way to get this dinner on the table, you can use chicken tenders instead of chicken breasts to save on time.
For the grownups at the table, you may want to serve this with a side of pesto mayonnaise or marinara sauce for dipping.
It would be hard to believe that anyone would refuse a good crockpot recipe for Italian chicken.
Crockpot, or slow cooker recipes are one of the best ways to prepare Italian chicken pasta recipes like this one.
Follow the directions and you will have a tender, juicy, and creamy Italian chicken dinner that your family will love. As with most pasta dishes, this recipe is also great for potlucks and gatherings.
You will enjoy this tasty dish and impress your friends and family with it.
Life can be hectic nowadays, so it stands to reason that you might want this easy 15-minute lemon chicken piccata recipe on hand.
Chicken piccata is one of the best-tasting traditional Italian chicken dishes you can make. It's the tenderness of the chicken and the flavorful sauce that gives this dish its appeal.
Since this is a one-pan recipe, you will have dinner on the table within 30 minutes. That's 15 minutes of prep and 15 minutes to cook. It's not just fast, it's elegant.
Are you looking for a relatively low sodium pasta dish that you can enjoy with your family? If so, this Italian chicken and penne pasta recipe will give you want you need.
The total preparation and cook time is around 30 minutes, so it's not just delicious, it's quick and easy to make.
You can adjust this Italian recipe to make it your own by eliminating the mushrooms or replacing the pizza sauce with marinara.
Whatever you do, this is a meal the whole family will love.
One of the best ways to make Italian recipes with chicken is to go with this simple sheet pan Italian chicken with vegetables recipe.
It's not just yummy, but it's beautiful, colorful, and even kid-friendly. This meal takes about 20 minutes to prepare and 15 minutes to cook. That makes it a dish you can put together in under an hour.
Since this meal is cooked up all in one pan, cleanup is easy as well. If you have leftovers, they can be stored in your refrigerator for up to four days. This would make a great lunch for work.
This Italian chicken and pasta bake is great for your family meal because it's not just tasty, it's also comfort food.
You can have this meal in the oven and on the table in 20 to 30 minutes, depending on how long it takes you to prepare. Just like most of these Italian chicken breast recipes, you can change some infredients like the pasta.
You can replace the regular-sized bowtie pasta with smaller pasta and make it even more family-friendly.
If you've never worked with pesto before, you will find this Italian chicken pesto pasta recipe is just the thing to get you started.
You will want to save this recipe in your collection of Italian chicken dinners because it will quickly become a family favorite from the first time you make it.
Pasta is almost always a kid-friendly dish that is also inexpensive and usually quick and easy to prepare and make.
This particular dish is one of the best Italian chicken breast recipes for family dinners and potlucks.
When you are making anything called Italian florentine, you can expect to see spinach in the recipe.
For this recipe, you can use frozen spinach as listed, or you can prepare your own fresh spinach for it. Either way, it will be one of the best authentic Italian chicken recipes in your collection.
Its presentation is quite appealing, but it's the flavor of the chicken and the sauce that make it one of the best dinners you'll make for your family and friends.
It looks and tastes so good, your friends and family will ask you for the recipe.
What do you think about an Italian sandwich? This Italian chicken salad sandwich recipe has no mayonnaise in it. So, if you aren't fond of mayo, this is a great alternative.
This sandwich isn't one of the most traditional Italian chicken dishes, but it is one of the best tasting chicken sandwiches you'll ever eat.
It has everything from bright-colored vegetables to delectable bacon, making it a well-rounded meal in sandwich form.
You can use either chicken breasts or chicken thighs depending on what you have available.
Anyone who cooks family meals should have a few traditional Italian chicken dishes ready to make. This recipe for scrumptious Italian marinated chicken is one of these dishes.
It's not just easy to make, but it's easily thrown together and can be served in a multitude of ways. You will want to try the homemade Italian dressing as well to personalize your marinated Italian chicken dinner.
This is the ideal meat for any diet, including Keto, gluten-free, Whole30, sugar-free, and dairy-free. You can essentially add whatever vegetables, pasta, or other ingredients to this Italian marinated chicken.
Breaded chicken cutlets with Italian herb seasoned breading will help you make a yummy meal for your family.
The best thing about this Italian chicken cutlets recipe is that it's tender, juicy, and it's a one of many classic Italian chicken dinners you will ever make.
Even more, this is an inexpensive meal to make, which means you can make it once a week or every other week. Your family will love it.
You will find these chicken cutlets to be versatile in what you serve with them, so whatever sides you love, you can serve them with this.
Whether you're dieting or just trying to eat healthier, these Italian chicken salad in lettuce cups is a healthy and tasty treat.
This is a very easy Italian chicken breast recipe to make up in under 50 minutes. These Italian chicken salad lettuce cups also refrigerate well, so anything leftover can be used as lunch the next day.
This recipe calls for almonds, but if you have a nut allergy, you can replace it or eliminate it from the recipe.
While any chicken soup is good for the soul, this heavenly Sicilian chicken soup goes above and beyond.
This recipe is so easy to make from scratch, and can be customized to fit your personal tastes. You can enjoy any sandwich or salad alongside this soup for a hearty meal.
Since this is a soup, you can choose whether you want it more watery or thicker. Just include a tablespoon of flour for thicker soup.
If you have leftovers, just save them in the fridge and use the rest for lunch or a healthy snack.
If you prefer chicken thighs to chicken breasts, these crispy Italian baked chicken thighs are perfect for you.
This is one of the few oven-baked Italian chicken dinners on this list. Not only are these baked chicken thighs crispy, but they are also juicy and succulent.
If you like one-pan dinners, this recipe fits that profile as well. You will need to pat the chicken thighs dry to eliminate excessive moisture that prevents the chicken from getting crispy.
This recipe can be baked with bone-in or skinless and boneless chicken thighs.
Are you looking for a versatile and easy Italian chicken skillet recipe? If so, this recipe will belong in your collection of Italian chicken breast recipes.
This is such a versatile Italian chicken skillet recipe that you can personalize it to fit your preferences. It's the ideal recipe for picky eaters.
While this recipe calls for zucchini and tomatoes, you can add and subtract the vegetables as you wish.
You may even want to add mushrooms or bell peppers for a more colorful, kid-friendly option.
This recipe for Mom's chicken fettuccine alfredo just sounds like it's a wholesome home-cooked meal, doesn't it?
Family recipes are almost always wholesome and delicious. Many are passed down for generations and should continue to be passed down the genealogy line.
This is a Pollo chicken fettuccine alfredo that is tender, rich, and filling, and can be made from what you already have in your pantry.
While this recipe calls for Half & Half, alternatively you can use heavy whipping cream for a thicker and creamier alfredo sauce.
This easy Italian chicken Caprese is one of the most traditional Italian dishes that you can put in your collection of Italian recipes.
Since most people enjoy Italian food, this is a perfect meal for kids to older folks. It's not only delicious but colorful and visually appealing.
Kids love colors in their foods, so if you have a picky eater, this could encourage healthy eating.
This recipe calls for mushrooms, but if you don't like them, or you have an allergy to them, you can eliminate that ingredient.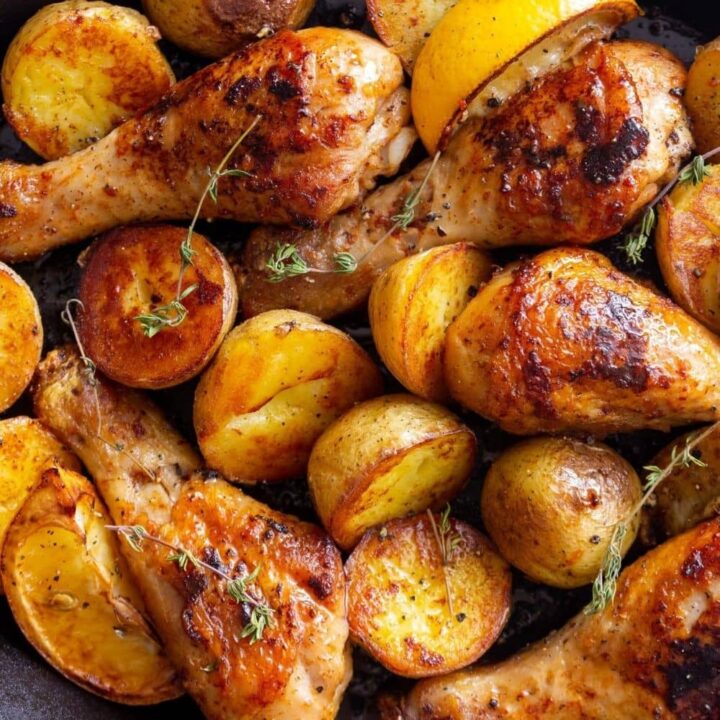 25 Easy Italian Chicken Recipes
Total Time:
1 hour
5 minutes
Ingredients
1 (16 oz) bottle Italian-style salad dressing
6 skinless, boneless chicken breast halves
Instructions
When making Italian chicken recipes, you will find that marinating means that you pour some salad dressing in a bag or container that fits the chicken cuts or pieces you are using.
Marinating requires at least one hour in the refrigerator. However, marinating overnight works better since the chicken can absorb the flavors.
After your chicken is properly marinated, you will proceed to preparation by preheating the oven to 350 degrees Fahrenheit or 175 degrees Celsius.
You will remove the chicken from the container or bag. Remember to discard the marinade since it cannot be reused.
The chicken cuts, pieces, or parts will be placed into a greased baking dish (the size will usually be in the Italian chicken recipe).
Once the dish is prepared as directed, you will then place it in the preheated oven and bake at 350 degrees F, or 175 degrees C for an hour. You can use a meat thermometer to be sure the inside of the chicken is done well.
Notes
You can also tell when the chicken is well cooked by looking at the juices. If they are clear, the chicken is done.
Make sure to turn the chicken at least once during baking.