Is there anything better than lasagna? Warm, hearty, meaty, cheesy, full of tender pasta and tangy tomato sauce (or creamy white sauce, if that's more to your taste), lasagna is the kind of comfort food that fills your soul as well as your stomach.
But serving it for a meal brings up a question: what goes with lasagna?
If you're anything like me, your first instinct is to take the easy route and reach for a bagged salad and a bottle of ranch dressing—not the most delicious or authentically Italian side dish, but a simple one.
Well, I'm here to tell you that there is a world of other, more interesting side dishes to choose from.
In this round-up, I've selected fourteen recipes from around the Internet to give you some fresh new ideas about what to serve with lasagna.
First off, let's get one thing straight: I'm not saying there's anything wrong with a tossed salad as an option for what to eat with lasagna.
Really, it's an excellent match for it: a cold, crisp and fresh salad makes a nice contrast to the warm, hearty gooeyness of the lasagna. I'm just saying that you can do so much better than a bagged tossed salad!
This tossed salad recipe is a great place to get started. On its own, it's a delicious salad: the honey mustard dressing provides a tangy brightness, and come on, who can say no to bacon? But what I love about this simple recipe is how customizable it is. Use it as a base to try something new.
Like a fruity salad? This would be delicious with berries and nuts instead of onions, bacon, and sunflower seeds.
Want a Mediterranean salad? Swap out the dressing for oil and balsamic vinegar and add some tomatoes and olives.
Want to try a different sort of salad? Check out this fun wedge salad, which pairs a wedge cut from a head of lettuce with bleu cheese dressing, bacon, cherry tomatoes, and chives.
What I really love about this salad is the presentation: the wedge of lettuce with all the colorful toppings sticking to it looks so beautiful and unique!
This is the sort of salad I would serve if I had guests I was trying to impress. And it's so customizable; you could add avocados, croutons, or any topping you can cut small enough to get it to stick to the dressing.
"Okay," you're thinking, "I know about salads. What I want to know is what to serve with lasagna besides salad." Don't worry, I've got you covered!
I think vegetables make for good sides for lasagna; since most lasagnas don't have a lot of veggies in them, it's great to serve them on the side to get a more nutritionally complete meal.
This buttery garlic green beans recipe is a great option. Green beans are generally cheap and easy to find and let's be real, anything cooked in garlic and butter is going to be delicious! The dash of lemon pepper gives a nice extra depth of flavor to this dish.
If you're anything like me, you spent your childhood being thoroughly indoctrinated by TV shows to believe that Brussels sprouts are disgusting and no one wants to eat them.
What a waste of so many years I could have spent eating delicious, tender Brussels sprouts! But you do need to prepare them the right way because doing wrong, they can be mushy and bitter.
Most people roast their Brussels sprouts, but this recipe suggests a new way to cook them: in a cast-iron skillet! This gives them the best-caramelized outsides while keeping the insides tender.
A splash of balsamic vinegar brightens the flavor, although lemon juice would also work well.
When you think of lasagna sides, you might not think of something sweet, but these honey-glazed carrots are a tasty way to bring some nutritious vegetables into your meal.
After the carrots are cooked, butter, honey, and lemon combine to make a delicious sauce that matches the savoriness of your lasagna while also enhancing and adding to the natural sweetness of the carrots.
The garnish of flat-leaf parsley will add a little color and flavor, but if you're like me and never have fresh parsley on hand, this recipe will be fine without it.
Any time I'm at the grocery store, I keep an eye out for when asparagus is fresh and cheap. Not only is this vegetable delicious, but it looks so pretty on your plate.
This recipe is an ultra-simple way to prepare asparagus while allowing the vegetable itself to shine through with that delicious, fresh flavor.
Steaming should make even tough asparagus tender, but if you notice your asparagus has an especially woody stem, cut off the worst of it and then use a vegetable peeler to remove the tough exterior of the stem.
If you're trying to impress guests and are looking for unique sides for lasagna, why not try this sautéed garlic broccolini recipe?
Broccolini is a hybrid of broccoli and a Chinese vegetable called gai lan; it has a longer, thinner, more tender stem than broccoli and looks very elegant on a plate.
This simple sauté recipe results in tender, buttery, garlicky broccolini. Serve it with a garnish of lemon wedges, both for looks and because a squeeze of lemon juice will really brighten and elevate this dish.
Here's a very different sort of vegetable side dish.
There's already tomato sauce in many lasagna recipes, so why not pair it with roasted tomatoes? Roasting tomatoes gives them a unique flavor and a nice caramelized surface.
This recipe is as easy as can be, requiring that you just drizzle the tomatoes with oil, balsamic vinegar, spices, and sugar before roasting in the oven.
Speaking of tomatoes, I love using them in any salad. Roasted tomatoes are delicious, but my favorite way to eat them is fresh and uncooked, preferably with a nice light dressing and a bit of cheese.
That's exactly what this salad delivers: tomatoes, onions, feta cheese, parsley, and basil, tossed in olive oil and balsamic vinegar.
It's bright and fresh, and all the flavors give it a distinctly Mediterranean vibe, making it the perfect match for Italian lasagna.
Because salads like this taste even better when they've had time to sit and let the flavors combine, this is a great salad to make ahead of time and store until you're ready to serve it.
Given my love of fresh tomatoes in a light dressing, it may not surprise you to learn how much I love bruschetta, that classic Italian dish of grilled bread with tomatoes on top.
Bruschetta would be great served as an appetizer for your meal, but I think dishes like this also make good sides for lasagna because the tomatoes and the flavors match perfectly with the lasagna.
This recipe, which dresses the tomatoes in olive oil, balsamic vinegar, and basil, is delicious as is, but it would be perfect if you added some cubes of mozzarella cheese—the good soft stuff, not the hard kind you shred to put on a pizza.
This is another recipe I'd pull out if I really wanted to impress someone.
This antipasto cheese board would make for an elegant appetizer, or you could serve it right along with your lasagna.
This is truly a smorgasbord of amazing Mediterranean flavors, from the bocconcini (mozzarella cheese balls) to the meats to the artichoke hearts. But it's also so customizable to your own tastes: don't like green olives?
Feel free to use black! Prefer crackers to bread? Go ahead and substitute any crackers you like!
When we're talking about what sides go with lasagna, how could we possibly not mention bread?
Lasagna served with breadsticks is about as delightful as you can get; it brings to mind images of dining at a charming Italian restaurant with red-and-white-checked tablecloths and a gentleman singing opera in the corner.
Though this is a yeasted bread recipe that requires you to let the dough rise, it's still a pretty fast one, requiring only 90 minutes.
Need it even faster? Try letting the dough rise in a warm place, such as your oven turned on to just 100 degrees Fahrenheit.
Want a delicious, garlicky bread to go with your lasagna, but don't want to bother with letting the dough rise?
This easy garlic bread recipe starts with a loaf of French bread, so you don't need to worry about yeast or rising dough—just visit a bakery or the bakery section of your local grocery store!
As I believe all good garlic bread recipes should, this recipe goes heavy on the garlic with 4 cloves.
Too much for you? With all the other great seasonings on this bread, you could get away with cutting down on the garlic.
This is probably the most unique entry on our exploration of what goes good with lasagna: baked chicken wings.
But it can be a great accompaniment for lasagna, especially if it's a cheese lasagna and you want to add meat to the meal.
This recipe couldn't be easier: toss the wings with butter or oil, top with seasonings, and bake! Because you leave the skin on the wings, you don't need to do anything fancy to get the outsides to crisp up.
If you want to try different flavor profiles, change up the seasonings on the chicken.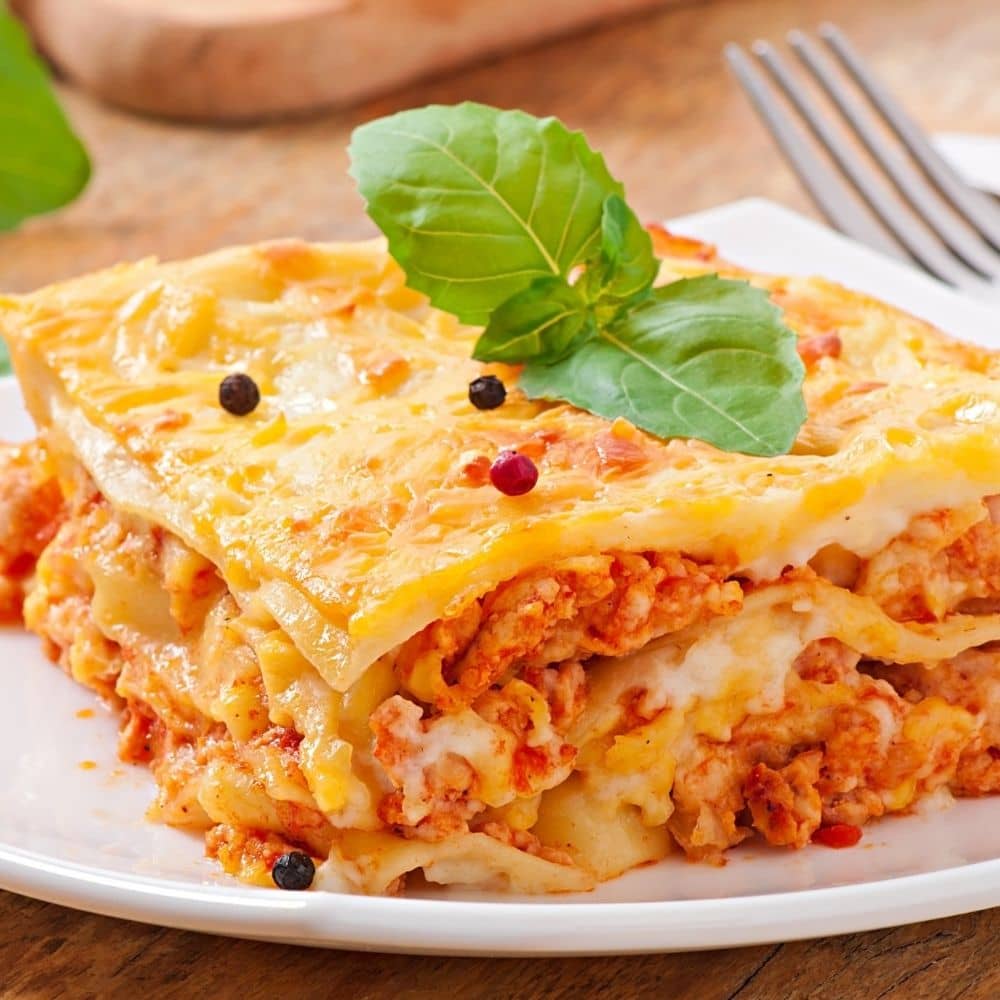 What to Serve with Lasagna (14 Best Side Dishes)
Ingredients
1 head romaine lettuce
Olive oil and red wine vinegar, to taste
1 cucumber, peeled and sliced
2 plum tomatoes, cored and cut into small wedges
1 red onion, sliced thin
Salt and pepper
Instructions
Wash and dry the lettuce, then tear or chop it into small pieces and place in a large bowl.
Add your chopped vegetables. Drizzle with oil and vinegar and sprinkle with salt and pepper, then toss until the oil and vinegar are well-distributed. Taste your salad, then add more oil, vinegar, salt, and pepper as needed.