A good barbeque would be incomplete without ribs. Ribs are rich and saucy and bring so much flavor to the table. Sides for ribs are just as important as the ribs themselves. Flavor pairing can up the game when it comes to an epic barbeque, but what goes good with ribs?
There are so many side options to choose from when looking at ribs. From potato salad to baked beans. And who could forget the classic cornbread? Not us! Here we list 20 of our favorite recipes for side dishes and they're sure to please.
Some of these recipes will take some to make, while others have few ingredients and can take as few as 20 minutes. There are even substitutions, add-ins, and don't tell anyone, but there are secret ingredients too.
With our recipes, you're sure to steal the show and bring the flavor back to the barbeque.
Potato salad is a classic, simple, and timeless addition to your barbeque.
Like most recipes, there is a secret ingredient. For potato salad, simply add some vinegar to your potatoes while they are warm. White vinegar not only draws out the flavor of the potatoes but also adds a bit of a flavor punch itself.
Potato salad is a good side dish for ribs and Miracle Whip is a fun taste to add. It can be used as a substitute for mayo, and while it's not for everyone it adds a creamy taste to the salad.
Baked beans may not always come to mind when thinking of a barbeque. The ribs already bring a lot of flavors, and while there are many sides to go with ribs, baked beans are a surprising but delicious choice.
This recipe is different from standard baked beans because it's thicker, and isn't overwhelmingly sweet. Most people use Bush's Grillin' Beans, but really, any kind of canned baked beans will do.
This recipe will make a family-sized amount of baked beans and will also provide leftovers, but with a big barbeque and a pack of flavor, there may not be leftovers.
Coleslaw is a common side that comes with most beef, pork, and chicken meals. Aside from the usual ingredients, there are many more mix-in ideas, such as apples, sliced almonds, poppy seeds, and dried cranberries.
To add some more flavor, try some new seasonings. Onion or garlic powder brings a whole new taste, while green onions or cilantro add a light, but tasty touch.
It's important to make coleslaw on the day of the BBQ. It can't be frozen and once the dressing is laid on, it will begin to dry out within a couple of hours.
If you're running out of time before the party, pasta salad is a go-to. Sides for BBQ ribs tend to take some time to make, but pasta salad takes about 20 minutes. And the best part, it can stay in the fridge for about 5 days.
With so many pasta options, it's hard to choose, but for heavy and hearty pasta look for penne, rotini, and farfalle. These kinds of pasta hold up better in the salad.
Trying an array of vegetables and some delicious extras such as olives and pickled onions can really add some crunch and color.
A common member of the pasta family, macaroni and cheese has delighted people of all ages for years. This recipe is a stovetop macaroni and cheese, but what makes it different is the creation of the roux. The roux is the base of the dish, adding to the thickness and some creamy texture.
There are many choices of add-ins for macaroni and cheese. Some people add cayenne and onion powder. Others have opted for four cheese mixes and still others put in ham, bacon, crackers, or even yellow mustard. Whatever you choose, it's sure to be good.
Cornbread can be more difficult than it sounds. With the right ingredients and timing, you'll end up with an immaculate dish. However, when done wrong, cornbread can become dry, cracked, crumbly, and oftentimes flavorless.
Cornbread can be a plain dish but add-ins are no problem. For some who'd like it sweeter, we suggest blueberries. For those looking to bring in some heat, jalapeño peppers are the way to go.
Cornbread can also be made in a skillet, to make them crunchier, or in a muffin tin to make them snack-sized.
Corn on the cob is one of many sides for BBQ ribs and is a very popular side dish. While roasting corn is the most common way to cook corn, boiling the corn in milk and butter can be quite delicious.
The butter seeps into the corn and provides the buttery taste everyone loves. Then add in salt and pepper. Surprisingly, if you use salted butter, there's no need to add extra salt.
Some find that corn is too salty so a good substitute is sugar which can make it sweeter and hypes up the flavor.
What to eat with ribs? There have been so many choices so far, but classic wedge salad is not only good with ribs but is a nice pairing for any meal.
It's easier to eat the salad when the ingredients and toppings are simple and kept to a small size, perhaps diced. This helps them to stick to the lettuce wedge. Toppings can be any variety of cheese, meats, vegetables, and croutons.
An important note is to clean the lettuce wedges after cutting to be sure every piece is clean.
While fritters have been famous with zucchini, carrots, and butternut squash, corn fritters are making a stand. And the best part, the recipe can use fresh or frozen corn. As long as it's in your freezer you can have corn fritters all year long.
Once you pan-fry the fritters, how you choose to top them is completely up to you. Corn fritters are vegetarian friendly and it is suggested to add a fried or poached egg on top for that lifestyle.
Corn fritters pair well with ribs just as fries go well with a steak, and that's hard to beat.
If you're a fan of sweet potatoes, these sweet potato fries are the perfect dish to bring for the barbeque. While sweet potatoes already have a ton of flavor, they can be seasoned too. Some spices and seasonings to consider include smoked paprika, Cajun seasoning, Chipotle powder, and pumpkin pie spice.
The secret to making these sweet potato fries even better both while they cook and while you eat is to sprinkle a bit of sugar before putting them in the oven. Another trick is to replace half of the oil with melted butter.
Fried pickles may seem odd, but they taste great. While the pickles only need to be fried, the batter will take some time. Ingredients such as Cajun seasoning, Italian seasoning, some salt, and others make the batter. Along with flour, this makes a good batter for the pickles that will coat each pickle when it's time to fry.
Along with the batter and pickles, you'll want to make a sauce. You'll be mixing mayonnaise, horseradish, Cajun seasoning, and ketchup. It's got a bit of a kick, but so do the fried pickles.
While this could be the main course dish, the ribs are definitely going to be the main show. Unlike many sides that go with ribs, green salad is simple, takes less time, and is healthier. After the ribs, that's probably a good thing.
You'll start by microwaving or sauteing onion and bell peppers. These are not for everyone, but they add a lot of flavors. After that, simply add salad greens, deli meats, and tomatoes. It's really that easy.
The honey lime dressing is sweet and simple to make. It's made of three ingredients, honey, lime zest, and lime juice. Everything else is diced fruit. You can pick and choose which fruits you'd like, but most people use blueberries, grapes, kiwi, pineapple, clementines, and strawberries. This is what makes the rainbow effect.
While you can use frozen fruit, it tastes much better with fresh fruit. Frozen fruit will be very watery once it's cooled down. It's also a good idea to make the fruit salad on the day of the party or it may go bad.
Made famous by the movie, this classic dish is sure to delight. Unlike the fried pickles, you'll be using simple seasonings that match the taste of the tomatoes better. While making them takes some time, it's a pretty basic recipe that calls for a sauce, a batter, and green tomatoes.
When you're done cooking, it's best to serve right away. Fried green tomatoes aren't good for freezing, but you can store and freeze the battered green tomatoes and fry them up at any time in the future.
What sides go with ribs? Salads! And cucumber tomato salad is a great candidate to pair with BBQ ribs. Along with the cucumber and tomatoes, oregano and basil bring out its Mediterranean flavor.
Unlike most salads, this recipe goes best with a simple dressing. Red wine vinegar is the suggested dressing, but you can use what you prefer. You can even use vinegar or infused oils to bring out a unique flavor.
As long as you drain the juices, this salad can last a couple of days before serving. Add-ins can include crumbled feta, avocado chunks, or mozzarella balls.
Nothing can beat fresh green beans and this recipe certainly calls for them. Fresh green beans are more savory and taste homemade compared to canned green beans. This recipe will take about two hours to make including prep time and it has quite the list of ingredients. However, these green beans will pair wonderfully with your barbeque ribs.
Along with the beans, this recipe likes to add in meat as well. They suggest using smoked turkey, but if you'd like to substitute it with bacon that's perfectly good too.
Side dishes to serve with ribs are easy to come by, but nothing can beat macaroni salad. You'll need an array of ingredients, including macaroni (of course), sweet pickles, red pepper, celery, red onion, eggs, or cheese.
If you'd like to make any substitutes, green onions can easily replace the red onion and if you'd like, you can add paprika to the dressing.
How long can these last? Actually, these can last a long time. Up to 5 days in the refrigerator, and it's recommended to chill them for an hour before serving.
If you've never heard of hush puppies, you're surely missing out. Essentially, it's a round, cornmeal batter that is fried up until it's golden brown. Normally, it's paired with fried chicken, steak, or shrimp, but it goes really well with ribs.
While there are a lot of ingredients, the actual recipe is very simple. The tricky part is making sure not to overmix the batter. And here's a secret; adding in small, cubed pieces of cold butter will add some moisture to the hush puppies as they cook.
Broccoli salad is different from other salads, because instead of using lettuce, cabbage, or spinach it uses, you guessed it, broccoli! And this salad is so easy to prepare that it takes less than 15 minutes to make.
There are a few helpful tips when making broccoli salad. For starters, buy thicker shredded cheese and stay away from sharp cheddar. To really get into it, you can buy a block of cheese and shred it yourself.
Another tip is to not blanch your broccoli. Doing so will allow the dish to lose some of its flavors.
Potatoes can take a long time to prepare and cook, but this dish takes at most 30 minutes. Sweet potatoes are already very sweet, so adding marshmallows or brown sugar can actually ruin them.
While there is quite a list of ingredients, there are substitutes to make this dish dairy-free or even vegan. The sour cream can be replaced with vegan sour cream or even Greek yogurt. And instead of butter, use extra-virgin olive oil.
These additions are good for people who are lactose-intolerant or prefer vegan foods.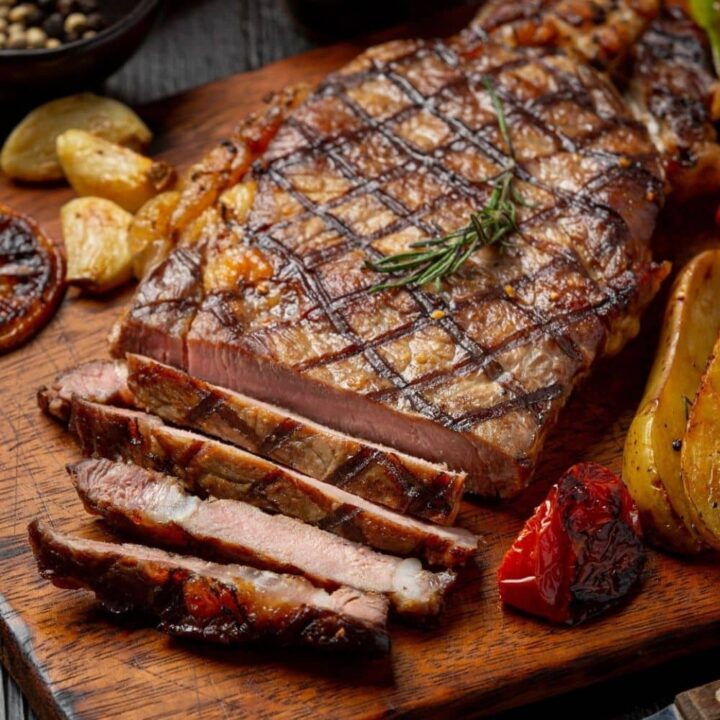 What to Serve with BBQ Ribs (20 Best Side Dishes)
Ingredients
3 pound. Yukon Gold potatoes
1 1/2 cup. mayonnaise
Kosher salt
1 small red onion, finely chopped
1/4 cup. chopped pickles
1 tablespoon. Dijon mustard
1 tablespoon. lemon juice
4 hard boiled eggs, chopped
1/2 teaspoon. paprika
1/4 c. finely chopped chives
Instructions
You'll need to start with a large pot, covering the potatoes with water and adding in a large amount of seasonings. The water should boil and cook the potatoes, allowing them to easily be pulled apart. This should take 12 – 25 minutes.
Then you'll drain the water out and let the potatoes begin to cool.
Now you'll need a big bowl to combine your ingredients including, mayo, red onion, lemon juice, paprika, pickles, and Dijon mustard. Here is where you'll mix them all up along with the eggs, chives, and cooked potatoes.
Once mixed, it is best served over butterhead lettuce.