Who doesn't want an easy meal for dinner? With only so many hours in a day, you'll inevitably find yourself in need of a quick dinner. Everyone will run into a situation where they are either too tired or too busy to cook complicated meals. Sometimes, you only have a few ingredients to work with.
The best quick dinners are nutritious, delicious, and easy to prepare. Anyone can make them and satisfy the whole family! These five-ingredient chicken recipes can be whipped up in less than half an hour, which is perfect for busy weekdays and any cooking skill level.
What else do all of these easy recipes have in common? They all have delicious chicken! This nutritious meat is so versatile and you can do pretty much everything with it! It can fit all kinds of different cuisines and even the pickiest eaters can find something to love.
This list will go through some of the best easy chicken recipes for dinner with few ingredients. We've thrown in all kinds of other tips, tricks, and secrets that make these recipes stand out from the rest. Then, finally, we've provided a quick recipe for one chicken dinner of our own!
What is the Quickest Thing to Make For Dinner?
The quickest meals to make for dinner often involve chicken because it cooks quicker than many other types of meat and is healthier than other meats. Chicken is also more affordable, especially for busy families and professionals, and can be found in just about any grocery store.
What to Cook When You Have Little Ingredients?
There are so many great recipes to cook while you have only a few ingredients; it just takes a little creativity!
This list has all kinds of easy and fast chicken dinner recipes that take five or fewer ingredients. Not to mention that they all have quick prep times and are super easy to work with.
These recipes are all super easy and anyone can make them. You'll have dinner done in a flash and ready to go within an hour!
The first recipe on this list is incredible chicken packed with delicious flavors of sour cream, parmesan cheese, and fresh ground black pepper. That being said, you can easily adapt this recipe to fit any sort of flavor or theme!
You could add some cayenne pepper or basil for a spicy kick or basil for an Italian flair.
This dish is perfect to pair with different international dishes! You can have it as an entree or as a side with other, more complicated dishes.
This recipe is only in one pan and that makes cleaning up so easy!
So, not only do you have an easy-to-prepare dinner, but you also have one that won't take too long to clean up either! All you have to do is throw it all in the pan and put it in the oven until the chicken is fully cooked.
This dish doesn't just have the chicken, but it comes with a built-in side dish to round out this meal. Not only that, but the ranch seasoning is a fun touch that gives it extra flavor.
Fresh garlic and brown sugar may not immediately sound like they go together, but they make an incredible pair!
This recipe is so simple and anyone can pull it together in less than an hour. There's no doubt that this will become one of your favorite easy chicken breast recipes few ingredients.
This is a recipe where simplicity will give you the best results. If you want to add more flavor, a little bit of paprika is all you need. The garlic and brown sugar are perfect and balance each other out so well, so you don't need too much!
Comfort food comes in all different forms and chicken and gravy is a classic for a reason.
This rich and satisfying dinner is perfect for fall or any time of year. It's sure to warm the whole family up!
Since this is a crockpot recipe, it is so easy to prepare and set up. However, if you want to make the recipe longer and more complicated, you could try your hand at making homemade gravy. This will bring your recipe to the next level and give it a homemade touch!
Italian chicken is a great weeknight dinner idea. Not only does this recipe only have three ingredients, but it also pairs beautifully with pasta.
This simple chicken recipe completes the meal and gives you a nutritious, easy healthy chicken recipe with few ingredients.
The fresh bell pepper in this recipe is the perfect extra flavor. Not only that, but the pasta sauce is all cooked in the crockpot with the other ingredients, so you can hide fresh veggies from your extra picky eaters. It's a great way to pack more veggies into your diet, even if you can't stand the taste of them.
Three ingredient chicken recipes don't need to be boring or bland and this recipe is a fantastic example of that! Not only is this a great choice for picky eaters who love good popcorn chicken, but the rich orange BBQ flavors add a tangy touch that the more adventurous will love too.
This is perfect for any Asian-inspired dinner night and can be pulled together in minutes. You can even use the orange BBQ sauce as a topping for other entrees during the occasion.
This recipe is not just a great entree choice, but this can also function as a component of more complicated recipes.
You can use this shredded chicken for enchiladas, tacos, and any other Mexican recipes that require delicious chicken.
The salsa in this recipe is a really important component. You need to select the type of salsa that will give you the best results.
Sometimes, that might be your favorite store-bought variety, or it might be the more complicated homemade choice. It may take some experimenting to find what works for you!
By using cans of cream of chicken and gravy mix, you turn a normally long recipe into an easy weeknight choice.
This comes together in minutes and can be served with all kinds of other dishes or sides.
This recipe is perfect over rice in particular and you can add even more chicken flavor by cooking the rice in chicken bouillon or chicken broth. This will pack each grain with delicious flavor and give you even more things to love about this recipe!
Easy chicken breast recipes with few ingredients come in all shapes and sizes and this recipe is a great way to use up any leftover chicken. A rotisserie chicken or other leftovers, even from other recipes on this list make this recipe cook even faster.
This recipe has chunks of chicken meat in it, but you could also shred the meat to make it even easier to eat and enjoy.
This will give you even more chicken per section of the casserole. Top with fresh basil and you have a perfect dinner!
Four ingredient chicken recipes are so easy to make and this rice casserole is delicious to boot!
This recipe takes a little longer than the others on this list, but that is mostly in the cooking time. The prep time is less than five minutes with all of the components included.
These store-bought components make your life so much easier and give this recipe its fast prep time. Like the others on this list, you could easily make them more complicated or extensive by replacing them with your homemade versions.
A chicken enchilada casserole has everything a person would want for dinner.
There's protein, carbs, and a delicious sauce that coats every aspect of the recipe and the plate. The cheese on top is a perfect final touch, especially if you can get it nice and crisp.
Not only that, but this recipe is so customizable. Adding jalapenos, other peppers, fresh veggies, sour cream, and other toppings will give it character and you can use this base to create something of your own.
This recipe has a somewhat unconventional starting point, but the Caesar dressing topping is full of fantastic flavors and lets the chicken melt in your mouth. This recipe is perfect to serve over pasta and with other Italian dishes.
While you can use store-bought dressing, homemade Caesar dressing will give this recipe a unique flavor and you can control more of what goes into it.
For example, if you are trying to avoid certain types of dairy, you could leave them out and substitute non-dairy milk.
This recipe has some unexpected ingredients, but the results are incredible! With only three ingredients, there's so much to love and it is so easy to make. Anyone can do it! You don't even need fresh chicken; this is a great recipe to use up leftovers in!
Apricot preserves are delicious but can be hard to find in certain regions. You may have to go hunting for them or find a substitute. Cherry preserves are another great choice, along with apple jelly or butter.
Honey and garlic are an incredible pairing and this recipe is so great to make. It is fast, healthy, and only takes a few ingredients to pull together. The fanciest ingredients you need are some slices of lime to add some tartness.
Breaking down the chicken into smaller pieces is a simple way to make the chicken cook faster. However, this is a double-edged sword. If you cut them too small, they may cook alarmingly fast. You need to keep an eye on each piece to avoid overcooking them.
On cold nights, there's nothing better than a rich chicken soup. This comfort food is perfect for nights when you or a loved one are sick or if you just want a taste of home.
The pesto in this recipe gives the soup a beautiful shade of green and is delicious. While store-bought pesto is fine, these pestos can have too much lemon or include certain preservatives that change the overall flavor.
If you're more sensitive to these, you should make the pesto fresh at home.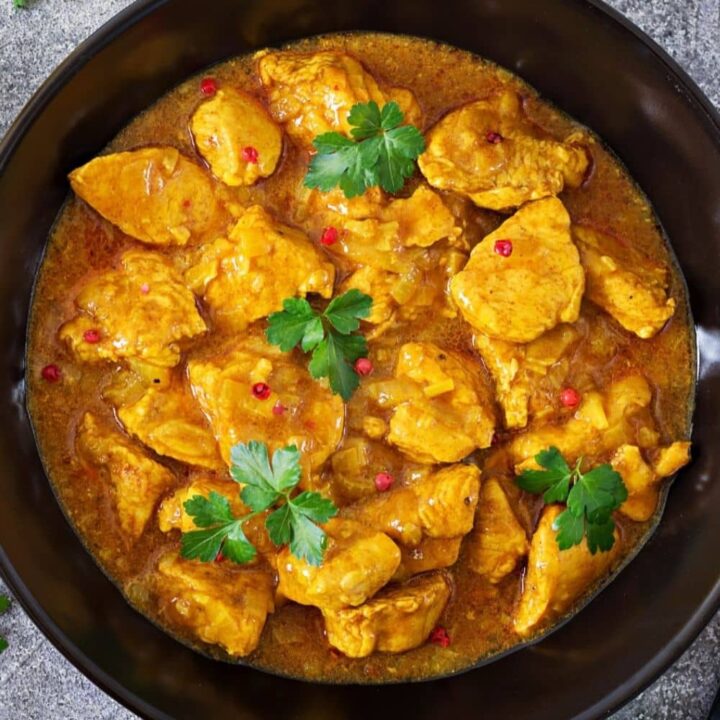 15 Easy Chicken Recipes for Dinner with Few Ingredients
Total Time:
1 hour
10 minutes
Ingredients
¼ c butter, melted
1 tsp salt
4 skinless, boneless chicken breast halves
Instructions
Preheat your oven to 350 degrees and grease a baking dish.
Mix ¼ cup of butter with one teaspoon of salt.
Place four boneless, skinless chicken breasts in the baking pan.
Brush the butter mixture over the chicken and put the extras into the pan as well.
Cook for about 30-45 minutes or until the juices run clear. For the best results, verify that the temperature is at 165 degrees Fahrenheit.