This American classic comfort food has been around since late 1800. There isn't just one chicken and dumplings recipe. In fact, depending on the region, the recipes do change a bit. Some people add veggies to the broth and chicken, while others use the broth for cooking the dumplings and don't add anything else.
What we now know is that Cracker-Barrel chicken and dumplings were made popular by the restaurant chain because they make their dumplings flat instead of plump.
If you are a fan of dumplings Cracker Barrel-style, you've come to the right place. Want to try a different kind of chicken and dumpling recipe? Chicken and Dumpling Casserole is completely different but just as delicious.
How To Make Cracker Barrel Chicken And Dumplings?
To make the dumpling dough, place the flour into a medium-sized bowl. Add the baking powder, dried parsley, salt, pepper, and butter pieces.
Using a pastry cutter or two knives, cut the butter into the flour until it resembles sand.
Pour in the milk and mix using a fork until a soft dough ball forms. Place the dough ball onto a heavily floured surface. Be careful. It will be sticky.
Roll the dough thinly into a rectangle, using a flour-dusted rolling pin. It doesn't matter if the rectangle is not perfect.
Cut the dough into 2-inch squares using a small flour-dusted spatula. Place the squares on a plate and add flour between them, so the squares don't stick together.
Bring the chicken broth to a rolling boil and drop the squares carefully one by one into the broth.
Once all the squares are in, add the cooked shredded chicken and cook until the dumplings no longer taste like raw flour. Do not overcook them. check the seasoning and add salt and pepper if needed.
Can You Freeze Chicken and Dumplings
Yes, you can. You have to wait until they have completely cooled down before placing them into a freezer bag or airtight container and then freeze them for up to 4 months.
To reheat, make sure they are completely thawed out before reheating them in a pot of boiling-hot broth.
Recipe Variations
Try adding veggies like diced carrots, peas, and chopped green beans to the broth as well as chicken.
If you like beef better than chicken, use beef broth and add cooked ground beef instead of cooked chicken.
Want to make it vegan? Use vegetable broth and add more veggies, like spinach or kale.
Add different spices or herbs to the dumpling dough. For example, you could add Italian seasoning and make a broth using veggies and beans, Minestrone style.
Looking for more chicken soup recipes?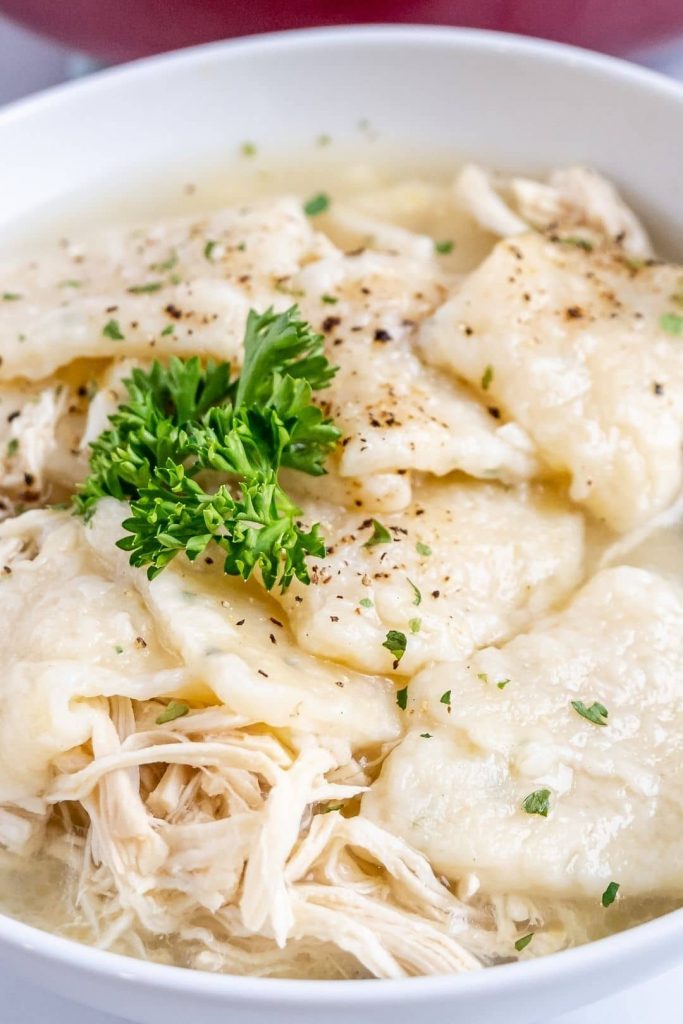 Cracker-barrel Chicken and Dumplings
Cracker Barrel Chicken and Dumplings tastes like a warm hug!
Ingredients
1 cup all-purpose flour
¼ teaspoon baking powder
1 tablespoon of butter cut into small pieces
½ cup milk
½ teaspoon salt
¼ teaspoon pepper
1 teaspoon dried parsley
1 ½ quarts chicken broth
2 cups cooked chicken
Instructions
In a medium-sized bowl, place the flour, baking powder, salt, pepper, dried parsley, and butter pieces.
Using two knives or a pastry cutter, cut butter into the flour until it resembles sand.
Pour in the milk and mix until well combined and a moist dough ball is formed. Place the ball onto a well-floured surface.
Using a rolling pin dusted with flour, roll the dough until thin.
Cut the dough into 2-inch squares. I use a pizza cutter.
To pick up the squares, I recommend using a small metal spatula dusted with flour. Place the cut squares in a plate dusted with flour so they won't stick together.
Bring the chicken broth to a boil and drop the squares carefully into the boiling broth.
Once all the dumplings are into the broth, carefully add the cooked shredded chicken and let it all simmer until the dumplings are cooked through. check the seasoning and add salt and pepper if needed
Nutrition Information:
Amount Per Serving:
Calories:

375
Total Fat:

11g
Carbohydrates:

26g
Protein:

23g